"There may be many reasons to fall in love with your visit to Nepal, but only a minute in this beautiful land may give you a reason to fall in love with its natural beauty; visit Nepal, and explore your next dream destination."
From its amazing sunsets and high snow-capped mountains, vantage archaeological landmarks, splendid scenic points, lakes, rivers, art collections, wildlife reserves, jungle safari, day trips, trekking destinations, world packer experiences, and laid-back culture, Nepal has it all!
Visit Nepal for numerous other reasons.
There are many reasons why we want you to visit Nepal. While sitting on your chair sipping your cup of coffee am sure you will already be off fantasizing about Nepal after reading this blog on "Why Nepal"? Although there are many obvious reasons to visit Nepal, here in this blog, I wish to present various perspectives on why one should visit Nepal. Nepal has almost everything that every traveler would include on their bucket list. Home to many famous sites, the country has many romantic places you would romanticize even when you return to your home country.
Allow me to convince you why visiting this Land of the Himalayas is always a great idea. Read on for more! When you think of Nepal, you will already have a picture-perfect image of the beautiful landscape in mind, the romantic walks by the lakeside, adventurous trekking and activities, and of course the, Mount Everest.
The Most Unforgettable Sunsets
When mentioning this land of the Himalayas, the first thought that will pop into your head would be unrivaled sunrise and sunsets. Watching the sun slowly creep down across the highest mountain peaks is breathtaking. Whether it's sunset or sunrise, when the sky gradually transitions into vibrant colors of red and orange, the view seems so surreal as the color of the sky constantly changes during this time, and the event becomes the most anticipated event sought by travelers.
Ancient Archaeological Sites in Nepal to Consider Visiting
Did you know Nepal is home to 4 UNESCO World Heritage sites in Asia? It gives a wonderful feeling to walk along cobbled stone paths leading to millennia-old weathered heritage sites that were once grand palaces and are oriental pieces of architecture. If these ancient treasures could talk, they would tell age-old stories of kings and queens who ruled in Nepal in ancient times. The whole feeling is just incredible to be in these sites that have endured from a time long past.
Significant archaeological sites listed in the UNESCO World Heritage list
Kathmandu Valley
Lumbini
Chitwan National Park
Sagarmatha National Park
Unheard ancient history from the past
In Nepal, it's hard to avoid ancient archaeological sites as they remain vital and impressive, many inscribed on the UNESCO World Heritage list. Every place has its untold stories that you will love to hear from local guides, and these stories will keep you enthralled. From the medieval period to King Birendra Shah's rule, the country has many unheard stories and is less known to people. If you are a history lover, then Nepal has a history that will add to your curiosity and interest.
Adrenaline Rush Adventures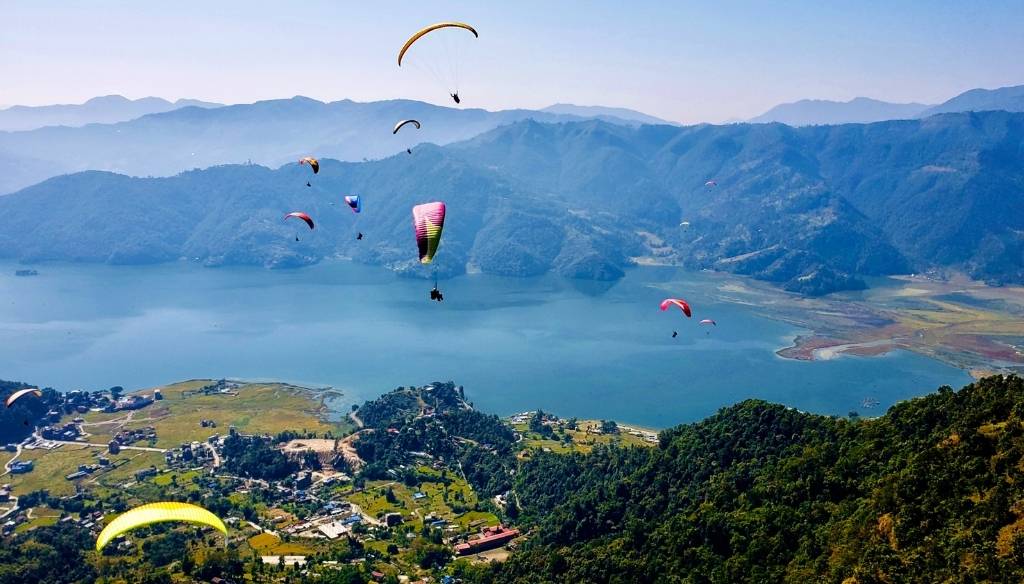 The topography of Nepal is exceptionally diverse. From the world's highest mountain (Mt. Everest) to the world's deepest Gorge (Kali Gandaki Gorge), you can very well imagine why this country can be a paradise for adventure seekers. Nepal is considered ideal for mountain trekking, with eight out of ten highest mountains on earth. There are numerous trekking destinations; however, Annapurna Base Camp, Everest Base Camp Trek, Langtang, and Manaslu Circuit trek are some of the most popular for you. Treks vary according to the interests of the visitors. You can choose from strenuous treks to moderate ones.
Apart from trekking destinations, you can enjoy river rafting in the Trishuli River, mountain biking, rock climbing, boating, bungee jumping, sky diving, snow skiing, paragliding, and hot air balloons. And this isn't all. You will find adventure ideal for you with the bonus of stunning landscape.
For an extra adrenaline rush, waterfall ice climbing in Langtang Valley or Annapurna Sanctuary is a must when you visit Nepal. Canyoning in refreshing waterfalls among deep gorges is a perfect alternative activity for thrill-seekers. These reasons allow travelers to choose Nepal as their next holiday destination.
Breathtaking Vintage Scenic Sites
If you love spending your days lounging on the lap of mountains with splendid scenery during your trip, consider this as one of the many reasons to visit Nepal.
Nepal is bursting with scenic views that give you a feeling of being in paradise. Viewing the lush local valleys from a high altitude is a great reason to travel to Nepal. There's something so magical about taking in the scenery from vantage points. From the highest mountains, hillside and cliff edges, lush valleys, blue lakes, glaciers, rooftop restaurants, and bars, mountain views will leave you wanting more. Sunrise and sunset views on high mountain slopes look beautiful.
More noteworthy scenic sites to visit in Nepal that you'd regret not including on your Nepal itinerary
Bandipur (147 km from Kathmandu)
Nagarkot (27 km from Kathmandu)
Panch Pokhari (81.7 km from Kathmandu)
Rara Lake (864 km from Kathmandu)
Garden of Dreams (Kathmandu)
Langtang Region (61.8 km from Kathmandu)
Pokhara (204 km from Kathmandu)
Chitwan National Park (169.7 km from Kathmandu)
Poonhill (177 km from Kathmandu)
Helambu (42.3 km from Kathmandu)
Phewa Lake (209 km from Kathmandu)
Gosaikunda Lake (41.5 km from Kathmandu)
Fantastic Shopping and Souvenirs
There are many luxury and high-end stores in touristy places in Nepal. The local artisanal souvenirs are budget free. Handmade local goods like thankas, tapestries, shawls, clay pots, and other decorative pieces are reasonably priced. Thangka, regarded as "The Sacred Art of Nepal' is intricate with a detailed painting of different gods and deities. Paintings of famous landmarks of Nepal from local painters are also beautiful mementos that you can take home to reminisce your Nepal trip from your living room.
Most traditional souvenirs from Nepal
Best Pashmina
Thangka painting
Budget-friendly
Generally speaking, it is affordable! After grueling treks, the money you pay for a bottle of water is reasonably cheaper than what you have paid in the past. Also, the stay and food are reasonably priced, which might save you a penny for an exotic experience in tourist places.
Is Nepal expensive to visit?
Suppose you are seriously thinking of holidaying in Nepal. In that case, expensive is just a relative term because traveling in Nepal is not a bargain as it's cheaper than in other Southeast Asian countries.
Please note some common things tourists would spend their money on while in Nepal.
Trekking-$800 to $1700 per person (depending on the nature of the trek and travel agency that you choose)
World Heritage Sites-$20 to $25 (depending on your nationalities at times and the heritage sites that you are visiting)
Meals at sites/ restaurant meals- $7 to $15
4-5 star hotels-$40 to $65 per night
Travel-$10 to $15 per day
Budget accommodation-$20 to $45 per night
Mouth-watering Nepalese Food and Beverages
Nepalese cuisine itself will be a significant reason to travel to Nepal. Indulging visitors in authentic Nepalese food is a major part of Nepalese culture, and it is evident in the welcoming Nepalese hospitality. Nepalese tea is delightful, and if you are trekking, then Tibetan tea will add up to the aroma of high-altitudinal treks. Nepal is diverse in terms of ethnic culture.
Therefore you might have an opportunity to taste some authentic food derived from ancient ethnic groups of Nepal. The core ingredients of Nepalese food include herbs, making the food delicious and healthy to eat. Nepal is also well known for natural herbs and organic herbal products.
The welcoming, laid-back culture
There are dominant regions in Nepal that will offer you to witness some of the ancient traditional cultures of Nepal. And I'm referring to this because, after your strenuous treks and day trips, you will learn the country's culture from local guides and locals who are great storytellers of local Nepalese culture and tradition.
The traditional culture of Nepal leaves many visitors awe-struck and curious. Home to over 35 ethnic groups, Nepal celebrates its unique traditional beliefs, festivals, different ethnic languages, and culture.
For example, the Newar people, the earliest inhabitant of Kathmandu Valley, have their own distinctive culture. Visiting Nepal will allow you to immerse yourself in distinctive cultures of Nepal like- Tharu culture, Tamang culture, Sherpas, and there are a few others too.
Witness exotic rare Ghatu dance.
The rare "Ghatu" is a performing art of the Magar community of eastern Nepal, which is almost extinct now. Two virgins dance within 30 days of full moon day. Video recordings or clicking pictures aren't allowed while it is being performed. It is unknown to many travelers, so if you are in Nepal, this may add to your curiosity apart from treks and scenic points.
Perfect vacation weather
While summer is undeniably hot in some of the plain areas of Nepal, winters are extremely freezing in the mountainous regions of Nepal. Off-season (from May to August) is also a suitable time to visit Nepal if you are looking for a cheaper holiday and a lesser crowd. October to December is the best time to visit Nepal if you wish to enjoy the splendid natural beauty and if you are driven to treks through high mountainous regions of the country. However, Nepal has perfect vacation weather all around the year, and it all depends on your itinerary. So, you don't always need to wait for the best time to visit Nepal.
No qualms about safety
As a new visitor, you can be assured that the country is safe to travel and you will always feel welcomed right from arrival to departure. There's nothing to feel unsafe or harassed, or intimidated by locals. The locals will do their best to keep you safe and guard you during your stay.
The Hospitable People
Nepalese hospitality is something that you will talk about even after your trip. The Nepalese word for hospitality is "Atithi Satkar," which means offering guests great hospitality. For the ancient Nepalese, (Athithi Devo Bhavah)is an institution and an act of virtue to welcome visitors, and the trend is still carried out in any Nepalese family.
Wildlife
Nepal is a perfect destination for wildlife lovers as many wildlife reserves exist. A trip to the lowlands of Nepal will allow you to witness a remarkable species of animals. At Chitwan National Park, a UNESCO World Heritage site, you can spot Royal Bengal tigers, one-horned rhinos, crocodiles, sloth bears, wild elephants, and up to 544 species of birds. There are other pristine national wildlife reserves, such as Bardia National Park, where you will see much other wildlife. While in the highlands of Nepal, you can expect to see wild creatures, including snow leopards, red pandas, blue sheep, and yaks.
Serene Landscape
Visiting Nepal is a tour of inner peace and serenity as it provides a beautiful, laidback ambiance that catches your eyes and comforts your soul. Traveling to Nepal is no less than to Switzerland for most visitors as you will be mesmerized by the tranquillity of the countryside. Many retreats, too, offer you a complete program of attaining peace and tranquillity amidst a beautiful landscape. Pristine air, calm lake water, and beautiful snow-capped mountains aren't away from you to escape your daily routine. The Buddhist monasteries here in Nepal are the places if you are spiritual person that ideally allows for some quiet contemplation. Believe it or not, after tiring treks, you will need some serenity, and how could you not enjoy all of this when Nepal has this much-unrivaled beauty?
The Gorgeous Blue Lake water and beautiful waterfalls
Nepal has around 200 lakes of glacier origin, and these lakes, which are vividly blue in color, take your breath away. Nepal has lakes close to the cities, some of which take a couple of days. The Gokyo Lake, the world's highest freshwater lake, and Tilicho Lake, located at Annapurna Circuit trek, are delightful to one's eyes.
Nepal has stunning lakes like Tilicho, Phoksundo, Tso Rolpa, and Panch Pokhari in the high altitudinal regions that offer fantastic sunrise and sunset views that attract many visitors. Nepal is also home to magnificent waterfalls amidst the deep gorges. You can witness these cascading waterfalls on the roadside on the way to Manang, Bhotekoshi River, and Tehrathum.
The Mount Everest
Who doesn't want to be on top of the world and acclaim pride in climbing the world's highest peak Mt. Everest (8,849 m)? Known as the natural wonder of all Himalayan mountains, Mt. Everest has its charm. The "Goddess of Sky," also known as "Sagarmatha," symbolizes the beauty and splendor of nature. In addition, the trek to Mt. Everest allows you to witness rugged mountains, alpine lakes, and glacial plains to froth rivers and valleys covered with pink blossoms, depending on the season.
The land of Buddha and living goddess Kumari
Traveling to Nepal is not just for escaping the mundane lifestyle. Who doesn't want to take pride in seeing the land of Buddha and living goddess Kumari apart from climbing the world's highest peak? Lumbini, listed in the UNESCO World Heritage sites, is the birthplace of Lord Buddha and many tourists flock around the place to witness this pilgrimage site. Nepal is a place of the great Buddhist master "Padmasambhava," also called Guru Rinpoche. The most famous monasteries in Nepal are Tengboche Monastery in the Everest region, Thrangu Tashi Yangtse Monastery in Namobuddha,
The living goddess Kumari is part of the culture in Nepal. The famous "Indra Jatra" festival is when the living goddess Kumari is carried out in a giant chariot.
The home of backpackers, heaven, Thamel
Thamel continues to be one of the most popular tourist hubs in Kathmandu city of Nepal. Be it old temples, monuments, pubs, and cozy restaurants in the narrow alleys of Thamel. The place is a sure draw for many visitors. The hippie haven was known to hippies who came to Nepal only for the dope.
They were not only tuned in to the Himalayan hospitality, timeless culture, spiritual vibes, temple bells, chanting monks, and the mountain mystery in the remote kingdom of Nepal. The Kathmandu hippie scene ended with President Nixon's Global crusade against drugs. However, the place still holds its charm with lavish restaurants and pubs that entertain guests in their distinctive way.
A fantastic evening or night might await you as the sun sets in the country. Nightlife in Nepal is varied and fun in the evenings. Remember that famous nightclubs and pubs in touristy places might be expensive, so research first.
Tenzing -Hillary Airport (Lukla Airport)
The Lukla airport, listed as the world's most dangerous airport by Forbes, is in Nepal. The trekkers who wish to summit Mt. Everest must fly to the tiny Himalayan settlement of Lukla (9,383 feet). The airport has an extremely short runway at just 1,729 feet long, and your heart palpitates faster as you land at this airport. However, most tourists have Everest on their minds while taking this flight from Kathmandu, and the trip to Lukla is stimulating and adventurous.
The pilgrimage sites of Janakpur and Kathmandu
The holy book of Hindus mentions Janakpur in the Ramayana as the birthplace of Sita. It is believed Janakpur is the place in Nepal where Lord Ram married Sita, hence making the place a holy site for Hindus. The Pashupatinath Temple, which is in Kathmandu, is also a place of Hindu pilgrimage, especially on the occasion of Shivaratri and in the months of Shrawan (July and August). Visiting Nepal will allow you to witness the stunning architecture of these temples and experience spiritual moments.
The magnificent history of restricted trekking regions of Nepal
Some restricted trekking areas need permits and allow only a few tourists. These restricted areas are luring because of their ancient protected culture and nature, which is rare. Suppose you are adventurous and wish to experience remoteness in high-altitudinal regions. In that case, Upper Mustang, Upper Dolpo, Manaslu, Nar Phu Valley, Tsum Valley, and Kanchanjunga are perfect getaways to enjoy Nepal's unique fresh landscapes. The Upper Mustang, little Tibet, has its own cultures and landscapes. Visiting Nepal means experiencing ancient Tibetan culture and getting a feel of being in Tibet.
World's most exhilarating flight
Mountain flight in Nepal is a must-try activity when visiting Nepal. You will have an exhilarating experience flying over the tallest snow-capped mountains. The enticing mountain view will make you feel as if you are on cloud nine, the ultimate experience of being in paradise. The best time to enjoy this flight is the months from September to April when white snow sparkles brightly upon the mountains. No other place compares to the sheer natural beauty that the Himalayas offer.
World's Deepest Gorge
Kali Gandaki Gorge is the world's deepest Gorge in the Annapurna region of Nepal. And a trek in this region will give you a lifetime opportunity to stand between the two highest mountains, Mt. Annapurna and Mt. Dhaulagiri (8000 m). Famous for Shaligram fossils, the place is symbolic of Nepal's absolute beauty.
Untouched mountains and trekking trails
Many mountain peaks in Nepal in remote parts are less visited and still unexplored by any human. Nepal has 1,500 mountain peaks, of which only 326 are currently open for climbers. The "Machapuchare," also popularly known as the "Fishtail Mountain," is unclimbed because of the steep summit and because the mountain is sacred to Nepalese people. It is a gorgeous mountain and untouched. The Government of Nepal is slowly making provisions for some of these untouched mountain peaks to be opened for climbers.
There are many virgin trekking trails in Nepal, like the Limi Valley trek and Arun valley trek, which are no less beautiful than others. These less-touched trails open a whole new unexplored part of Nepal from the popular, crowded trekking routes. Exploring these virgin mountains will offer travelers a whole new experience and excitement.
From its amazing scenic beauty, oriental architectural sites, mountains, and lakes, I hope these reasons are enough to convince you to choose Nepal for your next holiday! Don't miss little boys and girls of the Himalayan region who come saying –"Namaste," Can I take a photo too"? Their smile and warm gesture will leave smiles on your face too.
Find paradise on land with your visit to Nepal, and if you are a seeker of solitude, then Nepal is next to heaven.