For those looking for adventure, Nepal is an incredible place to be. From trekking to the base of the world's highest mountain, climbing endless peaks, skydiving, paragliding, whitewater rafting, and more, there is no shortage of activities to get one's heart pumping. The mountains, hills, and deep gorges are the perfect place to experience the immense natural beauty and an incredible adventure. However, one of the most popular adventure activities in Nepal is bungy jumping.
With three locations across the country, many travelers have a difficult time choosing where to jump headfirst into an incredible experience. Nepal Hiking Team is here to help make the decision easier.
Bhote Koshi Bungee Jump – The Last Resort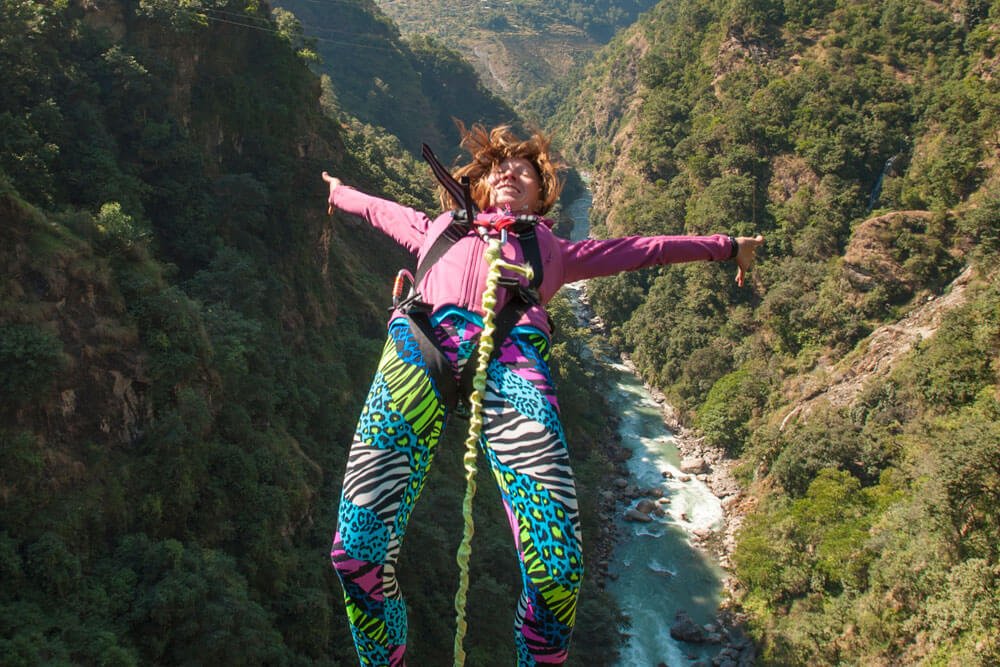 Highlights
Several other activities, including canyoning and whitewater rafting
Beautiful and comfortable accommodations for those wanting to stay for multiple days
Experienced and enthusiastic team
The incredible setting amongst the foothills of the Himalayas
The first location for bungy jumping in Nepal is located 80 kilometers northeast of Kathmandu, near the Nepal and Tibet border. The suspension bridge hangs 166 meters over the Bhote Koshi with a fantastic view of the river below. With a capacity to hold 4.5 tons, this bridge has been proven to be safe and secure. Not only is the bungy jump incredible but the landscape and views in the area are well worth the three-hour drive.
The bridge and resort can be reached by private vehicle or public bus, making it accessible. While a day trip is possible, there are comfortable tents, a beautiful dining area, and forested areas to explore for those who stay for multiple days. Additionally, The Last Resort offers other activities such as bungy swing, whitewater rafting, and canyoning for those looking for more excitement.
Pokhara Bungee Jump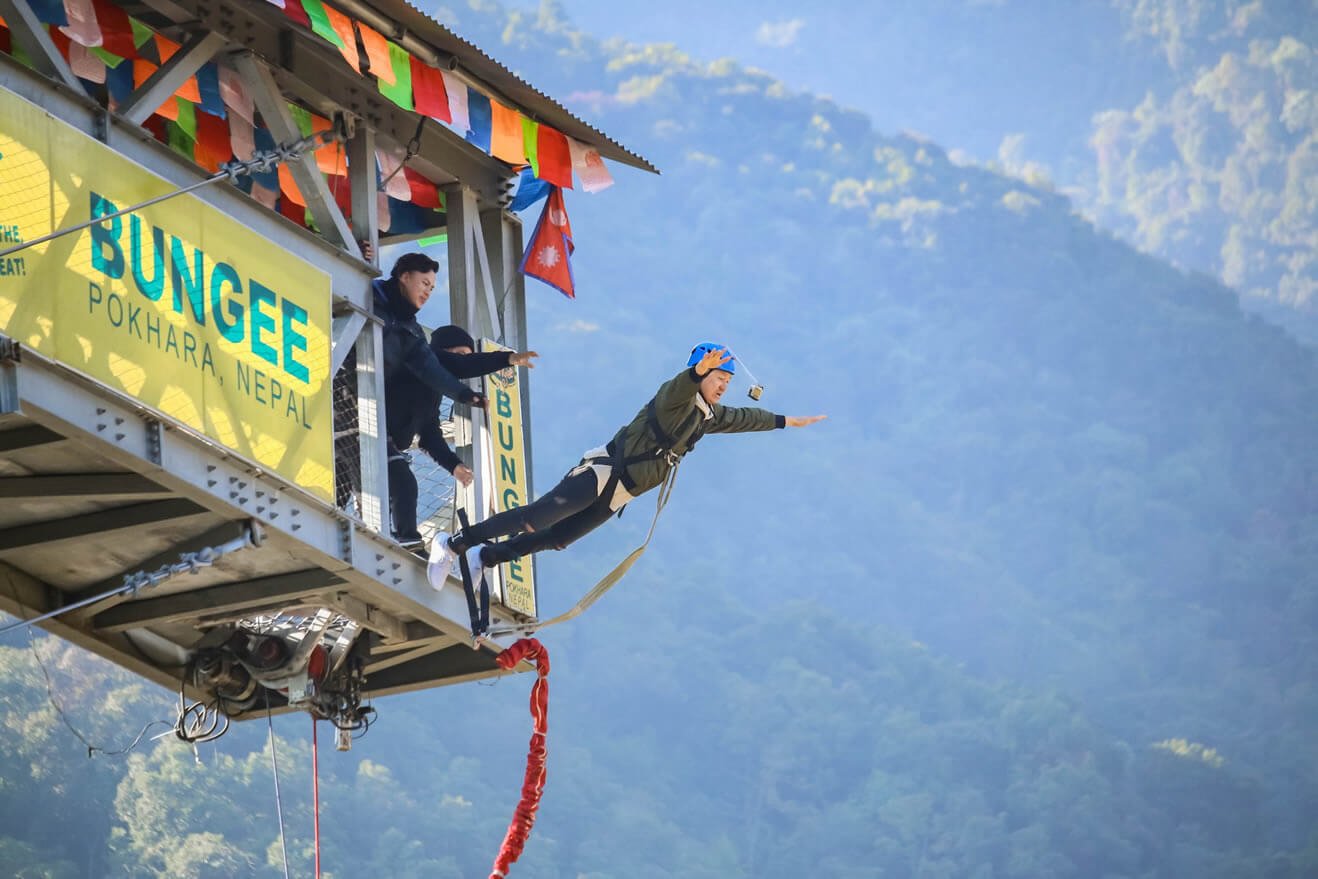 Highlights
A short drive from Pokhara
The only tower bungy jump in Nepal
Opportunity to experience ziplining
Pick-up and drop-off from your hotel
Pokhara is a favorite amongst foreigners and Nepalis alike. Located close to the Annapurna Range, where many popular treks take place, and alongside the Phewa Lake, the city is a great place to relax after a trek and have excellent views of the surrounding hills and mountains. However, there are also numerous day hikes and other activities in the area, including bungy jumping.
Only 25 minutes from Lakeside, the 75-meter tower was the first bungy tower established in Nepal. High Ground Adventures is reputable, safe, and accessible and also provides adventurers with exceptional views of the surrounding hills and mountains. Being so close to Pokhara, this is the perfect way to spend a morning or afternoon for those with little time to spare.
Kushma Bungee Jump – The Cliff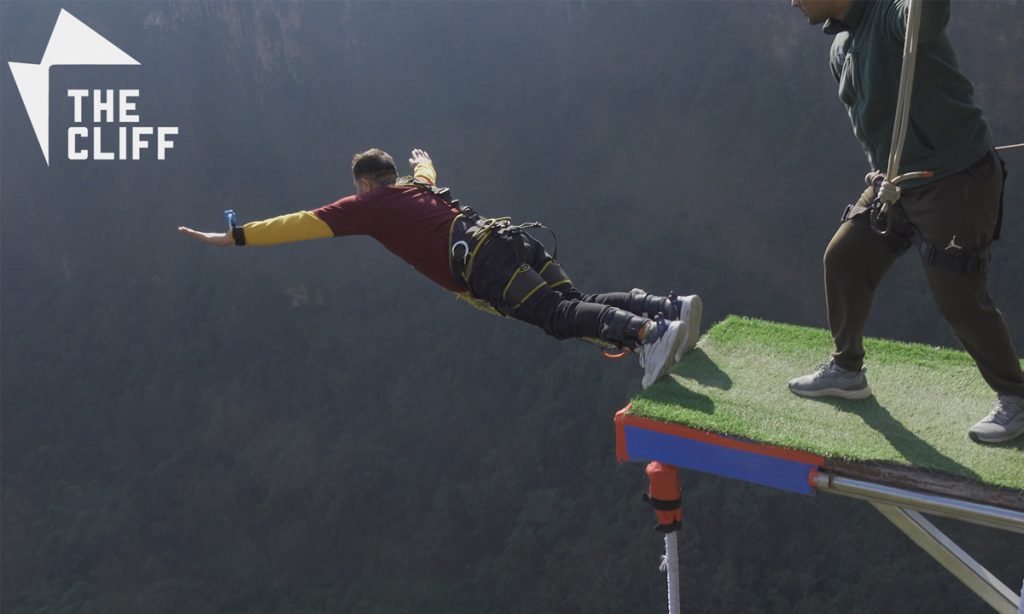 Highlights
World's second-highest bungy jump
Walk across the longest pedestrian suspension bridge in the world
Beautiful resort located between two districts
Many other activities, including swinging, sky cycling, sky gliding, and more
The second-highest bungy jump in the world is situated in the Kushma Parvat district of Nepal. With a height of 228 meters, the free fall is truly thrilling for all jumpers. The suspension bridge hangs over the gorge of Kali Gandaki between the Kusma and Baglung districts. This bridge is also the longest pedestrian suspension bridge in the world, adding to the reasons why so many people want to visit this magnificent place.
While the jump is in an incredible location, it is around 262 kilometers from Kathmandu and takes up to 10 hours to reach. The trip from Pokhara is much shorter, at only 60 kilometers and taking only three hours. There are options for private vehicles and public buses, making it easy to access the bridge. In addition to bungy jumping, The Cliff offers the Kishma Swing, which has a six-second free fall, as opposed to the three-second free fall with a regular bungy jump.
For those looking for a completely different experience, there is also Sky Cycling. This involves riding a bicycle along a steel wire suspended 225 meters above the Kali Gandaki River. Another unique experience is Sky Gliding, giving participants the feeling that they are surfing in the air while standing on a wooden board attached to a cable. There are several other activities in the area that draw people from around Nepal and the world.
There is no shortage of things to do in Nepal for those looking for adventure. Bungy jumping has become increasingly popular around the world, and it is an incredible way to top off a trek or any time in Nepal. With many options to choose from and a stellar safety record, Nepal is a great place to try bungy jumping for the first time or continue on your journey of adventure activities. Nepal Hiking Team is able to help plan a trip to any or all of these locations to add something truly special to your trip.