Nepal to the world may be known for its beauty, diversified culture, and the hub for arts and music. But to the adventurers, this country speaks on a whole different level.
Climbing high rocks and peaks, trekking to diverse terrains, swimming, ziplining, or opting for a rafting session in high current water — Nepal has it all. Whether you love some high adrenaline-packed activities or are in for a more subtle type of enjoyment, just don't think much and book your tickets to get going!
People who come to Nepal might have a lot of things on their minds. Besides climbing and trekking, which Nepal is widely known for, it has a lot of things to offer to its visitors.
But often, searching for the perfect outdoor activity to quench your adventure thirst can be an arduous task. Hence, you can feel at ease as we get to do the job of finding you your next perfect adventure activity.
Below, we list the top ten extreme adventure sports in Nepal you might consider indulging yourself in!
1. Whitewater Rafting and Kayaking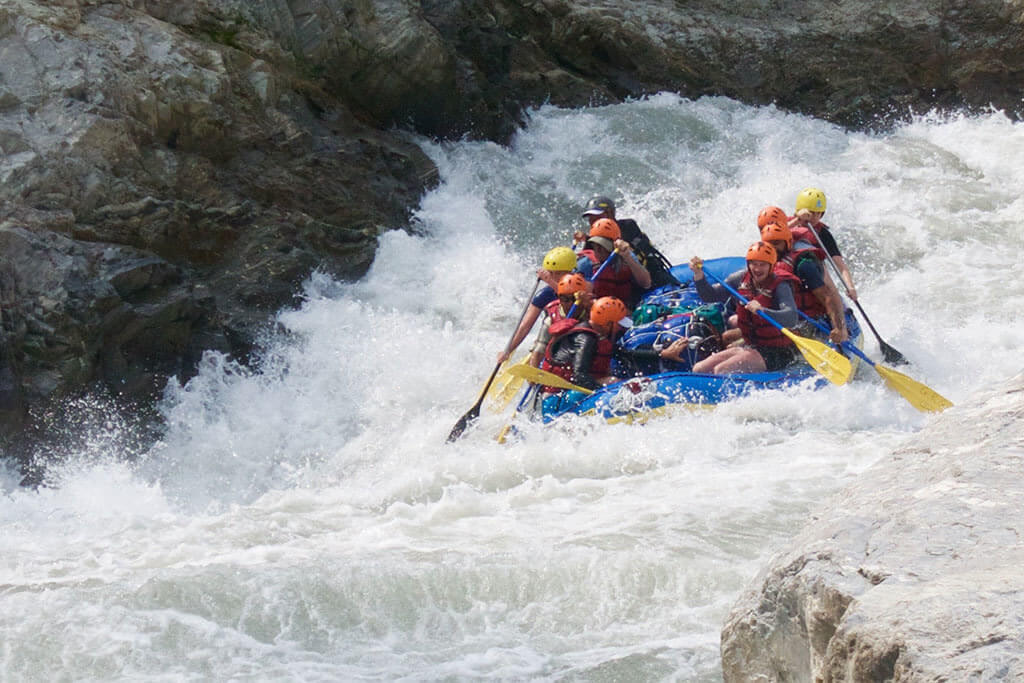 With steep mountainous terrains, Nepal boasts some of the world's best whitewater. Nepal is easily one of the richest countries when it comes to high rapid water resources. Hence, it has long been one of the most popular destinations for rafting and kayaking. Some of the most loved destinations for whitewater rafting in the country are rivers like Trishuli, Bhote Koshi, Sun Koshi, Seti River, and Kali Gandaki.
Trishuli happens to be the fan-favorite of many locals due to its proximity to Kathmandu and Pokhara. The river offers the best experience for amateurs. Whereas if you are looking for some adventure, we suggest you do not miss the current of the Seti River.
Alongside whitewater rafting, another sport that stands out for many is kayaking. You will often find yourself being offered rafting versus a kayaking trip. Nepal is just another place where you can learn to kayak as a beginner or just be involved in a regular kayaking session if you know the ways. The country has plentiful whitewater streams that can step up the game for adventure seekers.
2. Bungee Jumping and Swing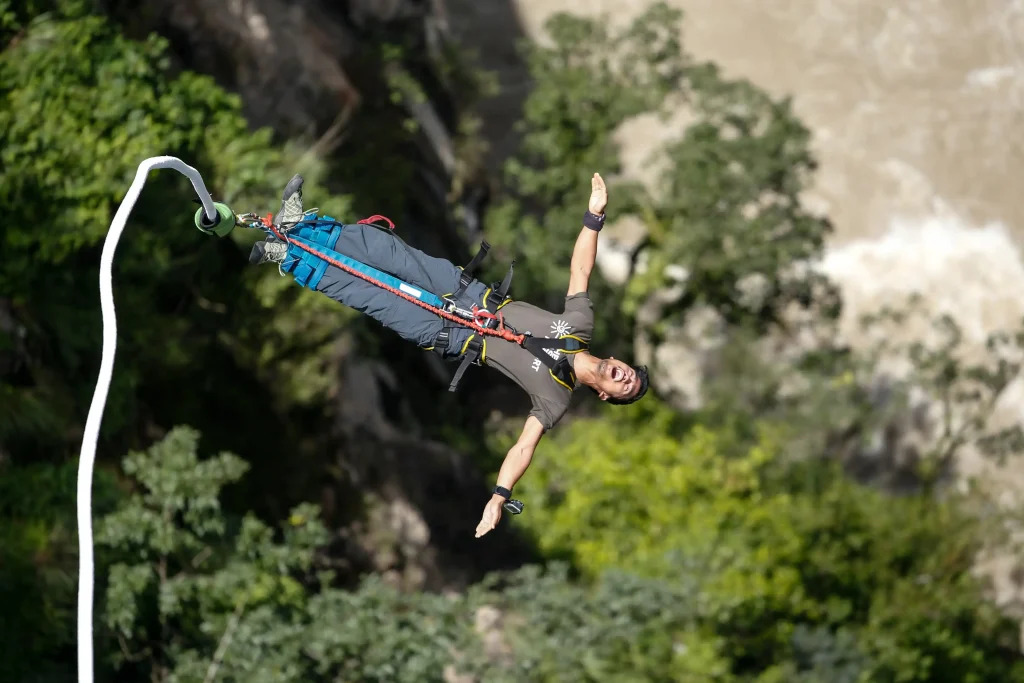 Bungee jumping and swing happen to be two of the most loved adrenaline-packed sports in Nepal. As you free fall off a bridge (suspension) above one of the fast-flowing rivers, we bet the adventure is something you will look forward to. As nerve-wracking and crazy as it may sound, it definitely is worth the risk and hype.
One of the most popular spots for bungee jumping in Nepal is on a bridge over 160 meters at Bhote Koshi gorge. Only three hours drive away from Nepal's capital, this exotic destination lies near the Tibet-Nepal border.
The swing from the bridge is also one of the world's highest adventure swings. The free fall of 100 meters approximately at 150 km/hr amidst the water rapids and green surroundings is an experience you have yet to take.
Besides The Last Resort at Bhotekoshi, you can enjoy both of these extreme activities at The Cliff at Kushma and HighGround Adventures in Pokhara.
3. Paragliding and Parahawking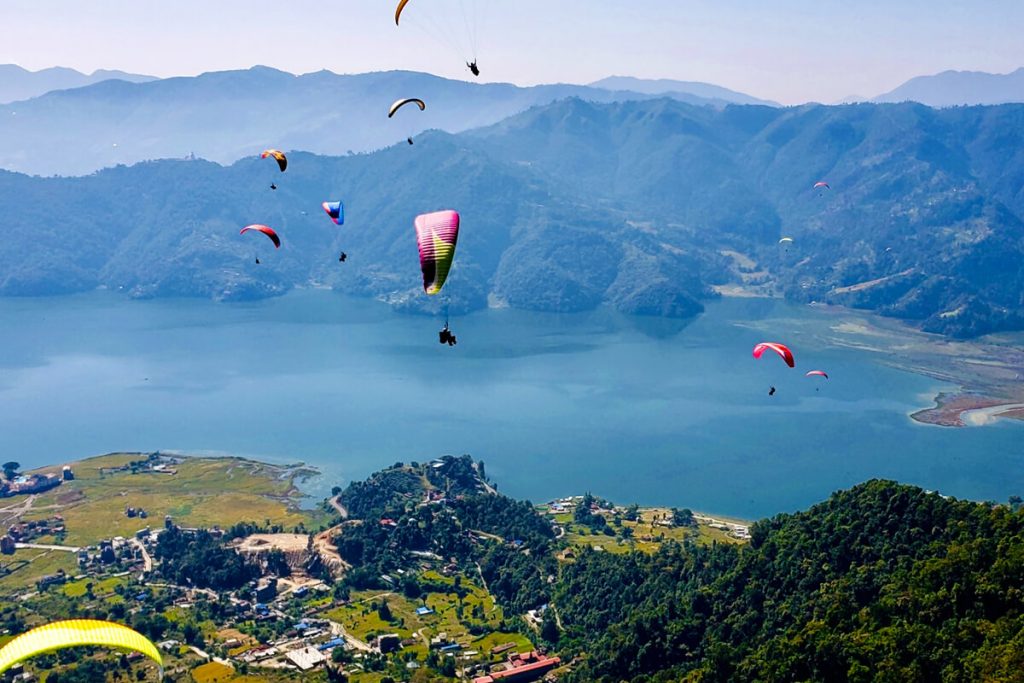 Is the sky really the limit? Have you ever wondered what your surrounding would look like if you were able to fly like a bird? If you have, paragliding should be the bucket-list adventure sport in Nepal for you!
Paragliding is one of the world's most popular extreme adventure sports. Sarangkot hill, located on the outskirts of Pokhara, is regarded as the best paragliding choice for many nationals and tourists. The brief half-hour flight takes you up at an elevation of 3,000 meters above ground level. You'll be soaring high amidst the most endearing snow-capped Annapurna ranges on this flight. Hence, you'll get to enjoy the sight of the Himalayas on the horizon with Phewa Lake spreading below you.
If paragliding feels overheard or does not excite you enough, we might have another option for you. We bet a lot of you have not even heard about this, "THE PARAHAWKING!" A much lesser-known adventure activity that inculcates paragliding in the company of a rehabilitated and trained bird (birds of prey/raptors). Pioneered in Pokhara by a famous falconer Scott Mason, it is a unique sport in itself. On this short flight, you will find yourself in an activity that is both an adventure sport and ecologically conscious.
4. Rock or Wall Climbing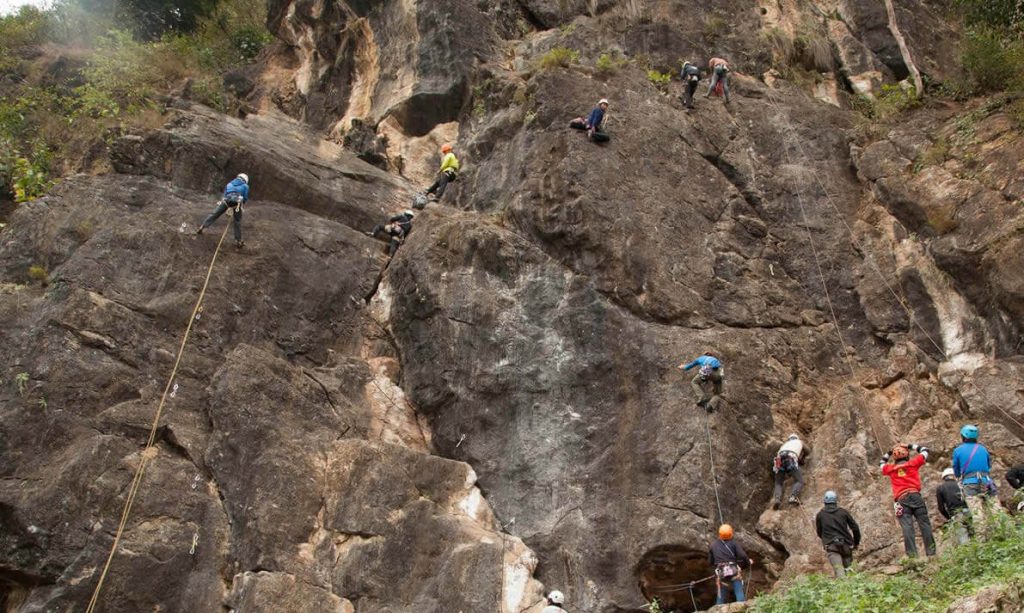 Many people find mountain climbing tedious and trekking too mainstream. For those adventurers who find themselves being attracted to shorter viable options like rock climbing, Nepal has a lot of places to get started.
For instance, the capital itself has many wall climbing institutes and places to hone one's climbing skills. Whereas, if the adventurers are curious about the natural formations, places like Hattiban, Nagarjuna, and Pharping can stand out to many.
However, if you want to go for the best Nepal has to offer, you should pack your gears and head to Bimal Nagar. Located 140 kilometers southwest of the capital, Bimal Nagar offers several single and multi-pitch climbing options. Similarly, it has several overhanging routes to give you everything you need for an excellent wall climbing adventure.
Whenever you set off for adventure sports like this, we recommend you get the proper set of gear and some experience. The struggle of climbing is equally hard and testing, but the view you see right after reaching the top is what makes it all worth it.
5. Mountain Biking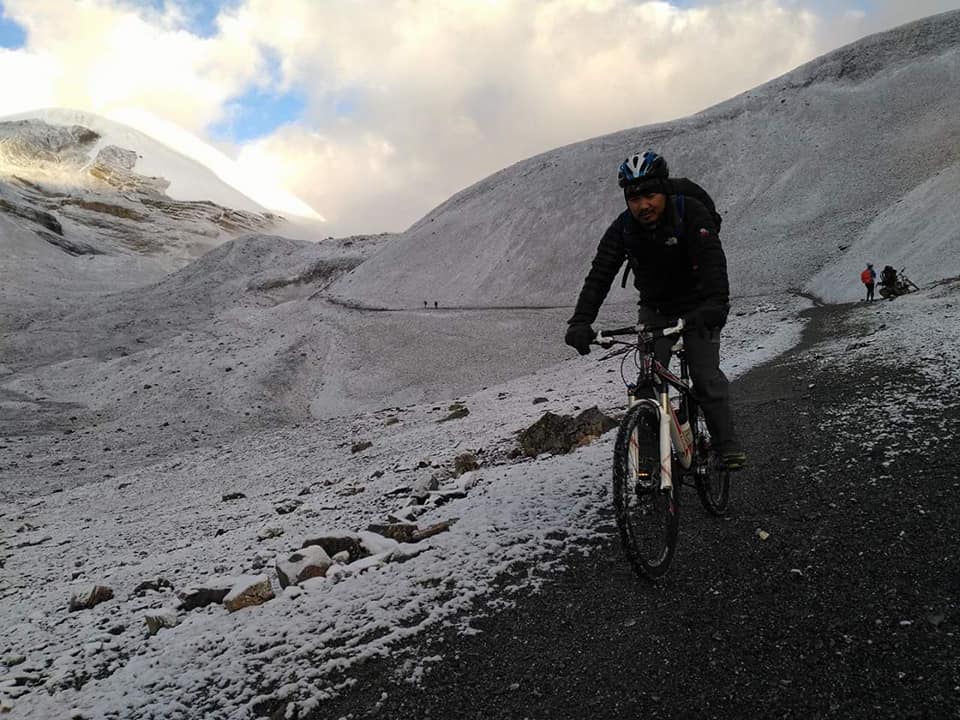 In recent decades, mountain biking has become one of Nepal's most popular outdoor adventures. Whether you're looking for extreme off-road MTB adventures or more relaxed downhill rides, Nepal has it all! It makes an excellent destination for mountain bikers as the entire country is crisscrossed with rugged trails.
Since most parts of the country are quite mountainous, these places suit mountain biking more. However, the diverse terrains do have a lot of hilly and flat surfaces suitable for relaxed downhill rides and village-to-village rambles. The hills around Kathmandu and Pokhara serve as a gentle option and are ideal for beginners. You can easily rent decent mountain bikes in both of these cities.
Some of the popular mountain biking trails around Kathmandu and Pokhara are Shivapuri National Park, Lele Valley, Lakuri Bhanjyang, Around Nagarkot, Phewa Tal Loop, Sarangkot, and Begnas Tal.
Apart from these short trails, Nepal also offers multi-day adventures for committed mountain bikers. These tours require prior mountain biking experience and a high level of fitness. Some of the popular multi-day mountain biking trails in Nepal include Pokhara to Kathmandu, The Annapurna Circuit, Lower Everest Region, and Mustang Region.
You can even combine trekking with mountain biking in a few trails across Nepal. Some of the popular spots that combine trekking and biking are the Langtang Region and Lower Mustang. Most tourists and locals prefer customized travel routes. However, if you have nothing particular in mind, you can join a group of like-minded enthusiasts for a spontaneous one.
6. Ice Climbing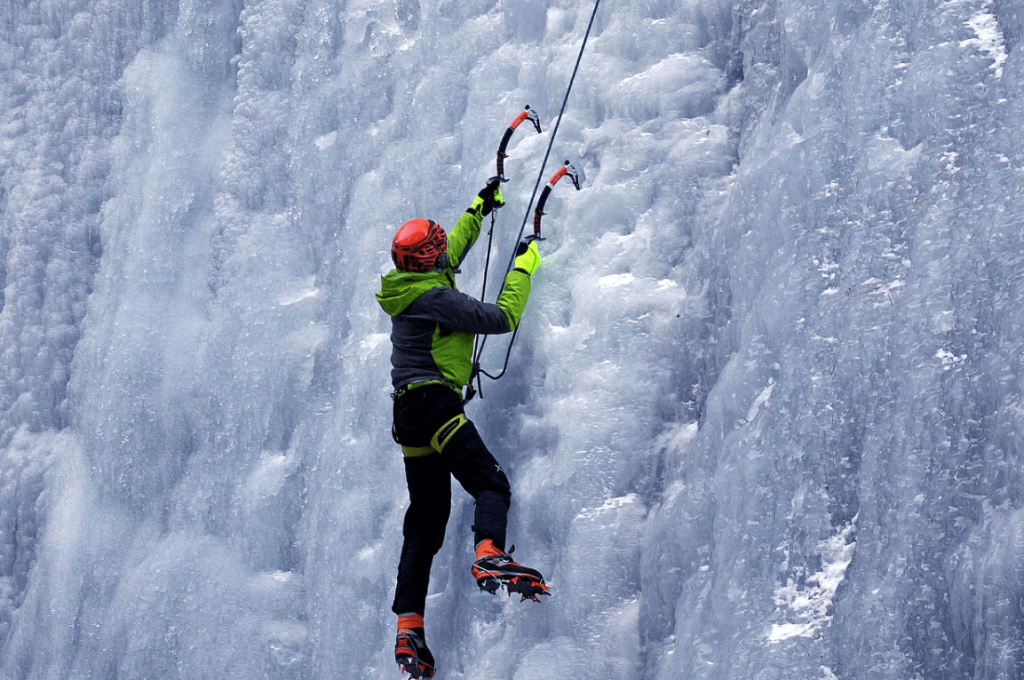 Ice climbing, a popular adventure sport usually done in winter, is nothing like other forms of climbing. It is a perfect blend of the high Himalayan views and spectacular climbing conditions. If rock climbing sounds a tad bit boring to you, then you should consider finding yourself frozen waterfalls for some ice climbing.
Ice climbing, similar to its counterpart rock climbing, has become a popular adventure sport in Nepal. Many mountaineers and adventure seekers travel to the Himalayan region of Nepal to partake in this adventure sport.
Some of the popular spots for ice climbing in Nepal are:
Eagle Nest Waterfall - Langtang Region
Jean Coudery Waterfall - Langtang Region
Kwangde Waterfall - Everest Region
NORNEP Waterfall - Everest Region
7. Skydiving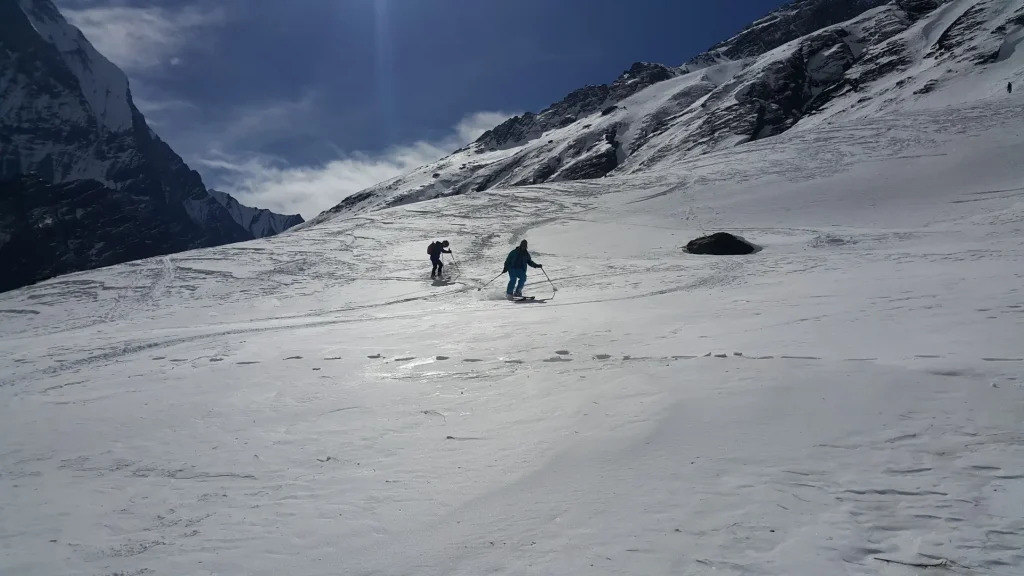 Skydiving is easily one of the most loved extreme activities in the world. This adventure sport makes on the list of the daredevil challenges of many adventure seekers. The crazy jump this sport involves takes a lot of courage and is a feat that many can not date.
What can make your experience better than being in any other country besides the roof of the world? Skydiving in Nepal ranges from 11,000 feet to 23,000 feet.
The ultimate feeling that makes one's experience totally different is when one participates in "The Everest Skydive." The free fall from 23,000 feet is definitely an experience like never before. When you hit the skies of the Everest region and immerse in the world's highest ground, the feeling is just unexplainable.
The two places that currently offer skydiving in Nepal are the Everest and Pokhara region. You do not require prior experience to go skydiving in Nepal. However, be sure to get your heart rate high, and your excitement doubled up.
8. Canyoning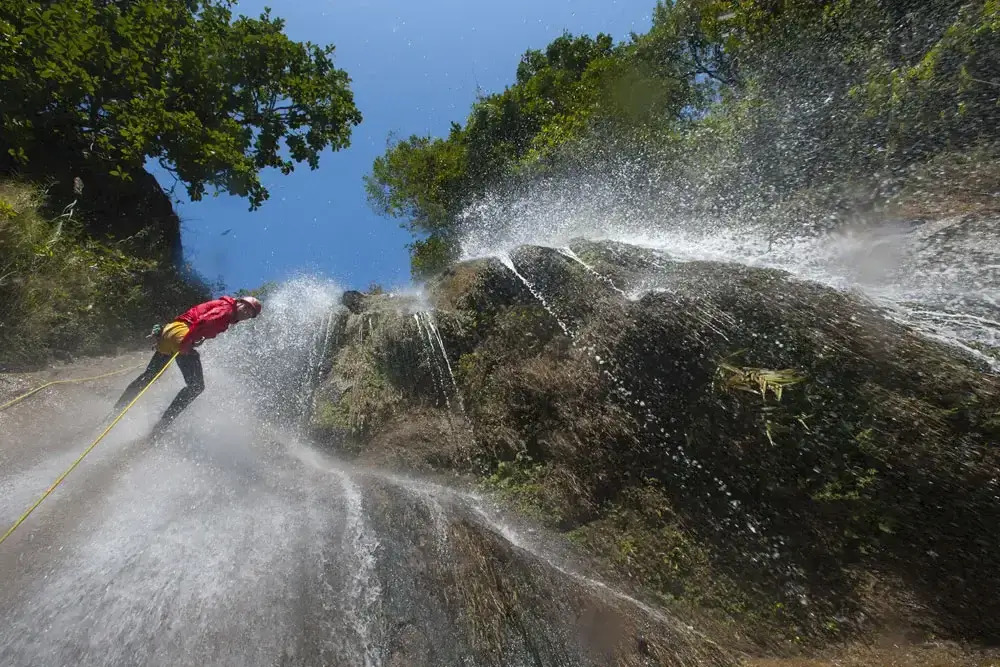 Another sport that is gaining popularity pretty quickly in Nepal is canyoning. It is an adventure sport suitable for people of all ages. Kathmandu is the place to be if you're willing to spend your time canyoning in Nepal.
Canyoning, in short, is a sport where one travels down the canyons making use of different skills such as walking, climbing, swimming, and even scrambling. This sport is a part of the off-beaten paths and demands a good fitness level.
If you are looking to go canyoning somewhere closer to the capital, Sundarijal serves as a great option! However, one of the best places to indulge in the activity is at Jalbire Canyon, located in the Chitwan district. The place rises nearly 14,000 feet above sea level.
Hence, if you enjoy canyoning as an extreme adventure and are all in for this adrenaline-pumping activity, you must go for it! The roads are slippery, and the rocky bodies in this canyon are challenging. So, precaution is better than care, and safety is always ensured with your climbing gear!
9. Ziplining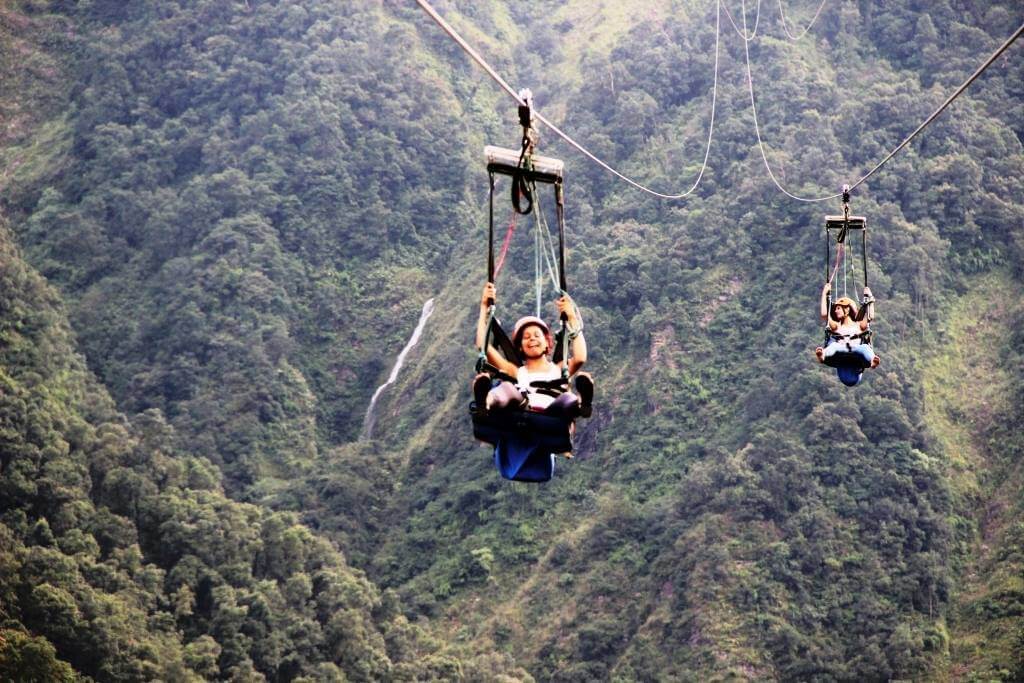 So you want to enjoy an extreme adventure as well as fly between the dreamy mountains and hills? Think of nothing else but a zipline adventure.
Ziplining is a regular sport that ensures a person has no limits when it comes to adventures and entertainment-packed in a single box. A zipline basically works on the principle of allowing oneself to freely slide from one hill to another, think of it as goods being transported using gravity.
Although the concept of the zipline is relatively new in Nepal, it has become an interesting activity to participate in for curious minds. The longest, fastest, and tallest zipline in Nepal is situated in Pokhara, taking you at the height of 2,000 feet at 100 miles per hour.
You can easily see the Annapurna and Macchapucchre range as you take the thrilling zipline rides in Nepal that gradually ascends to green hills and lowlands.
Apart from Pokhara, some of the popular places you can go for ziplining in Nepal include Dhulikhel, Chandragiri Hills, Makawanpur, Kusma, Kurintar, Nuwakot, and Dharan.
10. Skiing and Snowboarding
The most recent additions of extreme adventure sports in Nepal include skiing and snowboarding. Unlike other sports on the list, ski and snowboarding are just emerging in Nepal and can not be experienced in most places.
Currently, Nepal has only one commercial "Ski Village" situated in a tiny settlement of Kuri at the Himalayan village of Kalinchowk. The snowy village of Kalinchowk sits comfortably at 12,000 feet in the Eastern part of Nepal. The village gets snow every year during winter, making it the top spot for skiing and snowboarding in Nepal. Kuri accommodates both beginner and professional skiers and snowboarders.
Apart from that, there are also options to ski in the Khumbu and Annapurna Region for committed skiers and snowboarders looking for a challenge. Mera Peak at Khumbu and Annapurna Base Camp offers excellent slopes for skiing. Your downhill journey in this part of Nepal will be graced by a marvelous view of the Himalayas and diverse landscape.