Mountains are humbling and intimidating. The trekking journey to Annapurna Base Camp will make you feel the enormity of the world.
Why choose Annapurna Base Camp Trek?
Here are the top 15 fantastic reasons to do the Annapurna Base Camp Trek!
Annapurna Base Camp Trek is an opportunity to be in the midst of the snow-capped mountains of the Himalayas. Annapurna Base Camp is recognized worldwide as the icon of Nepal's trekking destinations which is often beautifully portrayed in paintings and pictures. The trekking destination, well known for its scenic beauty and historical elements, will make your experience truly breathtaking. The green hills, tall snow-capped mountains, raging rivers, cascading waterfalls, forest covered with rhododendron bloom, charming villages, and the famous Annapurna Sanctuary is a treat for various reasons.
The wait is over because Annapurna Base Camp Trek might be something you had been dreaming of. The popular trail runs through glaciers and moraines before reaching the foot of Mount Annapurna, the 10th highest mountain in the world. It will be ideal to say that a visit to Nepal would be incomplete without trekking to the Annapurna, the deadliest of all the mountains of the world, an ideal adventurous trekking journey for trekking enthusiasts. It's not just the views that make it worth trekking!
Nepal Hiking Team will give you fifteen reasons why you should visit this spectacular trekking destination in Nepal.
About Annapurna Base Camp
Annapurna is 8091 m above sea level and is well known for trekking in the Annapurna region. It is in the national park with the world's deepest gorge, several high mountain lakes, and incredible biodiversity. The trail journey via Mt. Machhapuchhre (Fishtail) is revered by Nepalese for its immense beauty.
So now, sail on this journey towards fantasyland to discover the reasons why Annapurna Base Camp?
Explore the 10th highest mountain in the world
Annapurna mountain, the tenth highest mountain of the Annapurna region situated in Gandaki province, the north-central part of Nepal, is known for being one of the deadliest mountains in the world. It's in the Annapurna massif of the Himalayas of Nepal, which includes peaks over 7000 meters. A French expedition led by Maurice Herzog in 1950 was the first person to successfully summit Annapurna, making it the first eight-thousand-meter peak ever climbed.
History in a glimpse
Annapurna range, named after Annapurna, the Hindu goddess of food and nourishment, is believed to reside there. Annapurna is derived from the Sanskrit language, which means- Anna meaning food, and Purna, meaning filled, translates the word as " Everlasting food ."Many streams flow through the region and provide water to the agricultural fields and pastures of the Annapurna region's lowlands. Annapurna is the only 8000 meter-peak to be conquered on the first two without bottled oxygen.
The topography of the region
The region's topography is like you are standing in the middle of the colosseum and walls of rocks, ice, and snow about 10,000 feet in height. The major highlight of the trek is Annapurna Sanctuary, an oval-shaped glacial basin that lies at an altitude of over 4000 meters, surrounded by a ring of mountains. Certain parts of the Annapurna region have rugged topography with a series of mountain chains and deep gorges. The region is unevenly covered with rocks and trees.
Escaping the ordinary with a fantastic trekking experience
Trekking in the Annapurna region is the opportunity to pass through prosperous cultural settlements like – Ghorepani, Tadapani, Chomrong, Dovan, Deurali, and many more. It will offer you a new perspective of what life is like under the shadow of the Himalayas. Trekking in the region is becoming more popular among the walkers who long for challenging treks—known for their unique viewpoints where you will experience spirituality and the tranquillity of nature. This trekking trail attracts many travelers with its wilderness and beauty. Moreover, meeting Gurung and Magar, this region's primary residents, will provide insight into Nepal's magnificent Himalayan culture.
Annapurna region- the pearl of the Himalayas, which you wouldn't miss exploring!
Go on a date with mountains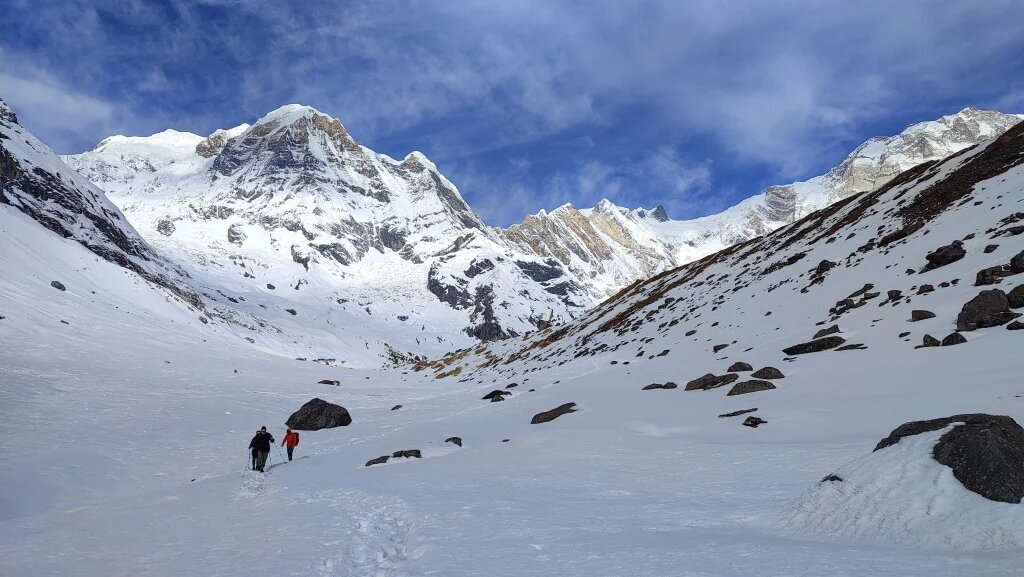 The Annapurna Base Camp trekking trail makes you fantasize about a romantic date with snow-capped mountains sparkling in the evenings, changing the mountain's color into yellowish red. The view is so alluring that you instantly love the place. Views of Annapurna I, Annapurna II, Annapurna South, Gangapurna will take your breath away.
Go back to nature in Annapurna Base Camp with fun activities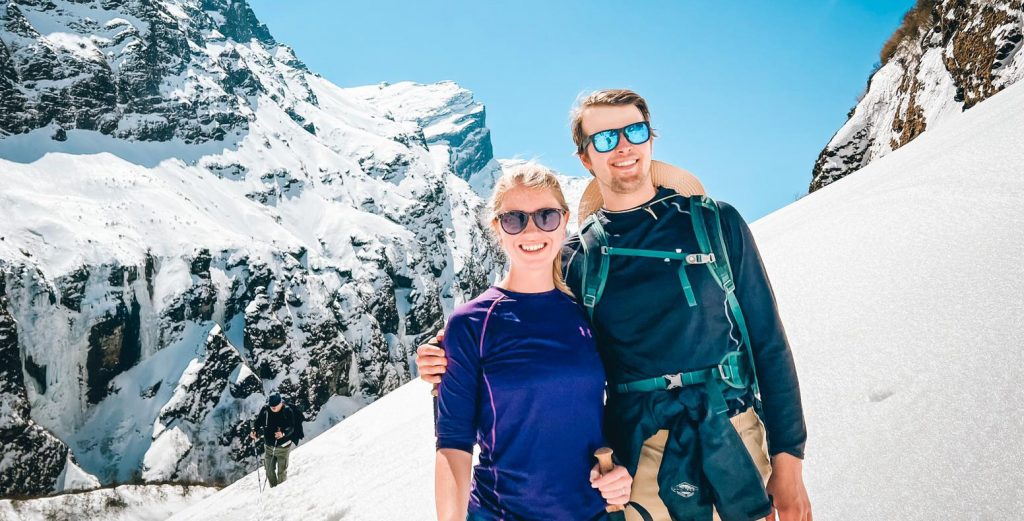 River valley trek along the beautiful Modi Khola, which originates in the Annapurna sanctuary, is a wonderful walking experience. Enjoy exciting activities like boating in Phewa lake, zip lining, paragliding, and bungee jumping in Pokhara.
Soak in rich Himalayan culture and history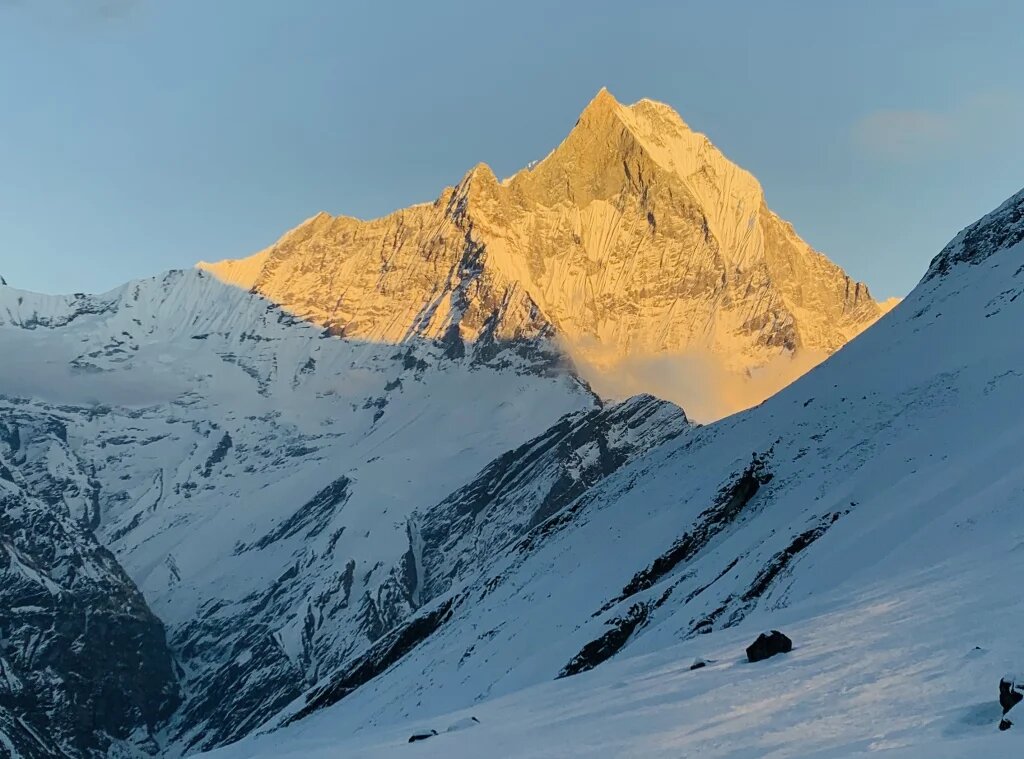 Annapurna Base Camp trek includes several unique villages like Ghorepani, Chhomrong, and Tadapani. Passing through these villages, you will witness the exotic beauty and discover their authentic culture and lifestyle. Gurung, Magar, Thakali, and Loba are some indigenous groups residing en route to camp.
Enjoy your holiday in the snow lane
The Annapurna Base Camp trail takes you on the walk toward marvelous vistas of spectacular snow-capped mountains. Standing very close to the Himalayas is a dream come true for many. It offers an excellent view of the soaring mountains of the Annapurna massif and the Dhaulagiri massif. The view of Annapurna I, Annapurna II , Annapurna III, Gangapurna , Annapurna South, Dhaulagiri , Mt. Machhapuchhre, Mt. Nilgiri, Tukuche Peak, Huinchuli , and Mt. Fishtail .The Annapurna range, which comprises a galaxy of snowy eminence, is 55 kilometers long.
The majestic mountains Teahouses offer lit-up mountain views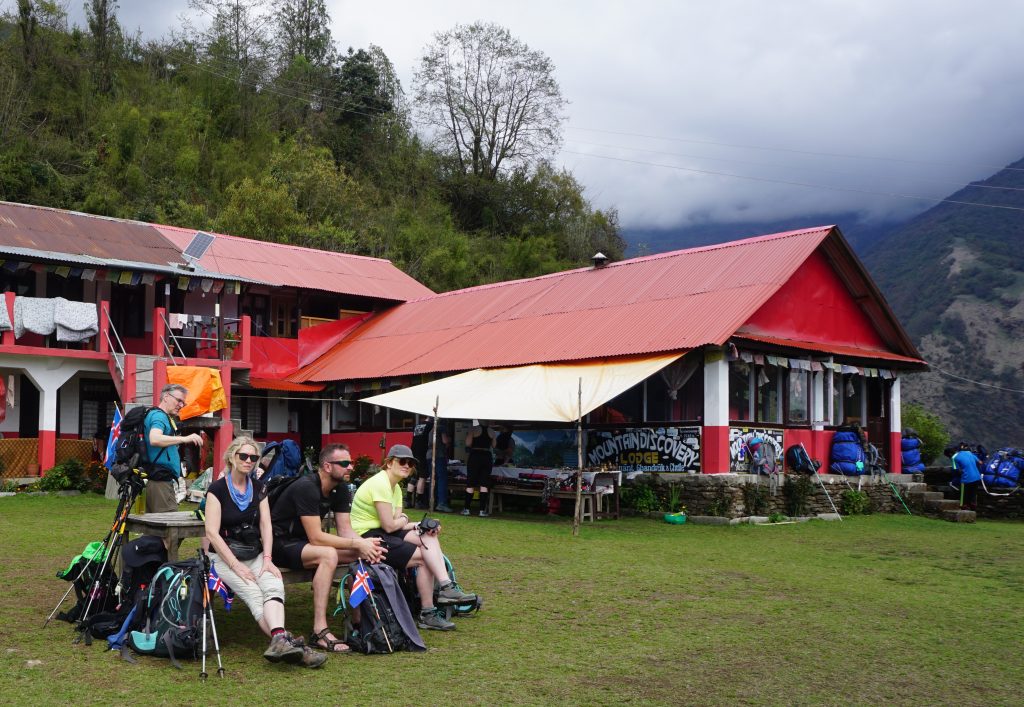 Known to travelers as "Tea Houses," they are motels or lodges that provide you shelter and food on your trekking journey to Annapurna Base Camp. The National Trust manages the tea houses in the Annapurna region for Nature Conservation. It looks into specific standards of pricing and food menu and limits on building tea houses along the route. Talking about the beauty of these teahouses gives you a break from your lavish lifestyle into a simple form of primitive lifestyle.
YES! the view of the mountains that seem lit up with a string of festive fairy lights bobbing up and down in the darkness of moonless night is extraordinarily beautiful. The view from these teahouses is so magical, which gives you a feel of theatrical performance of the mighty Annapurna range, a nature's theatre. A halt in teahouses is an opportunity to enjoy the glorious sight of the golden brush of sunshine on the snowy peaks. The teahouse menus accommodate different palates of meals for trekkers from around the globe. You may encounter other travelers with whom you may have to share accommodations. Staying in teahouses allows you to peek into Nepali culture and offers occasions to connect with other travelers.
Annapurna Sanctuary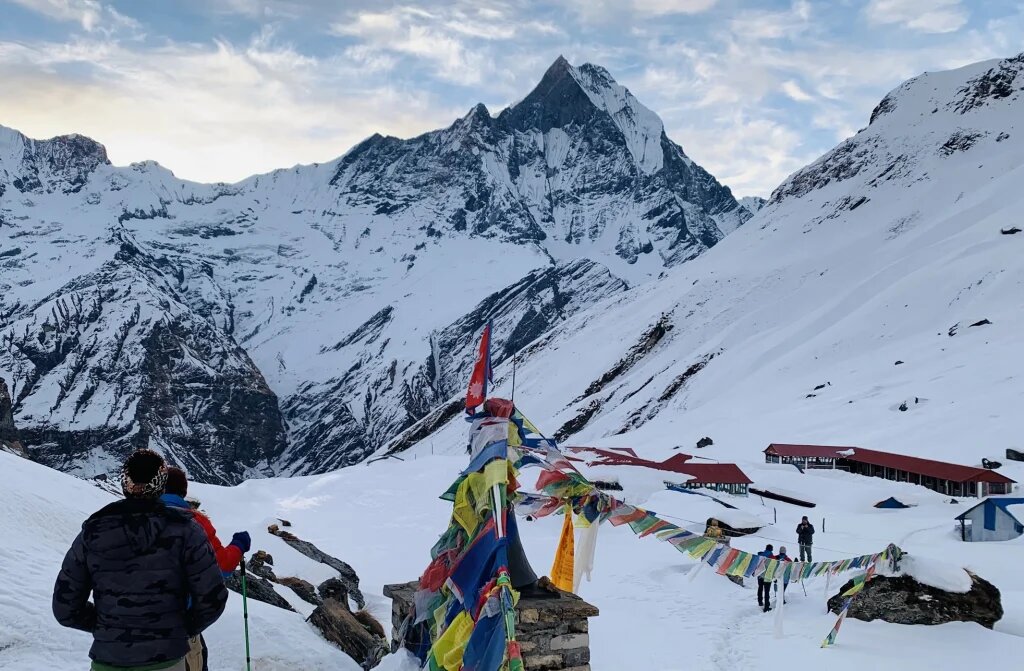 Annapurna Sanctuary Trek is an amalgamation of adventure, unique topography, serene beauty, people, and culture. The Annapurna Sanctuary is famously composed of a ring of no more than eight mountains of over 7,000 meters. This includes Annapurna South (7,273m), Annapurna I (8,091m), known as one of the highest mountain peaks in the world, Annapurna III (7,555m), Gangapurna (7,454m), and Fang (7,647m). Machhapuchhare, also known as Mount. Fishtail, the majestic peak, completes the circle at only seven meters short of 7,000 meters.
The trekkers can see the early sunrise in its clearer view and bask while enjoying the view. The sanctuary passes through lowland villages, meadows, rice terraces, rhododendron forests, and icy rivers. There is local and rural beauty around, especially the snow-capped mountains rising from the paddy fields are interestingly beautiful.
And Voila, you are here to immerse yourself in wonderful mountain life as you explore the place.
A sacred glacial basin
Annapurna Sanctuary is incredibly interesting for religious people, as the mountain peaks in this area are home to several Hindu and Buddhist deities. The Machhapuchhare (also known as Mount. Fishtail) is believed to be the home of Lord Shiva that holds great religious significance.
A perfect trekking experience for everyone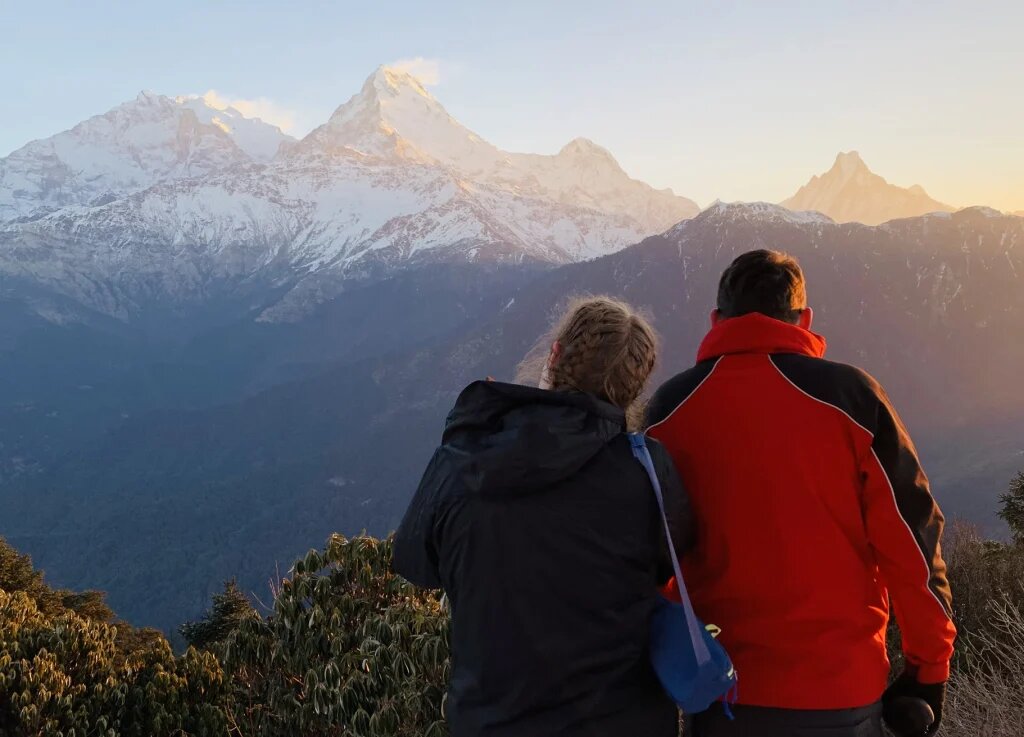 Annapurna Base Camp is a high-altitude trek that is suitable even if you are a first-timer who is hiking in the Himalayan zone and requires no previous trekking experience. Annapurna Base Camp trek has some steep climbs, descending on the stone steps; however, the trail is gradual and isn't difficult. Annapurna Base Camp is an easily reachable base camp hike with a maximum elevation of 4230 meters. Since the trek is an exceptionally moderate hike, one doesn't need a high fitness level. General stamina level and endurance are all you need to complete the trek.
Indulge in the wilderness at Annapurna Conservation Area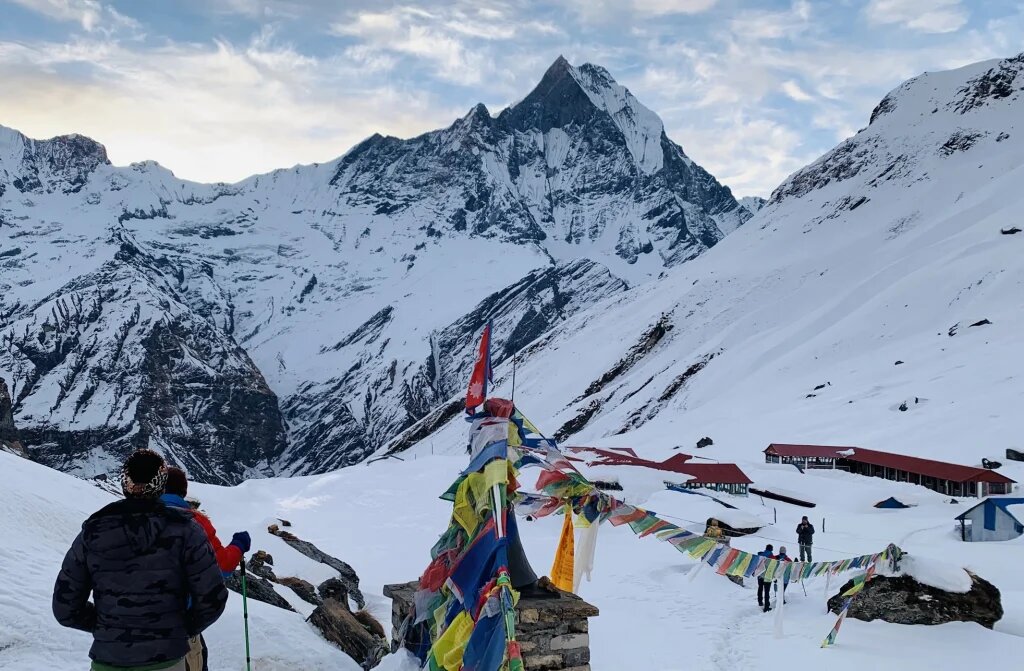 Annapurna Conservation area, established in 1992, with an area of 7629sq.km, is the largest conservation area in Nepal. The conservation area encompasses the massive Himalayan range with the world's deepest Kali Gandaki river valley. Annapurna is Nepal's most popular trekking region, and the area is a land of picturesque mountains and vibrant village settlements. Annapurna Conservation area located near Pokhara is easily accessible by air and road. It's home to rich biodiversity as much of the walking trail in this area goes through a thick rhododendron forest. It's a perfect time for trekkers to connect with nature, local flora, and fauna.
Find pleasure in the untrodden woods of Machhapuchhre Base Camp
On your trekking journey to Annapurna Base Camp, you will come across Machapuchhare Base Camp, which is quite popular among trekkers. The views of the principal peaks of the western portion of the great Annapurna Himal, including Hiunchuli, Annapurna South, Fang, Annapurna, and Ganagapurna, are worth seeing. One of the holiest peaks in Nepal, the base camp is an opportunity for trekkers to view this mountain peak from a closer distance. The untrodden trekking trail traverses through five village settlements offering great choices of trekking and hiking activities in this area. The walking path leads up to the barren and rugged surroundings of the lush forest trail.
Hot Springs with Mt. Annapurna views
The hot springs in Nepal are an opportunity to bathe with a great view. The natural hot springs of the Annapurna Base Camp trek are top-rated among the trekkers. Taking a dip in the hot springs is a must if you take this trek. Most tea houses in the Annapurna region offer great spring baths with scenic views. The Jhinu Danda is the most popular one that lies on the bank of the Modi river, with a superstitious belief that bathing in the hot springs of Jhinu Danda heals muscle aches and bruises. Views of cascading waterfalls and hot spring baths make you forget the trekking fatigue.
River rafting in Modi Khola (river)
Annapurna Base Camp trekking trail offers an exciting opportunity to do kayaking in Modi Khola, which descends into a narrow gorge of 12,00 ft. deep. This activity can be carried out only by trekkers with previous kayaking experience. The lowlands in the middle and upper portions of Modi Khola offer some short trekking routes. The water of Modi Khola comes from melting glaciers, making it freezing, especially in winter. The wide river valleys with spectacular terraces are thriving- known places in the Himalayas because of their unique morphology and history of origin. It has been considered that these river terraces are the results of catastrophic debris flows, which makes the river water unsuitable for drinking and irrigation purposes.
Annapurna Festivals
The Annapurna Base Camp trek also offers an opportunity to enjoy festivals like the Annapurna Tourism festival, the Honey Hunting Festival, or the traditional bee hunting festival in December. Besides, the famous Hindu festival Maha Shivaratri is celebrated in the foothills of the Annapurna range in the months of Spring.
Other options for detours and side trips from Annapurna Base Camp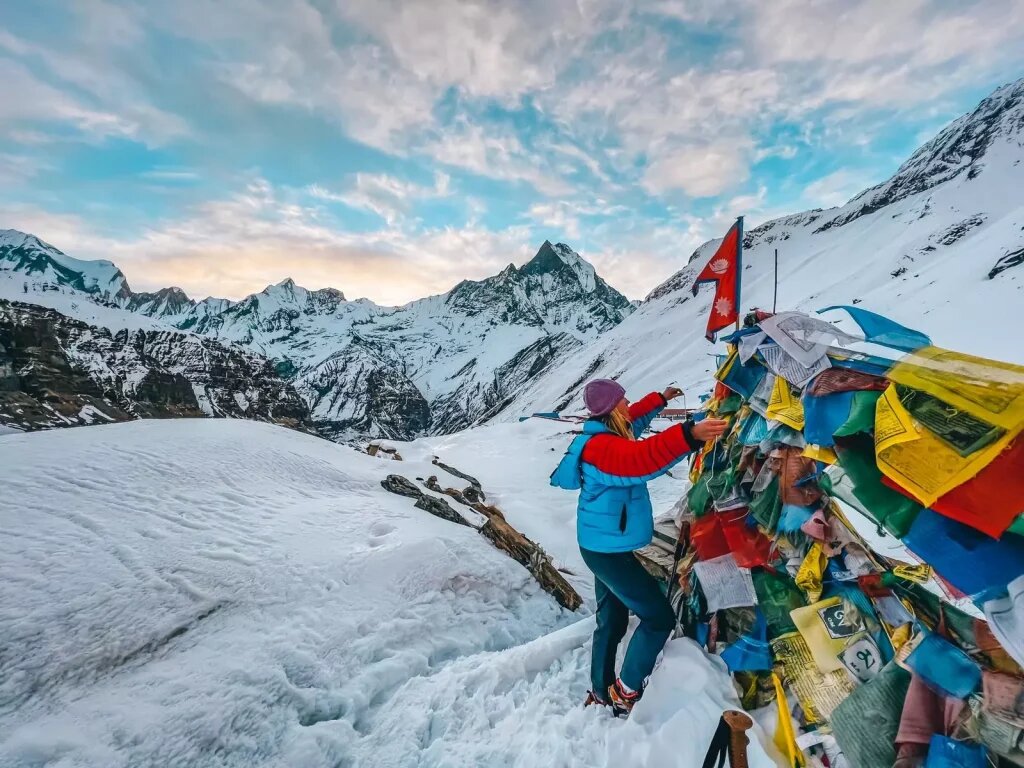 The Annapurna Base Camp is incredible in itself, and you may find other side trips and detours that can be tailored to your needs. Think of stretching your trek by going to Mardi Himal or Khopra Danda while on the Annapurna Base Camp trek. If you have additional time, you may find that even the journey to Upper Mustang might interest you. You can also see another pair of the Annapurna Base Camp trek with the Annapurna Circuit Trek. A visit to high-altitude lakes like Tilicho will add to your adventure with a more alluring landscape.
Annapurna Base Camp trek stands out from other destinations due to its unique features. The trek will be something that you have not experienced before. Enjoy watching the sunrise and sunset every moment that you spend there.
Common facts about Annapurna Base Camp Trek
Accommodation
You will stay in teahouses on your trekking journey to Annapurna Base Camp. Teahouses are small building which offers regular standard rooms and meals for travelers. Do not expect anything fancy, as these tea houses are not meant for long-term stays. The facility of private bathrooms will be available until you reach Ghorepani. At the same time, the amount of teahouses drops as you reach Chemrong. During the busy season, more travelers often share rooms and tents. However, beds, blankets, mattresses, and pillows are provided to ensure a comfortable night's rest.
Bathrooms and Shower facilities
On your trek to Annapurna Base Camp, the facility of bathrooms and showers will vary by teahouse accommodation. Some good teahouses will have western-style toilets, while others might have primitive toilets. Many times you may see the bathroom facilities outside the main buildings. However, it is essential to note that toilet paper is unavailable on the route, so you must bring an adequate supply. You can hot at lower elevations, but only bucket showers will be an option as you gain altitude. However, extra costs are applied depending on the location if you communicate your need to the teahouse manager beforehand.
Internet and electricity facilities
Internet and electricity are provided to travelers throughout the trek. However, the teahouses may charge travelers. Wi-Fi is available at teahouses, but you may have poor internet connections. Buying a local SIM card from local shops with a data plan might be a good idea for your trekking journey.
Meals on the Annapurna Base Camp Trek
A wide variety of food will be there on the menu of the local teahouses. Menus are available with a great selection of snacks and meals to keep travelers energized with a good diet. The teahouses will look into your t dietary restrictions, such as vegan or gluten-free requirements in your diet. However, you do need to communicate your needs as some people may be unfamiliar with specific diets. Everything you can imagine is available on the menu, from dhal bhat to momos(dumplings) and most loved pizzas.
Water
Mineral water bottles are not always available on your trekking journey, but you may find natural tap water resources. Nepal Hiking Team recommends that our travelers bring a water filtration device to filter water before drinking.
Foreign Currency
Nepalese rupees are the only widely accepted currency on the Annapurna Base Camp trek. So, you may like to exchange your money before going to Annapurna Base Camp. Furthermore, you will not find any ATMs on the trail, so you must ensure that you carry cash that will help you to sustain yourself during the trek. A guide from a tour agency can give you information about how much to bring.
Annapurna Base Camp Trek Difficulties
The Annapurna Base Camp trek, the moderate trekking trail, gradually progresses toward higher altitudes, allowing travelers time to adapt to the elevation. Experienced guides best look after a safety during the trek. There are challenging portions during the trek, for which you need to ensure that you are physically fit for long uphill walks.
Annapurna Base Camp Trek Preparation
We suggest you start getting ready for this trek a month before you depart. Good stamina and fitness might help you endure the trek for which swimming, walking, or other short hikes are suggested.
The best time for Annapurna Base Camp Trek
Spring and Autumn are ideal seasons to trek in the Annapurna region. The pleasant weather from March until May and the autumn months from September to November offers beautiful mountain views. Despite the Summer season can also be an option. However, the rain makes the trekking bit challenging. Winter trekking is another option for our travelers when the temperature falls to minus degrees. However, with less crowd during these months, you may wish to opt for trekking during this time.
Altitude Sickness during Annapurna Base Camp Trek
Although the trek is moderate, the chances of altitude sickness may cause problems for the trekkers due to the higher altitude, which may slow down the pace of the hike. Staying hydrated and eating a healthy diet are recommended. Meals that include a variety of nutrients give you energy, and we recommend you avoid alcoholic beverages and drugs.
Safety during the Annapurna Base Camp trek
The route to Annapurna Base Camp is relatively safe. There are usually many trekkers, and the trails are very well marked, unlike some trails in Nepal. The trail is also gradual, so there is time for your body to adjust to the higher altitude. The high number of teahouses along the route also means plenty of places to stop for a rest or help if needed.
Annapurna Base Camp Trek itinerary
The Nepal Hiking team has offered many different itineraries to cater to various preferences and abilities. You will complete the Annapurna Base Camp trek in 9 to 14 days, depending on your pace and fitness level.
Nepal Hiking Team offers distinct itineraries to trek in the Annapurna range, with Annapurna Base camp being the most sold Annapurna Base Camp trek and nine days instant ABC trek.
Hence, leave roads and take trails for a lifetime experience.