[TOC]

Nepal is a cosmopolitan country, which is a well-known fact. Different ethnic groups live in harmony with Nepal's own culture, customs, festivals, rituals, and religion. The wide variety of festivals celebrated in Nepal is a true manifestation of its rich culture and traditions. There are several Festivals in Nepal, and below is an insight into some of Nepal's biggest festivals. While celebrations happen all over the year, October to March is when the country can be seen as vibrant. All the more, Nepal is a secular country. Thus, every ethnic religion practitioner and the ethnic tribe has distinct festivals and celebrates them sumptuously with their family. To offer you some insight about the major festival of Nepal with their dates, go through some information about top festivals in Nepal.

You will also know the importance of these prominent Nepalese festivals.

Here are the major festivals of Nepal:
Gai Jatra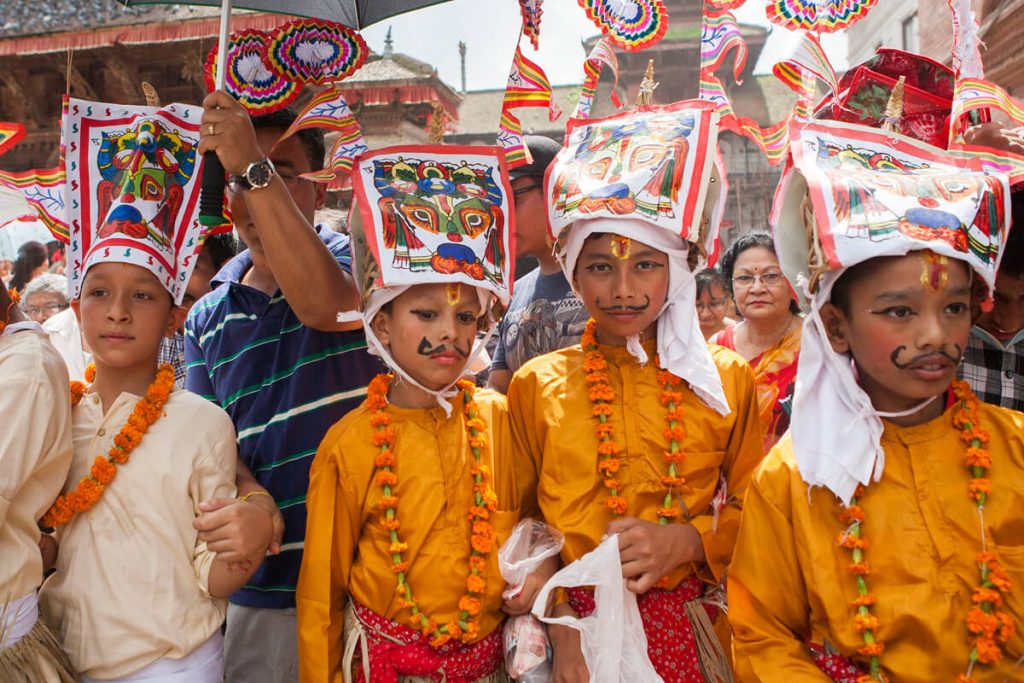 Predominantly celebrated by the Newar community of Nepal, Gai Jatra is one of the auspicious festivals of Nepal. Gai is the Nepali word for cow, and Gai Jatra is a massive street carnival that commemorates the death of loved ones. People observe the Gai Jatra festival during Bhadra and August as per the Nepali and English calendar. People parade the streets dressed as cows. The festival came into practice when the Malla Queen was mourning the untimely death of her son. The King invited every family that lost a loved one to show the Queen that she was not the only one suffering in a parade to soothe her. This celebration is spellbinding and marvelous for people; so, visit Nepal to take part in one.
Indra Jatra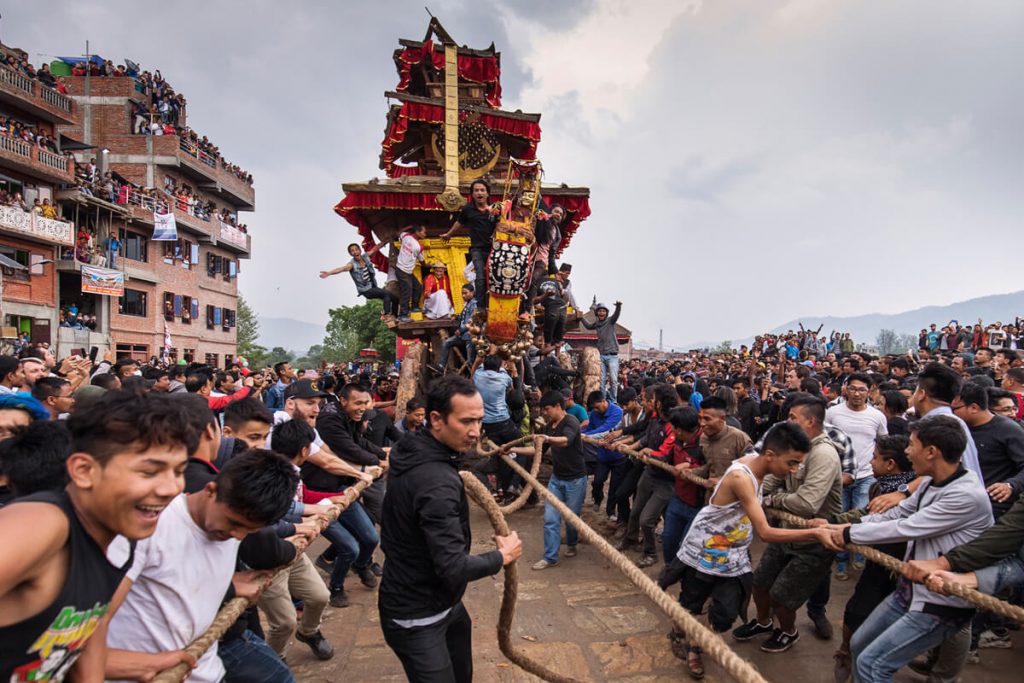 Indra Jatra is one of the most thrilling and celebrated events in Nepal. The eight-day long Indra Jatra festival falls in September, marking the beginning of a month-long festival season of autumn. The celebration commemorated when Indra came down from heaven in human form to look for an herb. The newer community celebrated the festival by running chariots and performing mask dances for eight days. Also, the Kathmandu Durbar Square area is illuminated with oil wicks. Overall, all the heritage sites look enchanting during the festival period. Indra Jatra mainly falls in September month. Since it officiates the festive season and farewell monsoon season entirely, it is one of the best times to visit Nepal.
Bhoto Jatra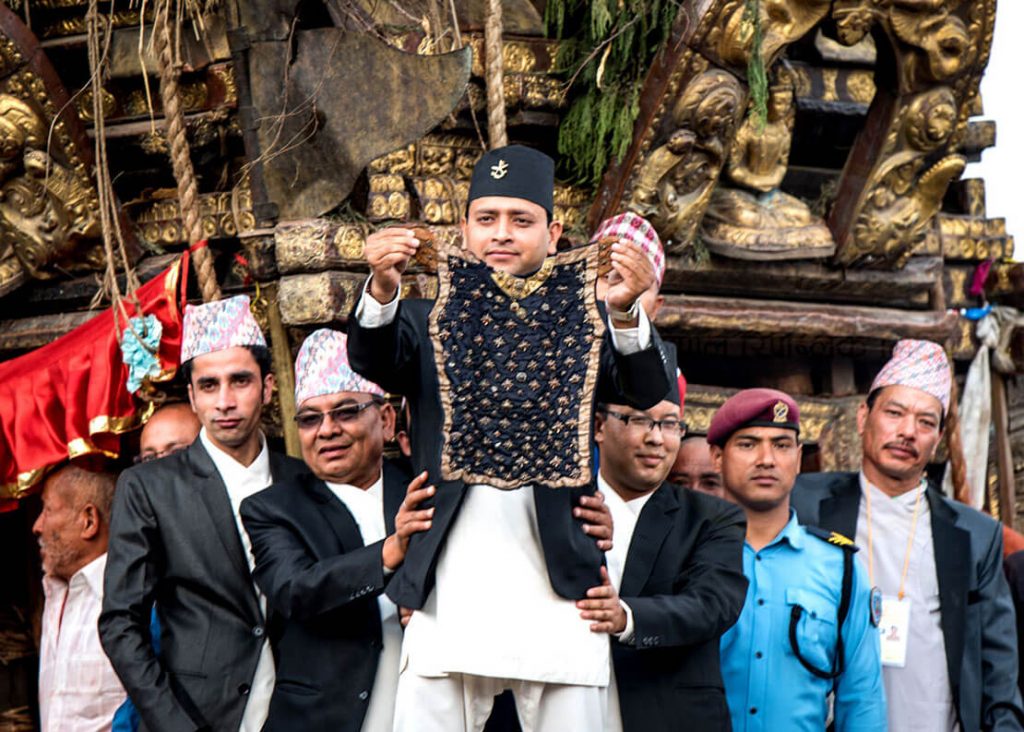 Bhoto Jatra is another grand festival observed in Kathmandu. This auspicious festival falls on Astrologers to decide the date for Bhoto Jatra. So the date is inconsistent, and dates for 2021 are not decided yet. However, this festival mainly falls in early June as per the English calendar and during Asar in the Nepali calendar. At this festival, a bejeweled bhoto is shown to the masses. Bhoto is just a vest, but the bhoto shown in this festival have myths attached. Hence, people gather in large numbers to see the bhoto. Therefore, it is called Bhoto Jatra. Usually, Bhoto Jatra is held on the last day of the months-long Rato machindranath Jatra, which is also one of the great festivals of Nepal.
Holi Festival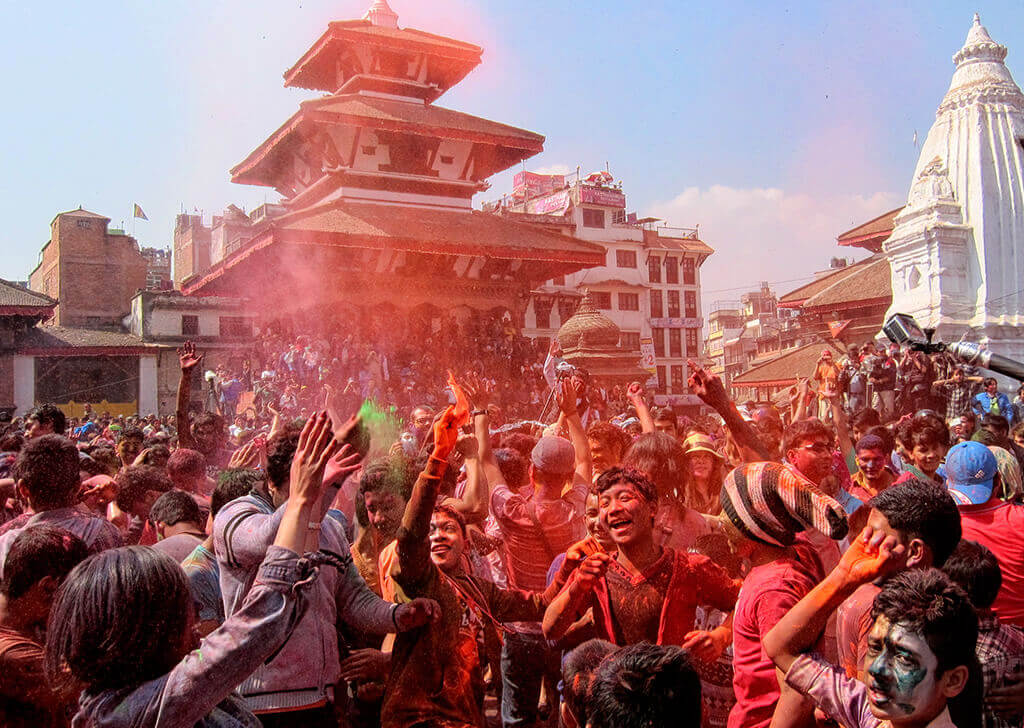 Also known as the festival of colors, Holi is one of the famous festivals of Nepal, celebrated in March. The festival is observed for two days individually in two different regions of Nepal. The Holi festival takes place in March according to English Calendar and April as per the English calendar. Although it is a religious festival for Hindus, people of all religions celebrate this festival wholeheartedly. The festival spread the message of joy and happiness by putting colors on each other.
Teej Festival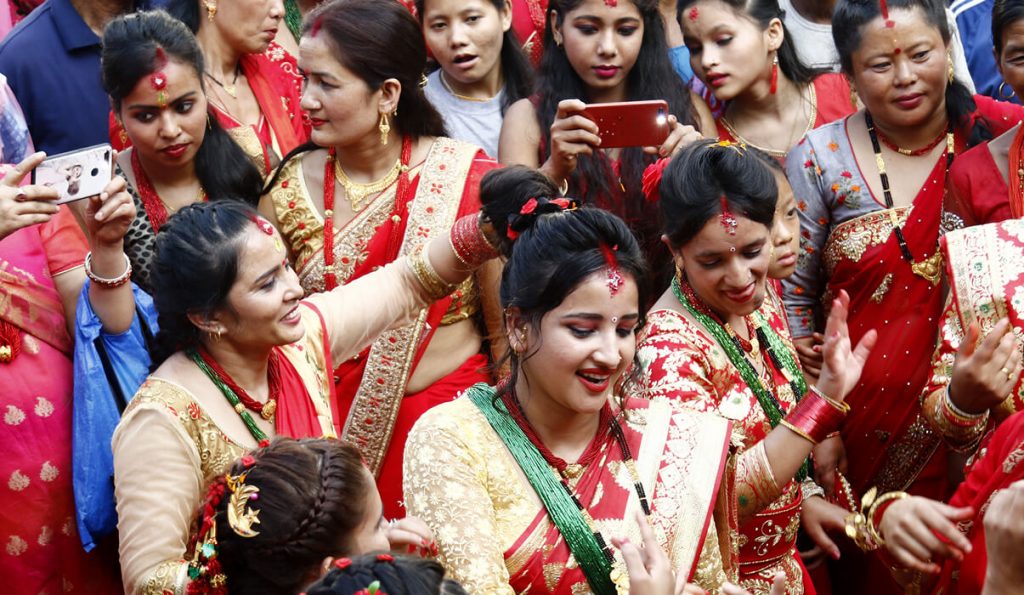 Teej, also known as Haritalika, is the most auspicious festival for women of Nepal. Teej is a three-day-long festival where Hindu women go on fasting for 24 hours. In the old days, women would fast without drinking a single drop of water and dance all day long. But these days, women still dance all through the day but drink water too. Women during the Teej festival get decked up in beautiful red saris and expensive jewelry. Although Teej is a traditional festival, it has both traditional and modern values as it promotes sisterhood. Teej celebrations usually occur in Bhadra month and August or September according to the Nepali and English calendar.
Dashain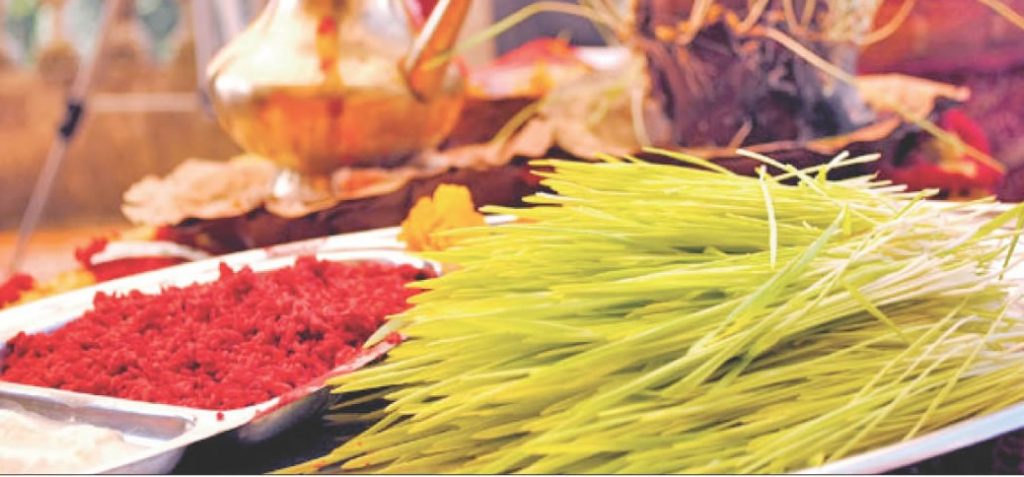 Dashain is Nepal's most extended 15-day celebration that everybody across the country holds. In the festivity, Durga's victory over the powers of evil is celebrated. Likewise, it also remembers the victory of Lord Ram over Ravana after Durga played the demon Mahisasur. Nepales, to commemorate this victory, grandly rejoice in the festival with their family and loved ones. Tikas are put, blessings are given for multiple days, and delicious meals are cooked every day. Nepalese observe Dashain Festival annually in Asoj of Kartik as per the Nepal Sambat calendar. Similarly, it falls in October as per the English calendar.
Tihar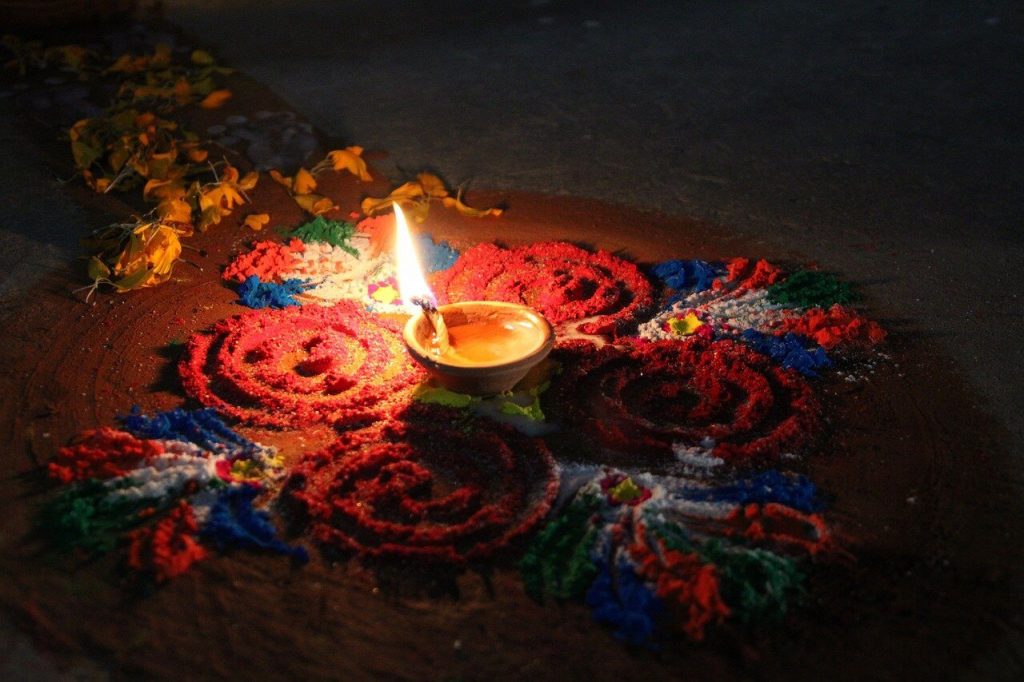 About two weeks after the Dashain celebration comes the auspicious festival of light- the Tihar festival. Also known as Deepawali, Tihar goes on for about a week. Each day a different celebration is held, and the city glows up in different lights, rangoli, deeyas, and firecrackers. Every house is adorned with exaggerating lightning, giving each other competition. After Dashain, Tihar is the second most celebrated festival in Nepal. People observe this festival gloriously with family, relatives, and friends. Youths and kids go on to play deusi and Bhailo at each other's houses, offering blessings to every home they visit. As a whole, Dashain Tihar is unique, and displays regard not just for the gods but also for creatures like crows, cows, and dogs that have lived with humans for a long time. Tihar falls typically in the month of Kartik, according to the Nepal sambat calendar. Likewise, as per the English calendar, the Tihar falls in November. Plan your travel if you wish to experience the lively Tihar holiday in Nepal properly.
Tiji Festival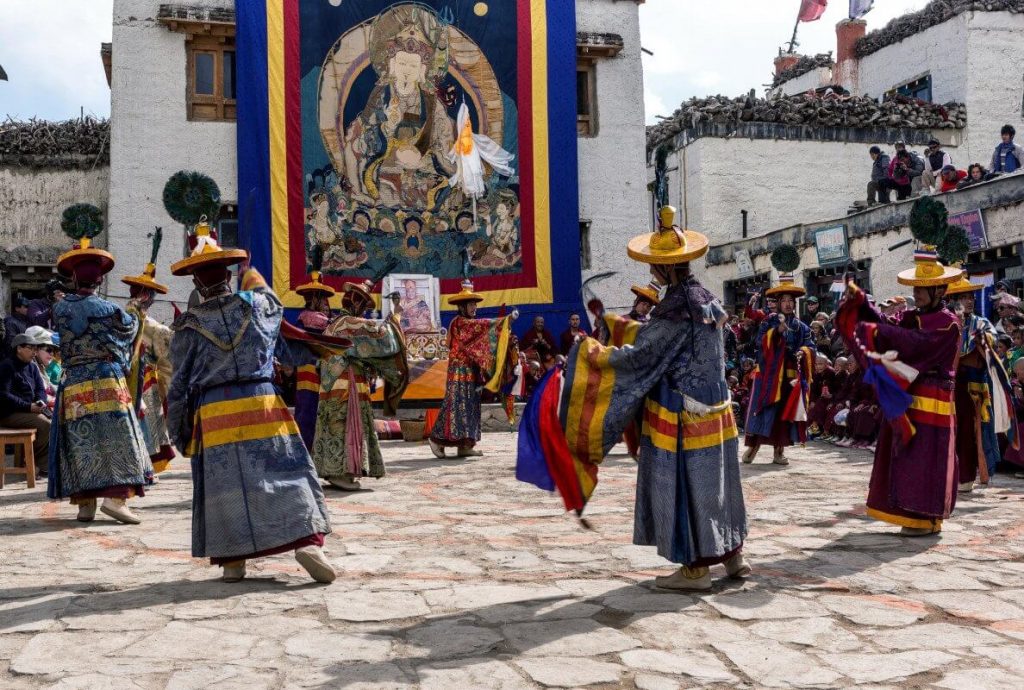 The Tiji Festival is a delightful celebration. In the Mustang area of Nepal, it is observed. The celebration with others from different cities of Mustang is always praised. It is a festivity that offers happiness, luminosity, and hope to the Mustang residents and local people in the excellent time to come. The ritual is praised progressively for three entire days. For days, people joyously celebrate this festival with mask dance and various rites and rituals. The mask dance is the reenactment of harassment of Demon MA TAM TU TA to people. Also, the festival is about celebrating the victory of Dorje Jono against his satanic father. Astrologers determine dates for the Tiji festival, and it usually falls in May month.
Mani Rimdu Festival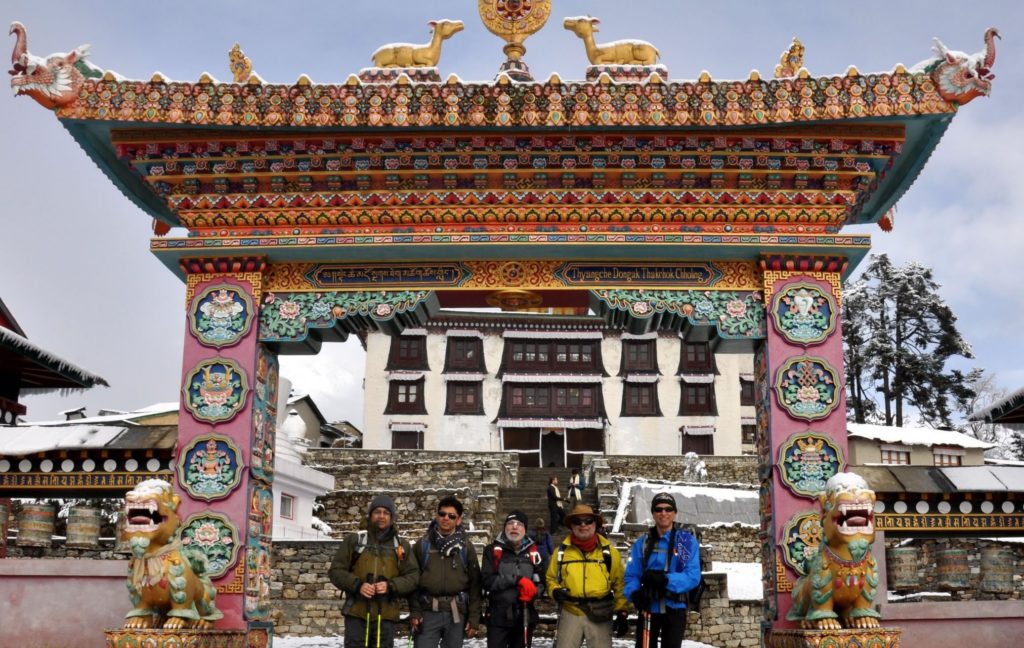 Mani Rimdu is a 19-day festival that Buddhists in the Himalayas celebrate to honor Guru Rinpoche Padmasambhava's foundation of Buddhism. The festival annually falls in November month. Those who are looking to rejoice Himalayan festival can coincide the festival dates with trek dates. During the festive celebrations, great shows are put up on three different occasions at the monasteries of Tengboche, Thame, and Chiwong. Buddhist monks put up masked dances and Tantric rituals at these monasteries, where huge crowds from nearby gather to celebrate.
Lhosar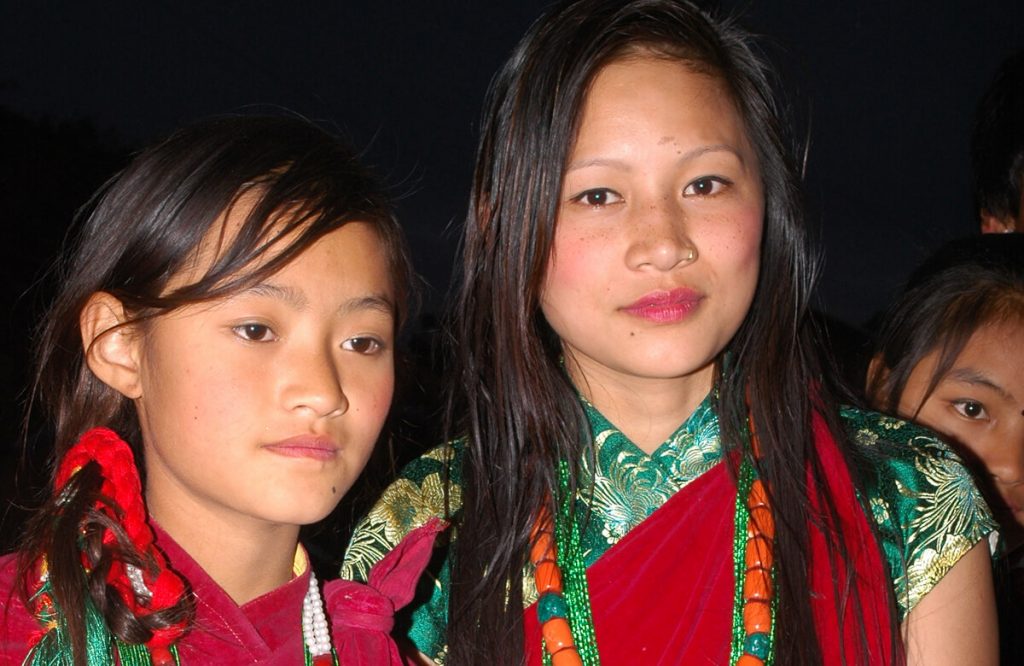 Abiding from the lunar calendar Tamang, Sherpa, Gurung, and other Himalayan communities of Nepal celebrate Lhosar as their New Year. Each tribe observes Lhosar during different months. For instance, Gurung celebrates Lhosar in Poush (December), whereas Tamang, Sherpa celebrate Lhosar during Magh (February) and Falgun (March), respectively. People visit monasteries and take monks' blessings for success, wealth, and happiness. Every house puts a flag above its roof. A party is held at home, and invites to family and friends are sent. The core of this gathering is delicious cuisine, music, and dance.
Mother's Day/Mata Tirtha Aunsi
Mata tirtha aunsi, also known as Mother's day, is essential to remember and honor our mother. Mata Tirtha Aunsi, also known as ama ko mukh Herne din (The day to see mother's face), is an auspicious festival celebrated to honor all mothers. People give their mothers their favorite food, clothing, and other presents with tremendous respect and affection. This practice is to acknowledge and praise the love and sacrifice of a mother. And those who do not have mothers go to Mata Thirtha temple, a sacred temple on the outskirts of Kathmandu, to respect their departed mothers. Some also visit the Pashupatinath temple. Mata tirtha aunsi usually falls in Bhaishakh (April as per English calendar) month as per the Nepal Sambat calendar.
Gokarna Aunsi/Father's day
Another important festival for Nepalese is Gokarna aunsi, also known as Kuse aunsi, and father's day. It is also called Buba ko mukh herne din (the day to see father's face). This is a beautiful day to honor one's father's devotion. Children honor their father's sacrifice, love, dedication, and hard work on this auspicious day. They give gifts to their father, spend quality time preparing delicious home-cooked delicacies, sweets, meat, and perform rituals and rites. Sons who have lost fathers visit Gokarna temple to do the Sraddha or Pinda Daan to their deceased father. Gokarna aunsi is observed in late August or early September according to the English calendar and Bhadra as per the Nepal Sambat calendar.
Ghode Jatra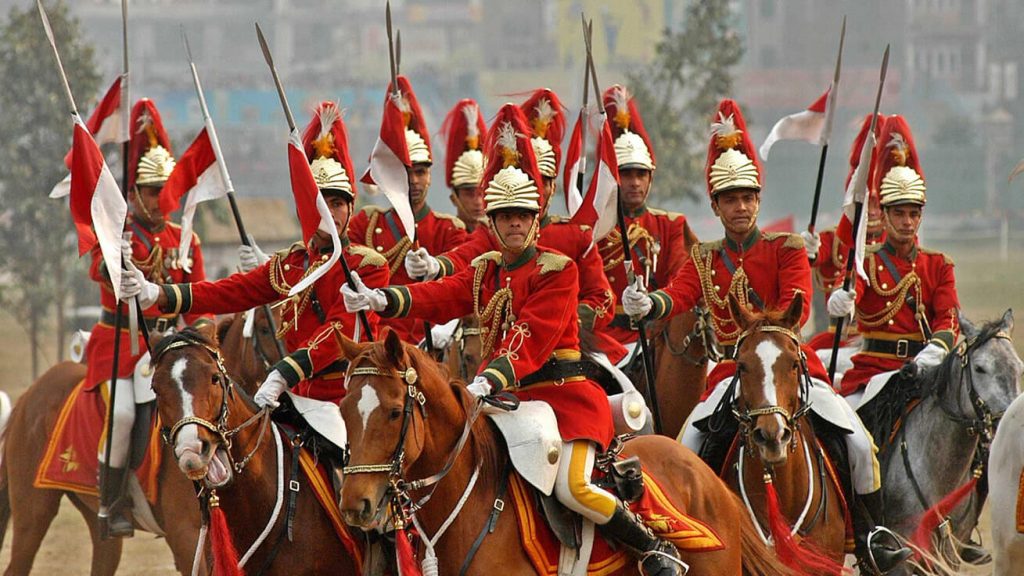 Ghode Jatra is another major festival of Nepal massively celebrated in Kathmandu. A large horse parade is organized in the Tundikhel every year to remember the death of a demon named Tundi. As per the legends, Tundi terrorized city people for a long time until he was slain, and people rejoiced the victory by riding the horses over his body. Since then, the clamor of horses hooves at Tundikhel during the festival of Ghode Jatra. People to observe the parade gather outside the Tundikhel since entering the arena is not allowed. Ghode Jatra is annually celebrated during Chaitra in Nepali and in April as per the English calendar.
Final Words
These are some of the greatest and most observed festivals of Nepal. Not every Nepalese celebrate all these festivals, but most of them are acknowledged by most. Nevertheless, these festivals are significant to most by the same length and very encouraging for everybody. After all, these festivals are the ones that make Nepal different and unique from others.