January is counted as an off-season month in Khumbu and other trekking regions of Nepal. It's that time of the year when the trails remain empty and the teahouses vacant. The biting cold of the winter season keeps the tourists away. With nothing much happening on the trail teahouse owners close shop and head to warmer or lower places.
Are you looking for Everest Base Camp Trek in January? Then check out the following packages.
[block](,02,10)
For those hardy trekkers who can battle the cold winter air, January is the perfect month to hit the trail to Everest Base Camp. You can amble up and down the beautiful trail in solitude without having to suffer noisy tourists and choked trails. There's no precipitation in the air and the skies remain clear, which means you can enjoy unobstructed views of the mountains.
Trekking to Everest Base Camp in January Advantages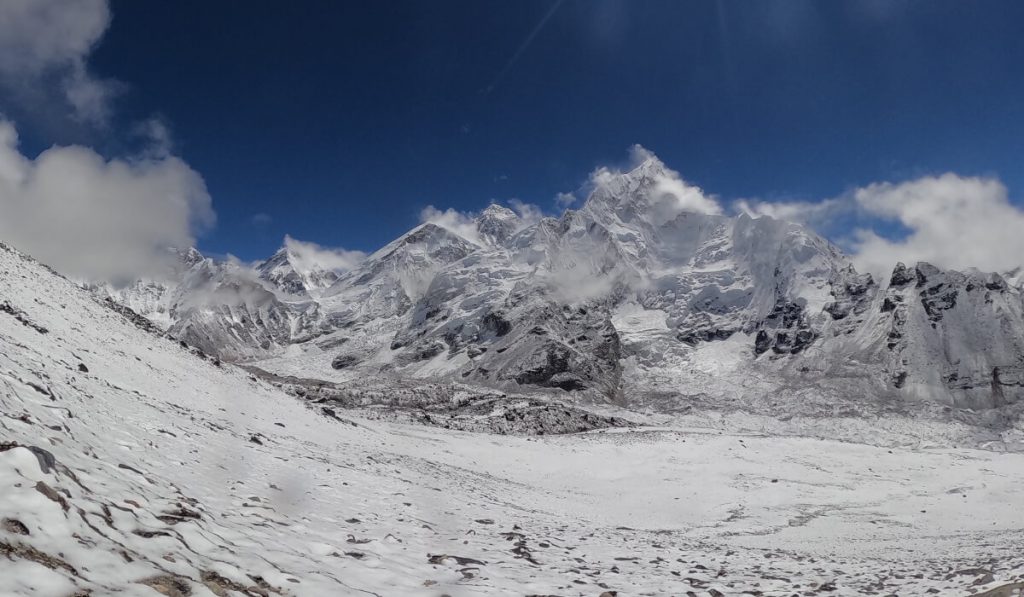 First of all, you can easily procure a seat on the plane to Lukla ( that is if you are planning to start your trek by flying directly to Lukla). There's no need to book your ticket in advance. Tickets are easily available and you can book them a day or two before your trip. Sometimes airlines offer off-season discounts too.
Throughout winter Lukla Flights operates from the domestic airport in Kathmandu. You won't have to take the 4 or 5-hour long road trip from Kathmandu to Manthali Airport in Ramechhap to fly to Lukla, like in the peak seasons.
Secondly, as mentioned above the trail to Everest Base Camp receives zero or very less traffic in January. Unlike the constant flow of trekkers swarming the trail during peak seasons, there will be fewer people trekking at this time of the year. No traffic jams at narrow crossings and no waiting in line for your turn to show your permit at the check posts. Hurrah!
There will be fewer pack animals on the trail. The demand for pack animals to transfer goods at teahouses will also decrease as winter rolls in as most teahouses in the upper reaches shut down for the winter season. This means the trail will be less noisy and dusty.
In January the air remains dry and there's no precipitation in the atmosphere. The skies remain crystal clear. With no fog or clouds blocking your view, you can enjoy clear views of the mountains to your heart's content.
With the onset of the winter season, wild animals living in the higher reaches tend to migrate to the lower valleys. This means there will more opportunities for wildlife sightings. You may encounter herds of Himalayan Tahr, musk deer, the pretty and colorful Himalayan monal, red pandas, or the elusive snow leopard.
With fewer tourists on the trail, some teahouses offer discounts (on accommodation). It's possible to find teahouses on the trail offering free accommodation provided you have your meals at their teahouse.
Trekking to Everest Base Camp in January Disadvantages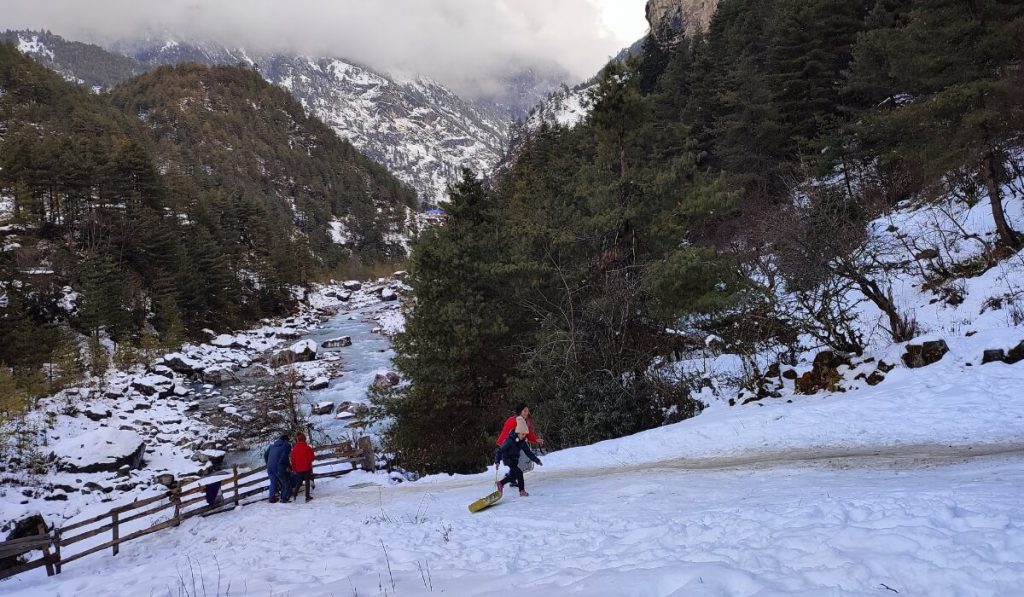 It will be extremely cold at night, especially at the higher altitudes with temperatures dipping below freezing point at night.
There's always a possibility of the trails (above 5000 meters) closing down due to the path getting snowbound. You may have to abandon your trek to EBC if the trail is closed.
Hazard of UV exposure, snow blindness, hypothermia, and frostbite.
Most of the teahouse owners at the higher reaches close their businesses and head down to the valley. But you will find at least one or two teahouses functioning at each stop even during the off-season.
It may take a good while to search for a teahouse that's receiving guests. To save yourself from the uncertainty of getting a room at a teahouse we recommend you trek with a local guide. He will know where and which teahouses operate even during dead winter.
Weather in January/Winter Season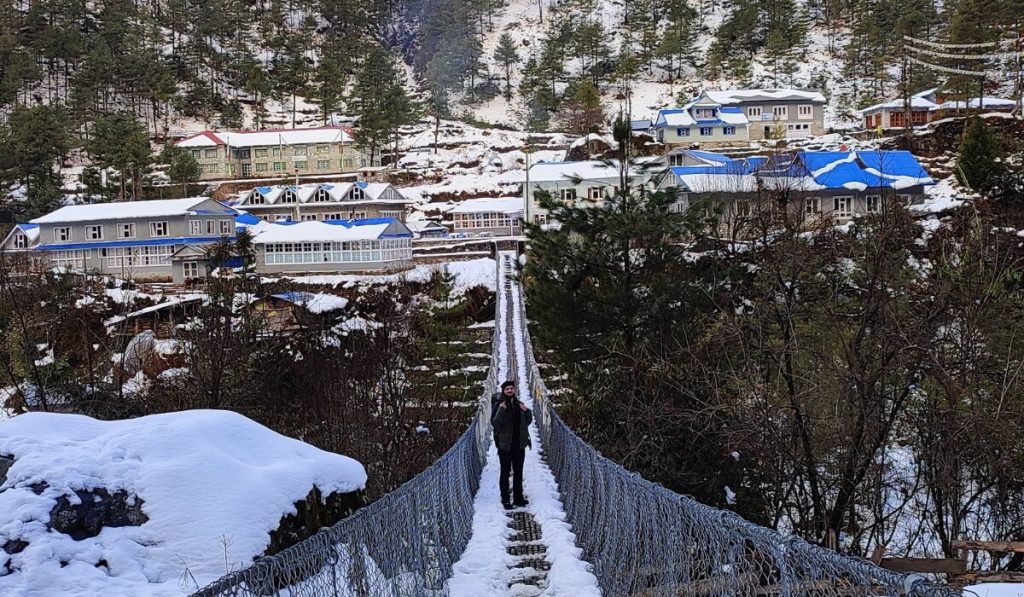 As January is mid-winter, it is the coldest month in the Khumbu Region. In January the minimum average temperature goes down to as low as -26 degree celsius in the higher reaches (5000 meters). The lower valleys (where the villages of Lukla, Namche, and Tengboche are situated) remain a bit warmer with daytime temperatures going as high as 10 degrees Celcius and minimum temperatures dipping below -6 degrees celsius.
One can also expect snowfall on some days and fierce winds. Sun rises at 7:30 AM and sets usually by 5:30 PM. It is advisable to end your trek before sunset as the temperatures outside decrease rapidly after sundown.
In January the days are warm and the sunlight is intense. There's a real danger of UV exposure. To protect yourself apply sunscreen with a high SPF which will offer good protection from harmful UV rays. Also, don't forget to wear a pair of UV protection sunglasses to shield your eyes from harmful rays. UV exposure can cause snow blindness.
Accommodation Situation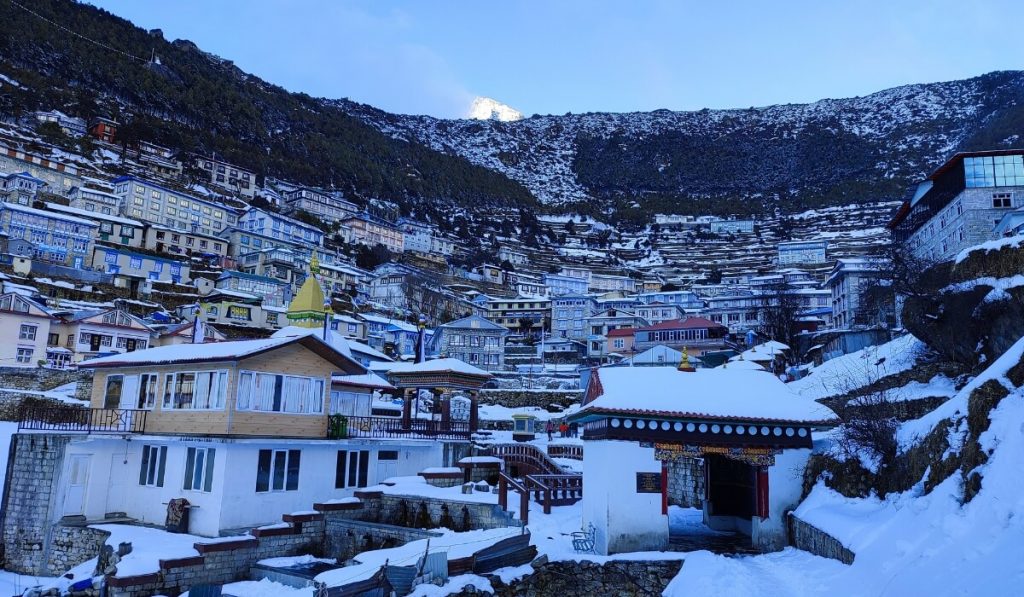 You won't have to worry about accommodation as most of the guesthouses will be empty. While most of the teahouses in the higher reaches close down, it's possible to find at least one teahouse open for business even during the off-season.
Since finding out which teahouse will be open for business can be tough when you are on your own, trekking with a local guide can save you from this hassle. Being a local he will know which teahouses are closed and which remain open.
Expenses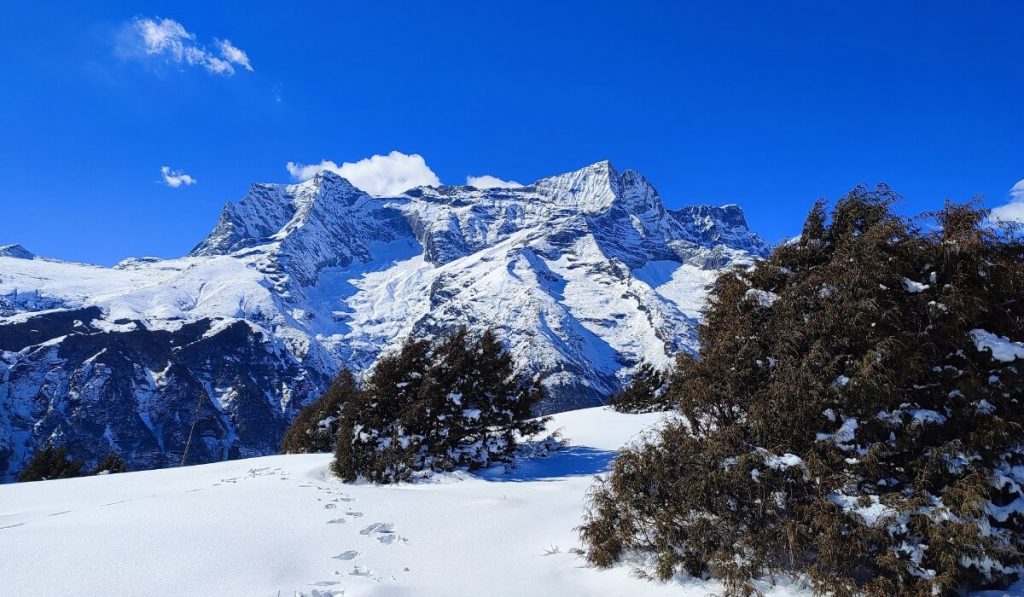 Off-season or not the price of food on the trail will remain the same. But you can expect some concession in the accommodation fee at teahouses.
As there will be fewer shops open on the trail you can shop for snacks in Kathmandu itself and carry them with you.
How to gear up for the January Trek to Everest Base Camp?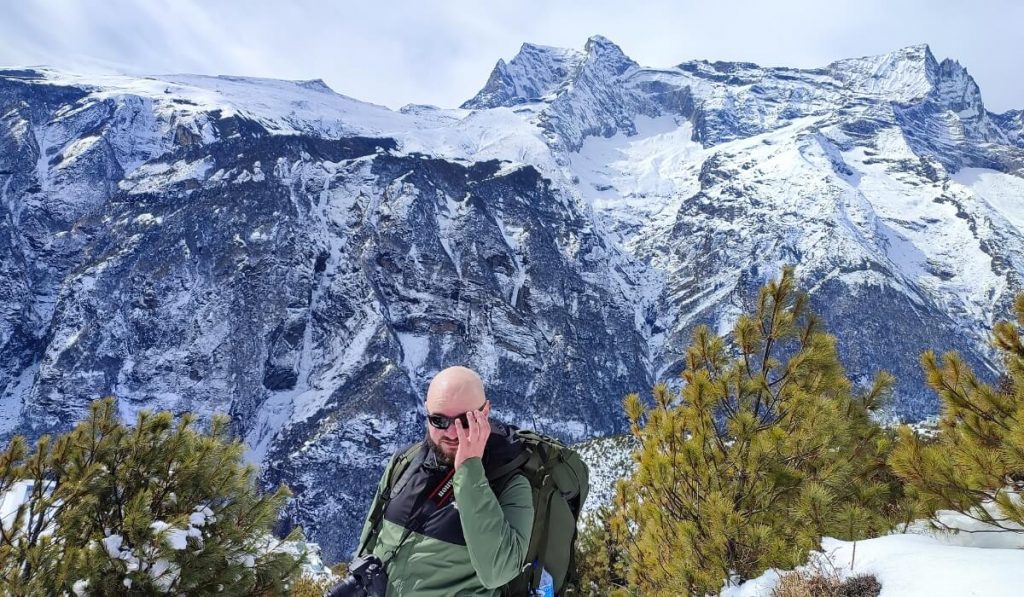 There's no denying the fact that it's going to be super cold in January. Therefore you need to have appropriate clothes to save you from the cold. Carry a good quality down jacket and plenty of warm base layers. A balaclava, down mittens or fur-lined gloves, socks, and a warm hat or cap will save you from the harmful UV rays and freezing cold. A buff or balaclava will offer protection from the dreaded Khumbu cough.
Don't forget to pack a four-season sleeping bag. Of course, the teahouses provide you with blankets or quilts but trust us this won't be enough to keep the freezing cold at bay. A sleeping bag will offer added insulation and keep you warm and toasty on cold nights.
Packing the right clothes may also save your life as hypothermia and frostbite are real hazards at this time of year.
Wear boots that provide good ankle support and are waterproof. You can also carry a pair of gaiters and crampons to wear while walking on snow and ice. Trekking poles will help you navigate the slippery and icy patches.
Last but not least do not forget to carry essential medicines like Diamox, pills for diarrhea, headache, or minor pains, muscle pain relief cream or spray, etc.
Alternate Routes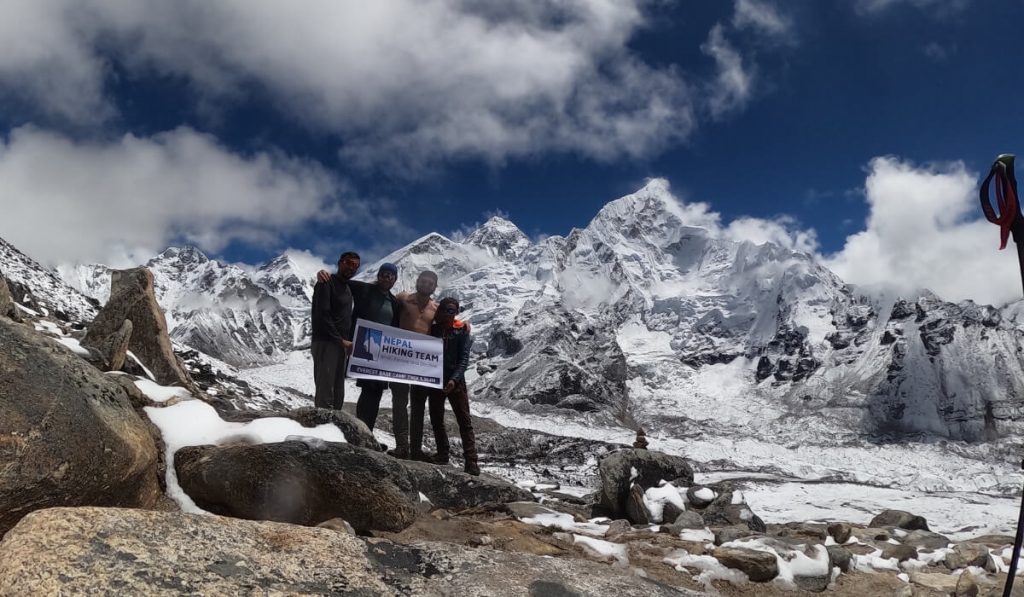 Besides Everest Base Camp, you can also trek to the Gokyo Lakes and Sherpa villages in the lower valleys (Debuche, Thame, Phortse, Pangboche, etc.). Gokyo Valley in winter looks more alluring. Covered in snow and ice, it looks like a winter wonderland. The frozen Gokyo Lakes are ideal spots for trekkers who love ice skating. Ice hockey and figure skating are two outdoor sports that are becoming quite popular among winter trekkers in Khumbu. The Chola Pass usually gets closed during the winter time.
Are you still skeptical about trekking to Everest Base Camp in January?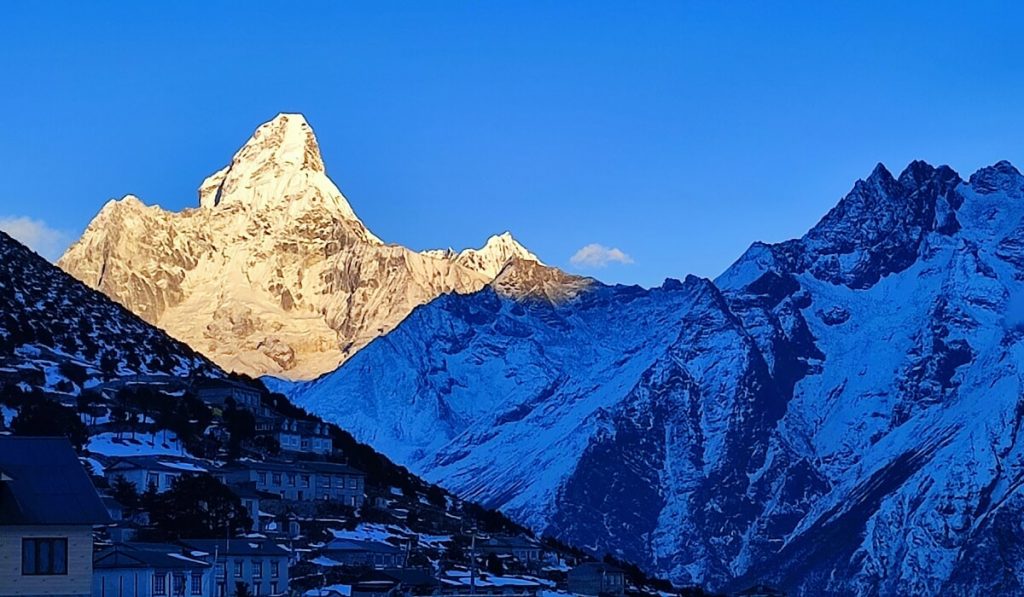 If you still think trekking to Everest Base Camp in January is impossible, then hear this.
A Japanese trekker by the name of Shigeo Osawa trekked to Everest Base Camp every winter to celebrate his new year (1st January). For more than twenty-nine years(starting from the year 1980) he marked his new year by diving into one of the glacial lakes at the Khumbu glacier near the Everest Base Camp.
The International Mountain Museum in Pokhara has showcased his feat in the Hall of Mountain Activities. If you ever visit this museum in Pokhara, do make it a point to check it out.
A German blogger has also mentioned meeting Shigeo Osawa at Gorak Shep in 2008. Apparently, Shigeo at the ripe old age of 84 was on his way to Everest base Camp for his customary New Year's swim at the top of the world.
Shigeo Osawa has proved that it is not impossible to battle the extreme cold at Everest Base Camp in winter. Even after hitting the age of eighty, he continued his annual winter tradition, which is to trek to Everest Base Camp and enjoy a swim in the freezing lake waters.
Some adventurers who love winter sports also make it a point to visit the Everest Region in winter. People have skied down Mera Peak, played ice hockey on the frozen Gokyo Lake, and figure-skated on the same lake.
Conclusion
A winter trek to Everest Base Camp in January offers you a great opportunity to experience some of the highest mountains in the world in their winter glory. With few trekkers on the trail, a winter trek to EBC offers you a great experience that you can hardly expect to enjoy during the busy peak seasons.
If you feel like taking up the challenge and hitting the trail to EBC in January give us a call. We would love to arrange your trip for you.