Namche Bazaar is the heart of the Khumbu valley. The simple yet aesthetics of Namche Bazaar have been alluring people's attention since it has opened its door for tourists. Namche is a core place for trading in all of Khumbu valley. It is situated on a diagonal, curve-molded mountain, which offers enchanting views of the superb Himalayan range.
Namche Bazaar is not just a bustling market where you can get anything you want. Still, it is also a very popular stopover for acclimatization for any adventurous journey towards Everest or any mountains in this region.
Namche Bazaar once used to be the capital of Khumbu valley where nearby Sherpa just as the individuals from neighboring town come here to exchange their conventional expressions and artworks.
This little town is full of shops, cafes, restaurants, guesthouses, and many more. Thus, you can get everything here if you need services like trekking gear, batteries, chocolate bars, drinks, etc.
Anyone who passes through Namche will automatically fall in love with the place. The natural setting and its ambiance are unavoidable. Besides, as mentioned earlier, it is the entry point for your adventure towards Mount Everest. Many Everest Base Camp goers acclimatize here for at least two days before continuing further journey. Along these lines, you will Namche only after two days you have started your trek. Hence, from here onwards, only you will get to see the view of the majestic Mount Everest (8848m) along with other beautiful mountain peaks.
Also, people from all over the place come to Namche to enjoy its vibrant environment. It is the ultimate gateway for Everest Base Camp trekkers and Gokyo valley, three high passes: Cho La, Renjo La, and Kongma La pass.
In this article, we will cover all the aspects of Namche Bazaar in the hope that the information provided here will be helpful for those who are thinking of doing Everest Base Camp Trek or Short Everest Panorama trek. Additionally, this guidebook of Namche Bazaar will give you an idea of what to look forward to and look for on your trip to Namche Bazaar.
Location of Namche Bazaar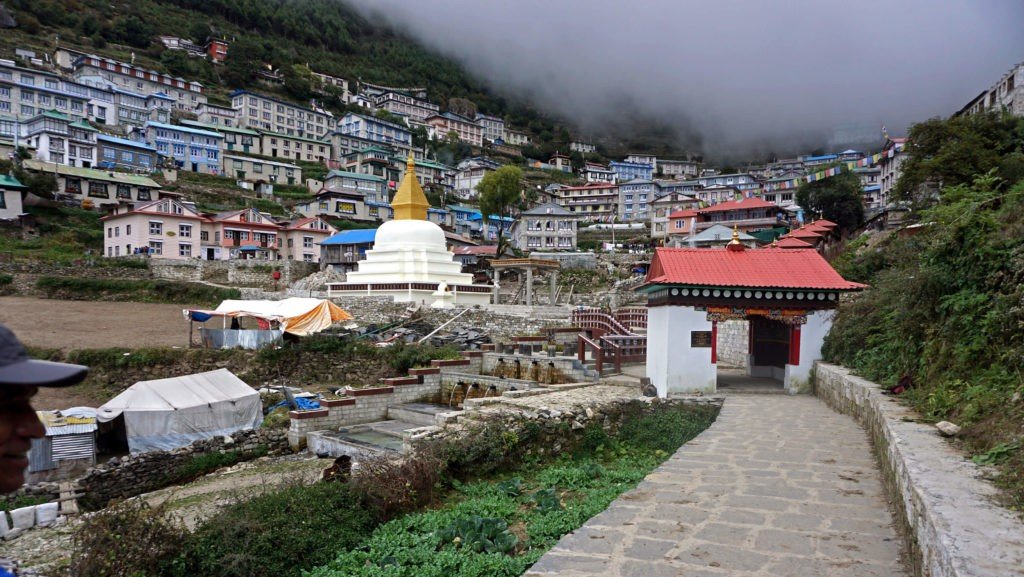 Namche Bazaar is located at the height of 3440m (11,286 ft.) in the Khumbu valley. It lies in the north of eastern Nepal and falls on to province no: 1. typically, the town is located in the Khumbu Pasang Lhamu Rural Municipality in Solukhumbu District. Great mountain tops encircle the city. But the closet from the town is Kongde Ri (6187m) which is located in the west, and the east is Thamserku (6623m), another notable mountain peak from the town.
Permits and Checkpoint
People who are opting for Everest Base Camp Trek are required to have a trekking permit. TIMS card was to be used as a trekking permit but effectively from 1 October 2018, TIMS cards are no longer accepted for any trekking trail in the Khumbu region. The following permits are required to enter Khumbu valley. For any experience in the Everest area, you must buy a Sagarmatha national park passage ticket and a Khumbu Pasang Lhamu entry ticket.
Where can you get the trekking permit for Namche Bazaar?
You can get a Sagarmatha National Park section grant from the Nepal Tourism Board Office in Kathmandu on Pradarshani Marg and in Lukla. At the same time, the Khumbu Pasang Lhamu Rural Municipality charge can be just acquired in Lukla.
Likewise, if you are entering Namche Bazaar via Salleri, you can collect these permits at Monjo.
Whether trekking up to Namche or doing the whole EBC trek, Gokyo Valley Trek or Everest Three passes trek, you must have above two trekking permits. There are several checkpoints where these permits are checked. And one of these checkpoints is Namche Bazaar. Hence, before entering the town, you are required to show these permits.
How to go to Namche Bazaar?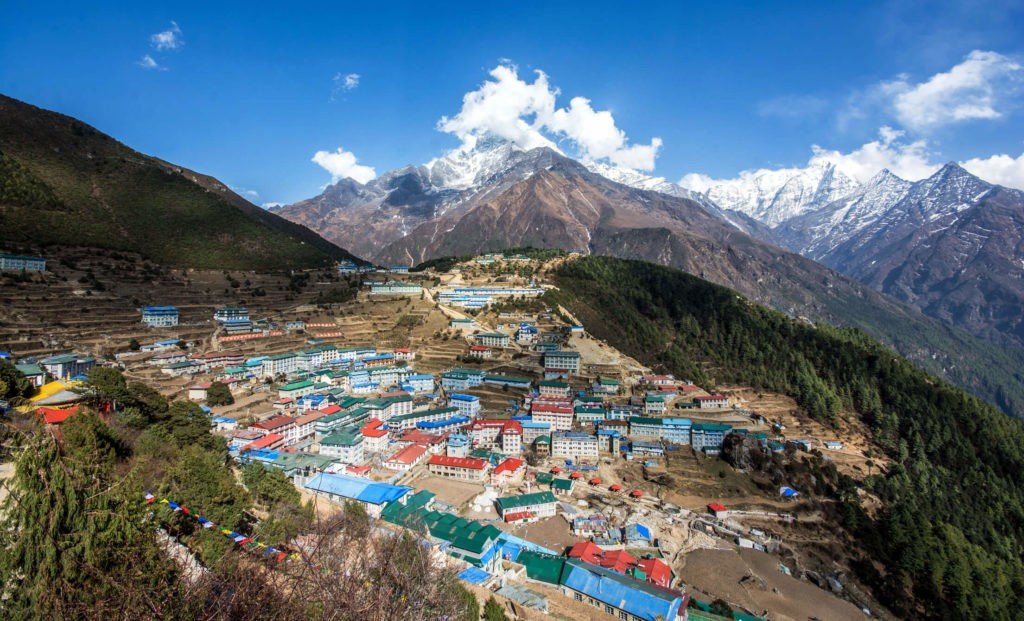 There are many different ways to get to Namche Bazaar. You can reach this iconic town by hiking, driving, or by flying. There are the longest as well as the shortest way to reach Namche Bazaar. The quickest way to reach Namche Bazaar is by flying to Lukla from Kathmandu, a 35-minute flight, and a 2-day trek from there onwards. From Lukla, there are no proper roads to drive, so only trekking or pony riding is possible to move on to the next journey. From Lukla, you will make an overnight stop at Phakding, and on the second day, you will leave Phakding and head towards Namche. The second day is a full day of walking, so you need to gear for a long journey.
Meanwhile, another way to reach Namche is following the classic Everest Base camp trekking trail used by Edmund Hillary for his expedition of Everest. As per this trail, you will be walking for days before you reach Namche Bazaar.
Also, another way is to fly to Namche Bazaar in a helicopter from Kathmandu directly. This is the easiest and comfortable method to reach Namche; however, people can suffer from mountain sickness due to sudden high elevation gain. It is not something that cannot be avoided. Therefore, it is not something to worry about.
How far is Namche Bazaar from Lukla?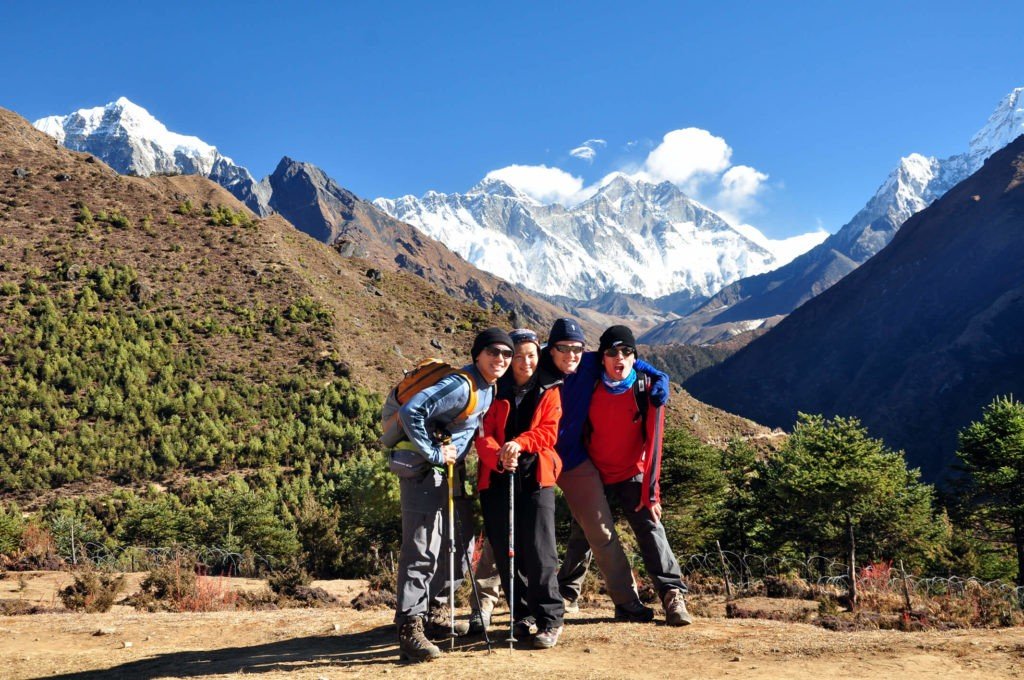 Lukla and Namche Bazaar can both be considered the entrance of the Everest region or gateway to any activity taken in the Everest region. Generally, Namche is two days walk away from Lukla. The distance between Lukla and Namche Bazaar is 13.5 km. The distance can be covered in 1 day; however, we wouldn't advise doing this to anyone. Because you will be starting from the height of 2860m, Namche is located at 3440, and gaining altitude more than 1000 m high in one day is dangerous. Therefore, we suggest you take two steady days to reach Namche from Lukla.
How is the weather condition of Namche Bazaar?
As per the Köppen climate classification Cwb and Dwb, Namche Bazaar experiences a cold-dry-winter subtropical highland climate and unusual mild dry-winter and warm summer tropical mainland climate. The average rainfall Namche Bazaar faces is 1110 mm. Likewise, the average temperature is 6.1°C. Due to its heights, the weather is excellent, and wet summers with occasional rainfall and winter are cold and dry.
What type of accommodation is found at Namche Bazaar?
Namche Bazaar is the most accessible trekking hub in Nepal. It is the most reliable trekking trail in Nepal, where you do not have to worry about finding a place to end the tiring day. There are many luxury guest houses at Namche so that you can choose your preferred accommodation in Namche. From standard rooms to luxury rooms, you can find all types of space at the tea houses in Namche Bazaar.
Can we get access to electricity at Namche Bazaar?
You can find plenty of electricity in Namche Bazaar. Till Namche in Everest Trail through regular electricity line electric power is supplied. Hence, if you are bringing a lot of electric gadgets, you will get enough electricity to charge your devices. Some guesthouses/tea houses charge extra fees, whereas some do not. However, we suggest you be ready to pay some fee of around NPR 100- 200 to charge your electrical devices. On the same note, before setting your devices, please discuss the incurring costs with the tea house owner.
How can we find communication in Namche?
In Namche Bazaar, you will get an excellent network to make calls. There are telephone booths as well. However, you may face mild network problems, but it is not so bad in there. Also, since WI-FI services are available, many visitors do not think of purchasing a local SIM card. But we would suggest you buy one if you plan to stay longer than a week or two weeks. All in all, there is no big case of problems in terms of communication.
Can we get internet and WIFI access in Namche Bazaar?
You can find the internet as well as WIFI access in Namche Bazaar. All guest houses/ teahouses offer WI-FI and internet services. Like electricity, please expect to pay some charge for the WI-FI services as well. Generally, people pay NPR 100-200 for an hour to use the service WIFI.
And in terms of the internet, you can choose any internet data package from the SIM card you have purchased. There are various internet data package plans; thus, you can choose anyone from the option.
Furthermore, you can purchase an Everest link card. It is one of the fastest and reliable WI-FI service providers found in the Everest region. The Everest link card offers two different options for buyers. The card comes with a 10 GB and 20 GB data plan that lasts for 30 days. You can purchase a 10 GB plan at NPR 2000 and a 20 GB plan at NPR 3000. However, we wouldn't recommend this card if you only plan to stay for 2 or 3 days.
Food
Namche is pretty famous for its bars, bakery-cafes, and restaurants. So if you will find a diverse range of foods at Namche. Namche is very renowned for its freshly baked goods. You can visit any cafés to have freshly baked cake, muffins, croissants, and others.
At the same time, you can visit restaurants where varieties of delicacies are served. From local foods to international, you will get types to choose from. The restaurant will offer you a set of the menu of the list, and you can choose anyone you like from the given list. Likewise, if you have any dietary restrictions such as gluten-free meals or if you prefer to veg or vegan meals, then you shall not worry. Because cook at the teahouse or restaurant will prepare a dish as promised. We hope you enjoy your meal in Namche bazaar.
Money
Firstly, for any trekking trails of Nepal, you need to carry enough local currency. No foreign currencies are accepted in any trekking trails of Nepal, including the Namche and Everest region. And if you get short on money, you can find a few ATMs in Namche. However, we would advise you to carry enough cash that will last for your whole journey.
How much money do we need for one day in Namche Bazaar?
Everybody spends their money own. Some freely spend their money, and some are calculative about where their money is going too. So we cannot say how much money you will need for one day. And spending money also depends on if you are on an organized tour or an independent traveler.
If you are an independent traveler, you will have to calculate your money on food, accommodation, and extra expenses that you will spend your money on. But if you are on a group tour, you do not have to worry about your accommodation and breakfast because these are basic things included in the tour package.
For people in a group tour, most have found that in a day, they spend about NPR 2000 - 3000, which includes lunch, dinner, and beverages like coffee, tea, and bakery goods. And in terms of an independent traveler, most have found that NPR 3000 - 4000 is enough for a day in Namche. This is a rough idea which in you can get regular services in Namche. This can fluctuate, and you can spend lesser than this and more than the given amount.
The above information aids your essential queries about the Namche bazaar. In our next segment, we are discussing things to do or items of attraction in Namche Bazaar.
#list of attractions of Namche Bazaar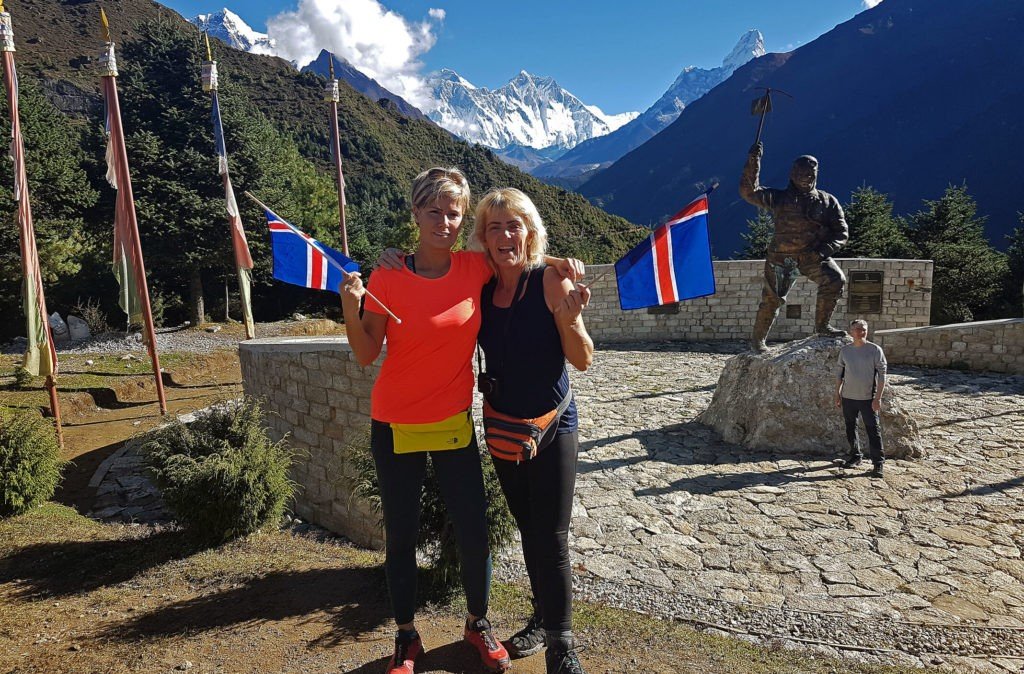 Take a photo of curved-shaped Namche from the Syangboche airport. Namche has this brilliant curvature shape that is so brilliant to capture in a photograph. Also, from the top of any hill near Namche will show you how the beautifully decorated village is Namche. Similarly, the colorful roofs of the houses bring more vibrancy in the eyes of the overseers. And not to forget the majestic mountains that tower this little town is just simply beautiful.
Take a short hike to the Syangboche Airport, which is located simply above Namche Bazaar. You can catch staggering photos of Namche Bazaar from above—the mass of Himalayan pinnacles encompassing the town.
Sherpa Culture Museum
Take a short visit to the Sherpa culture museum, where you can learn about the historical background of the Sherpa ethnic group. The museum contains all sorts of past physical memories of the Sherpa community. Here you can observe how they were in the old times. There you can see photographs that display the life of the Sherpa's before tourism took over the Khumbu region. Besides pictures, you can also see the old artifacts, items used by the Sherpa's, and many more. The museum itself is a representation of Sherpa culture. The building of the museum showcases traditional Sherpa designs and architecture. Everybody is welcome to visit the museum, but please expect to pay some entry fee that goes into the museum's management.
Namche Monastery
Settled in the excellent scenery of the bustling town of Namche, there lies a beautiful monastery is popularly known as Namche monastery. Every adventurer has been to this monastery and has only expressed positive things about the religious hub. The cloisters in Namche resemble no different religious communities, and they are isolated, peaceful, and entirely consistent with their motivation. It's a glorious sight to see when the bright banners fly in the obvious blue skies and the mumbles of the priest's stream in the breeze quickly and spouting through your spirits and purifying you for all other opportunities to arrive. So don't forget to visit the Namche monastery when you are in Namche.
Museum of local medicinal plants and Tibetan herbal medicine in Namche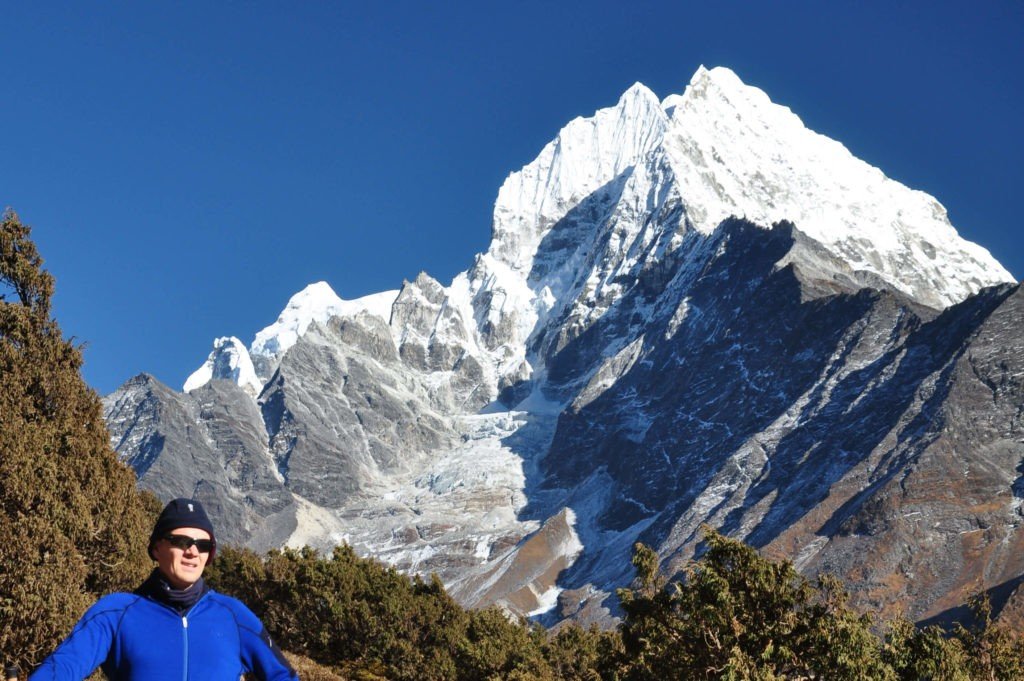 After you have visited or done the thing listed above, make sure to visit the museum of local medicinal plants and Tibetan herbal medicine in Namche. If you are a researcher, it might be beneficial if your study is related to plants and herbs. The Himalayan region is known to be less fertile for agriculture. However, the valley produces many medicinal herbs, which you can learn in this museum. You will be introduced to the varieties of Tibetan medicine used for different purposes through the artifacts and pictures. There is a small gift shop where you can get some souvenirs for your loved one back home. The money goes for the museum's management and to run the clinic, which is also in the museum.
Everest View Hotel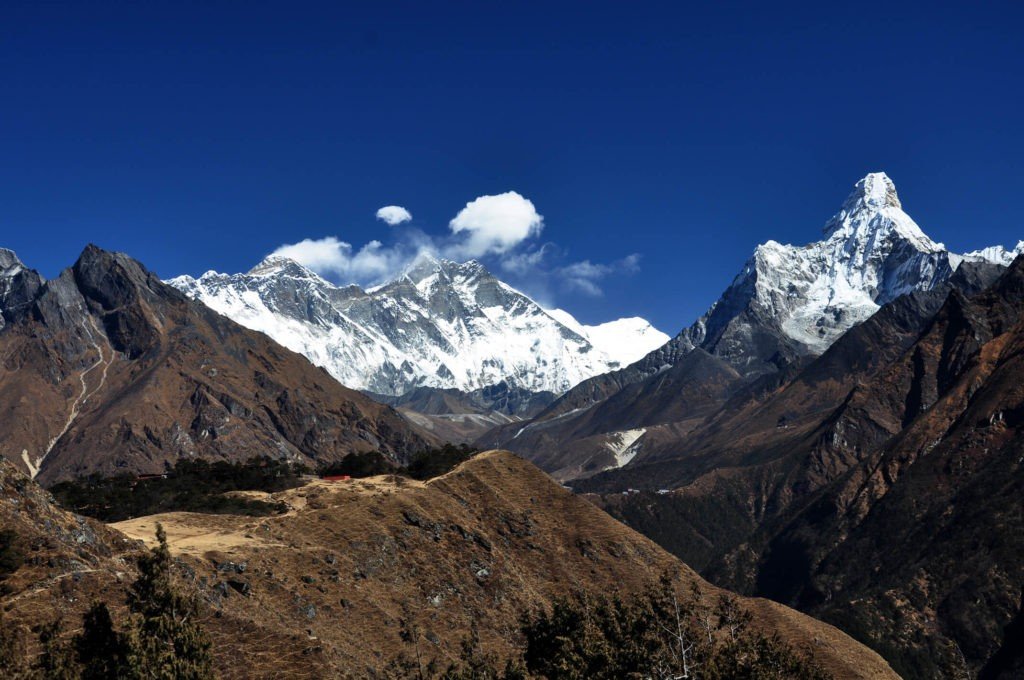 Everest View Hotel is the highest placed hotel in the world. The hotel is located at the height of 3,962m and offers your first clear view of Everest till now on the journey. Besides Mount Everest, you will be greeted with other stunning peaks. As much as the hotel provides an incredibly picturesque view of the mountain range, the hotel itself is also the highlight of the trek. The architecture of the hotel is unlike any other Hotel in the Khumbu valley. Having a coffee by the balcony of the restaurant and admiring the Mountain View is a pleasing experience that this hotel offers. So don't miss a short hike to Everest View Hotel and enjoy the incredible vistas of the mountain.
So above are some of the essential attractions of Namche Bazaar. When visiting Namche Bazaar, try not to miss these great locations. Every place is worth a visit. Also, there are great villages near Namche Bazaar, which you can explore from Namche bazaar. These villages are worth a day hike. Next, in our section, we shall highlight the nearby places from Namche Bazaar perfect for short hiking.
Thame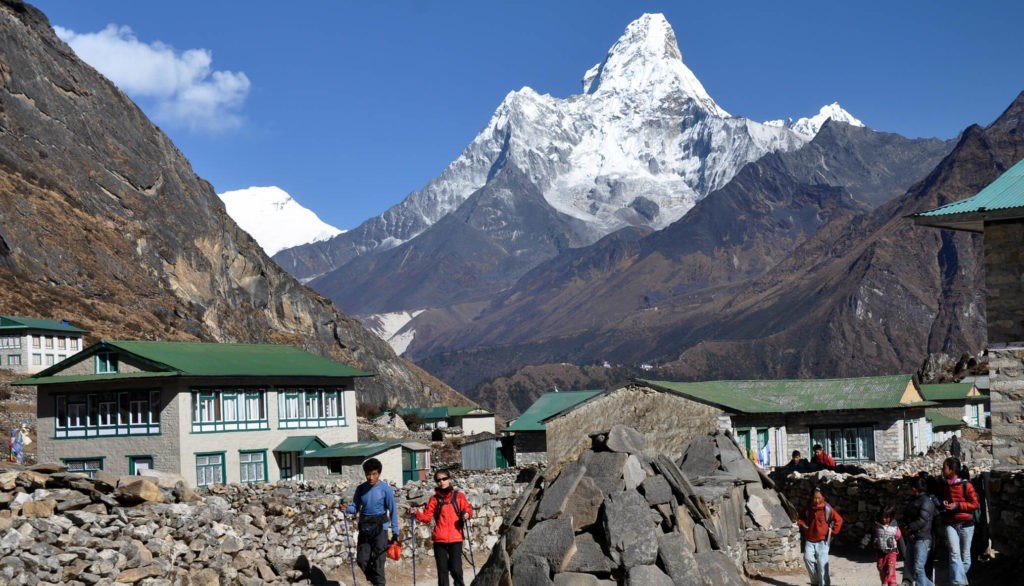 Thame is a charming Sherpa village which is about 9.7 km away from Namche. You can find a different ambiance here than in Namche bazaar. The village is not busy like Namche, and only a few tourists journey to this traditional village. So if you want to escape the hustle and crowd of Namche, you can always feel free to start your journey towards Thame and enjoy the beautiful mountain views. Also, you will get to see the life of this village a bit than the one from Namche Bazaar. And one more interesting fact about this village is that Thame is home to wonderful Apa Sherpa who successfully reached the summit of Mount Everest 21 times. Thame is a fascinating village, so your journey here will be significant.
Round trip of Khunde and Khumjung village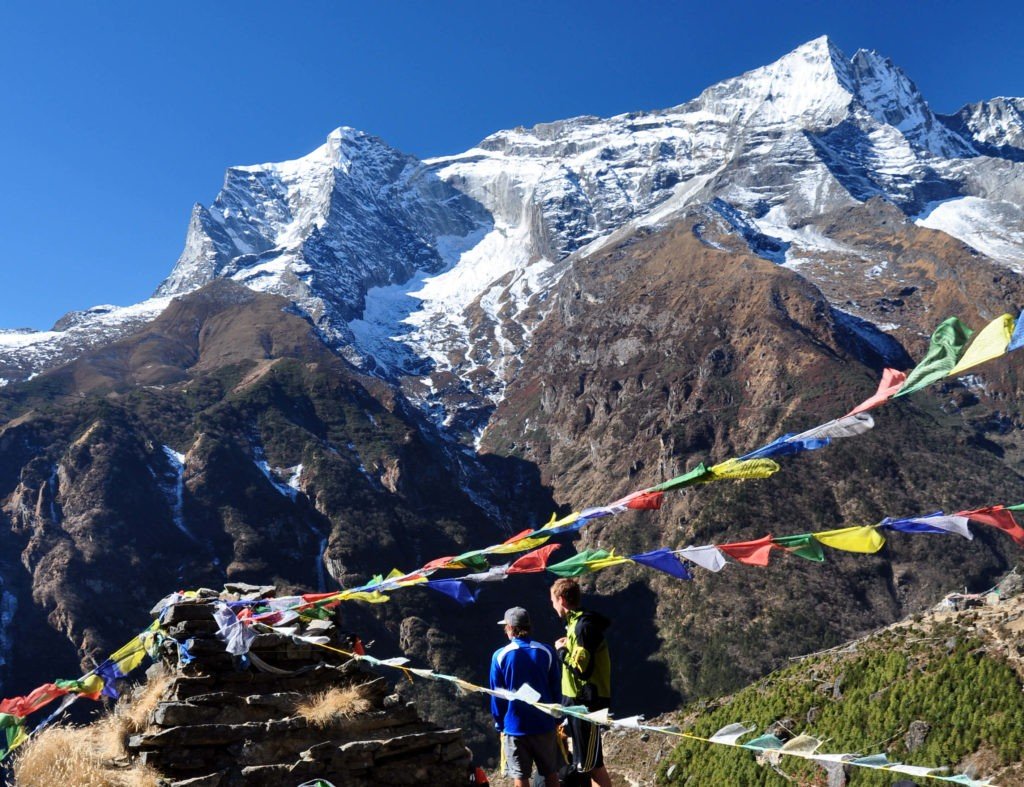 These two villages are famous for their naturally green fields and excellent Sherpa culture. The two villages are also renowned as twin villages. The beauty of these villages is alluring that a visit to one village is not enough, and you will end up making a round trip covering both villages. Also, these villages are known as Green valley since all the roofs of the houses are green in color.
Like Thame, Khunde and Khumjung villages are less busy than Namche. The location and culture of the town are alluring. Still, another highlight of the round trip of Khunde and Khumjung is the cave located above Khunde where Guru Rinpoche once meditated. Also, another attraction of this round trip is a short visit to the Khumjung monastery and many other monasteries that these villages have. Similarly, Khunde and Khumjung village offer breathtaking mountain views of Thamserku, Ama Dablam, and neighboring peaks.
Short hike to Kyangjuma
Kyangjuma falls on the main trail to Everest Base Camp Trek. It is about 3.5 km away from Namche Bazaar. Since it is about 2.1 miles from Namche, you can do this hike in just 2 hours, and the trail follows the outline of the slope over the Dudh Kosi stream. The majestic views of the Ama Dablam, Lhotse, and Kangtega will accompany you along the promenade. The hike is short; however, it is essential to take it slow. You can stopover in some teahouse and enjoy the glorious gift of Mother Nature and the great spread of Himalayas in front of you. It is one of the shortest hikes from Namche and, at the same time, revitalizing too.
So above mentioned trails are some of the nearest places from Namche Bazaar and are perfect for a short hiking journey. We urge everybody to unveil the beauty of Thame, Kyangjuma, Khunde, and Khumjung while in Namche Bazaar.
Taking everything into account, Namche Bazaar has many things to explore and beautiful views of the mountain, and rich cultural experience to offer to its valuable