[TOC]

Everest Base Camp Trek is indeed one of the majestic treks of Nepal. Enriched with the beauty of the high Himalayas, this native land of Sherpas has more things to offer than you could imagine. This adventurous trek should be on your list if you are a travel enthusiast.

It's the midway of the year 2022 already, and it's okay if you missed the trek this year. With New Year 2023 upcoming, you should definitely start planning to trek to Everest Base Camp, and we in this blog will give you every possible reason for it. Exciting, isn't it?

Now, let's begin with the attractive geographical and natural features of the highest base camp in the world:
Exciting Feat of Conquering the Altitude of 5600 meters at Kala Patthar.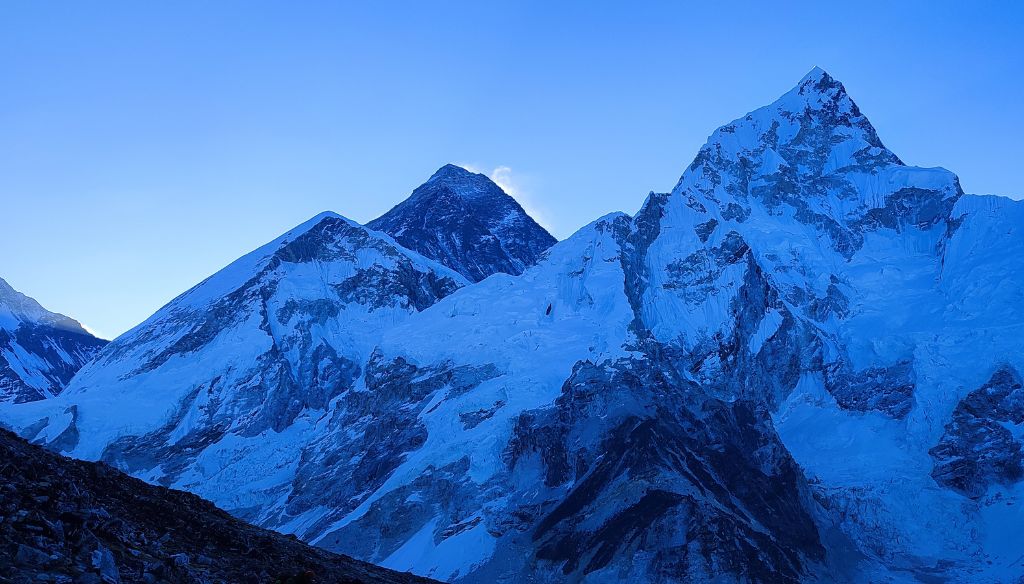 The Everest Base Camp trek takes you to many notable landmarks of higher altitude. The trek's highest point is Kala Patthar, which lies at the whooping elevation of 5644m. The rigorous ascent you do to get there is itself memorable. But the moment you spend there will be magical, for sure.
Similarly, the Everest Base Camp at 5364m is another remarkable terrain. No words can describe standing on these lofty attitudes and witnessing the highest peak of the world, Mount Everest (8848 m). The lovely sunrise rising from peaks, the breath of fresh air, all the mountains surrounding you! That's pretty cool, right? Plus, you will love the wholesome view of the Khumbu valley. Such experiences in Kala Patthar make your travel more fulfilling.
Breathtaking Views of Khumbu Mountain Range and Khumbu Valley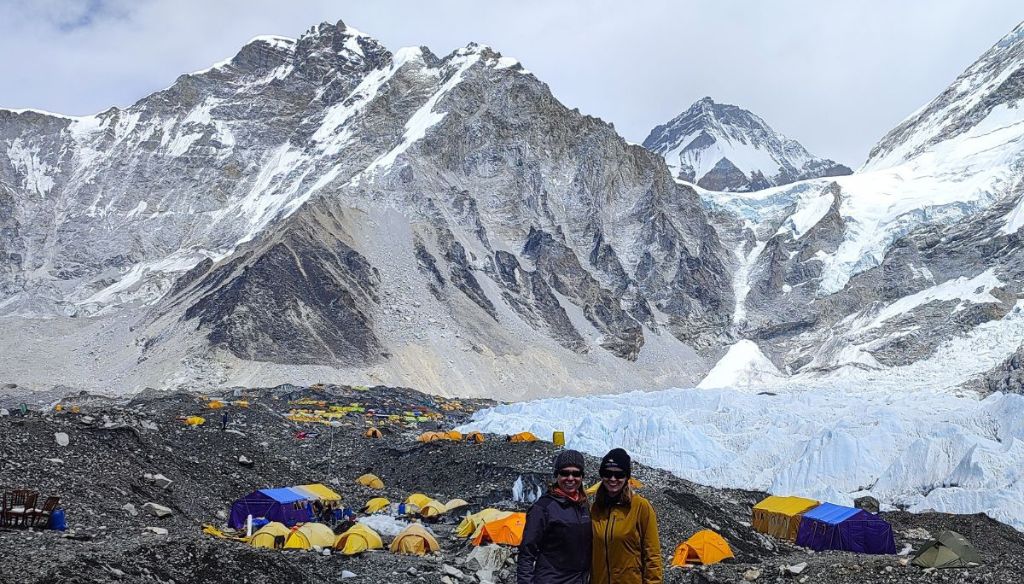 Right after you land at the Everest Base Camp, the serene environment of Lukla welcomes you. The divine alpine climate with Dudh Koshi blatantly flowing, snow-capped mountains and mythical terrains are simply impressive. As you head up, you start getting closer to the mountains. The vantage point observing the best mountain views is Kala Patthar (5644m).
You will fall in love with the unobstructed 360-degree mountain view, including peaks above 6000m, 7000m, and 8000m. The most prominent peaks include Mt. Everest (8848m), Mt. Lhotse (8516m), Mt. Nuptse ( 7861m), Mt. Changtse (7543m), and Mt. Pumori (7161m). Similarly, other beautiful peaks include Ama Dablam, Khumbu, Thamserku, Kangtega, Taboche, and Lobuche. The experience of witnessing such a range of mighty Himalayas is inexplicable.
Witness The Largest Glaciers in The World; The Khumbu Glacier with its Icefall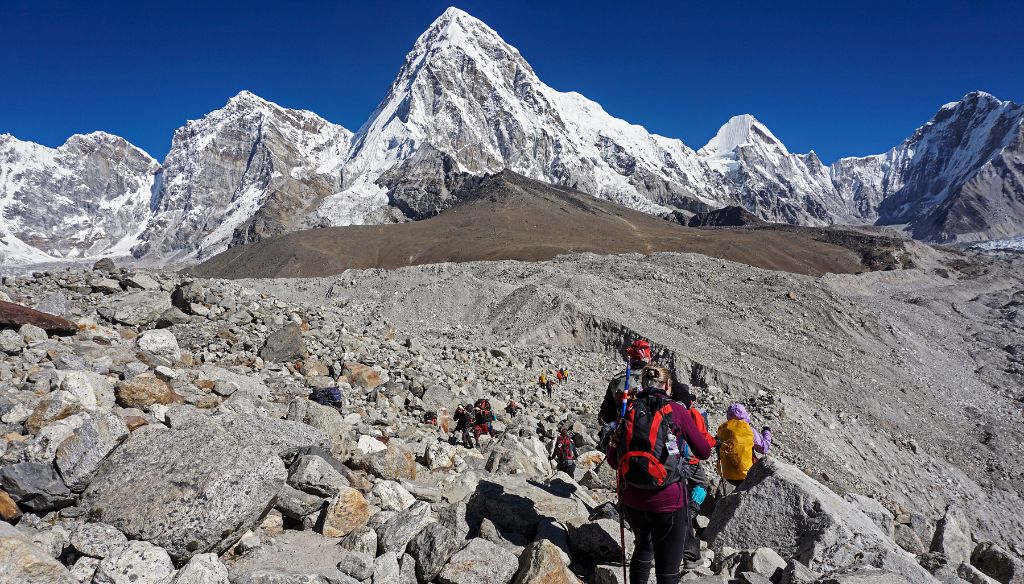 Ironically, you cannot view Mount Everest from Everest Base Camp. However, you will get the bonus of seeing Khumbu Glacier. It's one of the famous glaciers in Nepal, ranging about twelve kilometers in length. It's indeed very fascinating to see this along with the Khumbu Icefall. They lie on a dangerous cliff on the ascent route to Mount Everest.
This greenish river of ice begins with the Lhotse face at 7600m. The section of icefall continues to Camp 1 (at 5943m) and Everest Base Camp (5364m). Around the EBC, this glacier makes a sharp yet beautiful bend and extends up to another 9.6km. But remember, the icefall is unstable, and the ice keeps melting, so it's better to visit this place early in the morning.
Scenic Mountain Flight from Kathmandu to Tenzing Hillary Airport, Lukla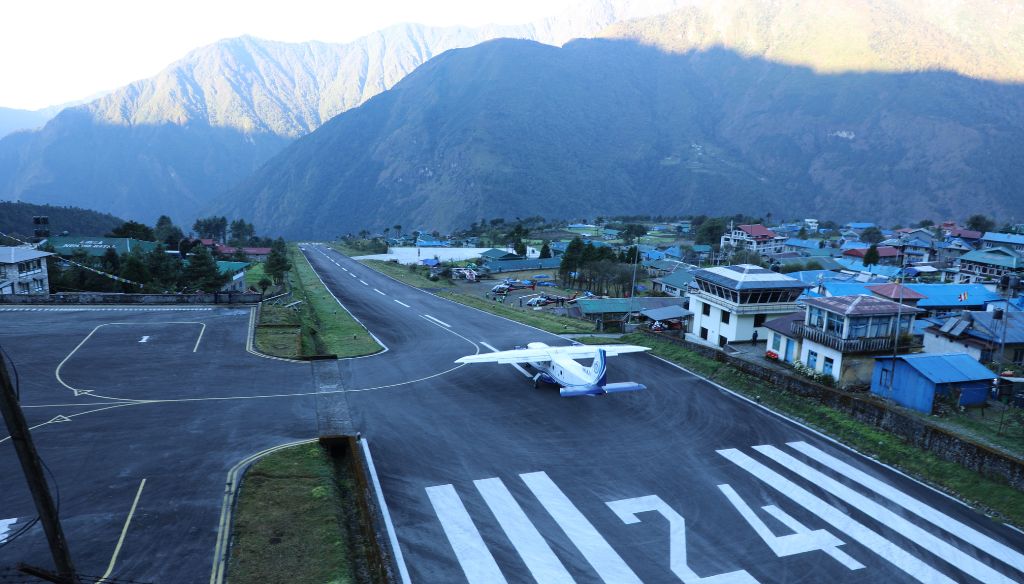 Did you know? The Tenzing Hillary Airport names itself after the most challenging airport in the world. Thus, your travel begins with facing a great adventure, i.e, taking the flight to Lukla. Plus, this adventure is sweet & memorable as you get to view the magnificent Eastern Himalayan peaks.
This scenic flight will last around half an hour; within this time, you will reach over 9000 feet of altitude. The window seat lets you sneak peek at the vistas like Everest Lhotse, Ama Dablam Pumori, and more. As you travel, these snowy peaks will keep changing their colors from light to pale orange. Also, get ready to see lakes like Gokyo, valleys like Kathmandu & Khumbu, alpine forests, and more. We know all of you will cherish the memory forever. This is something you shouldn't miss out in 2023 if you haven't already.
Entrance Into the UNESCO World Heritage Site - Sagarmatha National Park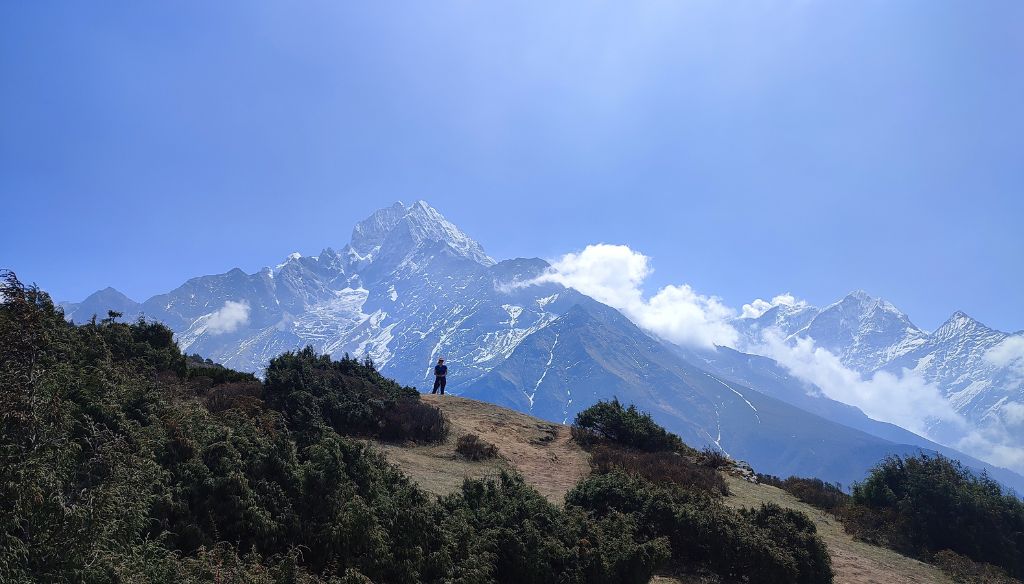 Sagarmatha National Park is an exceptional land of dramatic mountains, glaciers, and deep valleys. The park is a gateway to Everest that dominates the whole area with its alluring beauty. It covers an area of 1148 sq km and houses the most diverse vegetation, animal habitat, and ecological zone. The area includes two beautiful rivers, Dudhkoshi and Bhotekhosi. The rugged terrain and gorges range from Monjo (2845m) to the world's apical point, Sagarmatha (8848m). The park is also one of Nepal's UNESCO enlisted World Heritage Sites.
This unique nature's beauty is the home to wild animals like Himalayan Thar, Ghoral, Black Bucks, Weasels, Mouse Hares (Pika), Lynx, Snow Leopards, and more. Further, you can trace 193 species of birds here, including the Impeyan Pheasant (Danphe), snow pigeon, red-billed chough, and more. Their subalpine vegetation is equally rich. The pack inhabits more than 1000 floral species. They include fir, Himalayan birch, juniper (around 5000m), moss & lichens (above 5000m). If you want to dive more towards its natural wilderness, visit the Everest Base Camp trek this 2023.
Pure Hearted Sherpas and their Heartwarming Hospitality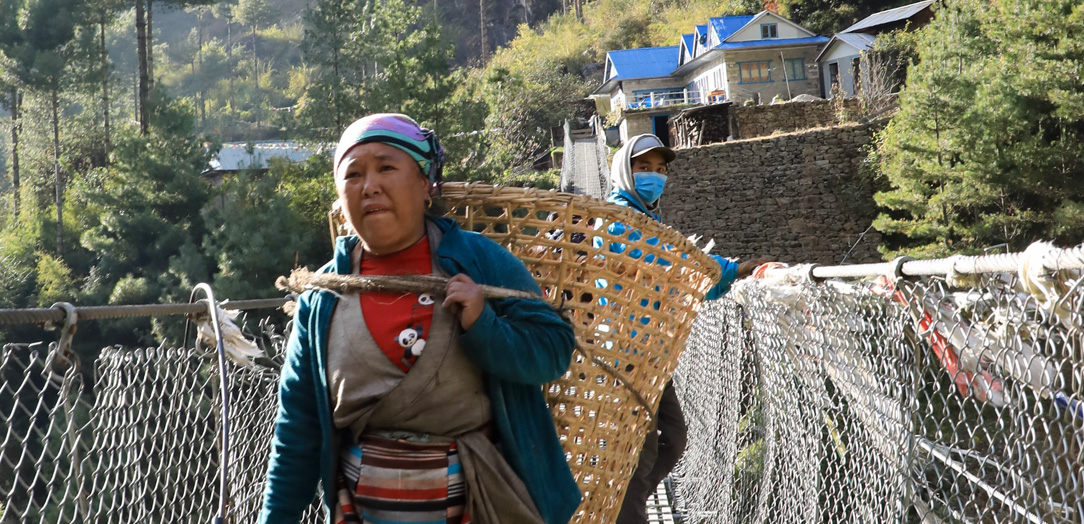 Right after you land on Lukla, the valley and local Sherpa will be your host throughout the journey. The Sherpa people are the brave people of mountain lands. They have a simple life that is equally inspiring and admirable. You can find over 20 Sherpa villages on your way, where more than 6000 Sherpas have been inhabiting the place for the last four centuries.
They treat their guests like God and will try to provide a good facility. With this, you will get a deep insight into their tradition, religion, and culture. We can say that Sherpa culture is the most vital factor that has been protecting biodiversity in Khumbu for a long time. Also, don't forget to taste their local yet exotic dishes like cheese, thukpa, yak churpi, dal bhat, buffed potatoes, and much more.
Beautiful Monasteries like Tengboche, Pangboche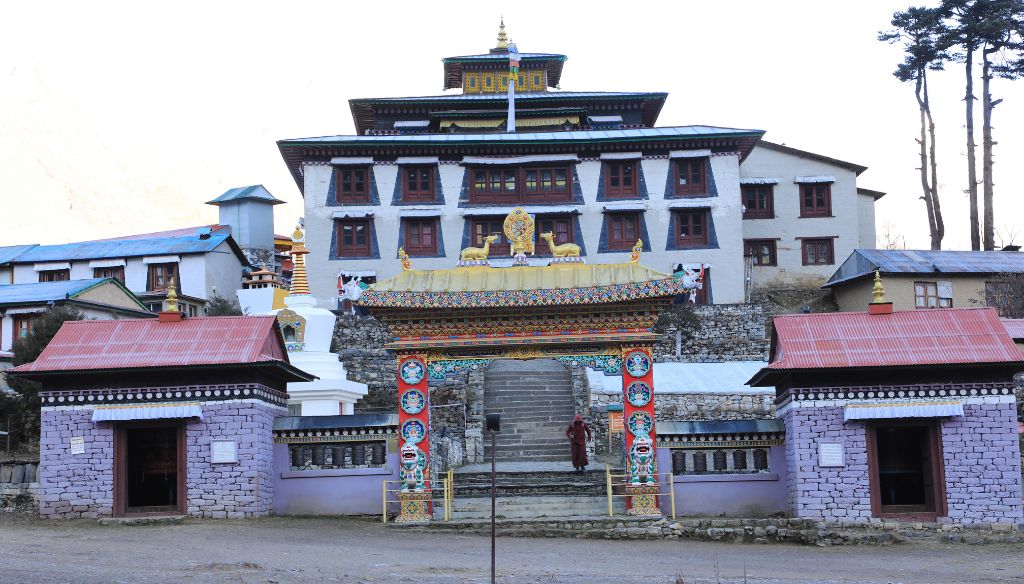 The Khumbu region is dominated by Sherpas and influenced by their culture and tradition. The major religion of Sherpas is Buddhism. That's why you will see a lot of Buddhist landmarks on your way. Many gumbas, gompas, and mani walls are all over Everest.
When you visit these landmarks, you can uncover their history, culture, and architecture. Not to forget, the monasteries like Tengboche and Syangboche fall into the central spotlight. Tengboche is also the oldest and largest monastery in the region. You can meet and greet many young monks in the monastery. If you're there in November, you can also witness the mythological Mani Rimdu Festival.
There are many other Buddhist sacred sites built centuries ago. For instance, the Namche Monastery (300 years old), Thame Monastery (350 years old), Kerok Monasteries (350 years old), Khumjung Monastery (120 years old), Pangboche Monastery (350 years old), Makarjung Hermitage (450 years old), and many more. Whether spiritual meditation sessions or an extensive collection of ancient relics, these monasteries exude a magical atmosphere.
Be sure to tour them and discover their radiating positivity!
Syangboche (3780 m) and its Lovely Panorama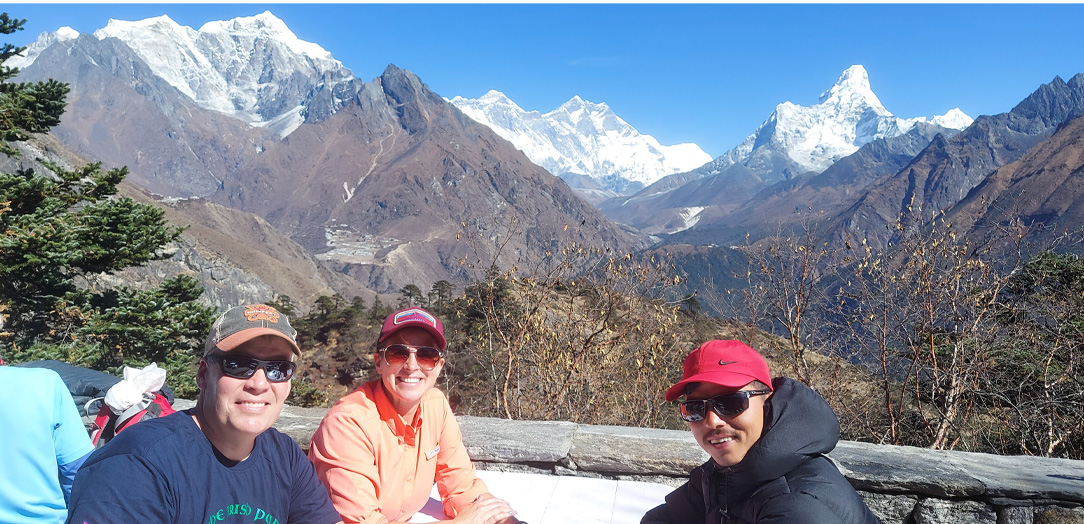 The main reason you must trek to Everest Base Camp is every resting spot on your trail. You will start getting the mesmerizing vibe after you land at Lukla. Then onwards, the scene and the whole atmosphere starts getting more beautiful. Every landing spot for the day, like Namche, Tengboche, and Gorak Shep, will have its own peculiarity. Out of all, Syangboche, at 3,780 m, is an excellent place to enjoy the panoramic Himalayas. The close-up view of Ama Dablam, Thamserku, and Khumbila will make your day.
Hotel Everest View is also located in Syangboche. At an altitude of 3962m, the hotel is a wonderful spot offering a 360-degree view of stunning peaks. Every room in this hotel promises a mesmerizing view of Mt. Everest and immense luxury. The Guinness Book of World Records also places this hotel as the 'Highest Placed Hotel' in the world. If you want an unforgettable stay in the Everest Region, you must place Hotel Everest View on your to-be list.
Namche Bazaar, the Gateway to the Everest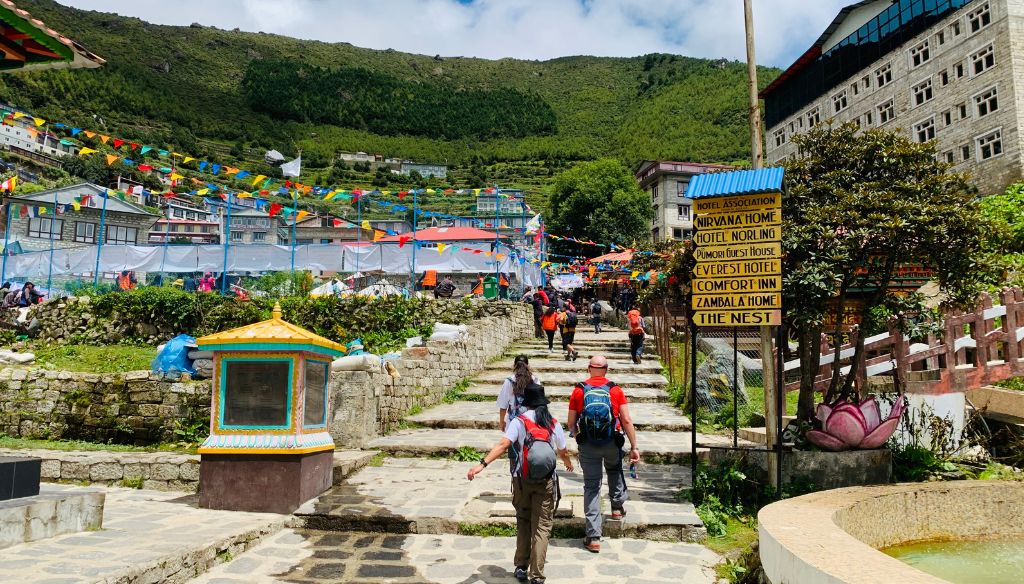 Well, there are tons of magical places in the Everest region. But, there is nowhere like Namche Bazaar. The word 'bazaar' in Nepali means market. And as the name suggests, it's a beautiful market surrounded by gorgeous hills and mountains.
It's a hilly settlement, which, when you notice, appears to be horseshoe-shaped. There are many attractive points of this unconventional location. First, there are many abundant & lodges. It offers awe-inspiring views of mighty mountains. And you can visit intriguing Sherpa museums, stupas, Tibetan libraries, bakeries, cafes, and convenience stores.
Namche Bazaar is also a place where you can get modern facilities. For instance, the luxurious hotels, artifacts, and facilities like hot showers and western food. Namche even has the world's highest pub. So, this place is a complete package. From breathtaking scenery to good services, Namche has them all.
Sherpa Culture Museum and Pyramid International Laboratory
If you are a keen learner of Sherpa culture and artifacts, these places will fascinate you. Sherpa Culture Museum is a private museum in Namche. It displays ancient artifacts belonging to the Sherpa community. You can also see beautiful photographs of all Everest summiteers. There, you can visit the Khumbu International library too.
Likewise, Pyramid International Laboratory can be your next stop. Built-in a typical Nepali style, it carries various research with above 200 researchers from different countries.
Thukla Pass is another attractive point of the EBC trek. This sad yet memorial viewpoint gives tribute to the memories of the climbers deceased while summiting Everest. The place might not have extravagant monuments but simple & environment-friendly stones. The minimal layout with an impactful message is what makes Thulka Pass significant. You better not miss it while you are in Periche.
Long and Profound Suspension Bridges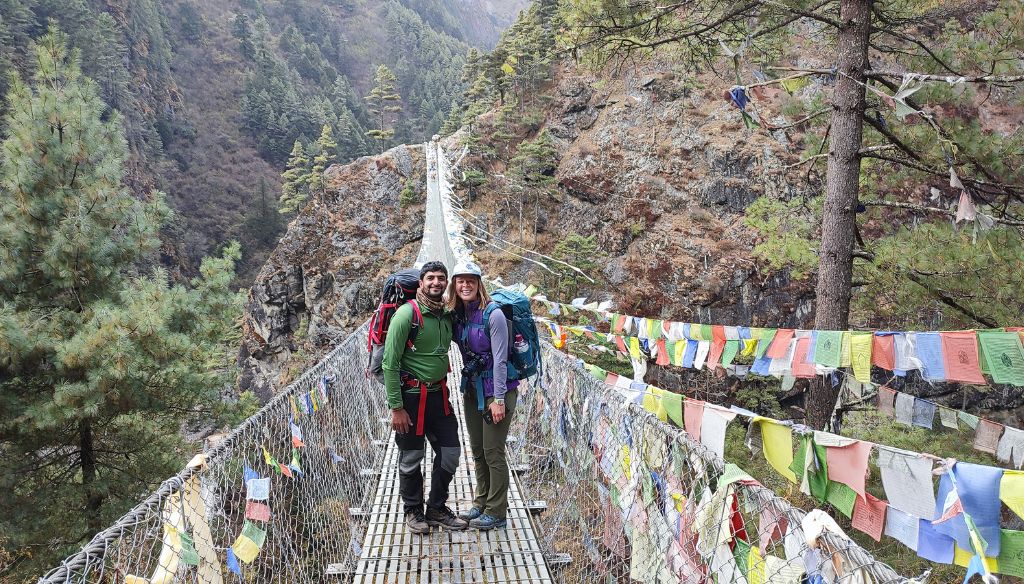 As mentioned earlier, the Sagarmatha National Park includes two massive yet beautiful rivers; Dudhkoshi and Bhotekoshi. There are numerous rivulets of these two rivers and waterfalls on your way. So, brace yourself as you cross hundreds of suspension bridges throughout your journey. The bridges, at times, will be made of modern metals, whereas sometimes of wood. The longest and deepest suspension bridge among all is the Sir Edmund Hillary Suspension Bridge.
These bridges will also give you alluring views of the Himalayas. For instance, you can view Kwongde, Taboche, and Thamserku from Ole & the new Hillary bridge. These bridges have spiritual value, due to which trekkers put Khada & prayer flags on the sidebar. Crossing the bridges itself is an adventure. On top of it, the cold winds and trickles of rivers add an extra thrill.
What Next?
Now that you understand the reasons let's go with the variety of Everest Base Camp Trek packages available. Depending on your comfort, time availability, and past trekking experience, you can choose them.
Some of the popular packages for Everest Base Camp Treks that we (the Nepal Hiking Team) offer are:
Pick the most favorable options from above and start booking before the dates get busy. You can get back to us about any trip to the Everest Region. We also offer customized trips matching your time availability.
Make sure to contact us for queries.
To Conclude
Everest Base Camp is the most famous trek in Nepal. And here are only some of those reasons. Who does not want to be on the top of the world, witnessing the highest peak? Who doesn't love to explore the heights of glacier pools? And if you're lucky, you can see an avalanche too.
It's the wholesome adventure that fills your soul. So, if you are a true travel junkie, you must go to Everest Base Camp and get in touch with its geographic aura. Here, this article discusses some extravagant features of choosing the Everest Base Camp trek. We are sure these points give your adrenaline rush even more. So, are you ready for the best adventure of your life?