[TOC]

Everest, a heavenly land for mountain glory! Here one could easily get lost in the enchanting scenes and emerald beauty of Nature. Nature flourishes here, an elegant beauty unhinged by the changing times, letting every accompanying person have a wonderful holiday and unforgettable times. Myths lie in the stones, and records have been made in this majestic land. This larger-than-life place accounts for impressive experiences amidst the breathtaking backdrop. With that said, here we bring the accumulated information about the Everest region, the world's finest trekking destination, for anyone looking to step on this beautiful land.
Location
Everest region lies in the northeast of Nepal in the Solukhumbu district of province 1. The region's elevation begins from 600 meters above sea level to 8848.86 meters above sea level at the highest. Henceforth, one could spot the diverse physical terrain of Nepal while traversing the Everest region.
Quick Facts about the Everest Region:
The region is also known as Khumbu valley, given after the local name of the region, i.e., Solukhumbu.
Out of fourteen eight-thousanders, four of the world's highest peaks lie in the Everest region, including Mt Everest at 8848.86 meters and 29,031.7 in feet.
The region is the birthplace of First Everest Summiteer- Tenzing Norgay Sherpa.
The world's most dangerous airport- Lukla Airport, is located in the Everest region at the height of 2800 meters.
The region also shelters Guinness Record Holding Hotel for World Highest Placed Luxury Hotel- Everest View Hotel.
The Everest region is locally familiar as the Khumbu region is home to the most prominent Sherpa ethnic people who have multiple records of submitting Mt. Everest and other perilous peaks.
It is said that the footprint of Yeti was found in the region.
Sherpa does not mean Porter, so it would be somewhat helpful if trekkers addressed porter with their name. Sherpa, in fact, is an ethnic group of Nepal.
Due to the high elevation of the region, the locals can accommodate low oxygen levels.
The world's largest glacier, the Nogzumpa glacier, is found in the Everest region.
Yearly, more than a hundred thousand travelers make their way to the Everest region; thus, it is one of the busiest and most trekking regions of Nepal.
In Jan 2020, Nepal conducted the Highest Altitude Fashion Show at Kala Patthar (5340 meters), making a Guinness world record of promoting sustainable fashion and raising awareness regarding Climate Change.
Wildlife and Vegetation of Everest Region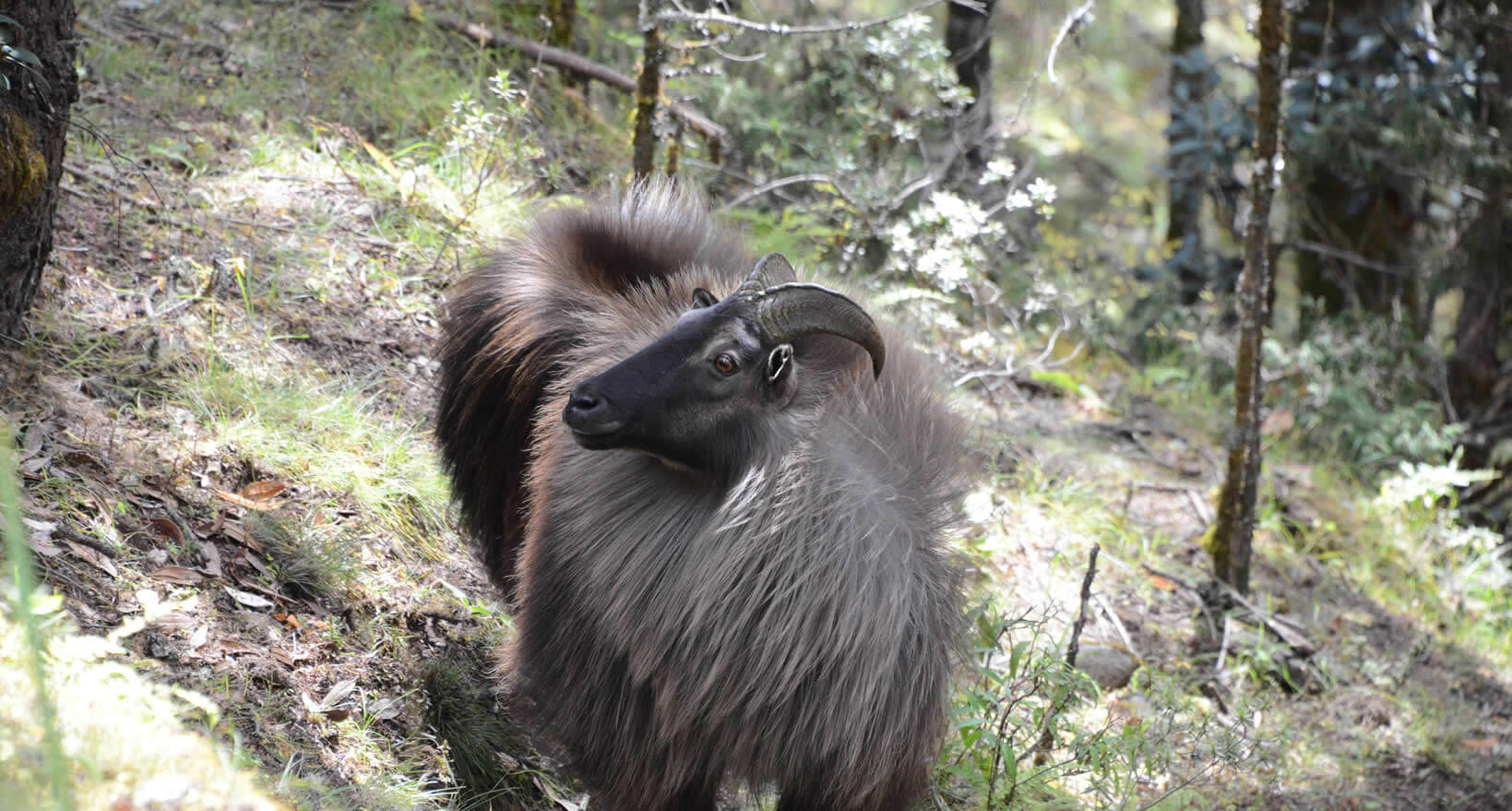 The valley is primarily the Sherpas, one of the 59 indigenous people recognized by the Nepal government. The Mt. Everest region has become a wildlife haven thanks to Sherpa conservation principles, institutions, and practices, which have kept the forest cover intact despite the rising need for wood fuels. Khumbu continues to host a diverse range of high Himalayan species, including endangered snow leopards, red pandas, Himalayan black bears, and musk deer, as well as significant populations of the otherwise uncommon mountain goats, also known as Himalayan Tahr. The region is rich in temperate, alpine, and nival forest vegetation, where animal species of all kinds flourish.
Sherpa People and Culture of Everest Region
Warm and hospitable, Sherpa people are famous worldwide for their valuable experience, skillset, and knowledge in mountain climbing. Most summits of Everest would be impossible without the logistical help and expertise of Sherpas. Yet, their way of life extends beyond helping Everest trekkers and climbers. They traditionally engage in farming, herding, and trade which is still very much prevalent.
Moreover, Khumbu has been a sacred valley and Buddhist sanctuary for centuries. As per the myths, the valley was consecrated by Guru Rinpoche (Padmasambhava), one of the founders of Tibetan Buddhism, when he visited the valley. Religious monuments and landmarks such as monasteries, chortens, gumbas, and prayer flags dot the region's walking trail. Also, with grand festivities such as the Mani Rimdu Festival, there is so much to unlock about the area. Similarly, the town always reverences their respective religion with the dumji festival, Lhosar, and many more.
Additionally, among the four highest peaks, two peaks, namely Cho Oyu and Mt. Everest (Sagarmatha in Nepali), are the abode of the goddess Miyolangsangma. Moreover, the region is rich in sacred natural sites such as mountains, forests, trees, and rivers. Temple's forests and lama's forests (forest declared many holy generations ago by revered religious leaders) are strictly protected. Also, the Sherpa values forbid killing animals, birds, reptiles, fish, or insects; thus, sacrificing animals in the name of god or just to consume is banned in the valley. This super sacred belief has led the town to have a prosperous jungle and protection of wild species.
Weather and Temperature of Everest Region
The climate of the Everest region remains moderate to cold most time of the year. Towns at low elevations do experience tropical climates but nothing too extreme. As per towns in high elevation, the weather ranges from moderately warm to extreme cold. The average high temperature of the region is 10.2 Degree Celsius most times of the year. The average low temperature of the area drops to -1.6 Degree Celsius.
Regarding weather, the Everest region also experiences all four seasons like the rest of the country. Spring is one of the good times to be in the Everest region. It falls from March to April and is cold and warm at the same time. The favorable weather is one of the busiest times for traveling and the autumn season, which falls from September to October. The weather during august is simply beautiful as it remains dry and offers a vibrant ambiance with a clear blue sky and majestic backdrop.
Winter is excellent in the Everest region, yet cold weather situations can get a bit testing. As per monsoon and summer, it coincides together. Summer is bearable in the Everest region, and as per monsoon, mostly lower parts get rains refraining from high altitude zones.
Top Attractions of Everest Region
Lukla Airport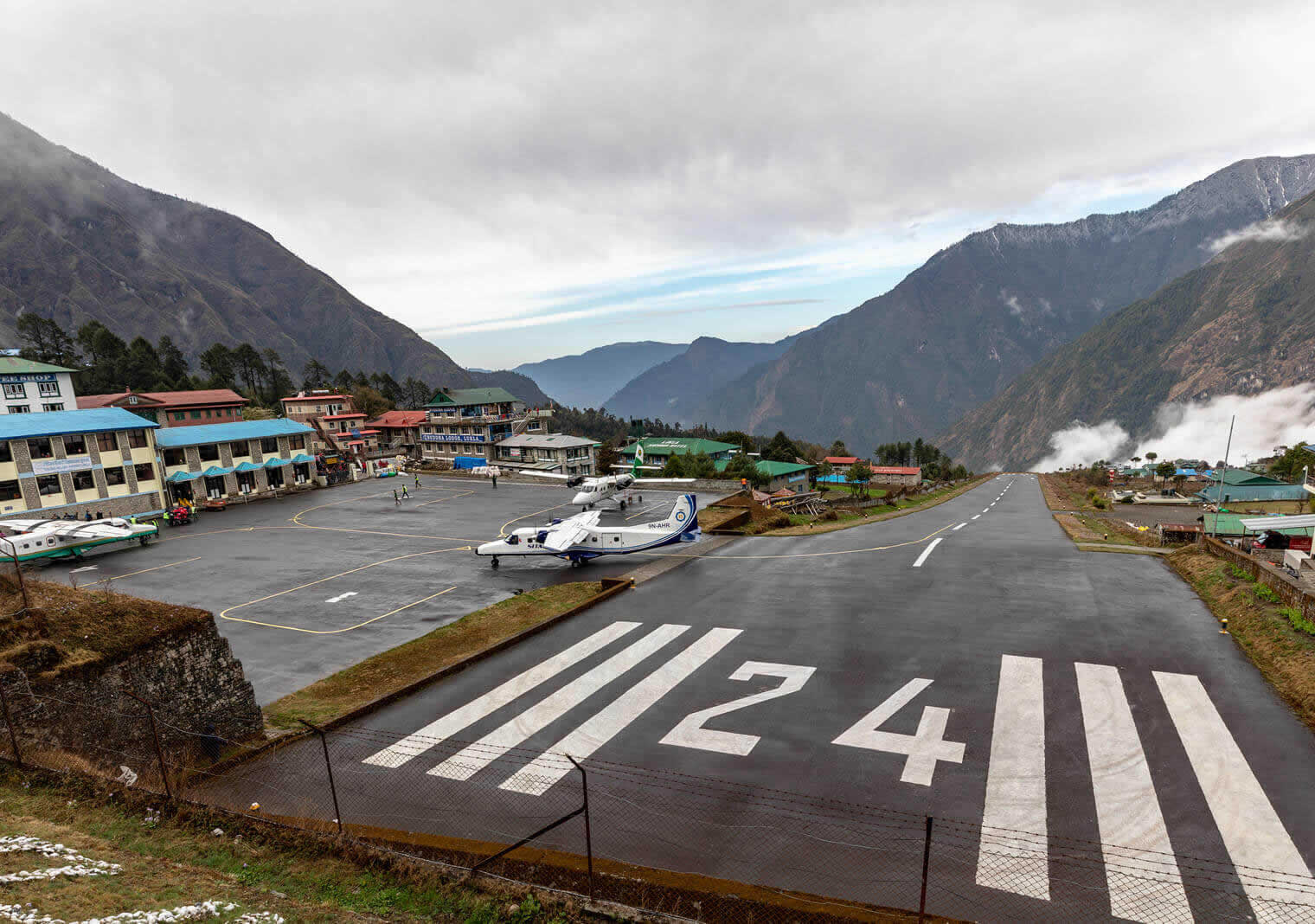 The airport built-in 1964 is one of the attractions of the region. Named after legends Sir Edmund Hillary and Tenzing Norgay Sherpa, the airport offers a great landing experience. The airport is primarily utilized for passenger flights and freight transit to Lukla and other communities in the north, as there is no road access in Khumbu valley. Due to complex geographic setting, flying large planes are impossible, so helicopters and small planes only fly to the airport.
Lukla Village
Ideally located at the lap of the world's highest and extensive mountain range, Lukla is the start and endpoint for your trekking adventure in the Khumbu Valley. This little community with a peaceful setting means "place of many goats and sheep," although there aren't many wandering there these days. Because of its popularity, Lukla has grown from a modest agricultural town to a regional commercial center on par with Namche Bazaar. With chains of houses, this hamlet is an exciting place that gives you an essence of city vibe because of its bustling Nature.
Monjo
Monjo is a small charming village in between Phakding and Namche, offering splendid natural beauty. With few tea lodges in the area, the town provides a spectacular backdrop and tranquil ambiance. Also, at the height of 2,850m (9,405 ft), the location is just perfect for relaxing short escapes in the lap of Nature.
Khumjung village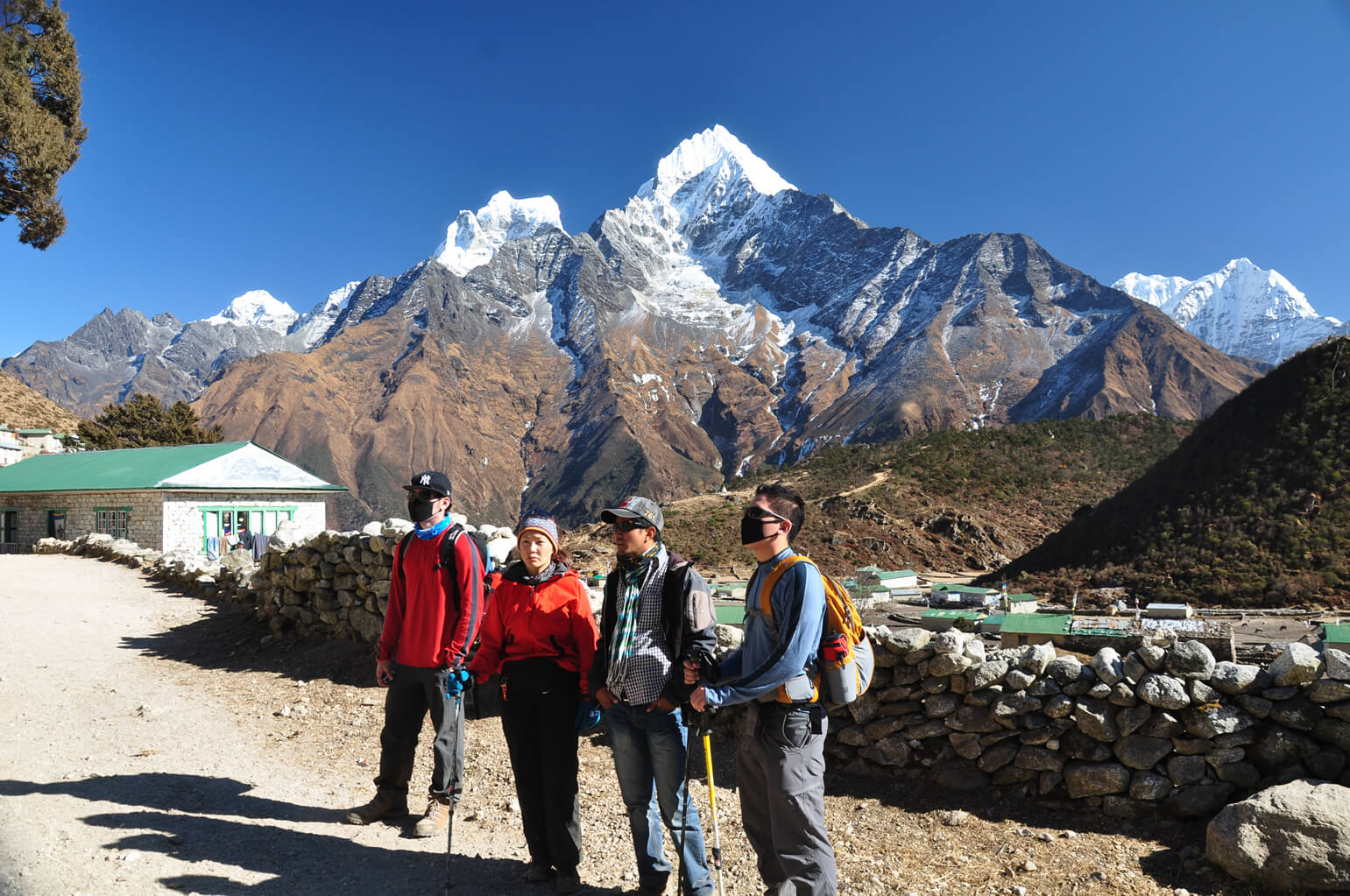 Khumjung is one of the largest Sherpa villages in the Khumbu region, located about 2 hour walk away from Namche Bazaar. The hamlet, carved into the slope at the foot of the sacred Mt. Khumbu-Yul-lha (5761 meters), offers a postcard-perfect panorama. A monastery with a Yeti (abominable snowman) scalp and a school established by Sir Edmund Hillary may be located in the hamlet. Along with impressive sights, one could spot beautiful Danphe, also known as Impeyan Pheasant, in the surrounding jungles.
Namche Bazaar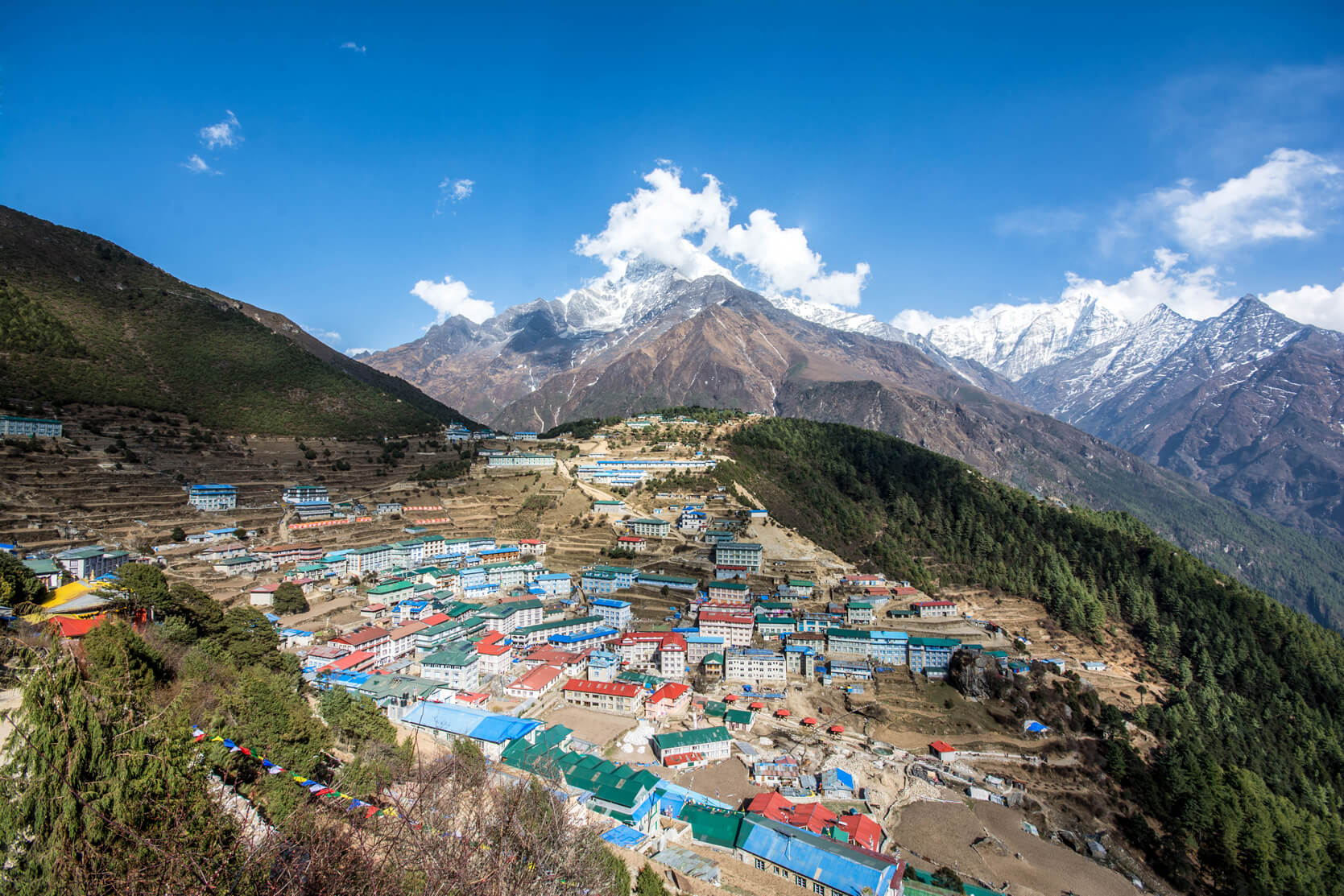 Namche Bazaar is set at 3440 meters (11,286 feet) in the Khumbu valley, ringed by massive Himalayan peaks. However, Kongde Ri (6187m) is the nearest mountain summit to the town, while Thamserku (6623m) is another significant mountain peak to the east. Since it first opened its doors to travelers, Namche Bazaar has captivated visitors with its raw yet postcard beauty. Namche is the most important trade center in the Khumbu valley. Furthermore, Namche bazaar is not only a lively market where you can purchase everything you desire, but it is also a famous acclimatization stopover for any adventurous trek towards Everest or any of the mountains that lay in the region.
Everest View Hotel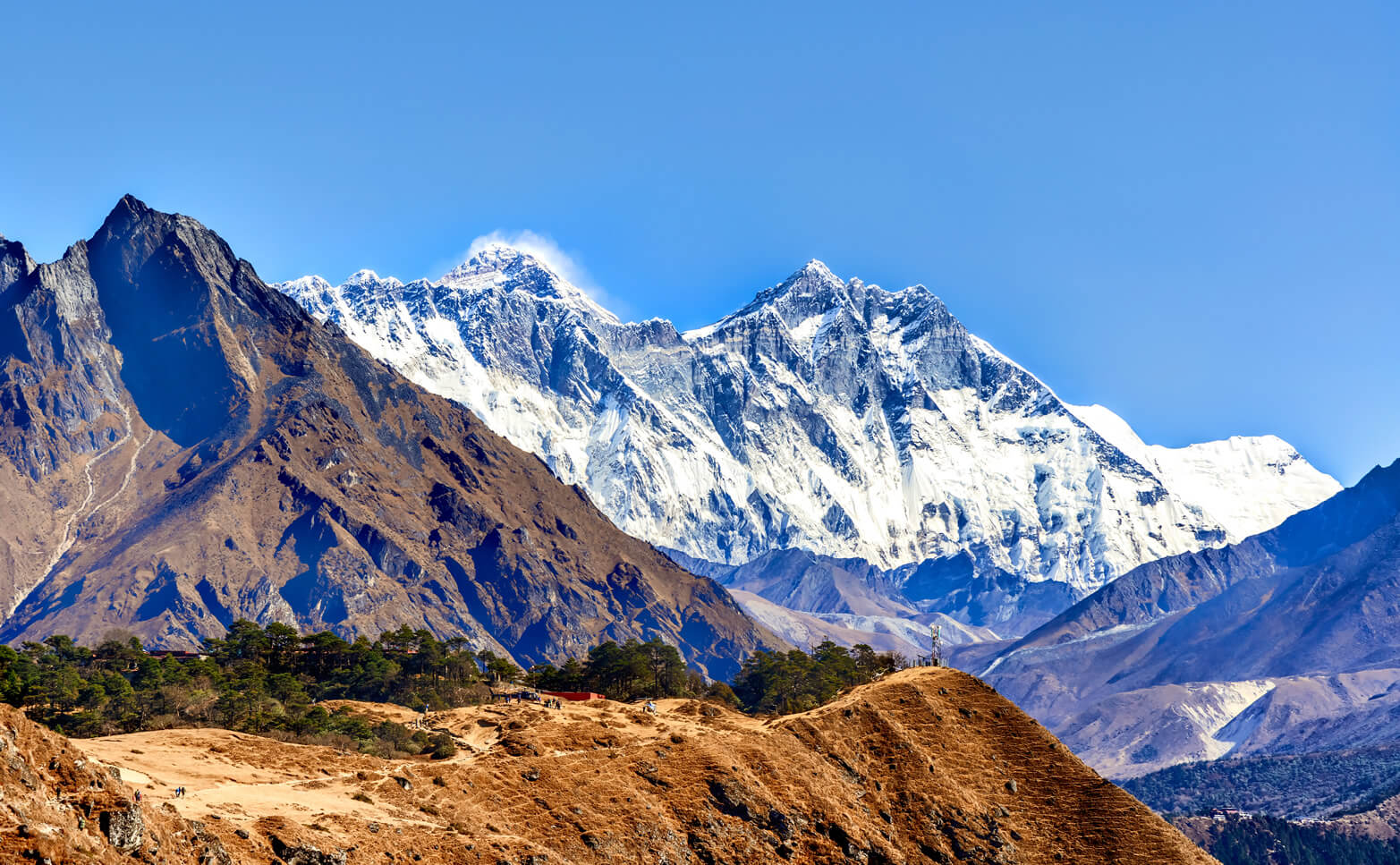 The Everest View Hotel is the world's highest hotel. The height of 3,962 meters hotel provides your first clear glimpse of Everest on the trek. You will be met by several magnificent peaks in addition to Mount Everest. Additionally, providing a tremendous scenic perspective of the mountain range, the hotel highlights the journey. The hotel's architecture is unlike any other in the Khumbu valley. Coffee on the restaurant's terrace while appreciating the Mountain View is a pleasant experience this hotel provides. So take a short trek to Everest View Hotel and take in the breathtaking views of the mountain.
Tengboche Monastery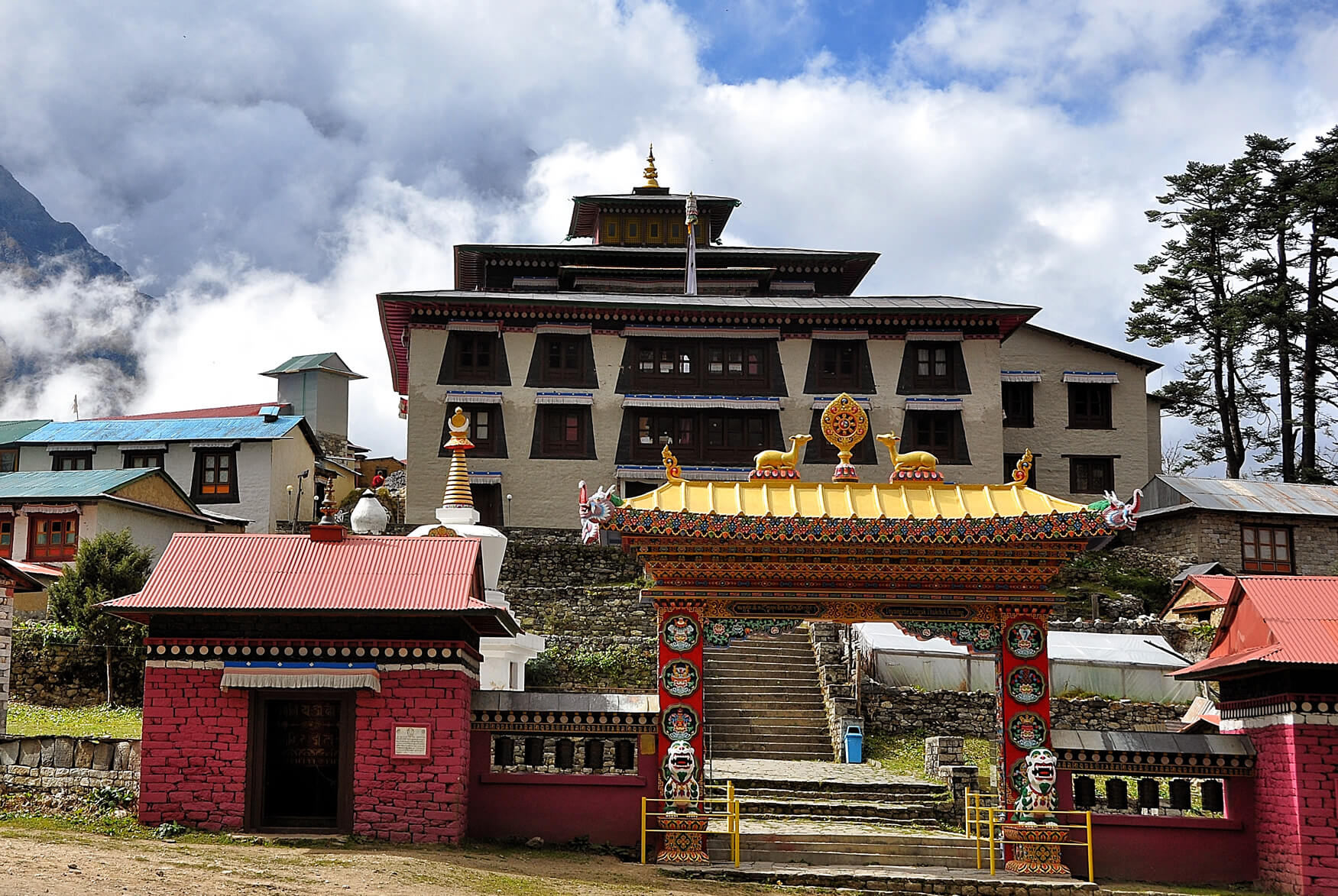 Another beautiful place in the Everest region is Tengboche. Home to grand and one of the oldest, Tengboche Monastery, from here you get to view awe-inspiring mountain sceneries. It is the largest monastery in the area adorning intricate designs and architecture. The monastery hosts the annual Mani Rimdu festival every November, a festivity full of music and dances. Dances are an essential aspect of the festival and are very important as well. Monks perform ritualistic dances in rich-colored attires and face masks representing different deities. People grandly celebrate this festival at Tengboche monastery.
Gokyo Valley
Gokyo valley, a remote and stunning valley from most trekked trails to Everest Base Camp, is the ultimate gem of the Everest region. Housing six fantastic pools of Gokyo lakes, Gokyo valley amazingly offers amazing scenes of six of the highest mountains in the world from its very own Gokyo Ri. Standing at the height of 5360 meters, trekkers from the summit of Gokyo Ri can witness up-close views of Everest, Lhotse, Makalu, and Cho Oyu.
Everest Base Camp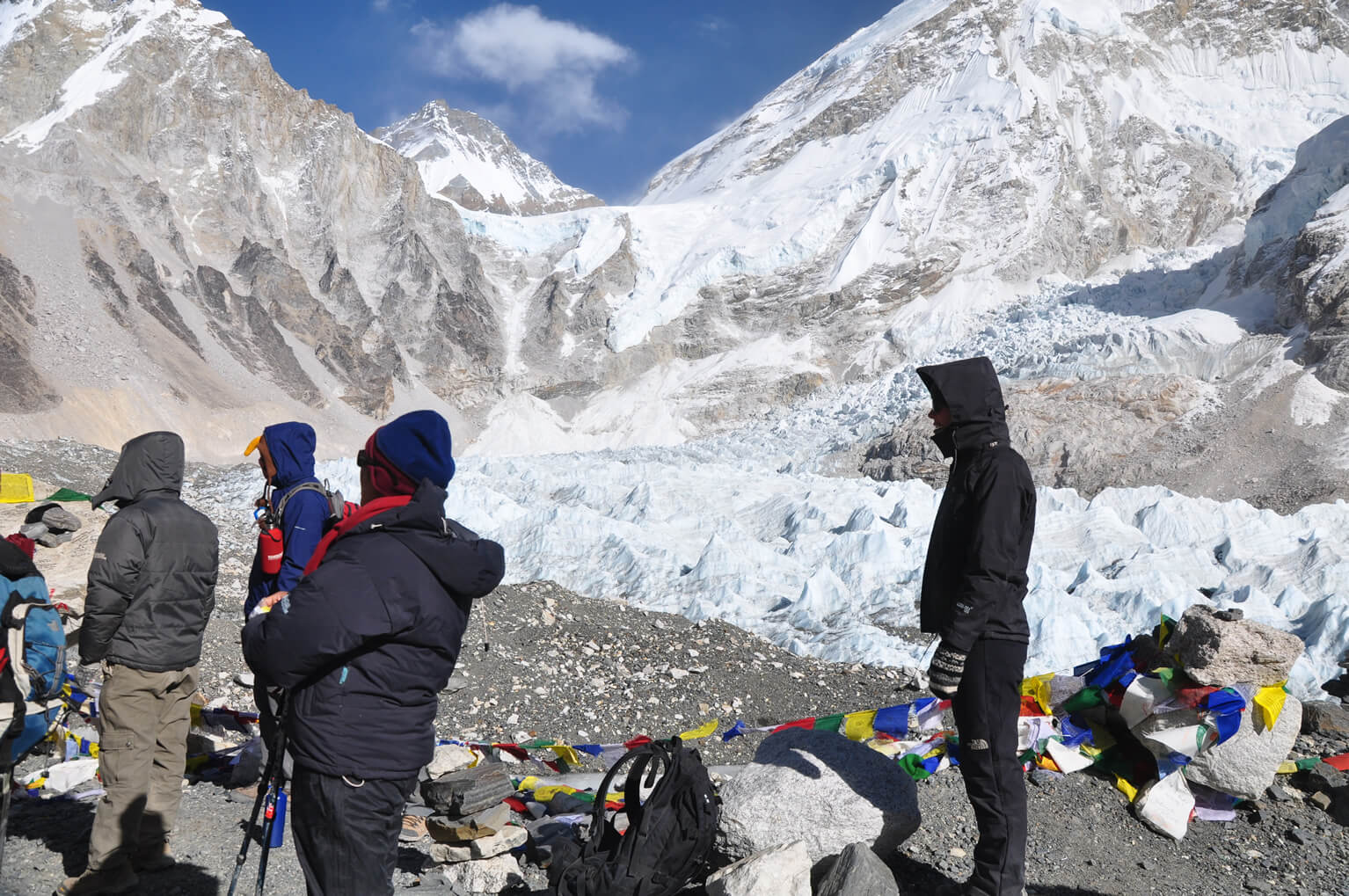 Everest Base Camp is another top attraction of Khumbu, which is also for all the right reasons. The ambiance of Everest Base Camp is always cheery and fabulous. It is not easy to reach the base camp, yet people achieve the goal with solid determination. Every year, a make-shift city pops up during the climbing season, making the general ambiance of the place even more ecstatic. Amidst the giant mountains and extensive glaciers, one could have the best mountain experience at the base camp. Mountains are closer and more evident than ever.
Ever-growing Treks and Tourism Industry in Everest Region.
In 1982, Mt. Everest has declared the highest point on the earth's surface when the British Surveyor did the tremendous trigonometric survey of India. The quest to summit or simply view the third pole has since attracted international interest with the declaration. Gaining access to Mt. Everest from within Nepal entails a lengthy approach through remote valley corridors. Similarly, traversing several villages of Solukhumbu, the focus of increased tourism activity with numbers of trekkers, mountaineers, and cultural tourists is rising steadily. With gradual interest peaking towards trekking in Nepal, the Everest region is the first choice of trekkers for all the right reasons. Because of that reason, the area welcomes hundreds of thousands of trekkers every year, generating the highest GDP of any other trekking region of Nepal. With the booming tourism industry, almost every inhabitant of the Everest region is associated with this profession.
Popular Trekking Routes of Everest Region
When it comes to trekking routes, there is no shortage in the Khumbu region. From short and easy hiking routes to challenging and month-long trekking routes, one would find every type of trail to get on. Moreover, the Everest region, in general, is a paradise for hiking paths; thus, every route offers splendid time and majestic scenery. Given that, the following are a few routes that are favorite to many for their natural attractions.
This iconic tramp through the villages of Solukhumbu is not all about arriving at the foot of the world's highest peak. It is about relishing cultures and walking the always energetic path with trekkers longing for the same scenes as you. The journey is also about seeing misty sunrise and sunset over the mountain, giving a splendid finale every day on the hill. Alongside, meaning past religious monuments such as grand monasteries and charming hamlets, adds more reasons on why this particular route is popular amongst trekkers.
Everest Gokyo Valley Trek
The Everest Gokyo valley trek is another enchanting walking path in the Everest region, considered lesser-known yet highly famous amongst the trekker's community. In this infamous but remote trail, voyagers get to grasp the elegant beauty of Gokyo Lakes at the same time, watch over the mesmerizing scenery surrounding the valley from the summit of Gokyo Ri. This crowd-free and moderate level of a trek are absolutely perfect for trekkers longing for quaint natural beauty.
Everest High Passes Trek
Everest High Passes Trek is a challenging yet exceptionally adventurous path that is all too worthwhile of your time and energy. A journey that entails crossing three high mountain passes of the Everest region also entails visiting the base camp itself and turquoise Gokyo Lakes. These notable mountain passes are Cho La pass, Renjo La pass, and Kongma La pass, testing independently, but every crossing is memorable and awe-inspiring. With incredible views encircling trekkers, difficult sections are quickly forgotten when you see glorious up-close views of the mountains. Henceforth, it is a fitting journey for an adventurer seeking an exhilarating mountain experience.
Everest Panorama Trek
A short and easy journey that brings trekkers to the bustling Namche Bazaar for a captivating mountain experience. In a period of a week, in this revitalizing journey, trekkers see fantastic mountain scenery and encounter accommodating Sherpa people and their intricate culture. Aligning natural and social engagement, this is a perfect walk amassed giant peaks.
Peak Climbing in Everest Region
Collectively, the Everest region is a haven for peak climbing. Several peaks range over 6000 meters and above for daredevils wanting to challenge themselves. Mountains viable for the rookie to experienced climbers are all available to trek in this mountainous land. With options such as Mera peak, Island peak, Ama Dablam, Lobuche Peaks, etc., options vary. Also, trekkers looking to enjoy mountain finesse with a touch of adventure and thrill. Not to forget the incredible scenery visible from the top of the peak; the moment is simply surreal.
Mountain Expedition
Offering plenty of opportunities for courageous and fearless individuals, mountain expeditions are another great escapade in the Everest region. Climb the sumptuous Mt. Everest, Makalu, Lhotse, or Cho Oyu, or choose any other peaks that intrigue you. Take on the challenging task of summiting mountain tops and experience the ultimate glory of reaching the pinnacle of giant sky-dominating peaks.
Underwhelming aspects of the Everest Region
With popularity, there come some underwhelming aspects. The region is one of the best trekking regions globally, so it is overtly crowded during peak season. This overcrowding leads to busy viewpoints, full teahouses, poor services, traffic on the walking trails, and many more. Also, the littered trails are another disappointing factor harming the natural and beautiful setting of the region.
Best time to plan a trip in Everest Region
Undoubtedly, any plans made in spring and autumn are the best time to visit the Everest region. These particular seasons are the ideal time for travelers looking to indulge the remote Himalayan beauty. Also, around these times, the weather mostly remains the same and suitable for any travel purpose. Besides, before planning a journey in Khumbu valley, travelers should propose a few determining factors such as visibility, climatic condition, and pattern of weather change. These are necessary and important for a lovely and wonderful vacation.
Everest region experiences winter from December to February, and the weather is freezing. Yet, the weather is dry and constant throughout the day and most vibrant as well. With the sun shining most of the day, blue skies offer magnificent scenery of mountains that are simply out of this world. Albeit good weather situations, the thick layers of snow can be testing. Nevertheless, it is a lovely time featuring majestic scenery.
The Khumbu valley experiences a delightful spring season throughout March to May after the cold winter months. The snow is still intact in higher altitudes this season, but it is an exception to the region's beautiful weather. With thin layers of snow blanketing the hills, traveling to Khumbu valley during winter offers a chance to witness fairytale-like beauty. With valleys taking up snowy appearance, breathtaking views of mountains are other highlights of the spring season.
Summer and monsoon coincide and are probably the least favorite time to visit the Khumbu region for most travelers. It mostly rains in lower elevation, leaving the high altitude dry free of any precipitation. However, to avoid rain and wet trails, most do not prefer traveling during summer and monsoon season, which is from June to August. Yet, if you prefer crowd-free courses, then it is the most appropriate time to avoid crowds. The trails are free of trekkers, and the green hills with diverse floral vegetation are encountered. Henceforth, to view the top natural and mountain elegance, one can visit the Khumbu valley during splendid months of summer and monsoon season.
How to reach the Everest region?
The most convenient way to reach the Everest region's charming hamlets is by flying to Lukla Airport on twin otter planes from Kathmandu. It is a 30 minute extremely delightful, and enjoyable flight. Also, flight tickets are easily available; however, be prepared for unpredictable flight cancellations. Flights to Lukla only take off when the weather is good.
Visitors can also reach the town by flying on a helicopter, but it can be pretty expensive for a one-way journey. Likewise, another way to get to the town is by following the classic Everest base camp trek trail, which begins from Jiri. Driving to Jiri from Kathmandu and hiking the path of Bhandar, Sete. Junbesi, Nuntala until you reach Phakding, a common stopping destination in most walking trails in the Everest region.
Food and Accommodation
All varieties of meals are served at the teahouses in the Everest region. Some of the most stunning cafés and restaurants can be found here. You'll find a wide range of meals, from worldwide cuisine to Nepalese delicacies. On a similar point, don't forget to try some Sherpa food. Sherpa cuisine is soupy and savory, making it ideal for the Everest area. Throughout the journey, vegan and gluten-free meals and vegetarian and non-vegetarian options are offered. Please indicate your wish while placing your purchase. Gluten-free and vegan dishes are unfamiliar to certain establishments. As a result, you could be required to clarify the nature of your request. They will cook the words according to your preferences.
Tea houses are also the style of lodging for the duration of your visit. After a long day of hiking, the region is well-served by charming and lovely tea houses to rest and have a warm dinner. On the path, you'll discover both luxurious and modest tea shops. Only Lukla, Phakding, Monjo, Thame, Kongde, and Namche Bazaar have luxury tea houses. After Namche, the lodging is at basic yet clean and pleasant tea houses.
For more detailed information on food and accommodation in the Everest region, click HERE.
Water on the Everest Region
The region which houses the world's tallest mountain is the water resource for over one billion people. However, that doesn't mean you can directly drink from the source, although some do. Many people directly drink water from the stream, and we highly discourage the act. Although the water is drinkable, it is still better to do it after filtering it. Also, travelers can purchase hot water at the teahouse. Bottled mineral water too is available, yet due to environmental concerns, do not purchase it.
Electricity and Internet
Electricity in the Everest region is available; however, it is limited but plenty enough to serve all travelers. There are electrical poles in villages like Lukla, Phakding, Monjo, Thame, Kongde, and Namche, so it is sufficient power to go around. However, following Namche, electricity is provided by solar panels. If you need to charge your electrical gadget with power, you will have to pay a fee for the service. The service costs between NPR 200 and 500 per device. If you have one, bringing a solar power bank is also recommended. We also recommend that you carry a Universal Travel Adapter. In Nepal, power sockets are usually two round pin types.
In addition, internet service is available in the Everest region. You may access the internet via a local sim card or the tea house's WIFI connection. You may also buy an Everest link card to access the internet. The most convenient of these three alternatives is to acquire an Everest link card. Everest Link cards are available in 20 GB and 30 GB, both with a 30-day validity period. NPR 2000 for a 20 GB card and NPR 3000 for a 30 GB card.
Budgeting for a trip to Everest Region
While planning a trip in the Everest region, prepare a budget for everything like electricity, internet, showers, etc. Everything costs money, so it is rather good to be prepared beforehand. For electricity to charge devices, it costs around NPR 200-500 depending upon the altitude. Similarly, for the internet, price ranges between NPR 200-500 as dependent on the height. On the other hand, Showering is free if you take a cold shower, which is highly discouraged. Hot showers are available at the cost of around NPR 200-500. On the other hand, are Laundry services are available only in Lukla and Namche only at the expense of around NPR 500 to 1000 and above. It depends upon the weight of the clothes.
As per food, from bakery goods to traditional and international cuisines, all are available. Most dishes cost around NPR 400 and above. Similarly, for accommodation, like any journey in the world, you will also find standard and luxurious trip packages in Everest. Standard trips consist of staying at typical teahouses which offer essential services such as meals, showers, electricity, internet, and rooms with a typical setup. The rooms are comfortable although only basic facilities are available. Also, it is quite budget-friendly and will not strain your wallet. As per meals at the standard teahouses, there will be a food menu although not elaborative or diverse. However, if requested, they will not hesitate to prepare a dish of your choice.
Luxury teahouses are only available in towns below Namche bazaar, i.e., Lukla, Phakding, Monjo, Kongde, and Thame. Beyond these places, there are no luxury teahouses. At these teahouses, rooms with either king-size bed or twin-bedded with an attached bathroom, an electric mat in each bed, and a thermos of hot boiled water are served in each room. It is luxurious and designed to keep the comfort of travelers in mind.
Overall, travelers in a 16 days Everest Base Camp Trek typically spend around NPR 5000-10000 per day traveling independently. The cost can come a lot less than the given price. However, if they travel with a travel agency, many find NPR 3000-4000 sufficient budget per day. Also, mind that no foreign currency is accepted in the trial, so change your money into Nepalese currency before commencing any journey.
Permits to Enter Everest Region
To enter the Everest region, you have to show 2 entry permits. These entry permits are Sagarmatha national park and Khumbu Pasang Lhamu rural municipality. Click here to read what documents are required to make entry permits.
As per peak climbing in the Everest region, climbers must purchase a climbing permit for the designated peak, the Sagarmatha National Park permit, and the Khumbu Pasang Lhamu rural municipality.
Health and Safety
The most worrisome aspect of vacationing in the Everest region is altitude sickness rather than minor illness. Small illnesses, such as stomach upset, blisters, and minor injuries, are typical occurrences that can be avoided with proper measures. Furthermore, walking the Everest trail entails a lot of height gain and loss daily. As a result, stick to the "walk high, sleep low" credo to avoid altitude sickness. Besides altitude sickness, diarrhea, sunburn, snow blindness, and blisters are also frequent side effects.
Furthermore, the risks of developing a trekker's knee are considerable. Knee and ankle strains affect a large number of people. Carry antidiarrheal medication, such as broad-spectrum antibiotics like Azithromycin or Norfloxacin, just in case. These medications are accessible at the pharmacy, and they can also be purchased without a doctor's prescription. Carry elastic supports or bandages, as well as anti-inflammatory drugs like ibuprofen pills and analgesic cream. Carry Band-Aids and tapes for blisters, minor cuts, and wounds.
Garbage and waste management
A Dustbin can be seen at various points along the trail. Henceforth, keep your trash with you until you find disposal can. If you don't come across one along the route, you can discard your trash at the teahouses. To manage waste, all tea shops have dustbins. You can also carry a few additional sacks to collect rubbish and dump it all at once in the nearest garbage can.
Similarly, if you have batteries, carry them with you. It is dangerous to keep them out in the open since they'll leak poisons. Also, remember to leave just your tracks on the trail, not the trash. Because most Nepalese hiking paths promote ethical tourism, the use of plastic is discouraged.
Travel Insurance
Travel insurance is a lifesaver for tourists hiking in Nepal's highlands. You never know when they'll come in handy. You will gain nearly 5500 meters of elevation during the walk, which is not simple to do. Even if you've been trained and are in the best shape of your life, altitude sickness can harm your health. An emergency evacuation may be necessary at times. As a result, be sure you have adequate insurance. High-altitude coverage is not included in many basic insurance policies. As a result, before leaving the house, double-check that your insurance policy covers all critical concerns.
Packing list for a trip in Everest region
Well, packing a backpack depends on the duration and nature of your trip. For the climbing journey, an extensive list of equipment is required. However, one should not worry about climbing because the journey organizer will provide all the necessary equipment. Trekking, on the other hand, also needs a long list of equipment. But most trekkers make the mistake of following a comprehensive list and packs stuff that will be unnecessary. By clicking HERE, you get our list of equipment which only contains general items necessary for trekkers for any trekking length.
Guided VS Independent tours and treks in Everest Region
Guided treks or tours are far better and worthwhile in comparison to independent tours and excursions. Guided trips do cost extra money, but you are buying services that guarantee you a stress-free journey at additional expenses. While on a guided trek, you are enabling yourself with services that are not only helpful but also ensures your comfort and wellbeing. Independent traveling will also offer those comfort since many like to be on their own, but they have often restricted the core beauty of the region. Therefore, choose a guided trip with a reliable travel organizer and have a relaxing and rejuvenating break. Also, in the name of a guided trip, don't fall prey to fake deals. Know your travel operator and plan a safe and unforgettable trip.