For decades, Nepal's triangular mass of rock and snow has been awe-inspiring travelers globally to come and visit these glorious peaks. Being home to eight out of ten world's highest mountains, Nepal quickly offers various iconic trekking trails for travelers of different abilities and experiences. Furthermore, these hiking trails expose travelers to mesmerizing sceneries and acquaint them with cultures that persist alongside. There are several exciting trekking routes in Nepal; however, we bring globally popular ten best hikes in Nepal in this blog. Would you please go through the list and choose which hikes go along with your preference because all these routes are beautiful in their general aspects but are uniquely remarkable somehow?
Let's explore the ten best hikes in Nepal and the best way to hike them:
Annapurna Base Camp – Critically acclaimed hiking destination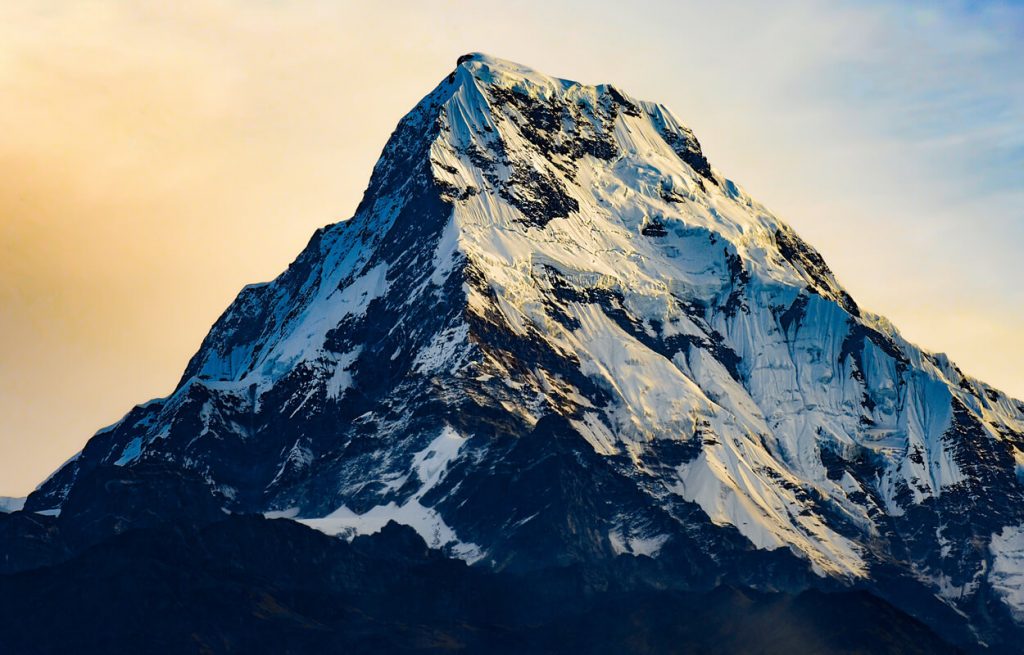 Annapurna Base Camp Highlights:
Best views and outstanding natural ambiance
Engaging cultural interactions
A smooth trekking journey
A great hiking destination with impressive tourist infrastructure in Nepal is the Annapurna Base Camp. This hiking trail strolls past dense, lush jungles and villages on the hillside under the shadow of the grand Annapurna massif. After a week of trekking through the forested path of Annapurna sanctuary, the journey eventually ceases at the majestic Annapurna Base Camp. The base camp, the world's 10th highest peak- Annapurna I (8091m), is seen up-close and several other peaks that exceed 7000 meters.
Moreover, this hike is mainly people's favorite because of its gradually approaching nature. The total height trekker's covers in this trek are 4130 meters which is pretty high. However, the elevation for the Annapurna Base Camp hike is appropriate and suitable. Thus, because of its gentle approaching nature, the Annapurna Base Camp trek is one of the best hikes in Nepal.
Besides its fantastic scenery and fitting itinerary, social indulgence is another vital aspect of the journey. Annapurna Base Camp trek ensures social interaction to the fullest as the region is quite copious with human settlements. The trail ambles through different traditional villages such as Ghorepani, Deurali, Tatopani, and many more. People from Gurung, Brahmin, and Magar and Chhetri ethnic tribes are the principal inhabitants of this hiking trail. These composite factors make this hiking destination- Nepal's most popular trekking region. Best way to hike Annapurna Base Camp
Best way to hike Annapurna Base Camp:
The best way to hike the Annapurna base camp would be to follow the standard itinerary of 11 days. Travelers can shorten as well as lengthen the itinerary and still enjoy the trip to the fullest. Besides, it is best to know your walking ability and build an itinerary that fits you. Together with that, gently approach the journey even if you are energetic. Rushing would do no good. It just makes you more likely to have altitude sickness.
Similarly, the route is demanding, although significant sections of the trail are well-paved with stone steps. Additionally, it is a moderate journey even though it is a high-altitude trek, so train for at least a few months in advance. Focus on muscle strengthening and cardiovascular exercise for this trek.
Everest Base Camp – World-famous hiking destination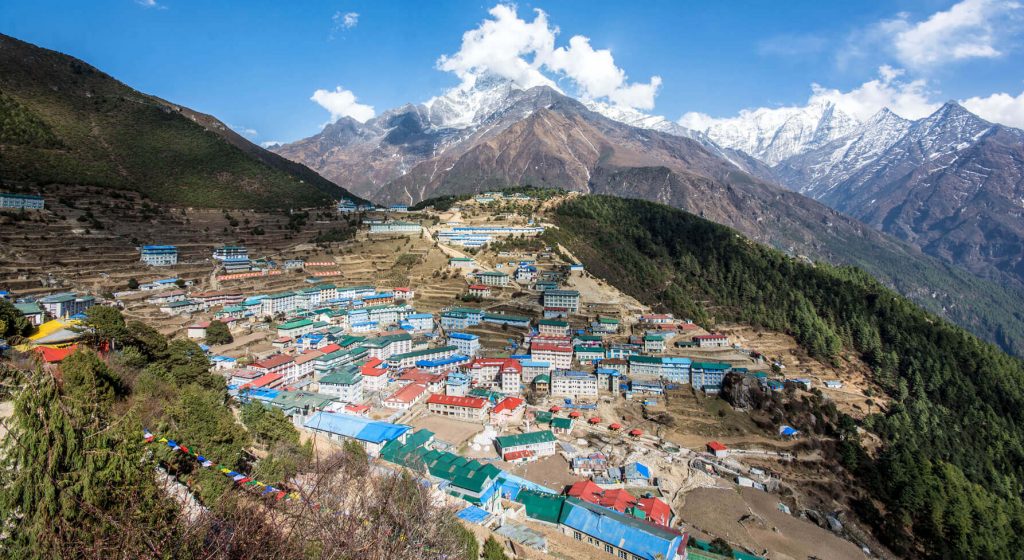 Everest Base Camp Highlights:
Up-close sights of the world's highest peaks
Quaint villages and Sherpa culture
Warm bakeries goods and peaceful cafes
Grand monasteries and best religious shrines
Everest Base Camp offers a delightful and adventurous spirit to anyone looking for a premium trekking experience. As the region homes several peaks over 8000 meters, so it grants a chance to taste the finest mountain views at once. The delicacy continues to charm ethnic Sherpa towns where the years-long history of the Sherpa community is alive. Similarly, the hiking trail is a melting pot of adventures, so the path is active almost yearly.
The hike starts with an exciting flight journey to Lukla- one of the world's most dangerous airports. Then it further navigates through alpine vegetation, crossing several suspension bridges along the way. Herds of yaks carrying goods accompany trekkers in this beautiful hike. Similarly, it wanders through Sagarmatha national park that houses several species of flora and fauna. Also, as the community follows Buddhism, it is strictly prohibited to kill animals in this region. All the more, colorful prayer flags, chortens, Gumbas, and monasteries dots the hiking course. These monuments reflect the region's profound spiritual and religious aspects.
The EBC trek is a perfect mesh of nature and culture; thus, it is one of the best hikes in Nepal.
Best way to hike Everest Base Camp
Everest Base Camp Hike is a high-altitude trek; thus, acclimatization is essential for a smooth journey. The standard itinerary of the Everest Base Camp hike is 16 days, but it can be modified as per the traveler's preference. Similarly, hikers need to understand; it is a testing journey since it goes over 5000 meters. So doing physical training beforehand is essential. Focus on muscle strengthening and cardiovascular exercise for this trek. Likewise, approach the walk gently without rushing and enjoy every bit of the journey for a lifetime experience.
Langtang Valley – Closet destination from the capital city to experience Himalayan excellence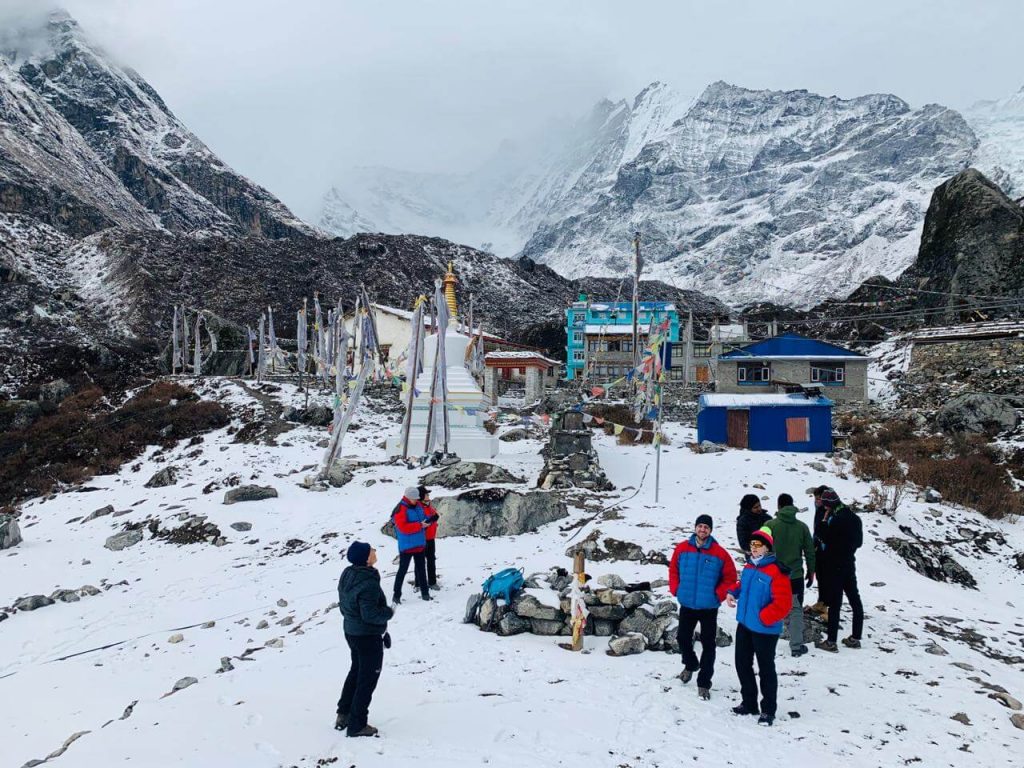 Langtang Valley Highlights:
Lone trekking trail
Valley of glaciers
Home to Tamang and Sherpa ethnic group
Taste traditionally made yak cheese
Home to Tamang and Sherpa communities, Langtang valley is one of the old trekking trails of Nepal. Langtang Valley is almost 62 km away from the capital city- Kathmandu. Also popularly known as the valley of Glaciers, Langtang Valley is a beautiful trekking destination to enjoy natural scenery in solitude. Although it is near Kathmandu, this hiking destination is a less traveled trekking region, so most hikers who want to escape busy and crowded hiking destinations prefer traveling through here.
This is a beautiful area with high alpine pasture and stunning landscape scenery. Even though the region was massively affected the 2015 earthquake, the territory was rebuilt and welcomed visitors effectively. The exciting bus drives off-road from Kathmandu will whisk hikers to Syabru Bensi- the start point of the trek. The journey from there walks through rural villages with epic Himalaya views in the backdrop. Moreover, at Kyanjin Gompa, travelers will find themselves amid massive snowcapped peaks.
With vast yak pastures, pine forests, and charming villages, the journey to Langtang is one of the most rewarding short treks. Additionally, it is a fantastic place for hikers looking for a memorable one-week gateway in the mountains. Lastly, it is one of the best hikes in Nepal with its never-ending beauty and flexible trekking route.
Best way to Hike Langtang Valley:
It is an easy-to-moderate journey with a suitable trekking itinerary for a quick gateway. In this hike, the maximum height covered is 3870 meters at Kyanjin Gompa; thus, it is one of the attainable journeys for beginners. Nevertheless, doing muscle-strengthening training and cardiovascular activities beforehand is essential for an even more tranquil journey.
Mardi Himal – One of the best ridge trekking trail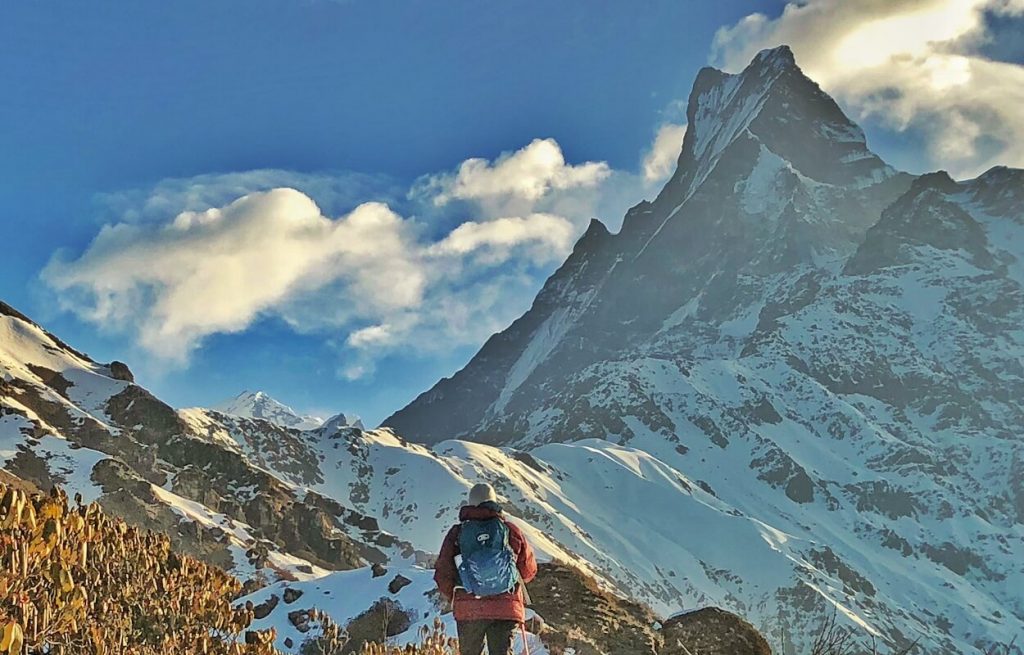 Mardi Himal Highlights
Less busy trail
Incredibly close views of massive peaks
Off-the-beaten-path and relatively new trekking route as well
Complete wilderness experience
Mardi Himal is excessively getting popular amidst the crowd of trekkers, be it beginners or experienced hikers. This fantastic trekking route in the Annapurna locale is increasingly famous for its beguiling mountain scenery and great jungle scenes. Lying below the sacred Macchapuchre Himal, this hiking journey offers the most nuanced perspective of Machhapuchre, along with other snowcapped peaks. Besides, the cultural benevolence of this hike is another bonus.
As the hiking trail is comparatively new among others, the route offers adequate tourist infrastructure. Moreover, it is a short but scenic walk through villages with thin settlements. Most of the hike navigates through verdant jungles, but it later opens to a ridge trekking trail. The ridge trekking trail part is incredible as the mountain views become prominent as you move forward. Walking along the ridge, hikers face majestic peaks such as Machapuchare, Hiunchuli, and the Annapurna range.
Mardi Himal is undoubtedly a splendid hike through the lush sub-tropical region to high altitude area. With fewer crowds, this hike (Mardi Himal Trek) is perfect for anyone who wants to escape to a peaceful and tranquil ambiance. And all these essences make Mardi Himal one of Nepal's best hikes.
Best way to Hike Mardi Himal
The hiking route is not arduous; however, keep track of your health on the trek. Moreover, this hike is attainable in just a week, but it's better to opt for a longer itinerary for a smooth trekking experience. Besides, since it is also a high-altitude trekking route, focus on muscle strength and cardiovascular activities before this hike.
Annapurna Circuit – Nepal's classic trekking route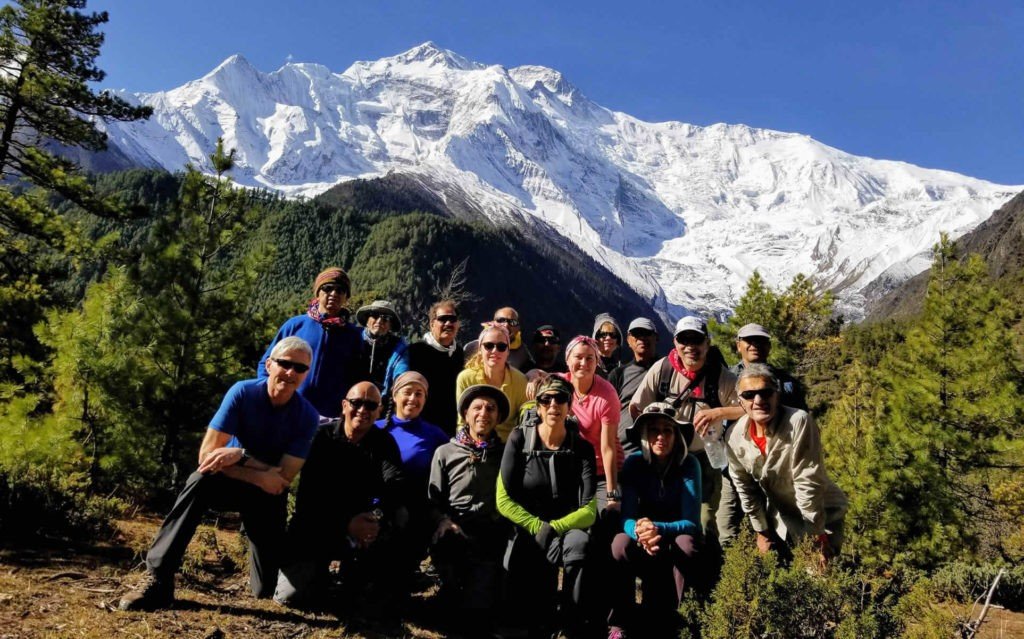 Annapurna Circuit highlights
Hike through almost all types of Nepal's landscapes
Experience authentic Nepalese culture and Tibetan culture
Beautiful snowcapped mountain views as well as Trans Himalayas
Enchanting hillside villages
Annapurna Circuit Hike is another beautiful hike in the Annapurna locale. This same trekking route is almost popular as the famous Annapurna Base Camp trek. Although both journeys fall in the same region, both offer different scenes of Nepal's geographical features. With diverse terrain, the cultural magnificence of this region is too other than the ABC hike. It mostly goes through dry terrain and rocky landscapes where Tibetan culture subsists.
Furthermore, this takes you through virtually the whole range of Nepalese landscapes. The hike goes through gorgeous woodlands from sub-tropical valleys and across Alpine meadows and conifer forests, the rock and ice waste higher up. Besides, anyone looking for different traditional scenes than the typical Nepali culture prefers hiking through Annapurna Circuit.
And it is one of the reasons for Annapurna Circuit to be one of the best hikes in Nepal. Moreover, the rocky and rugged landscape has always been one of the attractive features of this hike. Thus, anyone looking to do this trek will enjoy the unique culture and territory of Nepal.
Best way to Hike Annapurna Circuit
The geographical setting of Annapurna Circuit takes place in a high altitude yet barren region with a rocky landscape. And it is crucial to understand that this region's weather condition is quite different from other trekking regions of Nepal. Some part of this region lies in the rain shadow area. Thus it is the reason behind its barren nature. Nonetheless, anyone deciding on this journey would have a lovely time if they acknowledged the weather unpredictability of this region. On the same note, this hike requires crossing Thorung La pass, which sits at the height of 5416m. It is a testing part of the journey, which gets snowed up during the winter season. Crossing this pass in winter is challenging but equally thrilling too.
Hence, approach the trek slowly and dress according to the weather you are going on this journey. Similarly, like any other trek, prior fitness training is also essential. Thus, focus on muscle strengthening and cardiovascular workouts for a smooth trip. Likewise, stick to the itinerary and approach the hike gently for a memorable experience.
Manaslu Circuit – Nepal's pristine and secluded destination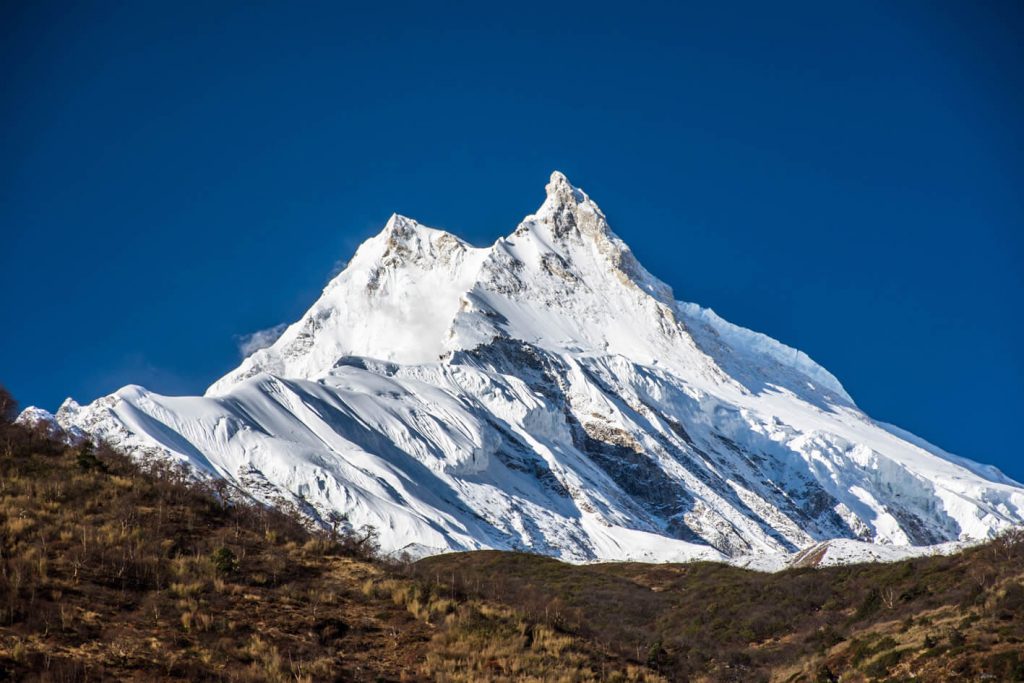 Manaslu Circuit Trek Highlights
Grand mountain sceneries
Lone hiking trails
Frequent local interaction
Pristine jungle scenes and remote villages
Eight highest mountain- Manaslu is one of the less-known trekking destinations of Nepal. Although the trail does not bring a crowd like Annapurna and Everest, the journey is equally interesting, stimulating, and awe-inspiring. With Epic Mountain views from the get-go, the day's long journey is just a beautiful experience past several remote villages to reach its foundation.
Through the journey, hikers get to see ever-changing Himalayan scenery that only seems to get fascinating day by day. Walking past trails strewn with colorful prayer flags and beautiful stone chortens and Gumbas is another lovely aspect of the journey. Foreigners less visit the track; thus, hikers get to have trails and mountains to themselves.
The journey also offers a splendid opportunity for photographers. The dramatic valleys and the giant's peak combo make brilliant scenery to capture in a film. Overall, raging rivers, precarious bridges, and stunning mountain gorges with medieval cultural elegance make it one of Nepal's best hikes.
Best Way to Hike Manaslu Circuit
Manaslu Circuit circumambulates the majestic Manaslu peak through small remote villages. The standard itinerary for the Manaslu Circuit trek goes on for 17 days which again can be customized. Like all the other treks, this is a high-altitude trek that also entails crossing a high mountain pass named Larkya La at the height of 5106m. Thus, have enough time to acclimatize during the walk for a smooth journey. Moreover, anyone with reasonable fitness can do the hike. However, for the best experience, work on endurance skills through muscle strengthening and cardiovascular workouts—this helps approach the rugged trails.
Upper Mustang – the land of the forbidden kingdom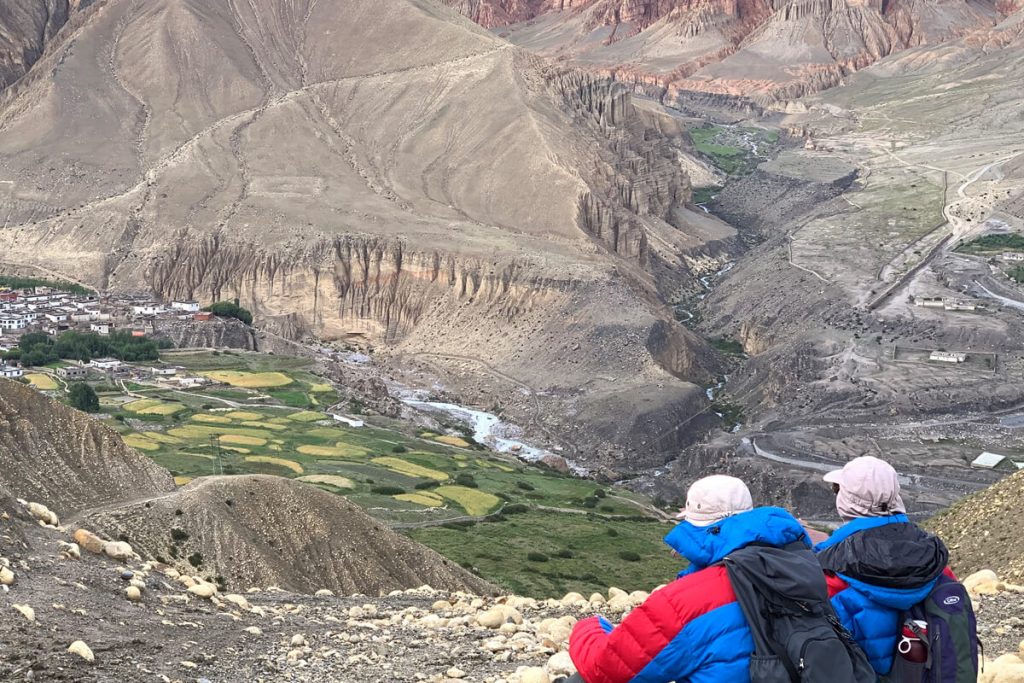 Upper Mustang Highlights
Trans-Himalayas
Traditional Tibetan Buddhist culture
The walled town of Lo Manthang
Ancient Buddhist cave art
Monasteries and Buddhist architecture
In the north of the Annapurna region lies a beautiful and magical Upper Mustang. Here rivers swirl around mighty peaks, and life in chalk-white villages moves slowly. Hidden in the corners of the Himalayas, the region was not traveled much by travelers. This isolation led to preserving its unique and remarkable culture.
This is so wealthy in traditional Tibetan Buddhist culture that it feels more quintessentially Tibetan than Tibet. Therefore, Upper Mustang is the best alternative if Tibet is something impossible for hikers. The hiking routes weave through towns with white-colored houses backed by massive naked hills.
Besides, for anyone particularly interested in seeing the lifestyle of genuine mountain people, whose culture has remained the same since ancient times, this place will fulfill your curiosity. Some changes can be seen; however, it is still long to lose their rich cultural heritage.
Best way to hike Upper Mustang
Upper Mustang Hike is one of those walking routes that are possible on foot and via land transportation. From well-paved roads to off-beat can be found all along the trek route. However, for the best experience of Upper Mustang, go on a prior chosen itinerary that meanders through narrow paths, crossing rivers and villages. The Mustang trek is not particularly difficult. The maximum altitude cover in this trek is 3800 meters, but the conditions can be arduous. Therefore, prepare your body for the hike by doing cardio exercises that help strengthen endurance building.
Tamang Heritage Trail – Engaging Cultural trek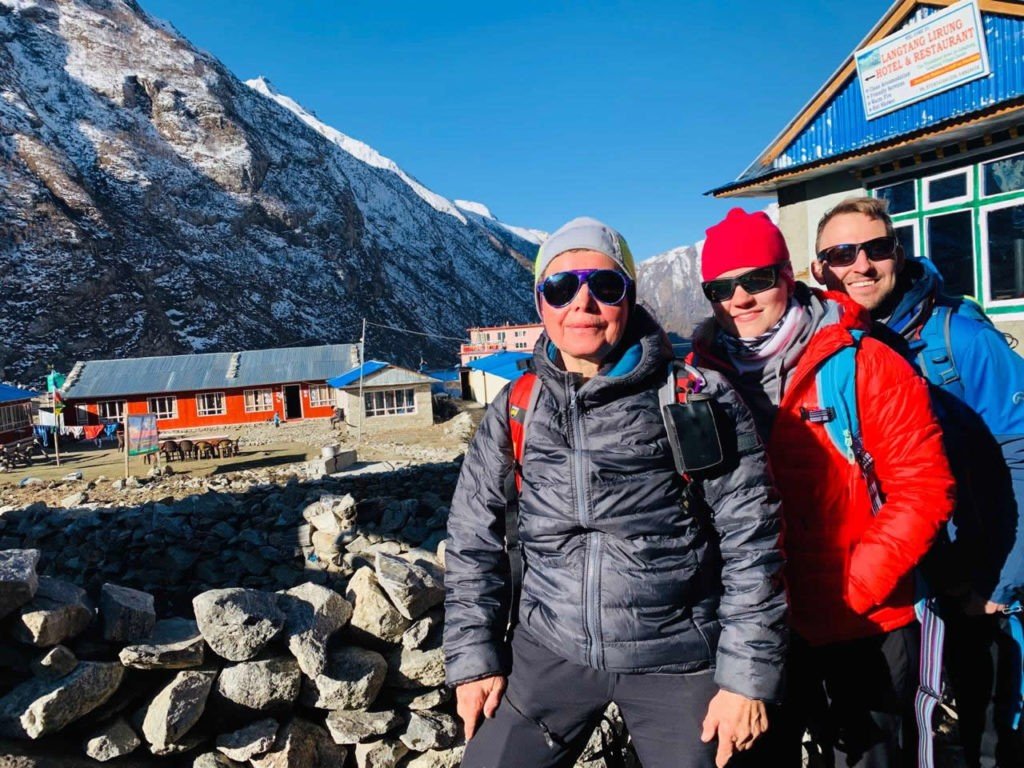 Tamang Heritage Trail Highlights:
Local life
Ease of access
Tranquil mountain village
This course means to feature the way of life of the Tamang individuals as much as the Mountain View. It's a genuine local area where adventurers get to traverse past rural villages and jungle scenes. As the name indicates, the journey goes past villages where significant inhabitants are people from Tamang ethnic community.
This particular hiking trail offers visitors a chance to enhance their social credibility by learning about other communities different than yours. Besides, as the hiking trail is tranquil where frequent local interaction is promised, it is better to grow spiritually and for a relaxing gateway. Moreover, the people of this community mostly follow Buddhism. Thus chortens and Gumbas decorate the hiking trail.
The journey also allows travelers to experience traditional working and a rural lifestyle, a significant income source. Similarly, the trekking routes proudly present their rich culture through dances, songs, arts, and handicrafts. These aspects appeal to travelers; thus, it is one of the best hikes in Nepal.
Best way to hike Tamang Heritage Trail
It is a short and easy journey where the chances of suffering from altitude sickness are meager. Though, walking on the rough and rugged path can be difficult for hikers. Hence, training to build flexibility and strength in advance will probably augment the journey's best lifetime experience.
Everest Gokyo Lake – Outstanding route with the fewer crowd in Khumbu Valley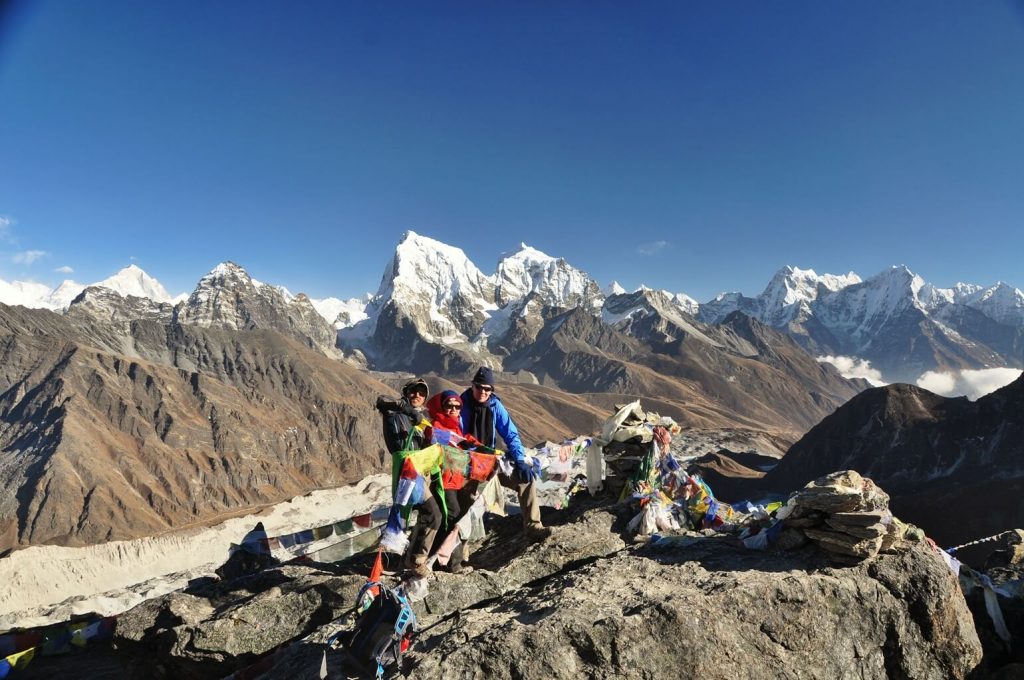 Everest Gokyo Lake Highlights:
Sacred six pools of Gokyo Lake
Spectacular Everest massif
Hospitable and wonderful Sherpa people
Tranquil nature and the life that resides here
This hike is suitable mainly for people who want to avoid the crowd but still want to taste the splendor of the Everest region. Generally, the Everest region is busy with hikers worldwide, but some specific trails don't invite crowd as regular EBC trail does. Fitting perfectly for lone travelers, Everest Gokyo Lake is a beautiful hike.
The hiking route is less busy, but the mountain views are as remarkable as the Everest Base Camp trek. Accumulating every appealing aspect for travelers who love fewer crowds, this trek is undoubtedly one of the best hikes in Nepal. In the first few days, the walk follows the same path as EBC but takes a different route from Sanasa.
These hiking routes hikes through the forested path, cross yak grazing pasture lands, and enter the realm of moraine and ice circles by looming peaks. Since the trek gets fewer crowds, the chance of meeting genuinely friendly locals is pretty high. Overall, this beautiful hike in Khumbu Valley is the best hike for its unspoiled cultural heritage and outstanding mountain scenery.
Best way to hike Everest Gokyo Lake
Well, there are two ways to Hike this beautiful route. One can follow the regular trail up to EBC and descend the Gokyo Valley crossing moraines and mountain passes. However, for the best experience, traverse first to Gokyo Valley- enjoy the magnificence of Gokyo lakes and bulging mountain peaks that surround the valley. After this tranquil experience, it is up to hikers to return via the same route or go beyond for EBC. Given that, approve an excellent itinerary before you start the hike. Moreover, it is also a high-altitude trek, so prepare your body by doing endurance and strength-building workouts.
Ghorepani Poon Hill Hike – Quick Escape to the Mountains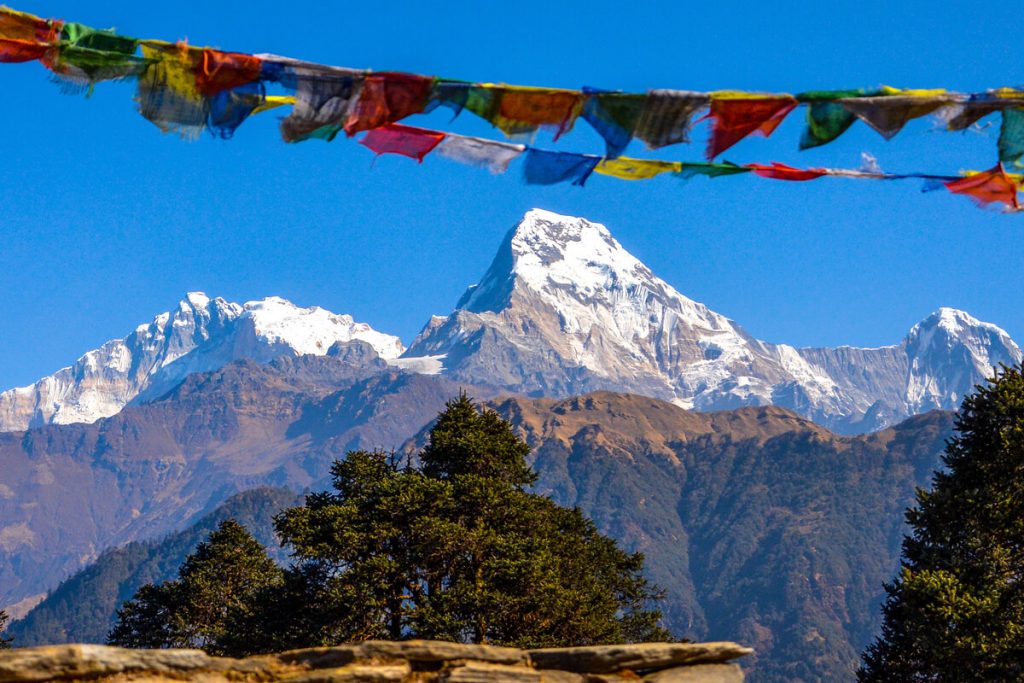 Ghorepani Poon Hill Hike Highlights:
Incredible panoramic vistas of Annapurna Massif
Plenty of opportunities for social interactions
Charming ethnic towns
Stopover at the beautiful and well-connected town- Pokhara
Suitable for all travelers and family vacations
Adjectives like short, simple, splendid, superb, scenic, and all its synonyms would describe what the Ghorepani Poon Hill hike is like. This astonishing journey is filled with beguiling mountain scenery where attractive Gurung and Magar culture exit. Additionally, incorporating these aspects makes this short hiking journey a fabulous introduction to trekking in Nepal.
The trail is easy to follow, making it suitable for first-time hikers and families traveling with children. It also includes a hike through rhododendron forests and terraced paddy fields. Besides, from Poon Hill, the most prominent viewpoint in the Annapurna Region, enjoy a magical sunrise and Himalayan panorama.
The journey also includes a walk along a path lined with traditional Gurung and Magar villages, where you can learn about their culture and warm hospitality. Moreover, it offers the most exemplary view of Machhapuchhre (Fishtail Peak) while trekking and pine and rhododendron forests.
Best way to hike Ghorepani Poon Hill
It is an easy hike in general, but still, get physically fit before getting on the trek. Because the trail includes lots of steep stone stair steps besides, one can use pony or horse rides as it is standard on the hiking route. Also, have as many local interactions for an even more delightful excursion.
Last Words
The towering Himalayas reflect nothing less than the monumental peak of Mother Nature's splendor with mosaic cultures and unique inspirations. Please choose your favorite hike from our list of 10 best treks in Nepal, and relish the best experience that offers natural and cultural grandiose. Every walk ensures a magical escapade and a worthwhile journey.