[TOC]

When traveling to Nepal there are many souvenirs that may catch your eye. Throughout Thamel, there are hundreds of stores selling pashmina, tea, trekking supplies, and handicrafts. However, not all products are created equal, and it is important to do your research before making a purchase.

Here we have some unique souvenirs that you may want to take home to remember your time in Nepal.
Bagh Chal (Tiger moving game)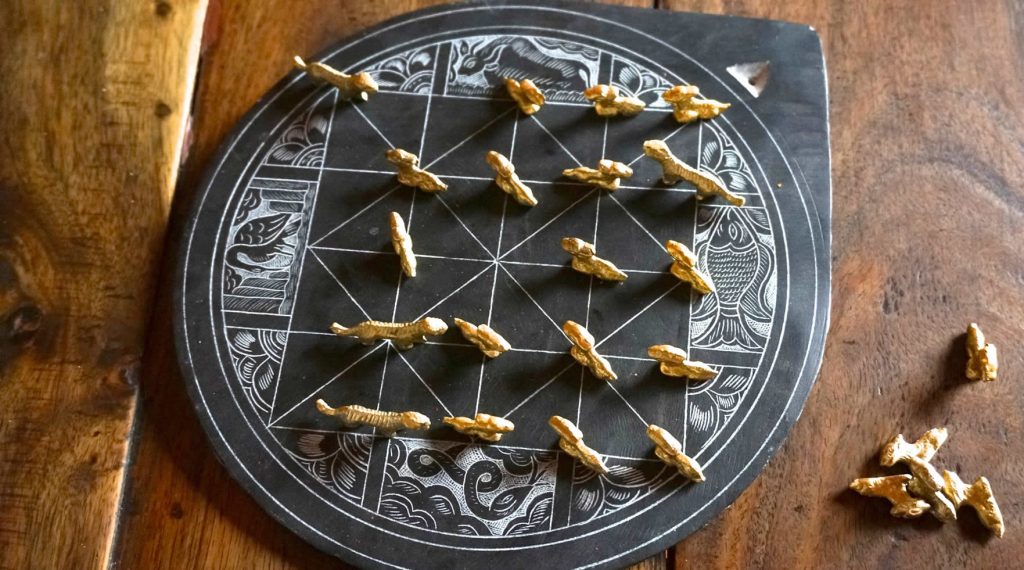 If you are looking to spice up your coffee table at home, a traditional Nepali board game would be the perfect fit. There are four tiger pieces and twenty goat pieces in each set. The goat can win by surrounding all of the tigers until they cannot move, or the tiger can win by capturing all of the goats. A goat is captured when a tiger jumps over it, into an empty space. The layout is easy to draw, and the game can be played nearly everywhere. It is a fun puzzle to play with people of all ages!
Lokta Paper Products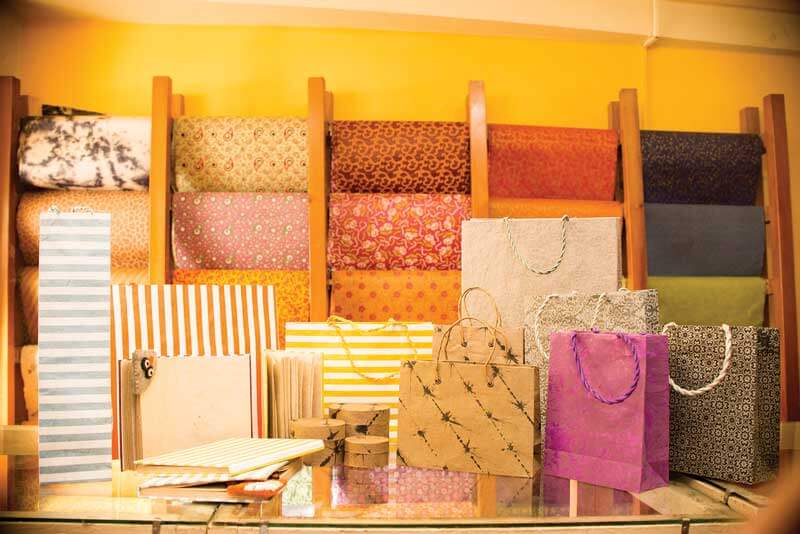 Lokta paper is made from rice husks and can be found all around Nepal, just be sure to confirm with shopkeepers about the legitimacy of their products as not all products are the same. However, this is starting to become a much more popular souvenir. There is everything from lampshades to notebooks, calendars boxes in addition to decorations for any holiday. Unique colors and patterns make any paper product a great gift to take home.
Khukuri Knife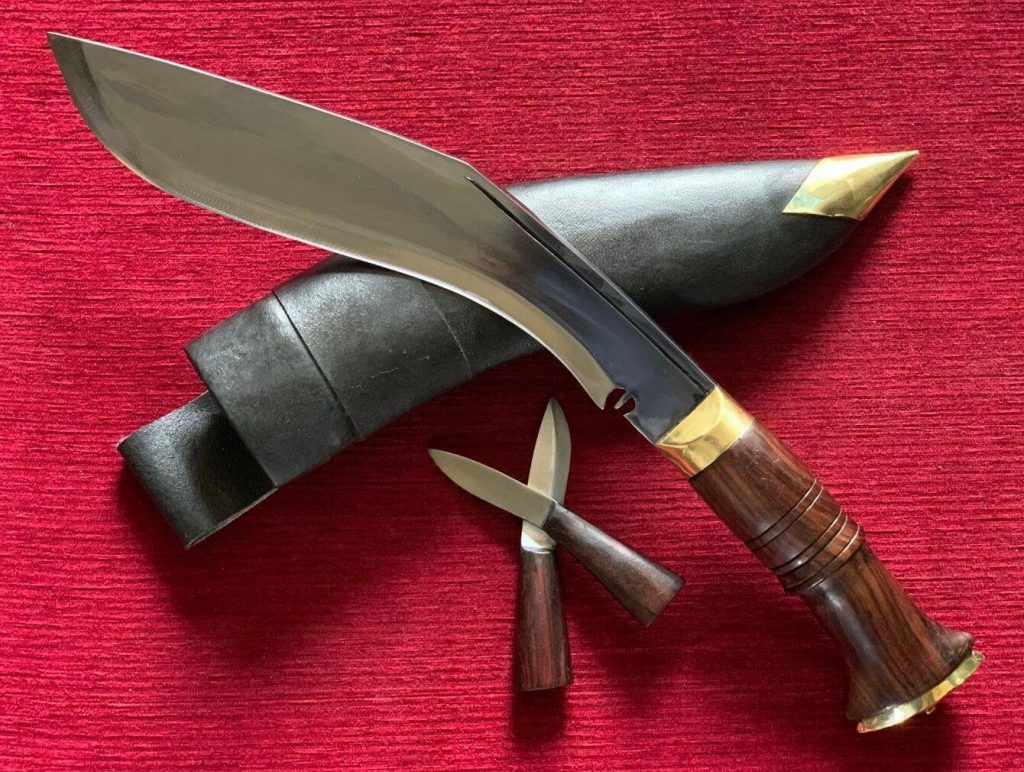 The Khukuri knife can be found in many places in Nepal and was made famous by the Nepali Gurkha soldiers. Additionally, the knives are commonly used by locals in villages throughout the country. In fact, most security guards carry them regularly. The knives are presented as a token of love on special occasions but also symbolize bravery. Many stores in Thamel sell knives but try to look for ones that are made in Nepal for authentic souvenirs. And do not forget to pack the knife in your checked luggage!
Spices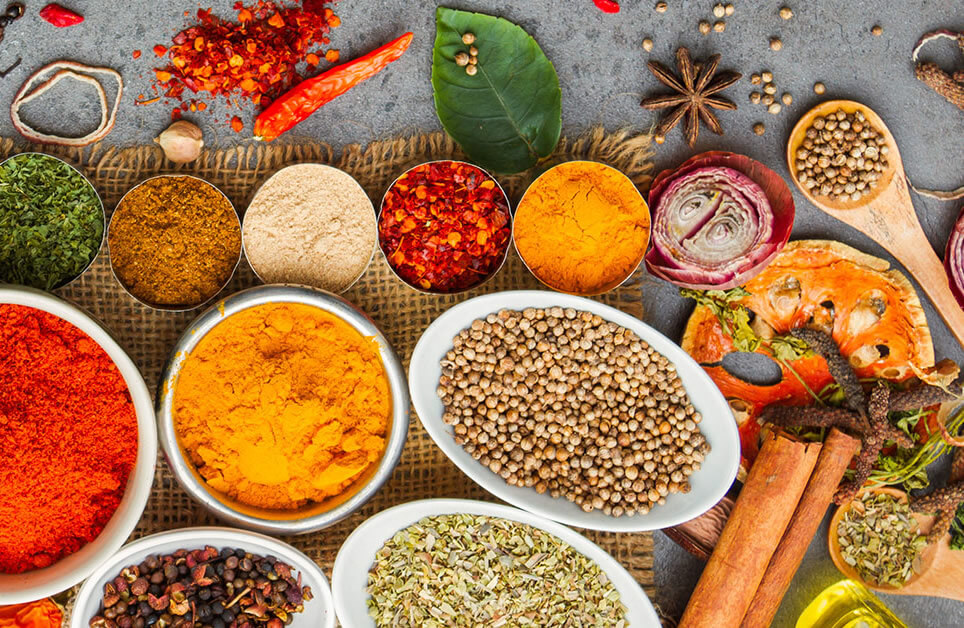 Nepalese food is known for its spices and unique flavors, which means there is a wide variety of spices available throughout the country. It is best to find spices used regularly in Nepalese dishes including ginger, coriander, timmur, chilies, and turmeric. You can buy spices individually or buy mixtures. There are markets near Thamel with everything you can imagine including a variety of spices but be sure to ask your guide or locals for help to find legitimate products.
Tibetan Rugs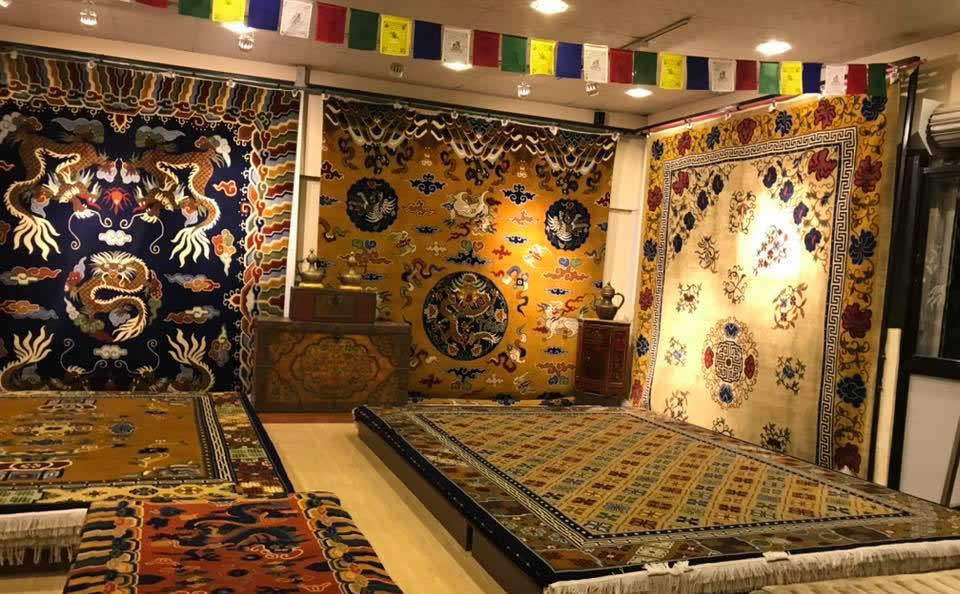 If you are looking to make a larger purchase or are re-decorating at home, you may be interested in looking into Tibetan Rugs. There are several places where they are easily available including Boudha and Patan. The Jawalakhel Handicraft Center is a popular choice as Tibetan refugees make the rugs by hand and profits go towards community schools and healthcare. Ask your tour guide for information and they may also be able to take you on a tour of a factory.
Brass Dining Wear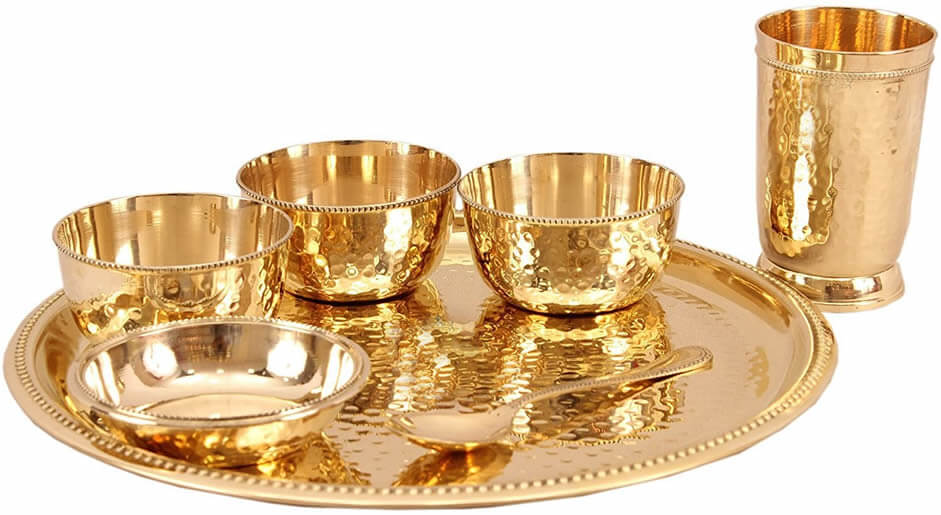 While it may not be practical for everyone to take home, there is brass dining wear widely available across Nepal. From plates and bowls to wine goblets and cups, these pieces would look great on your bar cart or make interesting conversation pieces at a dinner party. Every store has different patterns and styles available, so it is best to look around for items that you like. You may also want to bring a local or your guide along to ensure that you find quality items at a reasonable price. Places like Indra Chowk, just a few minutes' walk from Thamel will have a great deal of variety to choose from.
Pottery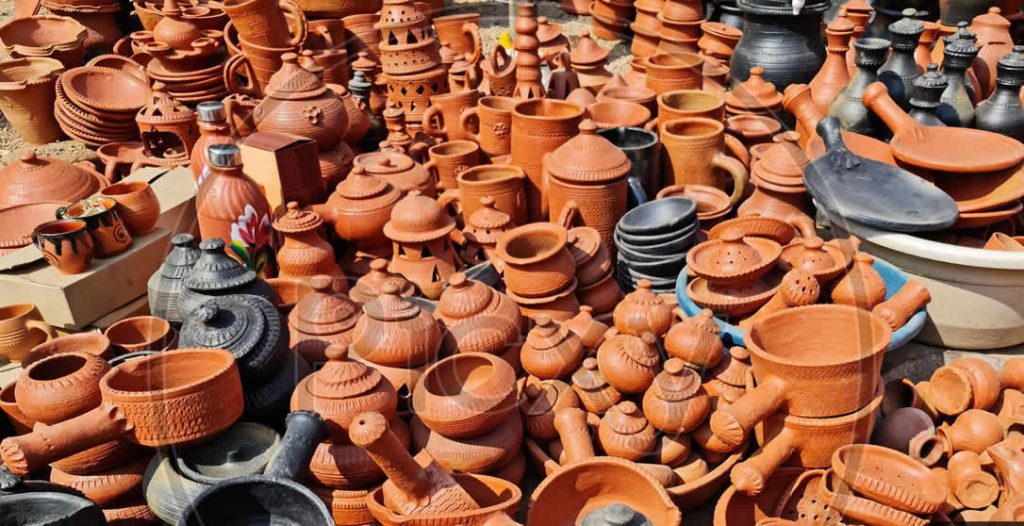 There is a lot of pottery available around Nepal, but especially in Bhaktapur. There are beautiful tea sets, incense holders, religious statues, planters for flowers, and more available. Places like Bhaktapur's pottery square will allow you to support local artists in addition to getting a glimpse into how such products are created. However, Thimi Ceramics also has an incredible variety of products available and even ships worldwide if you are looking to place a large order or avoid carrying items in your luggage. At this location, you will also be able to walk through the workshop and see many people working on beautiful pieces.
Nepali Dhaka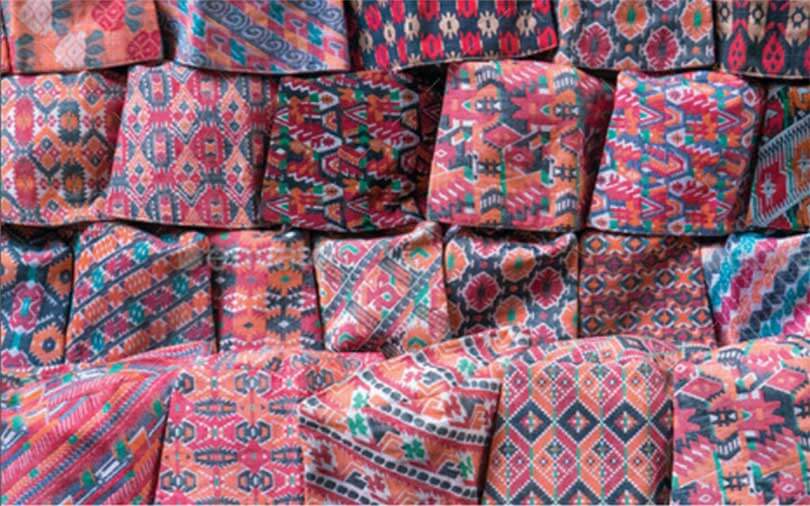 Dhaka fabric is a national symbol of Nepal, commonly found in Dhaka Topis (a traditional hat worn by men). However, there are many ways the fabric can be worn, including scarves, dresses, coats, and more. You may find items already made with Dhaka fabric or purchase fabric on its own to have something custom-made. While custom-made clothing in the west is very expensive, in Nepal it is quite affordable and would be a souvenir you would be sure to remember.
Himalayan Honey
Honey from the Himalayas is becoming an increasingly popular item for locals and tourists alike. This honey is collected from hills and cliffs nestled amongst the highest peaks in the world. There are many varieties depending on which part of the country it came from and what plants were available to the bees at such an altitude. One which is especially in high demand throughout the country is a honey that is slightly psychedelic which would make an exceptionally interesting item to take home.
Khukuri Rum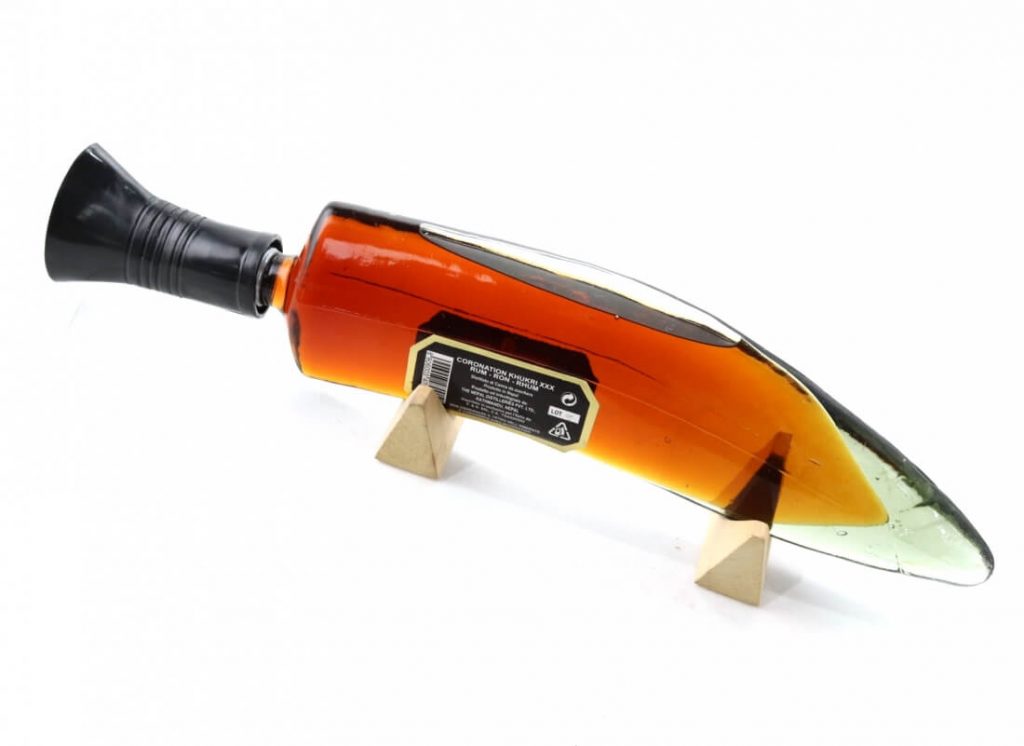 If you are looking for an alcoholic beverage to take home you must try Khukuri rum. Made in Nepal and named after the famous knife this dark rum is distilled with molasses and Himalayan spring water with natural artisanal flavors. Aged in casks made from the Shorea Robusta tree among snowy peaks, this rum delivers earthy undertones and a smooth caramel finish. You can also find Coronation Khukria reserve in a bottle shaped like a Khukri, to give you two mementos from your time in Nepal.
Lapsi Candy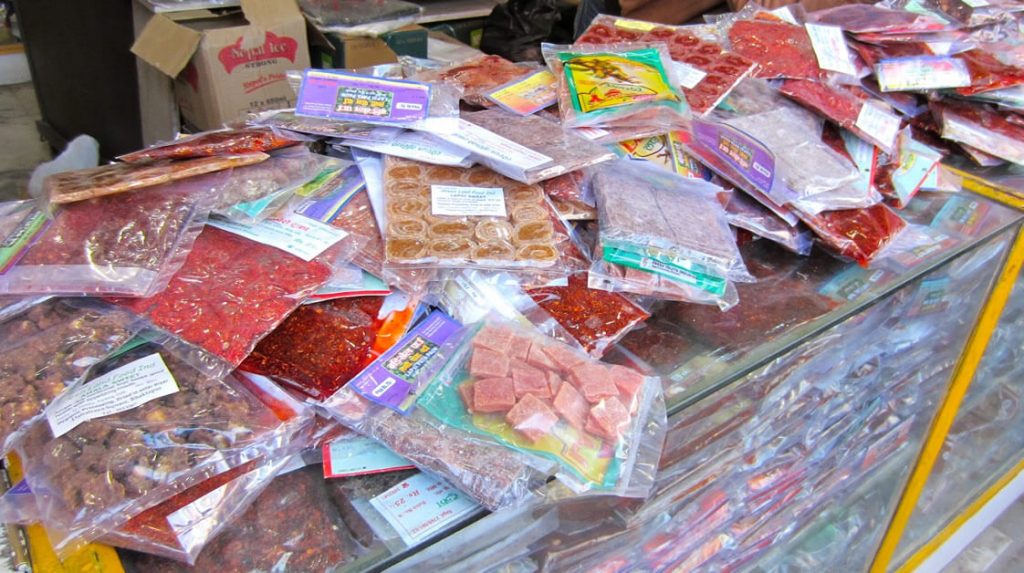 Made from the fruit of the Lapsi tree, which is only found in Nepal and northern India, this candy is made in several places around the Kathmandu Valley. However, you will certainly find this sweet and spicy treat when you visit Changunarayan. It is made by a local women's cooperative and is an affordable and easy-to-transport item to take back home. There are several varieties ranging from a light cream color to deep reds and pinks. The darker the candy is, the more chili powder was used making it quite spicy, however, the light-colored candy is very sweet. Although the candy is packaged in clear plastic bags and looks as though it might not be safe to eat, rest assured that it is not only safe but delicious and enjoyed by many.
Tips for Bargaining
All tourists coming to Nepal know that bargaining is part of most purchases in the country. This is challenging for many, but we have a few tips to help you find souvenirs and get them at the right price. The best thing to do is have a local with you. They not only know the prices but will be able to notice the quality of items and help ensure that you have souvenirs which will last. Additionally, if you are not in a rush, take your time making purchases and ensure that it is exactly what you want. This will also give you time to decide on how much you are personally willing to spend on an item.
Nepal is a unique country with so much to offer so it is only fitting that you find an item just as special to remind you of your time in this Himalayan nation! Also read our related blog, 10 Things to Buy in Nepal