The Upper Mustang Trek is all about exploring the hidden world of the ancient Buddhist kingdom of Mustang. This area is not that much remote as you think. Many travelers can go by trekking as well as by off-road drive that's what makes it so special. It is a paradisiacal site located north of the Dhaulagiri and Annapurna mountains and can be found in Nepal's Dhaulagiri Zone, namely in the district of Mustang.
A Himalayan district of modern Nepal, Mustang was historically known as the Kingdom of Lo and is situated geographically near Tibet's border, but its cultural aspect is entirely Tibetan. Therefore, this region is also commonly referred to as "Little Tibet."
While the region has been plagued by adversity, it has been able to maintain a vibrant spiritual culture through its monasteries, chortens adorned with prayer flags and wheels, Buddhist arts, festivals, and more.
The Upper Mustang is regarded as one of the remaining real pieces of evidence of Tibetan Buddhist culture and Shamanistic tradition known as Bon rituals, which are practiced in the Upper Mustang in a strong syncretistic manner.
The Trans-Himalayan Mustang region is widely regarded as one of the best places in the world due to its exceptional natural beauty. It is a well-known region for both its cultural and conservation attractions. This area is one of the areas of Nepal, like the Tibetan plateau landscape.
The trekking routes follow graveled off-road motorable roadway, as well as many sections that take hikers to the short ancient trade route through rugged gorges. Along the way, visitors will explore the ruins of Buddhist temples and monasteries and centuries-old cliff caves.
Prior to the year 1992 A.D., no tourists were allowed to enter the upper Mustang area. This area was regarded as a restricted area. Still, the upper Mustang area needs a special permit that costs 50 USD per day for foreign international tourists.
In Brief: The Historical Aspects of Upper Mustang, The Kingdom of Lo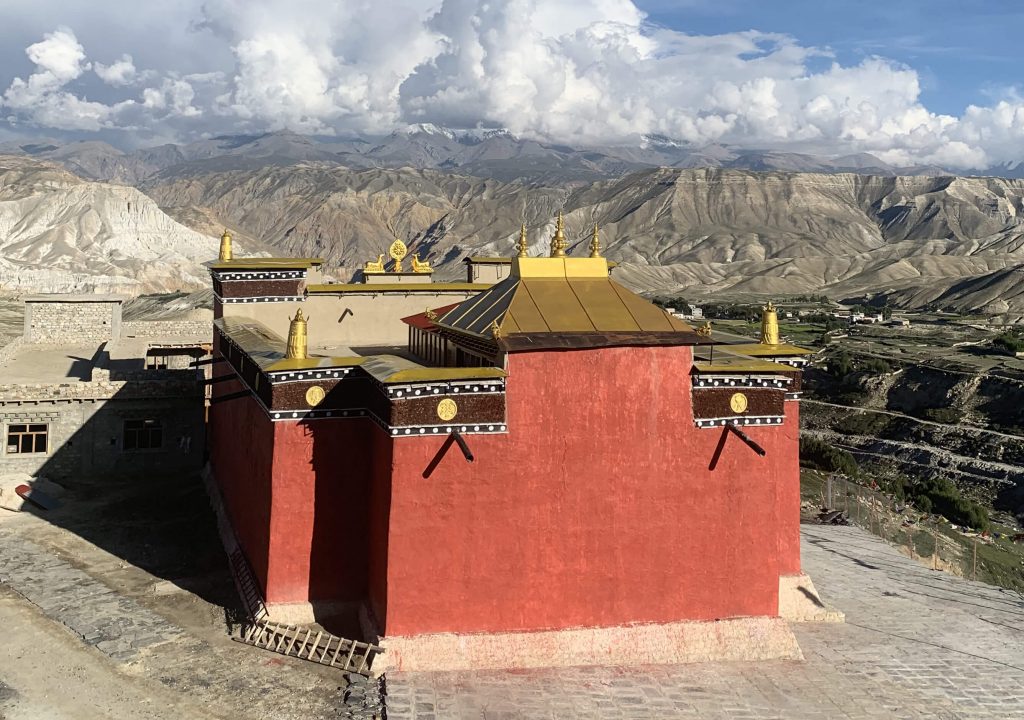 Some of the earliest depictions of the history of Lo Manthang are featured in myths and legends rather than historically accurate accounts. Researchers are still working to figure out the facts related to the Kingdom of Lo.
Just a few years ago, researchers found a clue regarding the status of "Lo" in documents that date back to the 13th century. From the 11th to the 14th centuries, Mustang was ruled over by the Tibetan kingdoms of Ngari, Khasa, and Gungthang.
In the middle of the 15th century, it established itself as an independent state. However, in the late 18th century, it was incorporated into the territory of modern Nepal after Jumla was conquered as part of the process of Nepal's re-unification. Due to the fact that the Mustang was an integral part of Jumla, it was immediately included in Nepal.
Jigme Dorje Palbar Bista, a local king who ruled until 2008 and passed away in 2016, was the ruler of this region. This little Buddhist kingdom was established in the 13th century by the former warrior Ame Pal, who also served as Jigme's ancestor.
There were just a few small kingdoms, and by the 18th century, all of them had been annexed by Nepal. Even though monarchs of smaller kingdoms have been bestowed respect as the local monarch, when Nepal officially declared a republic in October 2008, the monarchy and feudalism were abolished as a political structure.
The Mustang can be distinguished into two parts: the Upper Mustang and the Lower Mustang. Currently, Mustang's district headquarters, Jomsom, is in Lower Mustang, although the ancient kingdom of Lo included both Lower and upper Mustang, with its capital known as "Lo Manthang" (Lo's medieval walled city)" in Upper Mustang.
The Main Highlights of the Upper Mustang Trek (The Most Exciting Part of the Upper Mustang Trek)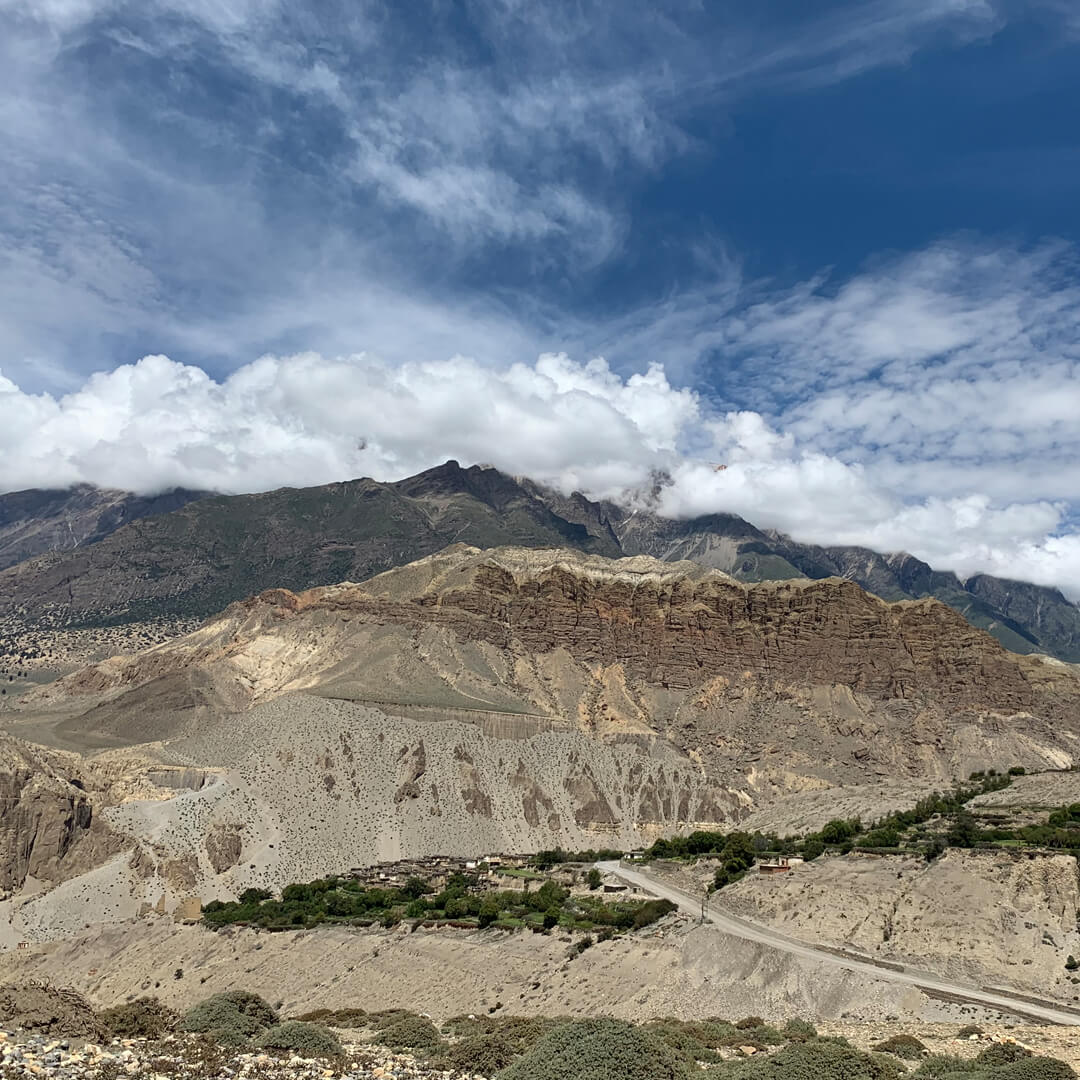 Get an up-close and explore how Tibetan culture fills everyday life and the traditions of the inhabitants.
Ancient monasteries dating back a thousand years, cryptic caves and tunnels, indigenous peoples, and breathtakingly beautiful scenery are just a few of the features that make up this region.
The fortified valley is known as Lo-Manthang, as well as the place is a small kingdom.
The place is under the rain shadow. You don't need to be concerned about getting wet while you stroll around.
Experience virtual Tibet like a plateau. The Upper Mustang journey is often considered a viable alternative to Tibet. Because the characteristics of the terrain, the people, and their unspoiled ethnic culture are entirely similar to Tibet.
A scenic flight to Jomsom or off-road along the route to the Kaligandaki George, which is the deepest George in the world.
The stormy and freezing terrain of the Mustang mimics the Grand Canyon of Arizona (USA).
Stunning vistas of the Annapurna, Nilgiri, and Dhaulagiri mountain ranges, as well as other mountain ranges.
Various cultural festivals include Tiji (May) and Yartong (horse racing) – in August. Remember, there are only a limited number of hotels in the Lo Manthang area. You must make your reservations in advance for this event.
Sun-backed mud blocks made houses.
Gorgeous landscapes include yak pastures, streams, deep valleys, and waterfalls along the route.
Jomsom is a town of apple brandy and apples in season.
Note: To visit the upper Mustang, foreign tourists need a special permit to visit Upper Mustang that is worth US $500 and is valid for 10 days (50 USD per day). Additionally, excursions can only be organized by a government-approved trekking agency in Nepal. When booking a trip, make sure the company you're going must be the registered agent.
To comply with the regulations set by the government of Nepal, travelers must hire at least one guide for every two people who intend to trek. Upper Mustang is not a region that can be traveled alone or on one's own without the assistance of a guide or driver.
There is no need for you to be concerned about any of this if you have already booked this trip via authorized trekking companies because everything regarding this scenario is expertly managed by licensed companies.
Upper Mustang Trek facts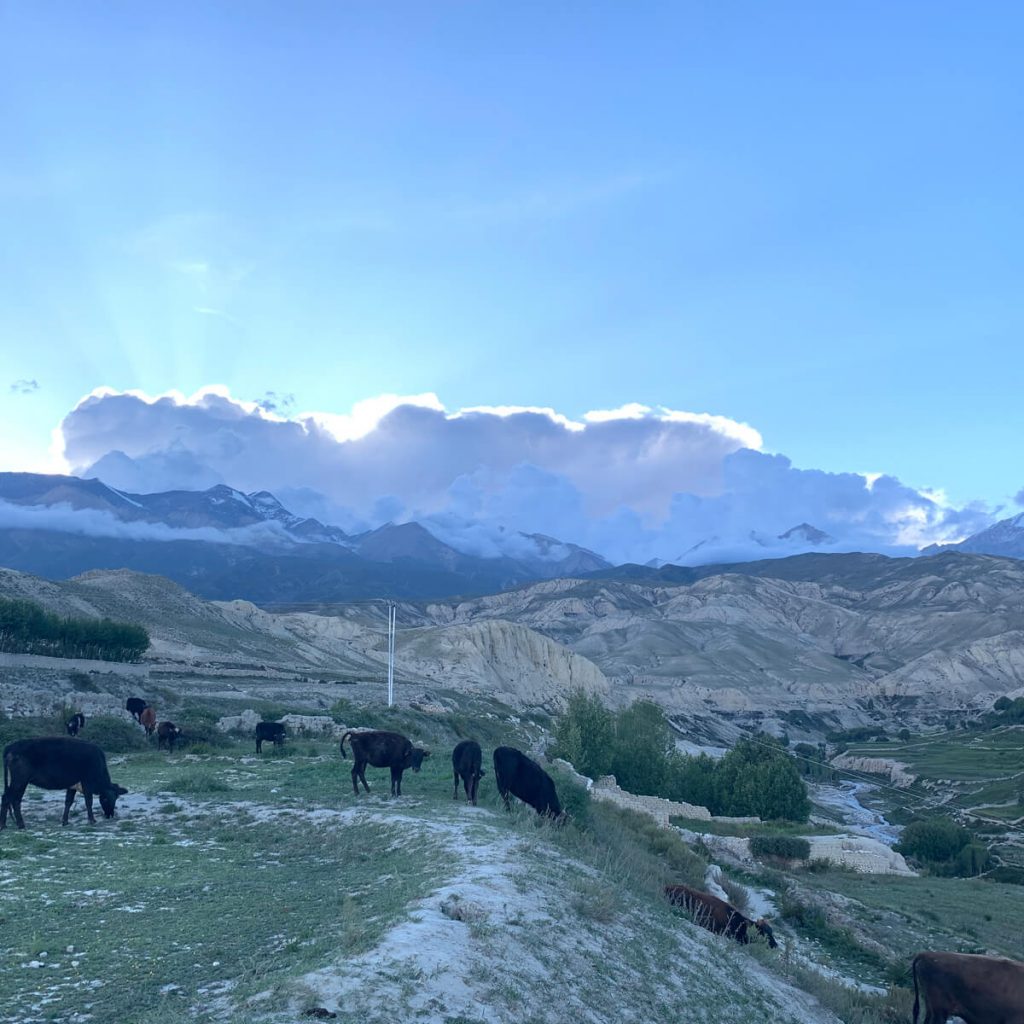 Start/End: Jomsom/Jomsom
Permit: 500 USD Partially Restricted Area permit for 10 days. If you stay for more than 10 days, you will be required to pay an additional 50 USD per day. In addition, an Annapurna conservation permit is also required.

Flora & Fauna: more than 250 plants, 2 reptiles, 63 birds, 28 mammals, and 2 amphibians.
Guide: Required (plus a minimum of 2 trekkers).
Main Monasteries & Caves: 13 Monasteries & 5 Caves.
Season: March–November is the best for trekking.
Trip Difficulty: Moderate.
Culture: The traditional Tibetan Buddhist legacy.
Maximum Altitude: Marang la, 4280 m (14193 ft), also known as Chogo La Pass.
Landscape: Semi-desert, plateaus, gorges with steep cliffs.
Accommodations: Simple lodge/Tea house
When is the best time of year to travel in the Upper Mustang?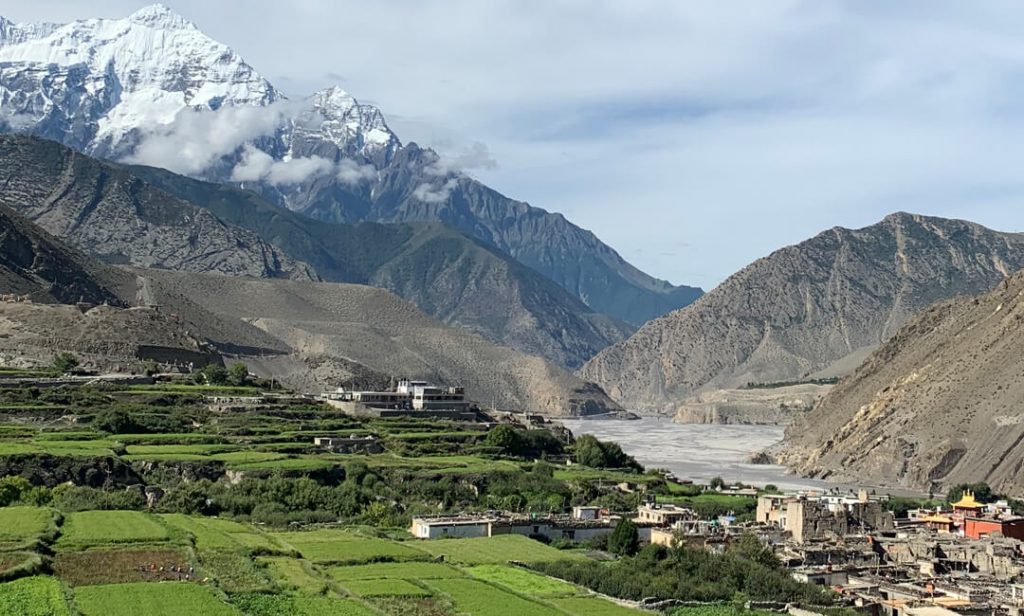 Nepal has four distinct seasons: spring, autumn, summer (also known as the monsoon or rainy season), and winter. During the winter months, the upper Mustang is closed due to heavy snowfall.
Therefore, avoid making travel plans to the Mustang area during the winter months, as this is the time of year when the weather becomes extremely cold and snow falls. At this time, the majority of hotels remain closed, and a significant number of residents migrate to Pokhara, Kathmandu, and India to skip the cold weather.
The best time for an Upper Mustang Trek is from March to November. The rain shadow of the Annapurna ranges creates a drier climate in Upper Mustang, so anyone can travel during the summer season as well. In May, the Tiji Festival is held in Lo Manthang, and it is an interesting time to visit Upper Mustang as well.
Do Any Special Permits Require to Travel to Upper Mustang? And why?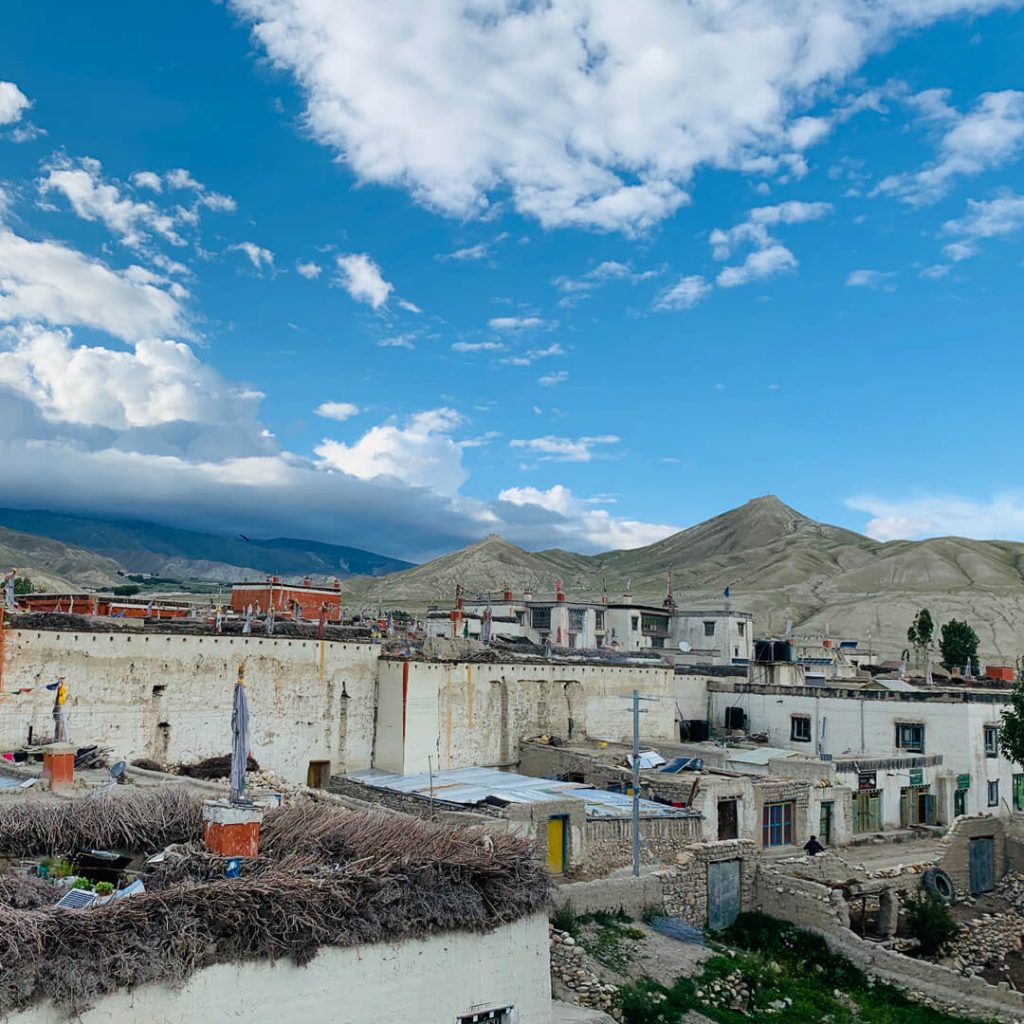 Yes, special permits are required to travel to Upper Mustang. In terms of why? The reason is that after China took over Tibet in 1960, China and Nepal came to an agreement to close the border between Tibet and Mustang. This agreement was signed by both countries.
Due to the rising issue of Tibetan activists and rebels moving into Mustang in search of refugees or to hide, the decision was made to seal off the region, and Mustang remained cut off from the outside world until 1992 when the government decided to allow entry to tourists in exchange for a pricey permit.
Still, now, the Upper Mustang is regarded as a sensitive area due to its proximity to the border with Tibet, which is why access is limited there. This Restricted Area Permit (RAP) is valid from the time you leave Kagbeni till you return.
As I have already mentioned that the price for a sensitive area permit is $500 per person for a period of 10 days. If you want to extend the trip for longer than 10 days, you will be charged $50 each day.
Moreover, the Annapurna Conservation Area Project (ACAP) requires that every traveler must pay a fee of $30. This permission is binding for the entire duration of the journey, regardless of how long it takes.
As we already mentioned, this trip can't be done by you alone. In order to comply with the regulations set forth by the government, a minimum of one guide must accompany every two individuals who are participating in the jeep tour or trek, and traveling with an authorized agency is essential.
Accommodations and Meals in the Upper Mustang Trip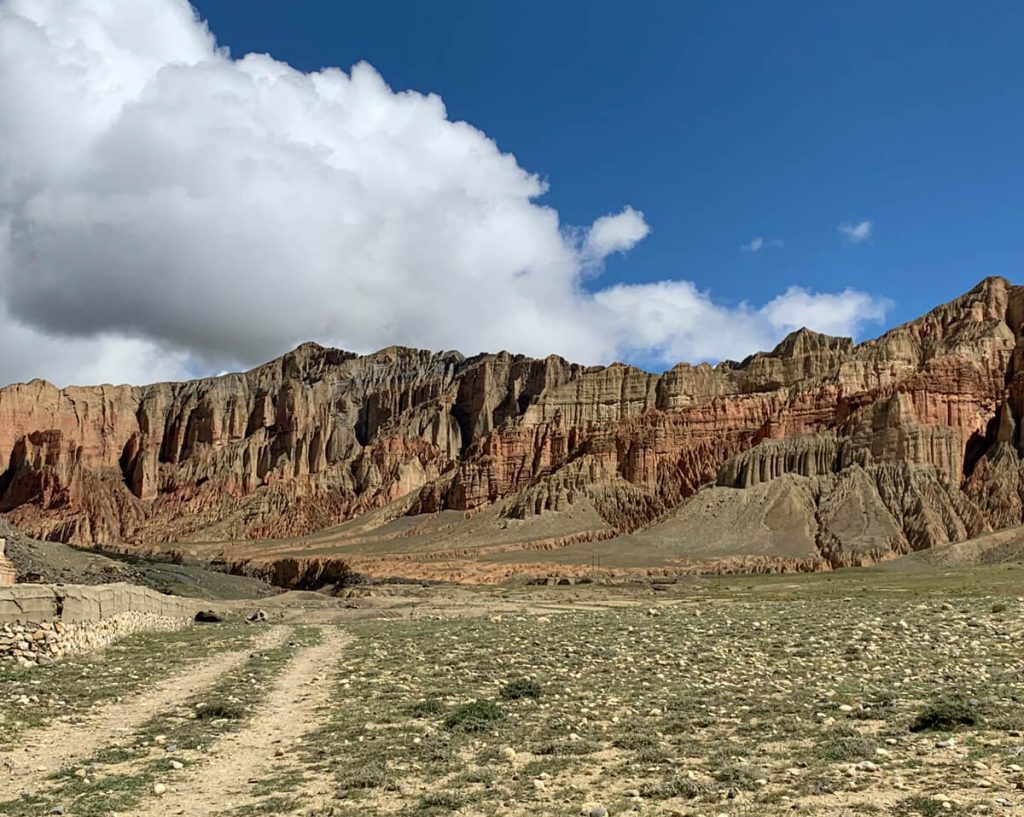 You can expect to stay in a comfortable hotel in Kathmandu, Pokhara, and teahouses along the Upper Mustang trip. A teahouse refers to a traditional basic lodge with basic standards.
Local people run teahouse lodges for passing travelers or trekkers. Upper Mustang has many teahouses and has fewer amenities since they are typically in more difficult territory.
No matter where you stay in a remote area of Nepal, you aren't going to find a luxurious that would be comparable to city lodges. Twin-share basis rooms are available, and they are well-constructed and well-suited for travelers resting after long treks or trips.
Breakfast, lunch, and dinner are all served in the local lodges and teahouses, and they serve both local and foreign cuisine. However, during the Upper Mustang journey, it's a good idea to carry extra snacks like nuts, cookies, chocolates, and nourishing food items.
Altitude Sickness in the Upper Mustang Trip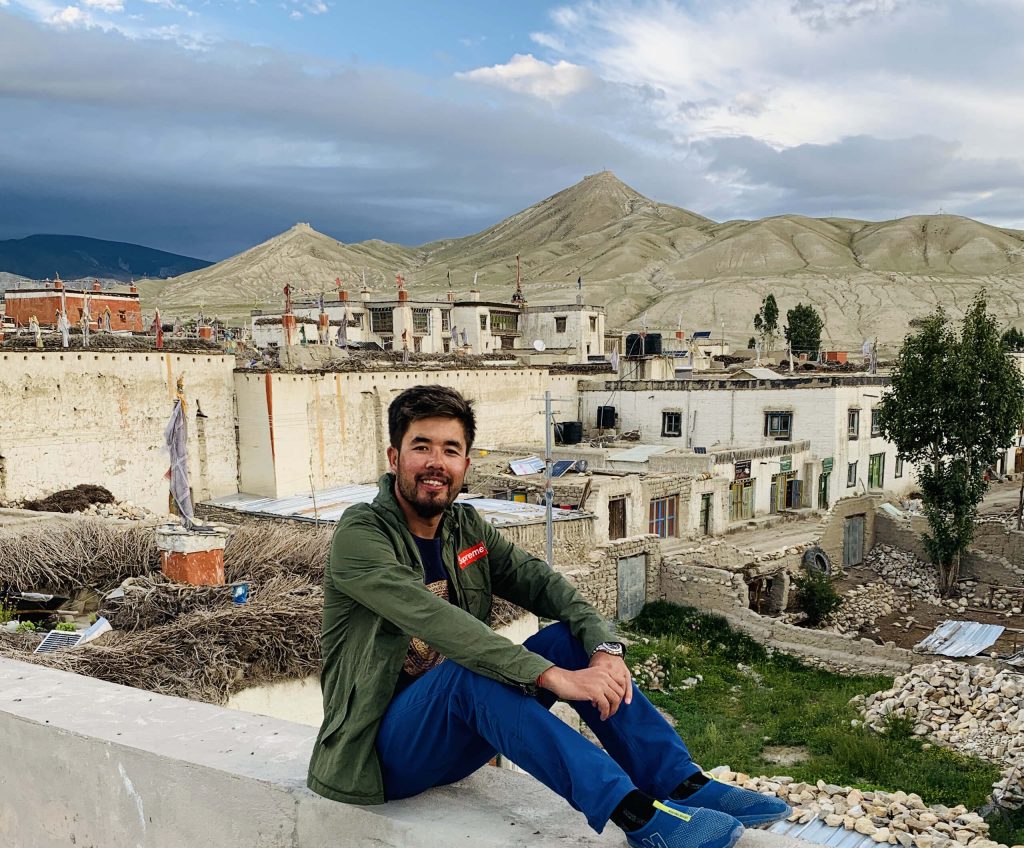 Altitude sickness is a condition that can be caused by exposure to high altitudes. AMS is a problem for many trekkers or travelers in the Himalayas, and likewise, it can be a particular issue in the Upper Mustang region of Nepal.
On the Upper Mustang trip, you will have to pass around an altitude of over 3500 meters above sea level. Some people may experience symptoms of altitude sickness, but this does not necessarily mean it will turn into extreme altitude illness. The high altitude and lack of oxygen can cause a range of symptoms, including headaches, dizziness, nausea, and vomiting. In severe cases, altitude sickness can be fatal.
There are a number of things that you can do to prevent altitude sickness, including acclimatization. It's important to take your time when ascending to high altitudes.
Travelers or trekkers should drink plenty of fluids and avoid alcohol and caffeine. If the symptoms of AMS get severe, it is important to get to a lower altitude as soon as possible and seek medical help immediately. It is highly recommended that you always choose an itinerary with adequate time to acclimate.
How Difficult Is the Classic Upper Mustang Trek?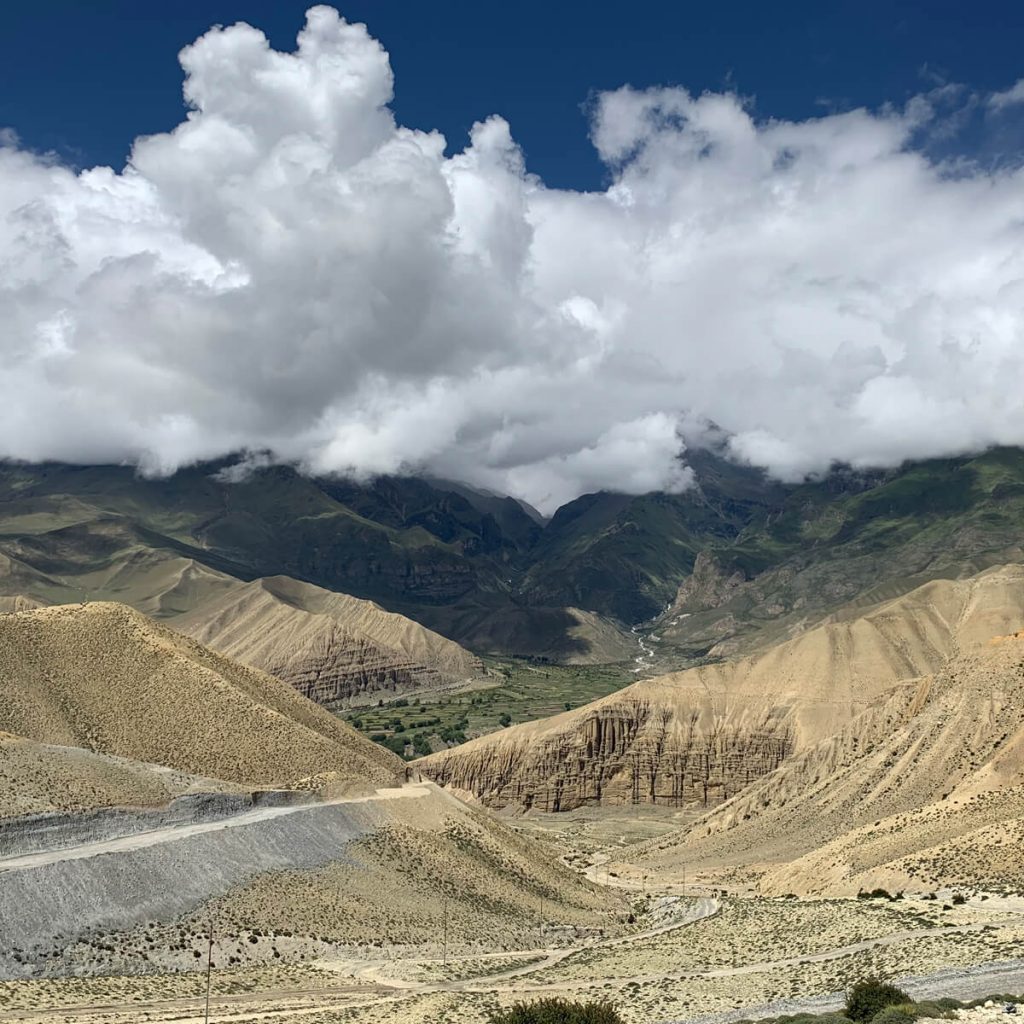 The Upper Mustang region can be reached in a number of ways, ranging in degree of effort from easy to challenging. In this classic Upper Mustang trek, the Marang la pass, 4,280 meters above sea level, is the highest peak that hikers reach during the course.
The most difficult treks in the Mustang area are the Upper Dolpo (4,530 m.–5,115 m) to the Upper Mustang journey, Upper Mustang with Damodar Kunda (4890 m) trek, and the Upper Mustang via Teri La Pass (5,577 m) (Nar Phu valley).
You can change the complexity of your walk based on the trails you choose, the season you choose, the destinations you visit, and how long you hike. The difficulty of a trek is not graded according to any criteria. The level of difficulty is based on the ability of each individual. Training and preparation allow for an effortless, pleasant, and pleasurable journey.
So, we can consider the classic Upper Mustang Journey as a moderate trek by seeing the max altitude and atmosphere. The terrain is modest, and well-marked paths make walking easy. And is appropriate for all types of travelers, including families with teenagers and older people.
What to Pack for the Upper Mustang Trek?
When you are out for an adventure, your equipment will be your closest companion. If you are equipped with high-quality hiking gear and have a knowledgeable guide to lead the excursion, then you should have no trouble completing the trek. The Upper Mustang journey will help you become more flexible and adaptable to varying weather and climate conditions. You need the following items for your hike, considering that you will have porters to help you along the way:
Clothing and footwear (waterproof if possible): warm jacket with hood; underwear; sunglasses with UV protection; gloves; synthetic t-shirts; hiking pants; trekking boots/shoes; headlamp; woolen/cotton socks; thermal trousers; sun hat; full-sleeve shirt; etc.
Bags Items: water-proof duffel bag, rucksack with rain cover, day packs.
Other Equipment: Trekking poles, tissue paper/toilet roll, sunscreen, toothbrush/paste, towel, moisturizer, water bottles (2–3 liters), anti-bacterial hand wash, face mask, water purifier tablet, multi-purpose soap, first aid kits (must include Diamox), knife, mobile charger, sanitizer, sleeping bag, etc.
The things mentioned above are just an example. You can easily navigate to this page in order to obtain the definitive packing list for the Upper Mustang Trek.
Things to Know Prior to the Upper Mustang Trip.
Preparations must be made before embarking on the Upper Mustang journey. Prior to beginning your journey, you should exchange foreign currency in cities such as Kathmandu and Pokhara. Should have adequate local cash money for the excursion. The destinations are typically in rural areas.
This upper region s consistently chilly. Therefore, pack and bring your necessary items, such as clothing and a medical kit.
Outline Itinerary for the Upper Mustang Trek
Day 1: Fly from Pokhara to Jomsom, 20 minutes of flights (2744 meters/9002 ft), or drive from Pokhara to Kagbeni (2882 meters/9456 ft) in 8-9 hours.
Day 2: Trek 5-6 hours from Kagbeni to Chele (3050 meters /10,004 ft).
Day 3: Trek 6-7 hours from Chele to Syangboche (3475 meters/11,398 ft).
Day 4: 5–6 hours walk from Syangboche to Ghaymi (3520 m/11,548 ft).
Day 5: 4-5-hour trek from Ghami to Tsarang (3500 m /11,480 ft).
Day 6: Trek 5-6 hours from Tsarang to Lo Manthang (3840 m (12598 ft).
Day 7: Exploration of Lo Manthang.
Day 8: 6-7 hours hiking from Lo Manthang to Drakmar (3810 m/12,500 ft).
Day 09: 5-6 hours walking from Drakmar to Ghiling (3806 m/12,484 ft).
Day 10: 6-7 hours of trekking from Ghiling to Chhusang (3,050 m/10,004 ft).
Day 11: Walk 6-7 hours from Chhusang to Jomsom (2744 meters/9002 ft))
Day 12: a 20-minute flight from Jomsom to Pokhara (850 meters/2,789 ft).
Extension Outline Itinerary of Upper Mustang Trek
Alternative Route from 9 Days: If you like to explore more areas, you can go from Lo Manthang to Yara (3650m).
Day 10: Visit Luri Gumba & retrace back to Yara (3650 m).
Day 11: Trek to Tangge (3240 m) for 6 hours from Yara.
Day 12: Trek to Tetang (3040 m) for 7 hours from Tangge.
Day 13: Trek to Muktinath (3800 m) from Tetang for 7 Hours.
Day 14: Trek to Jomsom (2700 m) via Jharkot (3550 m) from Muktinath.
Day 15: Fly Back to Pokhara (830 m).
Detailed Itinerary of the Upper Mustang Trek
Shorter itineraries are great for time-pressed travelers searching for a challenge. This classic 14-day Upper Mustang Trek is an ideal illustration of this. Make sure you're physically and medically fit. '
This trekking program includes one day of relaxation in Lo Manthang so that you may properly acclimatize to the high altitude and prevent getting sick. Altitude sickness can be lethal if you ignore the symptoms. Our trekking trail initially touches the riverbank of the Kaligandaki River. Let's begin.
Day 01: Fly from Pokhara to Jomsom (2744 meters) or drive from Pokhara to Kagbeni for 7-8 hours and trek to Kagbeni (2882 meters). 20 min a flight and a 2-hour hike.
Here, you have two options: flights & roads. Flight from Pokhara (PKR) to Jomsom takes 20 minutes. By roadways, it will take 7-8 hours to the Jomsom from PKR. Your preference for driving through the jeep is completely off-road.
Remember that flights only happen in the morning because it gets too windy in Jomsom afternoon.
So, you will take a flight from Pokhara to Jomsom and hike to Kagbeni. This is an approx. 20-minute flight and a 4-hour hike. The flight will take us over the Annapurna range, one of the world's most renowned mountain ranges, and then down to Jomsom.
Remember: there will also be the chances of flight cancellation due to inclement weather. In that case, you should stay for some layover days in Pokhara. Otherwise, the last option will be driving will, be an alternative option.
After you check out of the airport, you can start your hike to scenic Kagbeni village by walking through the town and crossing a small bridge. The hike is easy and interesting. You must hike for approx. 2 hours along the Kali Gandaki River to reach Kagbeni, the gateway to the Upper Mustang region. The hamlet sits on the confluence of two streams, the Kali Gandaki and Jhong Rivers. Overnight stay at the lodge.
Day 2: Trek 5-6 hours from Kagbeni to Chele (3050 meters).
After breakfast, you can make your way toward Upper Mustang. The area above Kagbeni is named Upper Mustang, and the area above it is off-limits without a license. At the entrance, there is a checkpoint where we must first register our documents before continuing on our journey.
Following completion of the entry permission procedures at the checkpoint, we continue on to Chele. The route follows a path that is almost entirely mildly ascending and descending. On the trip, you will have the opportunity to witness beautiful views of the valley, Mount Nilgiris, and the windy and sandy landscape of the freezing desert.
The first place that you will come across is a village known as Thangbe Village. Here we can see the red and white tinted houses in close proximity to fields of buckwheat and barley, caves, apple orchards, etc. If you're hungry, you can have lunch here, or you can continue hiking for another hour and a half to Chhuksang.
Moreover, you proceed and traverse the Kaligandaki River valley, and following a narrow canyon, you'll reach Chile, a ridgetop settlement. Chele has out-of-this-world views. No doubt you'll find similar perspectives elsewhere. Overnight stay at the lodge.
Day 3: Trek 6-7 hours from Chele to Syangboche (3475 meters).
After breakfast, you can continue your journey to Upper Mustang. Today's hike will be quite difficult since you will be ascending approximately 800 meters. First, you take a leisurely stroll toward Eklo Bhatti and then climb a long and steep path to the Taklam La Pass (3,624 m). The views of Damodar Danda, Yakawa Kang, and Tilicho Peak are amazing from this vantage point.
Crossing Taklam La (3,624m), you begin the descent to a wonderful location known as Samar Village. From Samar, you get breathtaking vistas of Mount Nilgiri in front of you. In addition, this is a common site for caravans of horses and mules to stop for a rest.
From Samar, the journey to Syangboche can often take anywhere from three to four hours, depending on our walking pace. We pass through some juniper woodland and the Ram-Chung cave. Nearly all of the teahouses in the Syangboche area have the same appearance, with whitewashed walls, flat roofs, and stacks of wood arranged orderly around the periphery of the roof.
Trek Route Extension: Some trekkers even like to go a little further to Ghiling (3570 m). But we stayed at Syangboche.
The fact of Ramchung Cave: This is also called Chungsi Cave. In Mustang, this cave is a destination of significant religious importance for Buddhists. Guru Rinpoche is said to have meditated in this cave in the 8th century. Above the Chungsi cave, exactly the Monastery where Padmasambhab meditated.
Day 4: Syangboche to Ghami (3520 m), 5-6 Hours

Today, we make a steady ascent, passing through a breathtaking cold desert environment, and a few villages to the Yamda La pass at 3,800 meters, which offers breathtaking views of wind-carved gorges and mountain ranges. Now you may notice and experience the difference in nature & culture.
Once more, the trail ascends to the top of a hill and then falls into a vast field of barley that is located near Gelling. After leaving Gelling, we will shortly rise to the top of the (Nyi La 4010 meters) and Ghami La (4010 meters) twin passes on the way to Ghami hamlet. On the entire Upper Mustang Trek, this twin pass is one of the mountains passes that is both the most challenging and the highest.
However, the breathtaking scenery that surrounds us will prevent us from experiencing any feelings of difficulty. Here you will encounter strong winds that blow through Mustang, coupled with the prayer flags flapping in the breeze. Again, we descend to Ghami. It is a vast, picturesque town surrounded by farmland. The old monastery and mani stone walls are the village's pride. lodge for the night.
Day 5: 4–5-hour trek from Ghami to Tsarang or Charang (3500 m) via Ghar Gumba.
You will reach the longest historic mani walls in Mustang after a half-hour hike from Ghami. These mani walls are made of a stone with a religious mantra engraved into it by adherents of Buddhism. On the walkout, you will also see a bunch of chortens.
Today's trail boasts historical value since it is associated with the legend and history of Padmasambhava, who is considered to be the founder of Tibetan Buddhism.
After this, you will need to climb Mui La Pass (4170 M) on the way to Ghar Gumba. From this vantage point, Mustang appears to be a desert with bare hills. Continue to descend for a few hours past the prayer flag; you will arrive at Ghar Gumba.
After the pass, the route descends past a prayer flag and again has to pass the Mui La (4170 m). Continue walking for a few hours until you will arrive at Ghar Gumba (Pure Virtue of Lo Nying Sect scripture of Padmasambhava).
The fact of Ghar Gumba: Ghar Gumba is an ancient city located at a height of 3931 m above sea level. It was constructed in the eighth century by Guru Padmasambhava, a Tibetan magician who belonged to the Nyingma Buddhist sect.
Afterward, the trail goes towards Lo – Gekhar (The monastery is surrounded by chortens and prayer flags, making it a highly sacred setting), followed by Charang Khola; you will arrive at Charang.
Once we get to our destination today, we'll be greeted with views of the rural countryside and mountains in all directions. Due to the fact that today's hike is quite short, we have a lot of time to see the primary attractions of Tsarang (Charang) village, such as collections of sculptures and Thankas paintings of seated Buddha, red Gompas, fortresses, and other religious buildings.
Day 6: Trek 5-6 hours from Tsarang (Charang) to Lo Manthang (3840 m).
Today is the day that our hopes and aspirations will come true since we will arrive at the key destination of our Upper Mustang Trek. Our adventure will proceed with a descent towards the Charang Chu canyon, next cross a Tsarang river, and climb to the Lo La pass (3,950m).
From the highest point of the pass, we can view Lo-Manthang, the historic walled city of the Lo monarchy. After spending a few minutes at the top of the Lo Pass, we now descend for a while, cross the stream, and ascend to reach Lo-Manthang.
Lo Manthang was the capital of the Kingdom of Lo. It is still home to the magnificent palace of the King. The dynasty's descendants still live in the area. It's where Mustang's biggest festival, Tiji Festival, is held, which lasts for up to three days.
Day 7: Exploration Day of Lo Manthang
After having breakfast, today is the day to take advantage of the greatest time and opportunities to discover the most important highlights of the Upper Mustang journey. When it comes to sightseeing, the enchanting settlement of Lo-Manthang has much to offer. and understand the people's unique culture and traditions in this area.
The village is notable for its whitewashed mud-brick buildings, an ancient royal palace, and gompas (monasteries). The royal palace is a five-story, nine-cornered structure constructed around the thirteenth century.
Some of the locations that should not be missed include:
Jampa Gompa: Important Buddhist gompas such as Jampa Gompa (also known as Jampa Lhakhang) are the oldest ones and are often referred to as the home of God. It boasts a sizeable statue of Buddha as well as walls covered with beautiful mandala designs.
Namgyal Gompa: This Gompa is well-known for serving as the community court.
Other Gompas: Choprang Gompa, Chodey Gompa, and Thubchen Gompa.
Tingkhar Village: located on the north-western side of Lomanthang, is a tiny community consisting of 40 homes.
Mystical Chhosar: Nyphu monastery and a 2500-year-old cave settlement are there. These caves look like a steep cliff, yet inside they have 40 rooms with floors. From Lomanthang, you can go by jeep or horse.
If you are interested in history and archeology, the Upper Mustang Trek is an excellent option for you to consider.
Day 8: 6-7 hours hiking from Lo Manthang to Dhakmar (3820 m).
Today is the day that we will be going back. It is strongly recommended to take a different pathway back, as opposed to retracing your steps along the same route. Today is a lengthier trip, but there are lots to see along the route. In order to say our goodbyes to Lo-Manthang, we will travel through the upper highland trail.
This offers views of Lo-Manthang and the Charang Valley. The background has snow-capped mountains. The trail takes us to the Chogo-La pass at an elevation of 4326 meters. And then descend to the Ghar Gompa (Lo-Gekar monastery), which is one of the oldest monasteries in Nepal. It is said that this was constructed by the monk Guru Rinpoche somewhere around the 8th century.
By tradition, this monastery is said to grant wishes. After that, we leave Ghar Gompa and climb up to a ridge, then descend to the beautiful settlement of Dhakmar. Spend the night in a nearby guesthouse.
Day 09: 5-6 hours of Stroll from Drakmar to Ghiling (3806 m).
After breakfast, you start early to descend via a barren plateau and agricultural fields to Ghiling since this section of the trail is usually blasted by strong winds.
You are going to be walking continuously for a lengthy time today, anywhere between five and six hours. It will be good practice to carry some food, chocolate, and water. Since there are no villages or even teahouses between Drakmar and Ghiling, the beautiful landscape and snow-capped mountains will be our constant companions.
Once you have arrived, you will take some time to rest before venturing out into the evening to explore the Ghiling village. Spend the night in a Ghiling guesthouse.
Day 10: 6-7 hours trekking from Ghiling to Chhusang (3,050 m).
We retrace our steps toward Chhusang along the scenic riverside of the Kaligandaki River. The distance between Ghiling and Chhusang is 17.2 km and takes 6 to 7 hours.
You may have noticed that we passed by this location on our way from Kagbeni to Chele. While on the way to Samar, don't forget to see Ranchung monastery cave and Chhyungkar Chorten.
Inside Chungsi cave, you can see the stone-carved deities. The statue depicting Padmasambhava stands out among the rest of the figurines in prominence. Chhusang is well-known for its apple orchards, and it is the place where you will spend the night today.
Day 11: Walk 6-7 hours from Chhusang to Jomsom (2744 meters).
After having our morning breakfast, you will proceed to the trails heading in the direction of Kagbeni. After arriving here, you must make an exit-entry record at the check-post. You'll have to pay a fine if you don't.
You will have lunch at Kagbeni and, if possible, manage some time to explore the monastery around it. Now you are almost on the Annapurna Circuit Route. There are fossilized ammonites known as "Shaligram" that can be discovered on the bank of the Kaligandaki River in this area, and they can be found up to Damodar Kunda Lake.
Following lunch, we will continue hiking in the direction of Jomsom, where we will spend the night.
Suggestion: Nearby Kagbeni, there is a small village called Jharkot, where we can see the local monastery, Tibetan Herbal Medicine Center, and an ancient fortress-palace. We have noticed that many trekking companies ignore this point in their itinerary. You can request your trip planner to customize the trip and include Jharkot Village.
Day 12: A 20-minute flight from Jomsom to Pokhara (850 meters).
The trip from Jomsom to Pokhara departs early in the morning, and during this flight, you will fly through a wide gorge between the Annapurna Mountain Range and the Dhaulagiri Mountain Range. This is an experience that can only be had in Nepal.
After a 20-minute scenic flight, we arrive at Pokhara airport. Pokhara is considered one of the most beautiful cities in Nepal, and we can appreciate its scenic beauty.
Today we have the entire day on our hands, so let's go sightseeing or recharge and relax your tired body and legs by having a massage or spa treatment and resting at the hotel. In Pokhara Valley, there are several places to explore; Devi's Falls, the lakeside, such as the Tibetan refugee camp, etc.
(Extension Route of Upper Mustang Trek from The Day 9)
Day 13: If you like to explore more areas, you can go from Lo Manthang to Yara (3650m).
This offers views of Lo-Manthang, and the background has snow-capped mountains. Finally, a short ascent from the camp (Lo-Manthang) leads us up to a glacier valley, where we may enjoy views of a reddish-brown medieval facade city (the rain shadow territory) on the way back down. From here, we get an incredible view of the Lo valley. If you want to take a different route up the hill, you must take the opposite side. After almost an hour of hiking, you will reach the settlement of Dhi on the trail.
While streaming down, the time is kept track of. The riverfront meadows and farming fields will be visible along the journey. That is the Dhi village, and down here in this area is where we take our lunch break throughout the day. Following our break for lunch, we make our way to Yara (3650 m) by following a trail that runs along the left side of the river. From this point on, the path continues along the riverbed during the dry season.
However, during the wet season, it twists its way up the hills, culminating in a difficult ascent to the summit. From atop the Yara hills, it appears as if you are standing in front of a natural sand castle. On the slope, there is salty dust that looks like mineral salt in certain spots.
Day 14: Visit Luri Gumba & retrace back to Yara (3650 m).
Today, you can go down to Luri Gompa, a monastery that was built in the 1300s and is also called the Kagyukpa Cave monastery. Here you will find beautifully written lama novels. The path continues up to Puyung Khola, which instigates in Damodar Kund. Hindu explorers are also attracted to this location.
The Kali Gandaki River is the mainstream of that geographic area from which Duyung Khola water flows down into this Gandaki River. This location is well-known for the black ammonite fossils found nearby. Hindus and Buddhists collect these fossils because they believe they represent God Vishnu & Avalokiteshwor, respectively, inside fossils.
Day 15: Trek to Tangge (3240 m) for 6 hours from Yara.
You leave Yara early in the morning and go down a high, winding road. The path leads to the Dhechaeng Khola, which is also a part of the Damodar Kund. The trail goes over a little stream formed by the melting of snow and ice, and after that, you can climb for about an hour and a half to the village of Dhi, which is located on the meandering desert mountain road that leads to the Lo-Pa hamlet of the Tangya.
The residents of this delicate Buddhist gathering are mostly occupied by community members; the lower parts move away from skylines that protect the people from the delicate winds blowing in from the valley. If you gaze north of the town, you'll see some sandstone cliffs that are more than a couple hundred years old. The small settlement of Tangbe can be found in this area.
Day 16: Trek to Tetang (3040 m) for 7 hours from Tangge.
Today is a lengthy walk, and you will be trekking a greater distance than you have on previous days. You start the day by getting on the road at an ungodly hour with our packed lunch. After ascending the stairs, you continue along the trail until you reach a suspension bridge and turn right. You soon reach the Yak Khola and then climb a hill with steps to get to Paha. The elevation of 4,218 meters makes it the highest point that may be reached during the Upper Mustang trek.
After a two-and-a-half-hour climb, you reach the summit (4,218 m). It's a strenuous climb that leaves you drenched in perspiration. From this vantage point, one can view the distance of the 6,346-meter peaks of both the Damodar Himal and the Saribung Himal. After about an hour and a half of walking, you will reach the point where the main trail leaves the flat area; now is the time to look for a place to eat in Paha. There are no houses left, only ruins, yet there are drinking water sources nearby. As a result, you won't have to waste much time because you've only gone halfway.
Your goal for the day is to walk for a total of four to five hours, which is how long this portion of the journey will take in total. The trail now falls, and it is a rocky path, so you must proceed with caution! Accidents can occur as a result of negligence. As the steps descend, you can drag yourselves up here for a rest. In the meantime, you have a clear view straight down the valley with the mud roof that is going to be your destiny for the day. This is the settlement of Chhomnang, also known as Tetang.
Day 17: Trek to Muktinath (3800 m) from Tetang for 7 Hours.
You can continue ascending today till you reach a vantage point from where you can view Muktinath and the red-painted Buddhist monasteries. After climbing over the pass, you descend to the stream below and use a suspension bridge to go across it. You climb for a while and then walk to Muktinath through the towns.
This route is well-known for the Amniote fossils "Saligram," which can be found primarily in the Tetang and Gyu La Pass areas (4077m). It also provides a spectacular 140-degree view of the Himalayan ranges of Annapurna, Dhaulagiri, and Tukuche.
Day 18: Trek to Jomsom (2700 m) via Jharkot (3550 m) from Muktinath.
Muktinath is one of the foremost imperative holy site locales for Hindus, and it is, moreover, a noteworthy spot for Buddhists. First, in the morning, you can go to explore the Muktinath temple, which is revered by both Hindus & Buddhists. From there, you can see the superb striking view of Dhaulagiri Himal. As you go inside the temple territory, you will have a chance to observe the sacred 108 water fountains. It is thought that for those who take a bath from the water fountains, all curses will remove, and the body gets to heal. Additionally, you even can find a Buddhist religious monastery just nearby.
After exploring, you can continue your journey towards the Jharkot and follow Jomsom by viewing the stunning Kaligandaki Valley and Kagbeni. After passing the Ekle Bhatti, we finally approach Jomsom. This is a beautiful town where Nilgiri peaks rise behind. You even can know that the trek is very soon close to the end at Jomsom (the starting point of the trek.)
Day 19: Fly Back to Pokhara (830 m).
Early in the morning, according to your flight schedule, you can fly to Pokhara, in the afternoon times of the day shopping & relaxing.
Note: Sometimes, flights may be canceled due to inclement weather. In that case, you must stay in Jomsom for some layover days. Otherwise, you also can drive to Pokhara via jeep or bus, which is a 7-8 hour of drive from Jomsom to Pokhara.
Conclusion
In conclusion, Upper Mustang trekking is a partially restricted area that can be the most preferred trekking destination for travelers who want to check out historic monasteries, culture, and natural landscapes in Nepal.
The trekkers need a special Mustang permit from the Department of Immigration and should be accompanied by a registered company to enjoy the Upper Mustang Trek.
The natural beauty and serenity of the place are sure to leave an impression on your mind. So, if you are looking for an offbeat destination for your next holiday, do not forget to include the Upper Mustang Trekking in your travel bucket list.
Have you ever been to Mustang, or are you planning to trip to Nepal? Comment below.
Pin this post