There are many beautiful sights throughout Nepal, from the bustling streets of Kathmandu to hill stations just a few hours' drive away from the city. There are always great places to practice street or landscape photography. The Terai is a wonderful place to explore jungles and seek tigers or rhinos, while the mountainous regions allow for breathtaking views, beautiful forest trails, and quaint villages.
Whether you are a seasoned photographer or an amateur looking to break out your camera for the first time, Nepal is an incredible place to explore. When planning your next trip to Nepal, make sure you include a few of these destinations in your itinerary.
Kathmandu Durbar Square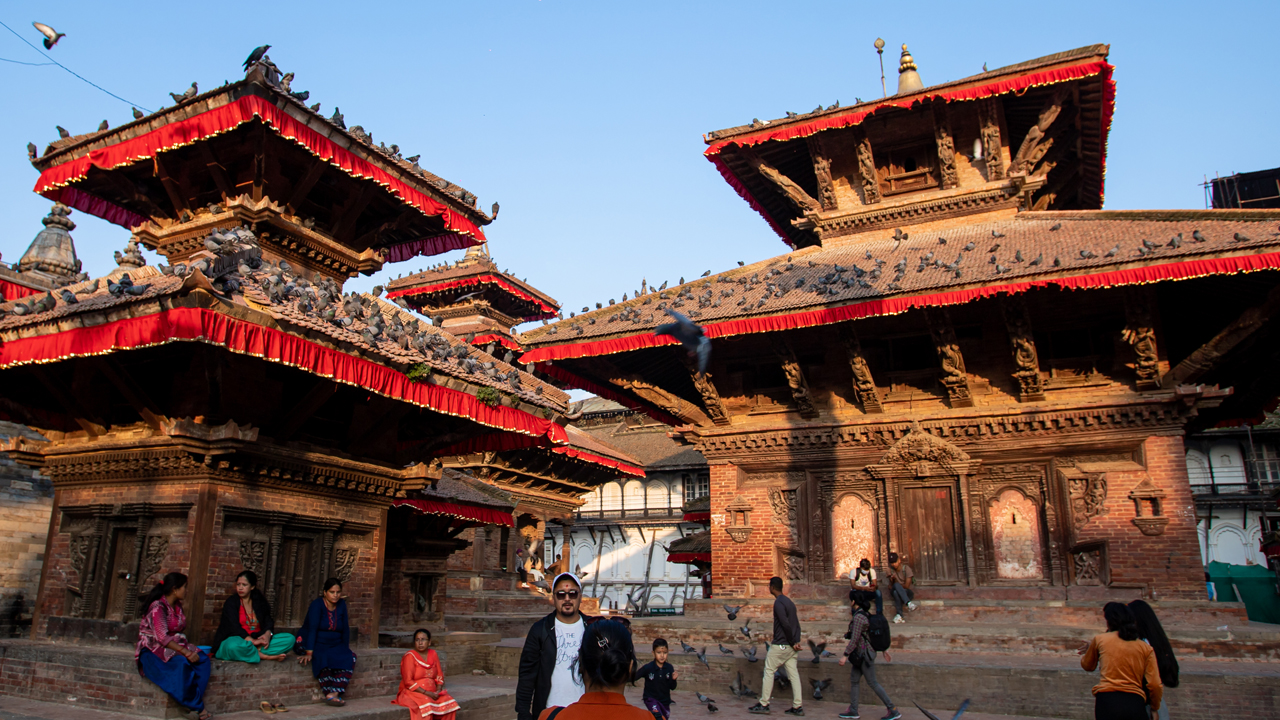 Known as Basantapur by locals, Kathmandu Durbar Square is a well-known, culturally significant part of the city where locals and tourists tend to gather. One can spend hours wandering the brick-paved streets, gazing at temples, watching children play, young people on dates, and people selling a variety of local street foods. All community places like Kathmandu Durbar Square are filled with pigeons and people taking unique photos.
There are also frequently significant cultural events, such as feasts and jatras held in the area, which are exceptionally interesting to capture. People are often dressed in colorful cultural clothing, and during Holi, one can capture the fun had by people painting each other with vibrant colors. Tour guides can help you immensely at any of the three Durbar squares to discuss the history of each building and explain its cultural significance.
Boudhanath Stupa
Most people who have spent any amount of time there will agree that Boudhanath Stupa is a magical place. The white dome is surrounded by buildings, making it feel like a different world from the chaotic streets just on the other side. Buddhist chants can be heard from stores selling souvenirs, books, jewelry, crystals, and prayer flags. A monastery within the circle of buildings frequently means monks circling the stupa, turning the prayer wheels. You can visit the monastery to talk with monks and have a better view of the incredible stupa. However, I would recommend visiting one of the rooftop restaurants in the area for coffee, tea, or lunch.
There are tiny oil lamps to be seen around the stupa in the evenings, and it remains busy until quite late. Like many places in Nepal, Boudhanath is a pilgrimage for many Buddhists and people from around the world to pray and worship. In long colorful skirts and holding prayer wheels, Tibetan women are ordinary as they circle the stupa, whispering prayers. The colors, people, and feel of Boudhanath are unique to Kathmandu and must be captured while visiting the city.
Bhaktapur Durbar Square
The next Durbar Square, located in the Kathmandu Valley, is one that you should not miss. Bhaktapur is located 16 kilometers east of Basantapur yet feels like a different world. The Newari architecture and culture found in Bhaktapur are like nothing else, filled with ancient houses, temples, and phokharis (small ponds) for you to capture. There are also many great rooftops to perch on throughout the city, hosting stellar views of the surrounding hills and snow-capped mountains on a clear day. As you wander through the city, you will find the pottery square, where you can find hundreds of pots, piggy banks, and other clay items drying in the sun on sunny days. Be sure to check out the nearby buildings where locals can be found shaping the clay into anything you can imagine.
There is a special kind of magic in Bhaktapur, with its narrow streets, old palaces, and surrounding green hills. Do not forget to try the famous juju dhau and snap a photo of the traditional clay pot it is served in on the brick-paved streets. Check out some tours to the area to help you make your way from Kathmandu and allow you to see all parts of this unique town!
Patan Durbar Square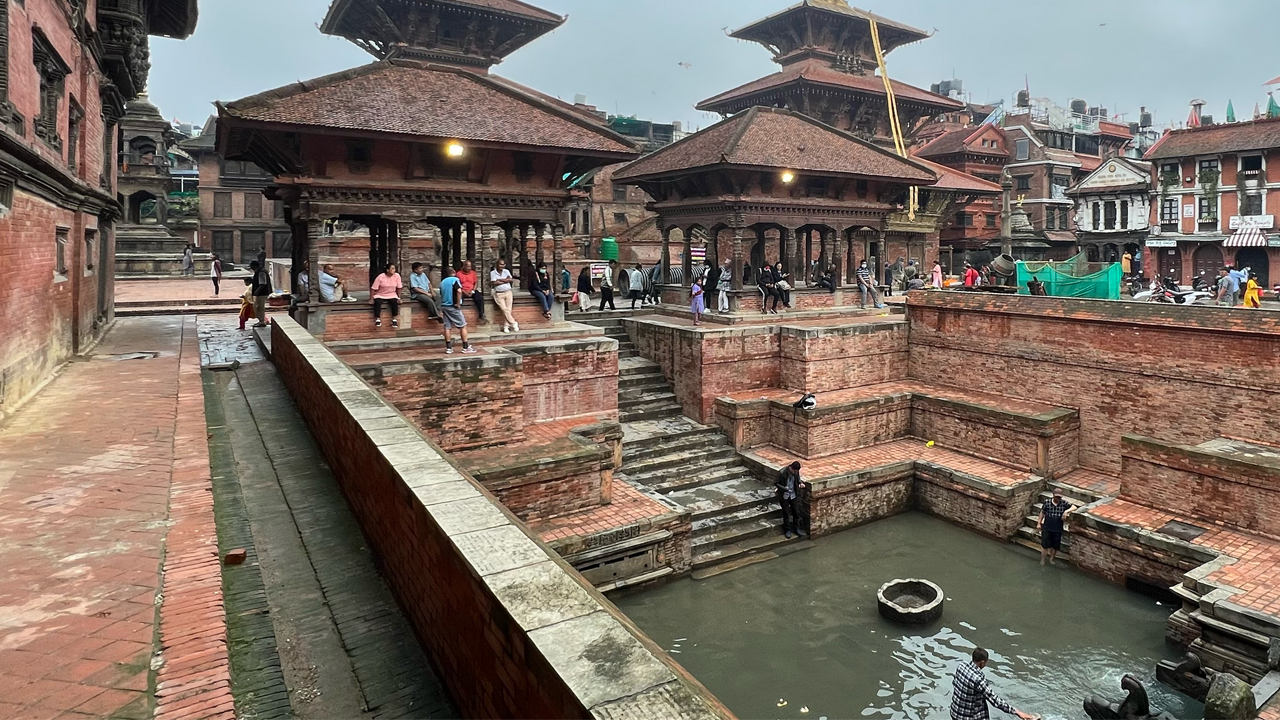 The last of the three kingdoms, Patan Durbar Square, is a popular gathering place for friends, dates, and those looking to enjoy delicious street foods. There are frequently cultural festivals in the area. Check out the ancient waterspouts where locals can be found showering or washing clothes. Several temples, including the Golden Temple, are a photographer's paradise. It is filled with people on any given day, priests chanting, people putting tika (red marks on the forehead representing blessings), and groups of people reading from Hindu scriptures.
In addition to the many temples and statues, there are many street food stalls, old water taps, ways to peek into smaller temples, and artwork lining the streets in addition to handicrafts. The combination of temples, people, and street food makes Patan a great place to spend the morning capturing parts of local life and beliefs. There are many tours to Patan, including food tours where you will have opportunities to try local street foods and take some incredible photos.
Swayambhunath Stupa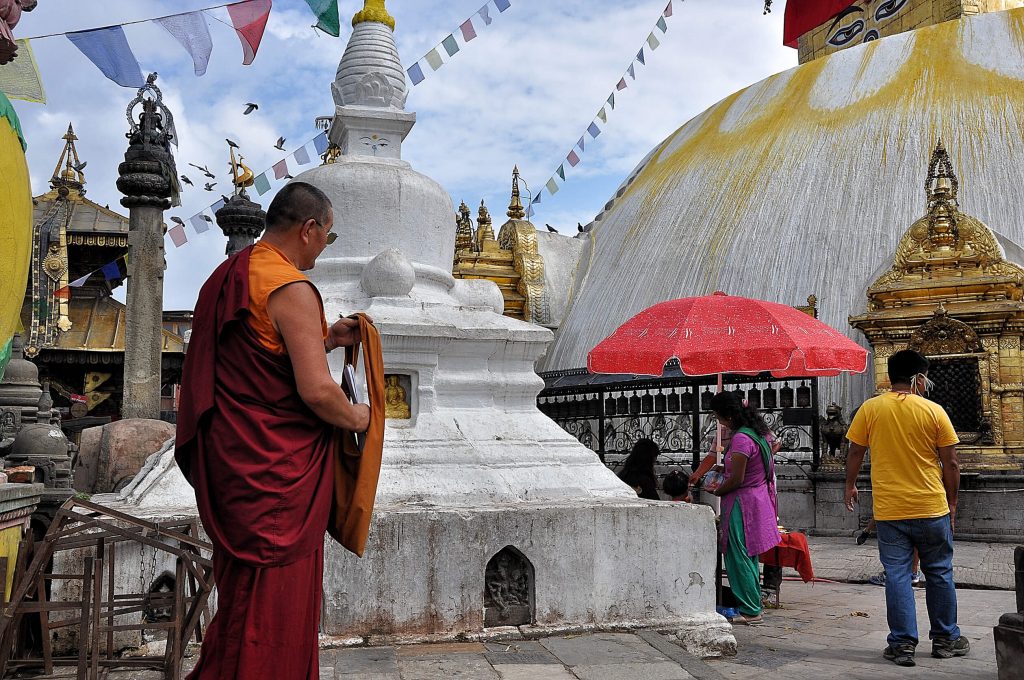 Also known as the Monkey Temple, Swayambhunath Stupa is perched on a hill just a few minutes walk from Thamel. Here you can enjoy 360-degree views of the city, in addition to drinking in the local Buddhist and Hindu cultures. This is a special place in both cultures, and many people make pilgrimages to see it. The white dome, golden spire, and colorful prayer flags fluttering in the wind make for stunning photos on a sunny day or in the evening as the sunsets. Around each corner, there are small temples, statues, and prayer wheels.
Additionally, one can almost always find a priest chanting as they circle the stupa. The stupa is also a fantastic place to capture photos of monkeys, given away by its nickname. Just make sure you hold onto your camera and other items so they don't get stolen by the quick and clever creatures. Swayambhunath is a great place to spend the day exploring, photographing people, watching the sky change over the city, and laughing as young monkeys climb the stupa and play together.
Asan Indra Chowk Local Market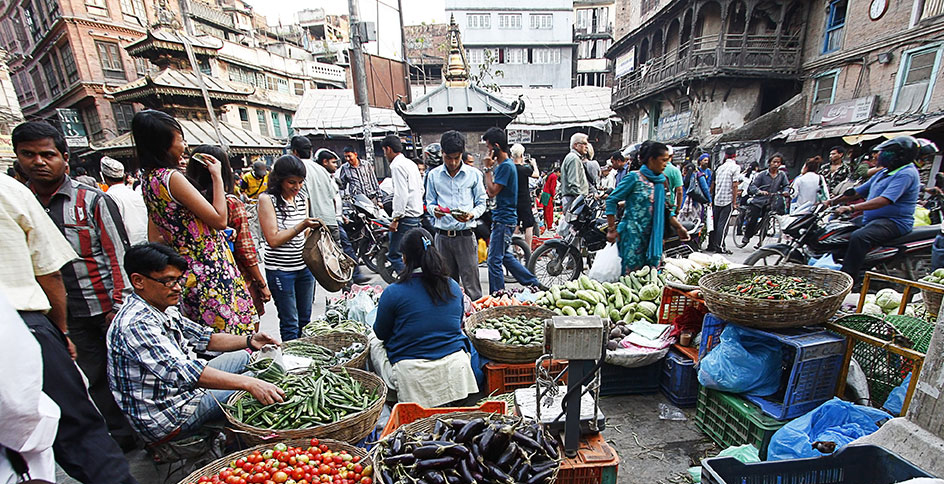 Asan Indrachowk is an exceptionally famous local market just a 10-minute walk from Thamel. It is known to locals and tourists alike and is a busy intersection where one can come by nearly anything they desire. Due to its initial path on a trade route, sellers have been there for hundreds of years. You will want to spend hours wandering the streets, watching people bargaining for the best deal, and tasting a variety of foods available.
The color of local spices will draw the attention of your camera, as will the colorful outfits of locals and the rickshaws bustling by. Additionally, the copper pots and pans glistening in the sun beside old brick buildings will be sure to make an excellent photograph.
Khokana and Bungamati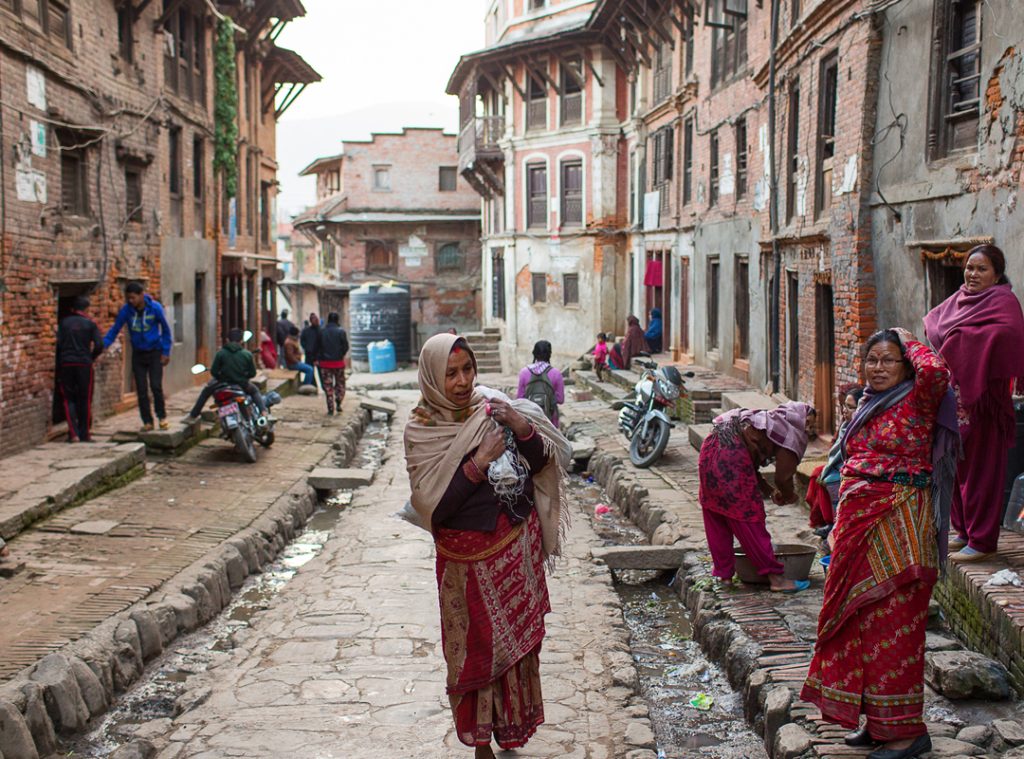 Khokana and Bungamati are rustic Newari towns just outside of Kathmandu. Khokana is an ancient village where you can see locals spinning wool to stuff mattresses with cotton and dry rice and straw on the streets. The Shekala Mai Temple is of religious significance, and you will be able to observe religious practices here. There is a Jatra festival in the fall where masked dancers fill the streets in honor of the goddess Shikali, known as the mother goddess. Bungamati is just a short drive away and overlooks the Bagmati River. This village is filled with ancient temples and woodcarvings.
You can visit showrooms where people continue to practice ancient wood carving practices. Their work is a big part of Newar culture and is fascinating to watch and photograph. The main temple is in a square at the center of town, another community gathering place where you can see many people and enjoy some street photography.
There is also a festival known as Rato Machhendranath, where a chariot goes between Patan and Bungamati. If you are lucky enough to catch the festival, you will witness women pulling the massive chariot across Kathmandu to Bungamati, followed by crowds of people. Tours to this area take about 6 hours and can provide you with additional information about the history of the towns and make transportation a breeze.
Nagarkot for Mountain Landscape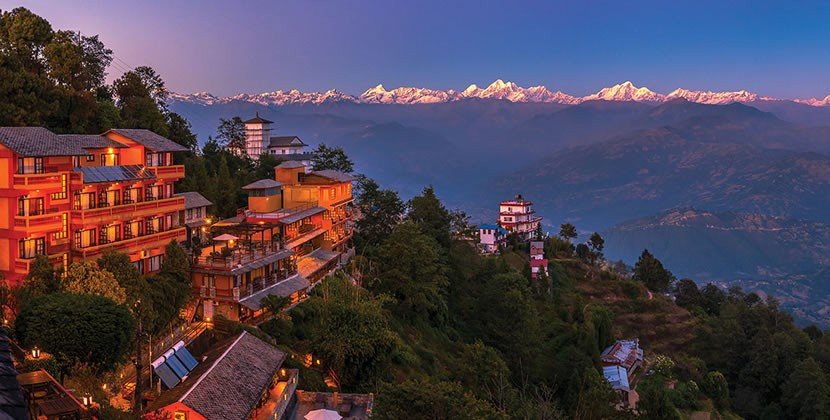 Nagarkot is popular with locals and tourists as it is one of the best places to enjoy views of the Himalayas from your hotel room. It is about 32 kilometers from Kathmandu and offers beautiful hiking or time to relax with incredible sights. Mountain ranges visible from this spot include Annapurna, Manaslu, Ganesh Himal, Langtang, and even Everest on clear days. Those who enjoy landscape photography should be sure to wake up early and catch the sunrise from the view tower. There are also many hikes to and from Nagarkot, which allow you to walk through the hills and spend the day with stunning panoramic views of the mountains.
Bandipur, Local Village, and Mountain Landscape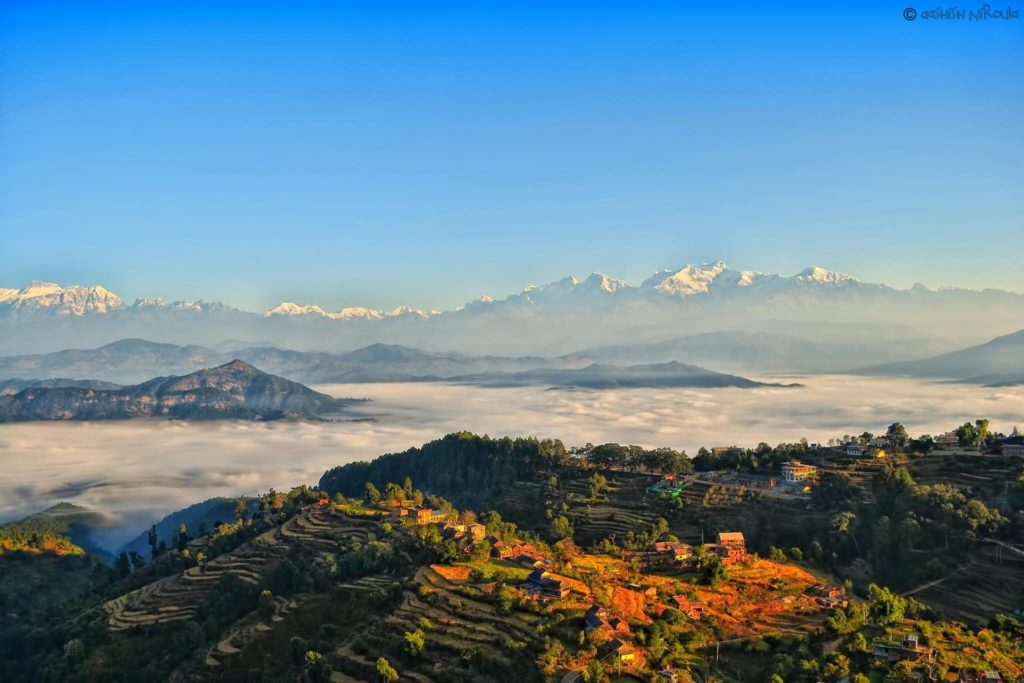 Bandipur is 140 kilometers west of Kathmandu, which will allow you to enjoy some winding roads through the hills with views of small villages and rest stops on the drive. Another Newari village, Bandipur, was also formed due to its location on the trade route between India and Tibet. It is a unique village with pagoda-style rooftops, lattice windows, and ornate doorways, which will make for memorable photos.
The village also offers stunning views of the Himalayas and the beautiful green hills. You can stroll through the village to enjoy more temples and fields of rice. There are also caves, Hindu shrines, and many festivals. This is another beautiful place to get out of the city and enjoy some landscape photography from a stunning location. It is ideal for arranging tours to this location, possibly as a stop on your way to or from Pokhara.
Chitwan National Park
Located in the Terai, where the land begins to stretch out and flatten, Chitwan National Park awaits wildlife photographers. Jeep or walking jungle safaris allow you to get up close and personal with animals in the wild. The park is filled with rare and endangered animals like the one-horned rhinoceros, Bengal tiger, Asian elephant, four-horned antelope, pangolin, and golden monitor lizard, to name a few.
The Rapti River and sunsets are also extraordinary, and any photographer wants to capture them. Bis Hazari Lake is also a beautiful place to check out. Around Chitwan, there are also many cultural programs to learn about the Tharu culture and dances in the evenings. Lastly, the many long and straight roads are drastically different from the hills you will experience on most of your adventures in Nepal and are fun to catch.
Pokhara, Phewa Lake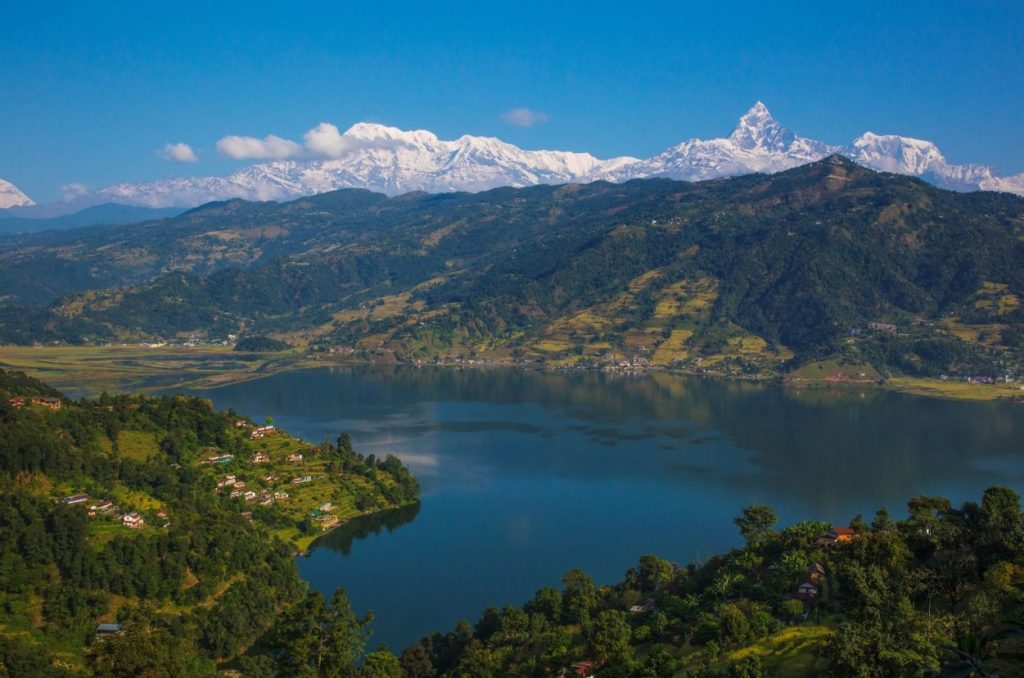 Once again, Pokhara is a relaxing destination for Nepalese and locals. A starting point for all treks going into Annapurna, there are a variety of restaurants and hotels with stunning views. Not only can you see the mountains, but the city is situated at the edge of Phewa Lake.
Those looking for an adventure can row a boat out onto the lake, where you will be treated to the reflection of Machhapuchchhre and its neighbors on the water, and then climb up the peace pagoda for even better views. However, if you have just come back from a trek and are looking to relax, there are plenty of hotels and restaurants with fabulous views of the lake.
Sarangkot for Sunrise and Sunset
Sarangkot is a popular and well-known destination for sunrise hikes and extraordinary panoramas of the Annapurna Mountain range. Every morning, crowds of people surround the edges of the hill, waiting for the sun to rise and cast golden rays of light across the snow-capped mountains. While you have to get up early for the hike or drive up the hill, it is well worth it! With 360-degree views of the mountains and Pokhara below, you will want to make sure your camera is charged before going up the hill.
The views get better and better as the sun slowly rises over the hills; however, it is also beautiful on a clear day. Looking down, there are also great views of small villages north of Pokhara and rivers running out of the mountains. For those who love landscape photography, it will be a heavenly morning! While there are many options to reach the summit, tours can be arranged to ensure that you don't miss the sunrise early in the morning.
Nepal is an incredible country with various landscapes, people, cultures, and animals for you to discover. From the Terai to the mountaintops, there will always be something that captures your heart and camera lens. There are tons of festivals throughout the year that you do not want to miss, as they will leave you just as speechless as the mountain views.
Nepal Hiking Team can arrange photography tours to these locations and more to make your trip to Nepal smooth and easy to plan. Please reach out and let us know what you are looking for in Nepal, and we will ensure your stay goes just as planned.