[TOC]

The Civil Aviation Authority of Nepal has announced that the Tribhuwan International Airport in Kathmandu will be undergoing some major re-maintenance. Due to increasing traffic congestion at the Tribhuwan International Airport and the increasing number of Lukla Flights from Kathmandu, an alternate arrangement was made to operate all Lukla Flights from the Ramechap Airport instead. As such, the Lukla flights from Kathmandu will instead be occurring from the Ramechap Airport.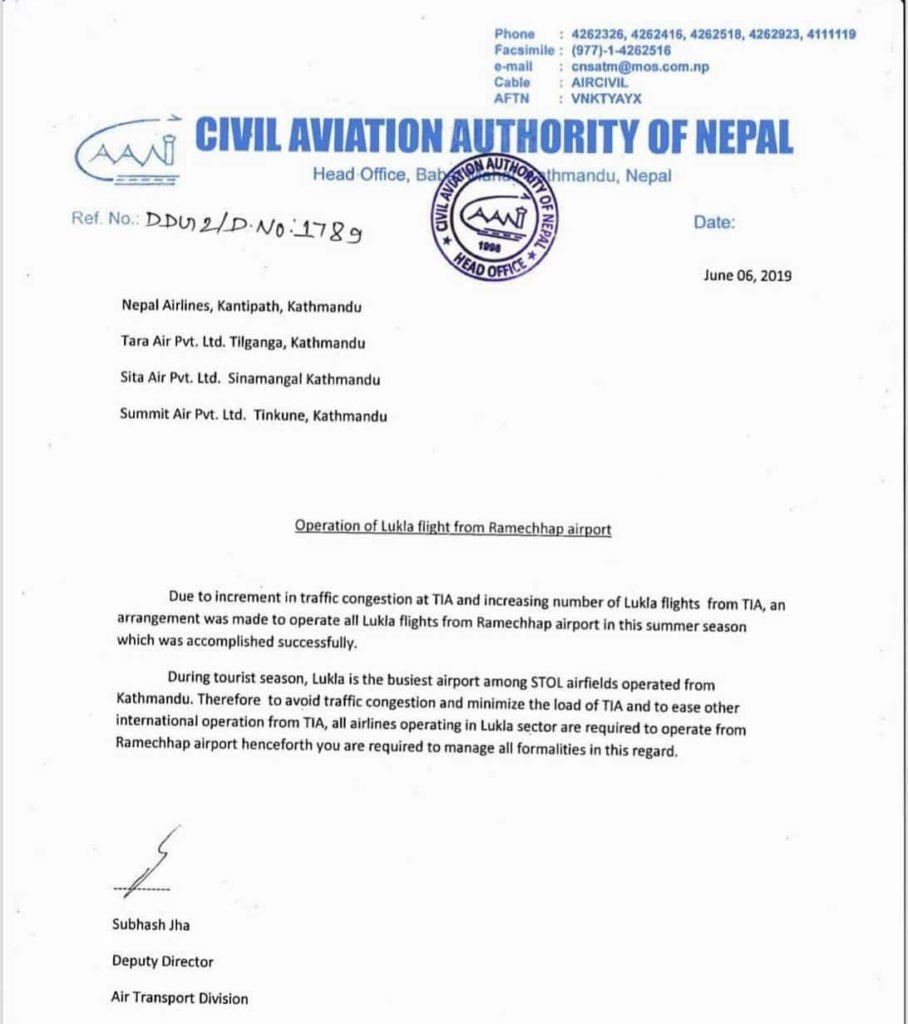 The change in the flight-plan will affect trekkers who are traveling to the Everest region between 1st of October to 31st of December. During the stated dates, all Lukla Flights will be in operation from the Ramechap Airport due to air-traffic and maintenance issues.
The Ramechap Airport is situated 133 kilometers away from Kathmandu; it takes about 4 hours to reach the Ramechap Airport from Kathmandu. The transportation from Kathmandu to the Ramechap Manthali Airport and back shall be organized by the Airline Companies.
In order to catch the Lukla Flight from the Ramechap Airport, you will be leaving Kathmandu at approximately 3 am. We at Nepal Hiking Team will provide you with the exact timing of the departure at the time of your trip briefing in Kathmandu.
We apologize for the inconvenience, but we are working towards maintaining the trekking routine and present our clients with the best alternative option to the current issue regarding the Lukla Flight. Due to the increasing number of flights to Lukla, especially during the peak trekking season, operating Lukla flights from the Tribhuwan International Airport can result in Air Traffic Holds, flight delays and high possibility of flight cancellations. Therefore, Lukla Flights from the Ramechap Airport is an alternative option that can help to avoid the stated issues.
The regular trekking routine will not be affected, only the starting point of the trek, i.e., the Lukla flight, will be operating from the Ramechap Airport instead of the Tribhuwan International Airport. Once again, we express our apologies for the inconvenience.