Nepal is filled with a variety of foods that are often compared to a combination of Indian and Chinese cuisine. However, while you may notice some similarities to foods you have tried before there are also unique flavors that are only found in Nepali food. From street food to daily dinners, the following are snacks and meals which you must not miss while visiting Nepal.
Dhal Bhat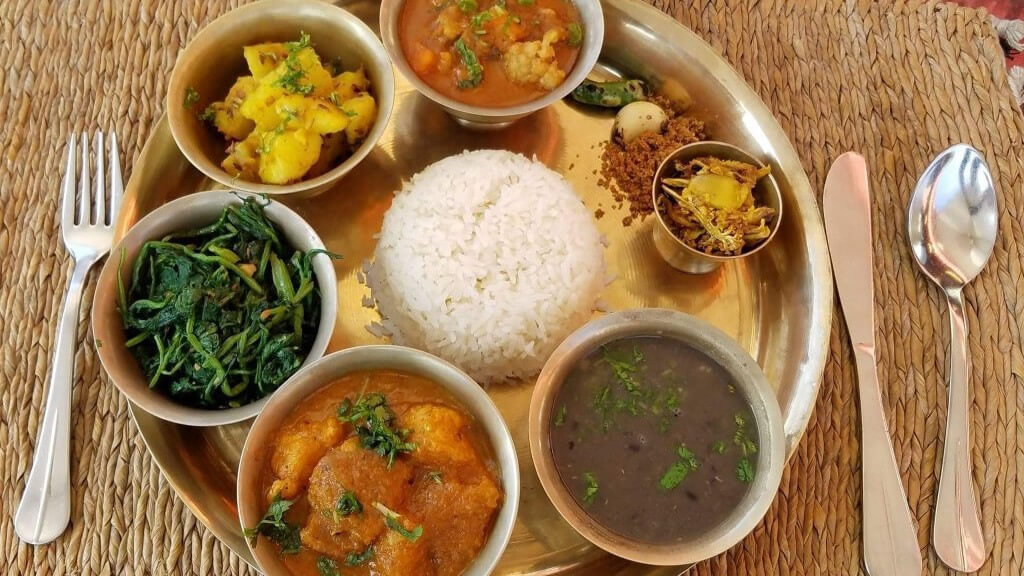 Your trip to Nepal will not be complete without trying dhal bhat. The literal translation is lentils rice, and this is what nearly every Nepali person eats for two meals each day. Lentils are usually cooked with turmeric and salt and are a soupy consistency. This is served on top of steamed rice. However, there is a little more to this feast. Additional vegetables are cooked and for those who eat meat there is often chicken or mutton served as well. Finally, no meal of dhal bhat is complete without the acharr, also known as pickle. This can be made of many things from pickled radish to a mixture of tomatoes, cilantro, and chili peppers. While this meal is not for everyone, it is the most eaten food in Nepal as everyone has some variation of the dish at least once, but usually twice each day, making it a must-try while traveling throughout Nepal.
Momo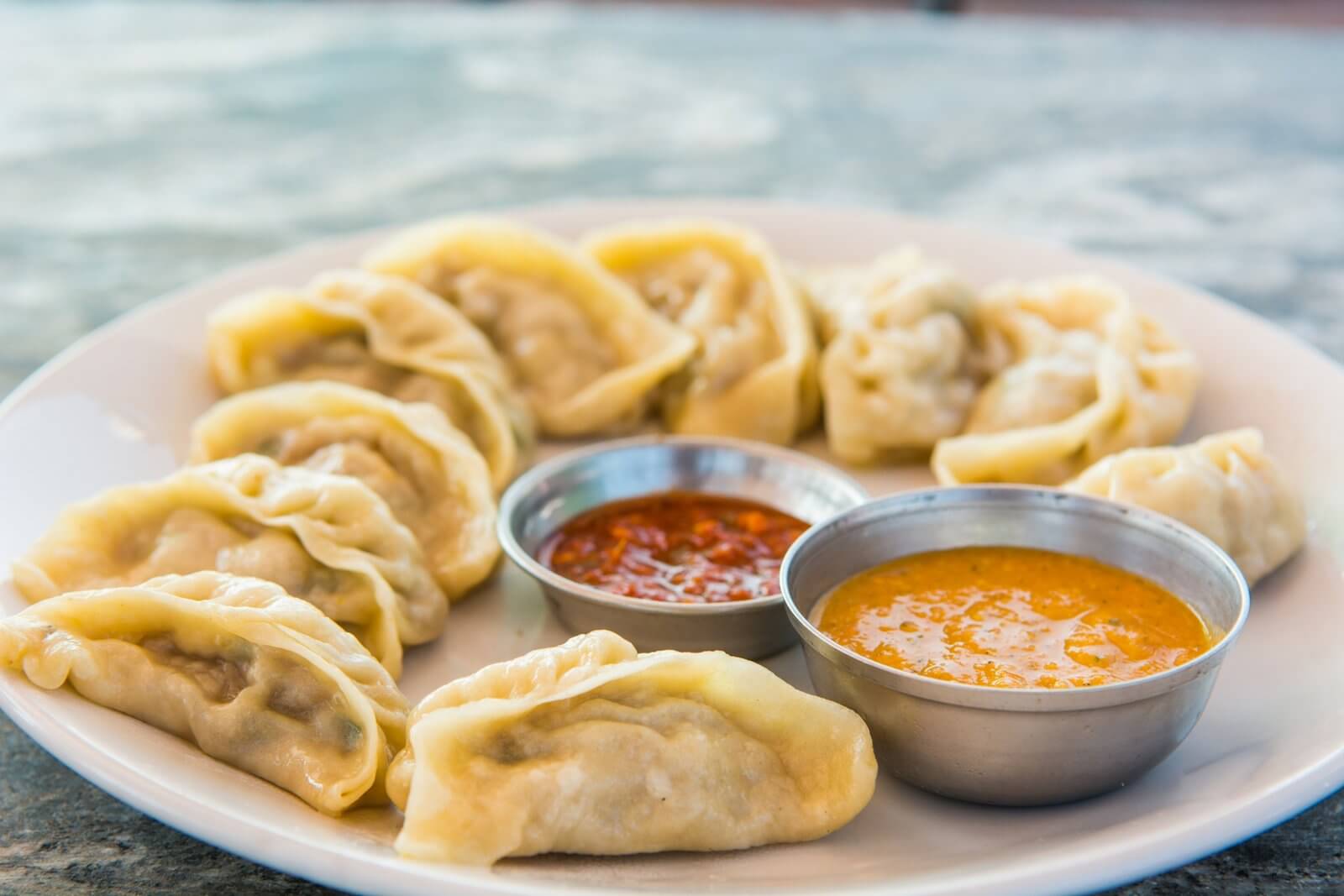 One of the most-loved dishes in Nepal is momo, from vegetables to buffalo the fillings are delectable and begging to be tried again and again. Not to mention the tomato chutney or jhol (soup) served alongside the unique dumplings. Momo is so popular that if dhal bhat did not exist, momo would be the clear frontrunner for Nepal's national dish. It is one of the most popular foods in the country and can be found in almost any restaurant from high-end dining to street stalls. One plate of momo is about ten pieces is enough for a light lunch, or a side with a larger meal. The fillings are prepared with a unique blend of spices that have an easily recognizable taste. However, each business prepares momo in its own way, and in some cases with foreign fillings. This ranges from cheese to chocolate in the steamed or fried dumplings. Check out momo-making ideas if you wish to try them at your home.
Pani Puri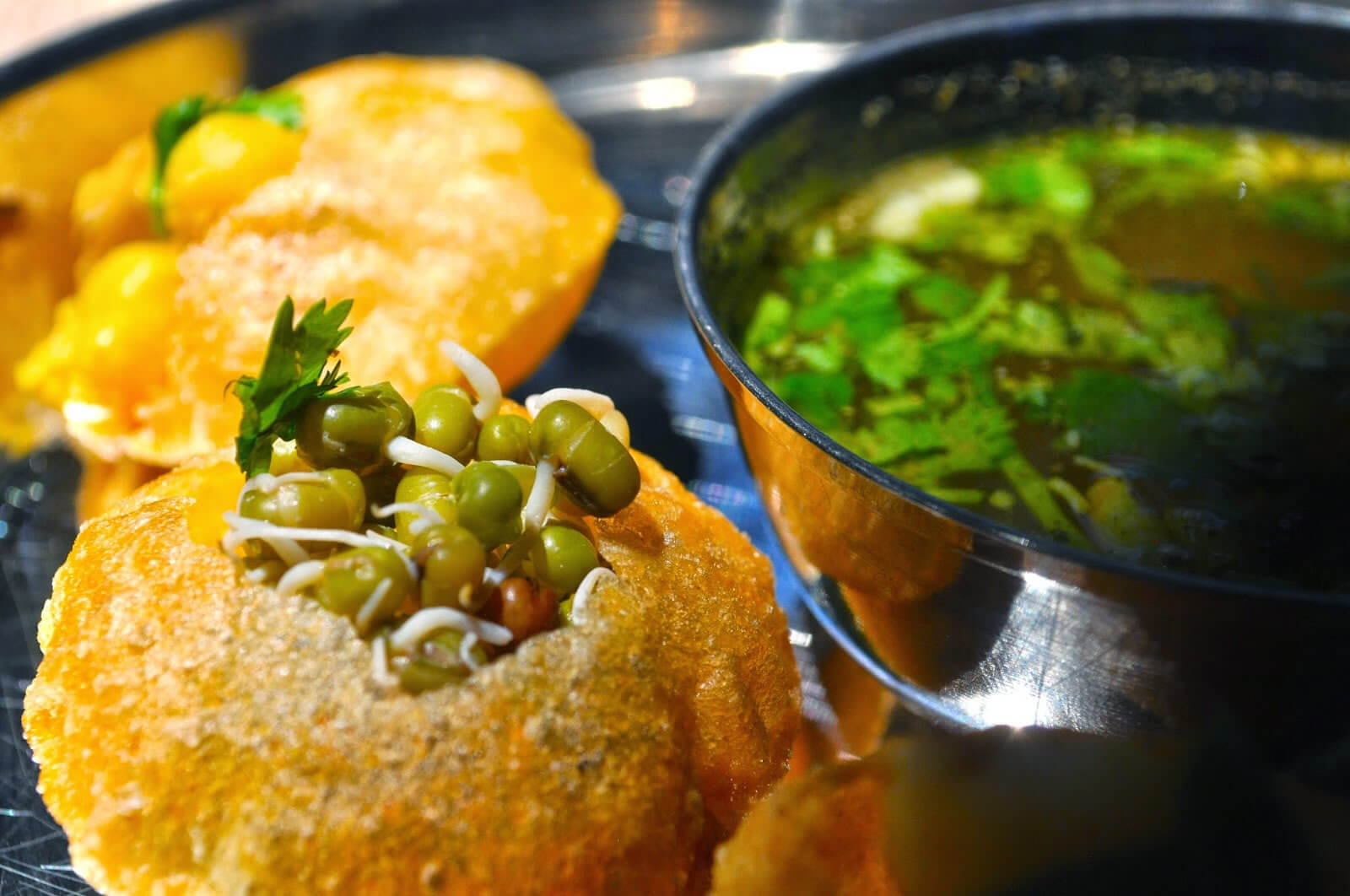 When it comes to street food, Pani Puri is one of the most popular items. It consists of a crispy, hollow fried dough ball (known as Puri) and is then filled with boiled potatoes mixed with chickpeas, spices, and cilantro. Before it is served, the entire ball is dipped into spicy, tangy water and then eaten in one bite. It is called Pani Puri because of the fried Puri and Pani literally translates to water. While the exact taste varies depending on the vendor usually the snack is spicy and tangy. Due to the water involved with this particular dish, it is important to carefully choose a place to try it, as there is a risk of local water being contaminated. However, there are several places throughout the Kathmandu valley where you can find hygienic Pani Puri. If you are looking to try this delicious treat, ask your guide or local friends for recommendations on the best place for a taste.
Chatpate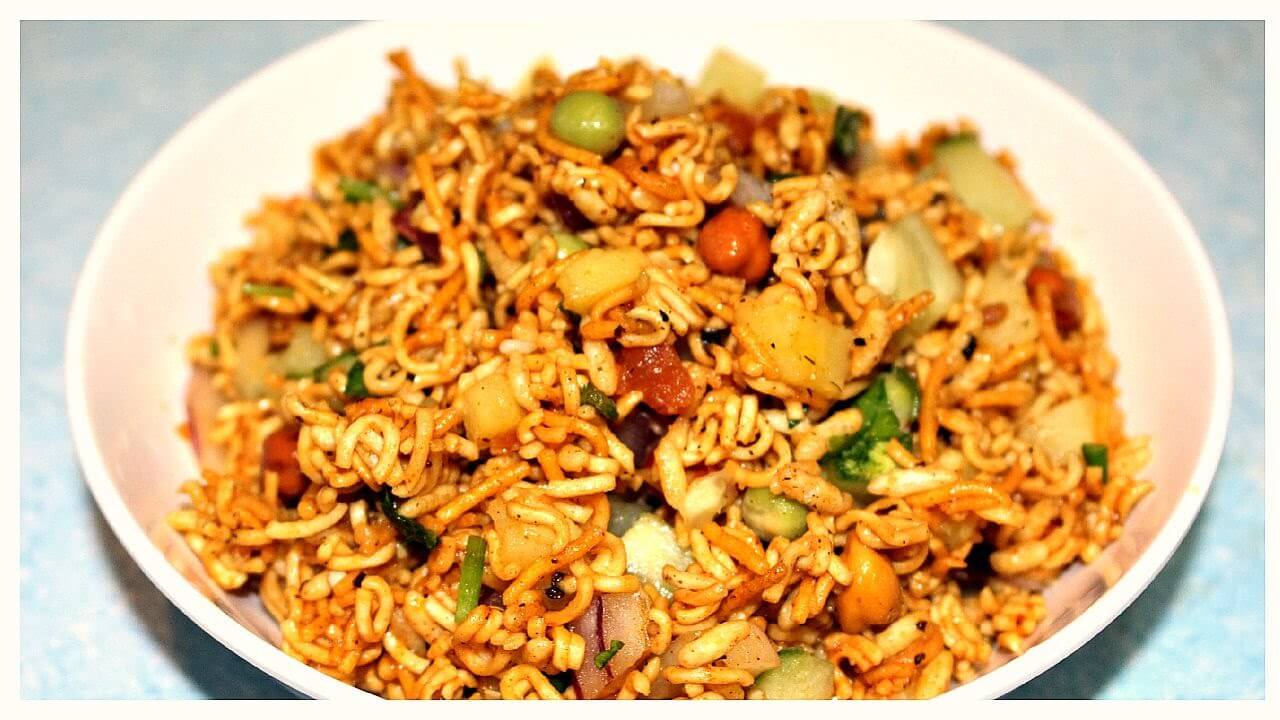 While you are out trying Pani Puri, you should also order some chatpate. This chaat is made with puffed rice, dry instant noodles, chickpeas, cilantro, tomato, cucumber, onion, potato, peas, lemon juice, fresh chili, and other spices. This is equally as popular as Pani Puri and can always be found at the same stall. With a crunch from the dry noodles contrasting with the softness of boiled potatoes and acidity from the lemon juice, there are a variety of flavors and textures to be enjoyed in the snack. Like Pani Puri, chatpate is not always the most hygienic food, largely due to the raw onion, chili, cucumber, and tomatoes. If you have a sensitive stomach these street foods may be best to avoid. However, once again, there are more sanitary places scattered throughout the city where you can find these snacks safely, without a large risk of illness.
Sel Roti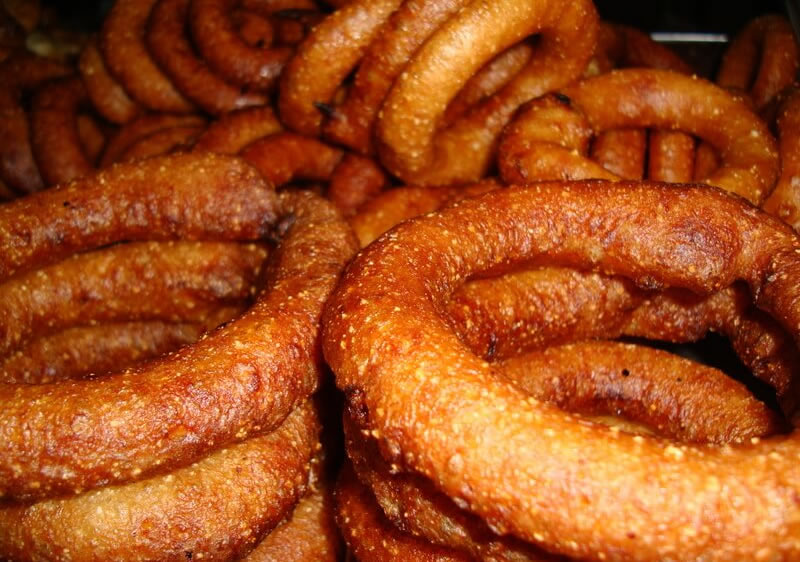 Sel roti is well-loved by Nepalis and is required for large Hindu festivals like Dashain, Tihar, Teej, and weddings. Made of a mixture of soaked rice, ghee, sugar, and spices, this delicacy is shaped similarly to doughnuts, however much thinner. This sweet bread is enjoyed with a cup of milk tea, or often a soft puri. If you have the opportunity to see families make this in a village, they often pour the dough into the hot oil with bare hands, somehow managing to form perfect circles. This treat is best enjoyed fresh, and if you are not in Nepal during the festival season you can often find it in shops that also sell samosas and other fried goodies.
Yomari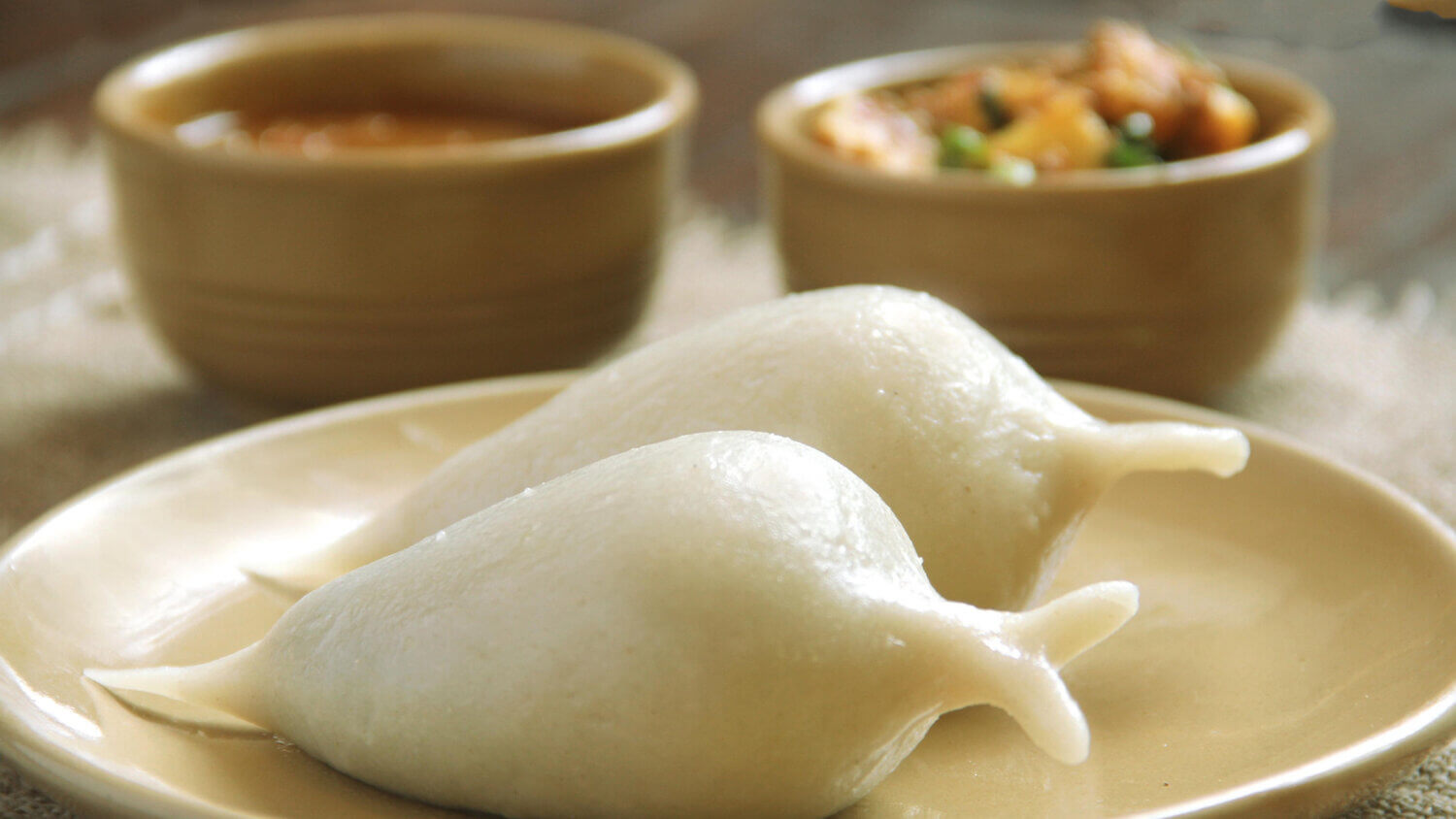 Yomari is traditionally a food of Newari culture, the group of people originally from the Kathmandu valley. This is always eaten during a festival called Yomari Punhi, which is on the date of the full moon in late December or early January. Yomari is a steamed dumpling filled with chhaku (a paste made from molasses) or khuwa (milk which is boiled down for hours and hours into a paste). The sweet dessert is a little more challenging to find, however, locals will be able to guide you to restaurants selling it.
Chatamari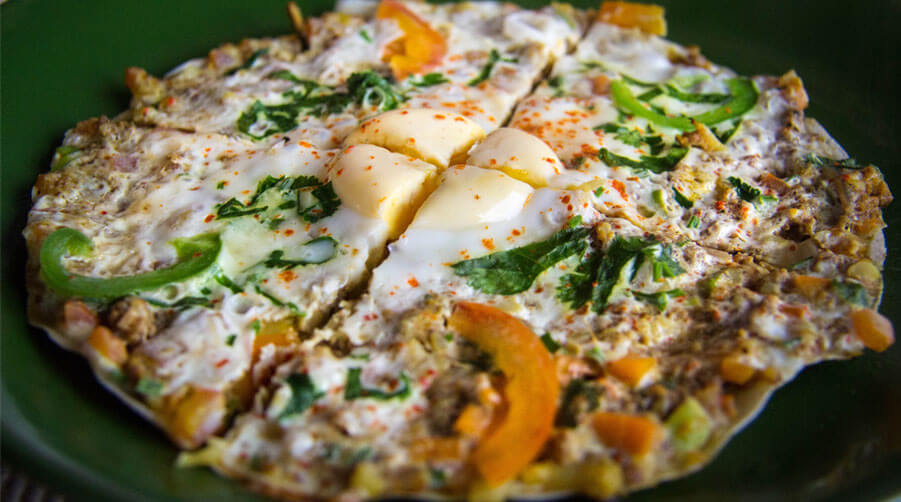 Another food from the Newari community, chatamari is often called Nepali pizza. With a thin crust made from rice flour and toppings varying from buffalo to vegetables, and ever sugar the dish can be suitable for meat-eaters and vegetarians alike. Meat or vegetables (or both!) are mixed with a variety of spices before being placed on the stovetop on top of a thin layer of dough. This is slightly easier to find and can be found in most Newari restaurants in Kathmandu. Finding it on the street is a little less common, however, it makes a great snack or accompaniment to a larger meal.
Bara
Once again, a contribution from Newar culture, bara is essentially a lentil pancake. The main ingredient is split black lentils which are soaked and then blended together into a paste which is then fried. Bara is served for special occasions like weddings and birthdays, but also alongside a Newari lunch set which includes beaten rice, roasted black soybeans, fried ginger and garlic, potatoes, roasted meat, and eggs. It is believed that this set brings luck to the person or people being celebrated. However, bara can also be eaten on its own. Served plain or cooked with egg or buffalo (or both!) this tasty treat is comparable to a savory pancake and is well-loved in Nepal.
Juju Dhau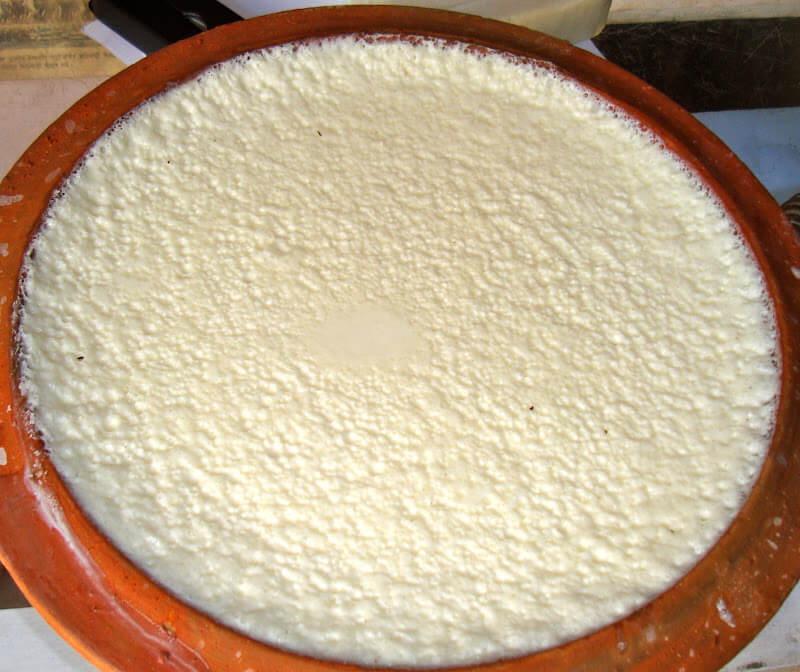 When you visit Bhaktapur there are many beautiful buildings and temples to see, but there is also some food that you cannot leave the city without trying. Juju Dhau is a famous yogurt originating from Bhaktapur. Dhau means sweet yogurt and translated from Newari Juju Dhau literally means "the king yogurt". It is sweet and creamy and is especially important for festivals in Kathmandu. Usually, it is made from buffalo milk which is boiled and then poured into a traditional clay pot. Spices are sometimes added like coconuts and cardamom to add to the sweetness.
Laphing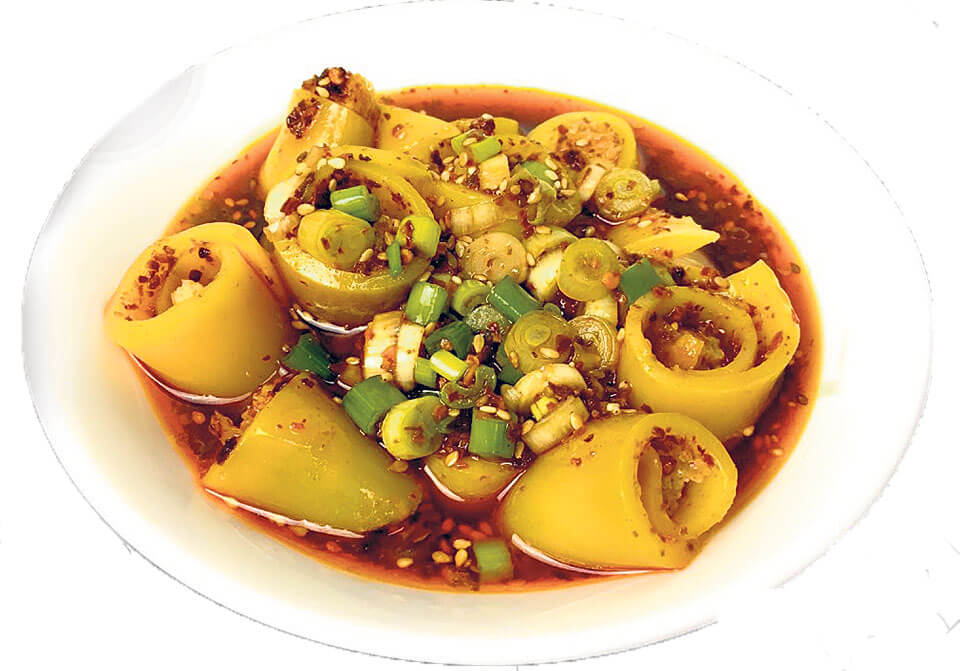 Laphing was introduced to Nepal by Tibetans who migrated to the country, laphing has become very popular in recent years in Kathmandu. Traditionally, this cold noodle dish consists of flat noodles which float in a mixture of vinegar, dried chilies, and soy sauce. However, it has been adapted and a dry-rolled version is now available in many places. The noodles are made from starch extracted from potatoes, mung beans, or wheat flour, which is then cooked overnight and left to settle. After it will be cut into long strips before being served. While the taste is not for everyone, laphing is unique and worth a taste.
Yak Cheese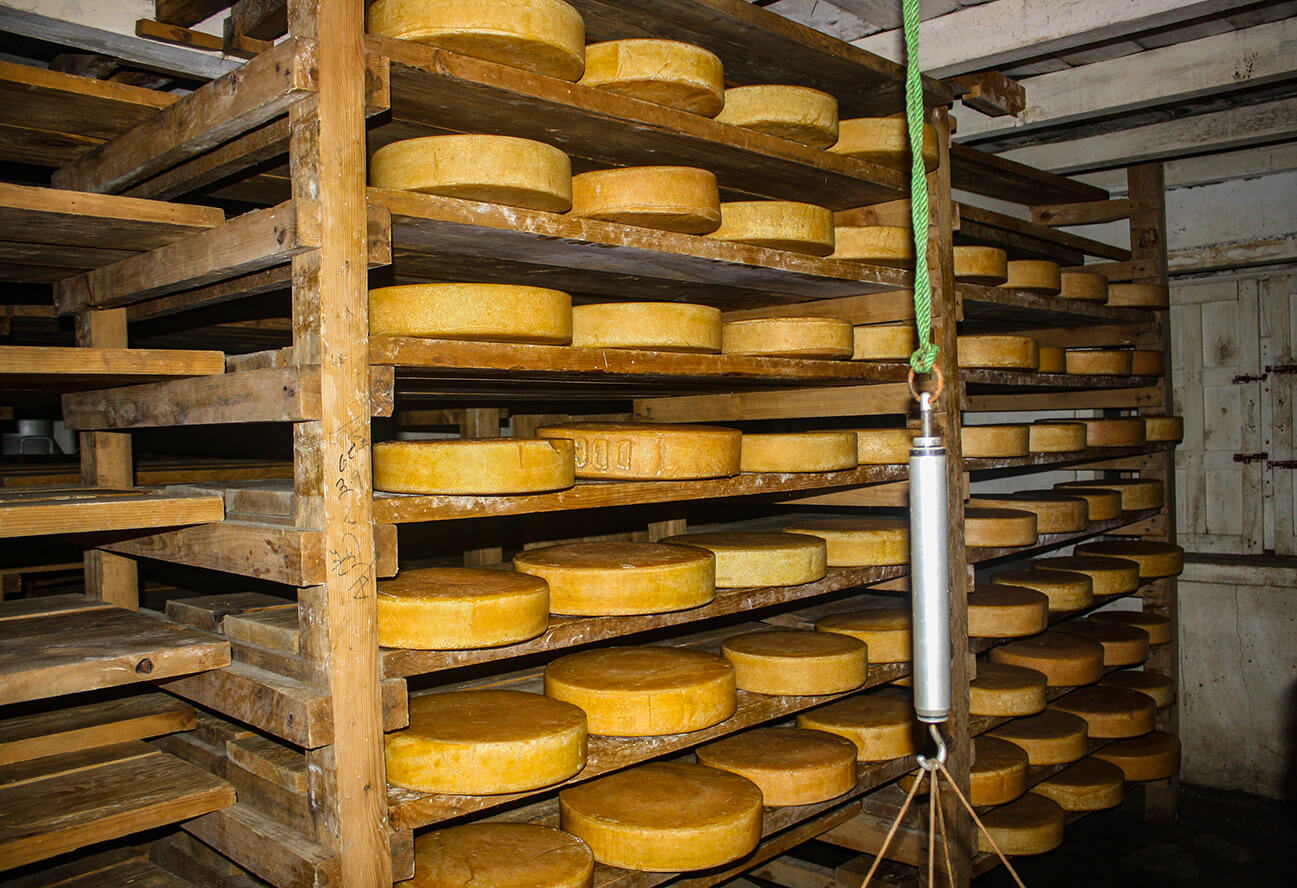 If you are planning to go on a trek while in Nepal, you may want to ask your guide about purchasing yak cheese. Langtang Valley, just north of Kathmandu is very well-known for cheesemaking and produces some great products. While there are many places to purchase yak cheese in cities throughout the country, it is interesting to see the factories which produce such products and eat a piece of cheese while staring at the mountains where it was made. Yak cheese is comparable to a medium cheddar cheese and is delicious on its own, with crackers or baked into a grilled cheese sandwich.
Haluwa and Gudpak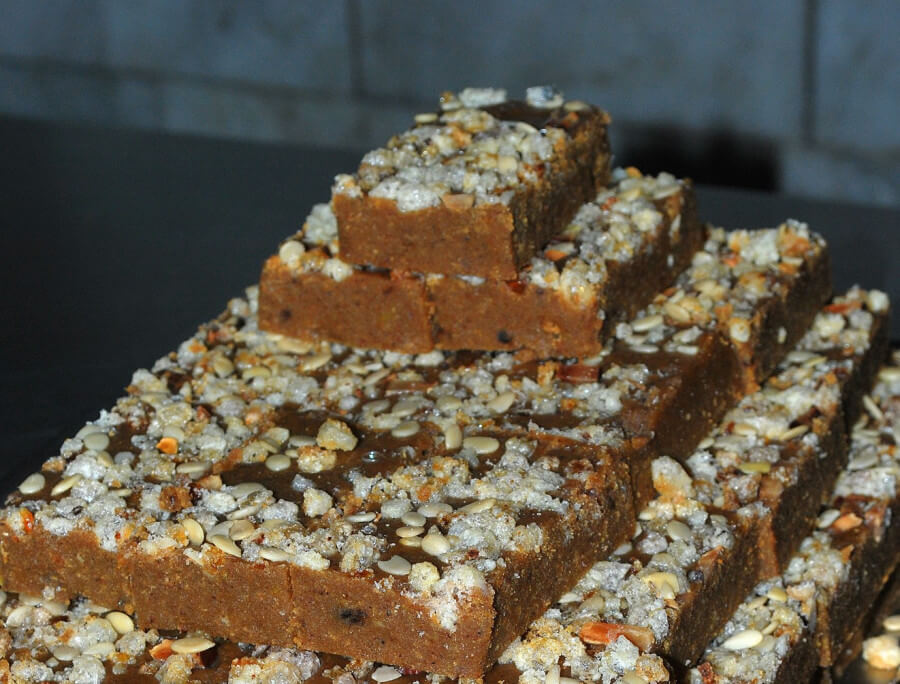 Haluwa is made from flour, ghee, sugar, and water, and is a pudding-like consistency. It is sweet and often enjoyed on a slice of bread. Haluwa is creamy and can be found in many sweet shops or stores that also sell samosas and other fried items.
Gudpak is a sweet which can be made in several different ways. Generally, it is made from khuwa, milk, ghee, dried nuts and fruits, and spices. This is boiled down until it is a paste and turns into a brown color. Being made of milk, there is a unique taste that many people from western cultures are not familiar with, however, it is sweet, and has depth due to the spices like cinnamon, cloves, and cardamom. There are also multiple kinds of gudpak, with a specific one made for pregnant women or new mothers. The taste of this is much different than what you would typically find at a sweet shop. This is a popular treat during the festival season but can be found and eaten at any time of the year.
Conclusion
There are a lot of fantastic foods to be found all throughout Nepal. This only covers a few of the most popular dishes that you may want to taste during your visit. While all of the above items can be found relatively easily, it is also possible to arrange a food tour to sample these foods. Contact us for more information.
Have you tried some of these foods while your trip to Nepal? Comment bellow 😊🙏