November is the month we bid goodbye to the beautiful autumn season. It's the month of brilliant, warm sunshine and cold, crisp air. With the monsoon rains finally gone for good, an Everest Base Camp Trek offers the ideal conditions to enjoy the mountains. If you hate trekking in the rain and can't bear the extreme cold, then November is the perfect time to trek in Nepal.
[block](,2)
Pros and cons of an Everest Base Camp Trek in November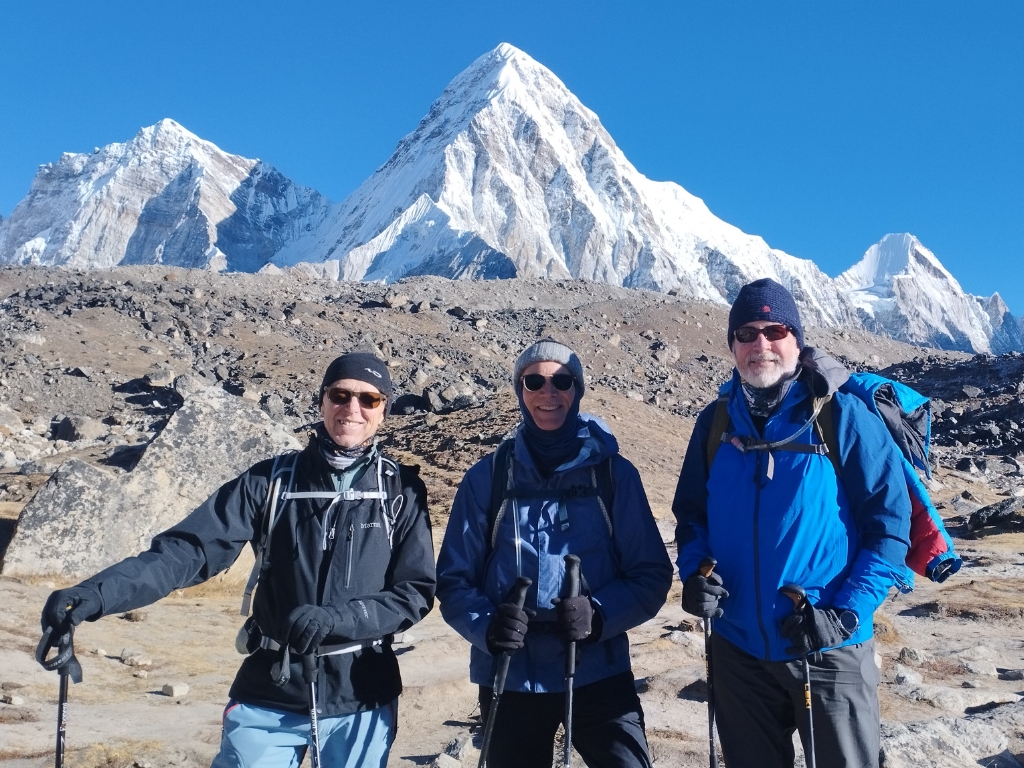 Pros
Less precipitation and lovely weather on most days
Lively trail with ample opportunities to interact with locals and trekkers from different countries
With winter approaching, there's more snow cover in the mountains
Clear and unimpeded views of mountains
Opportunities for star gazing and night photography. The Milky Way appears closer on moonless nights.
Cons
The trail remains crowded
It gets difficult to get good accommodation unless booked in advance
A long journey by road to Manthali Airport from Kathmandu and vice versa, as flights to Lukla operate from Manthali Airport in Ramechhap
Freezing temperatures at Lobuche, Gorak Shep, and EBC
Days start getting shorter and nights longer
Weather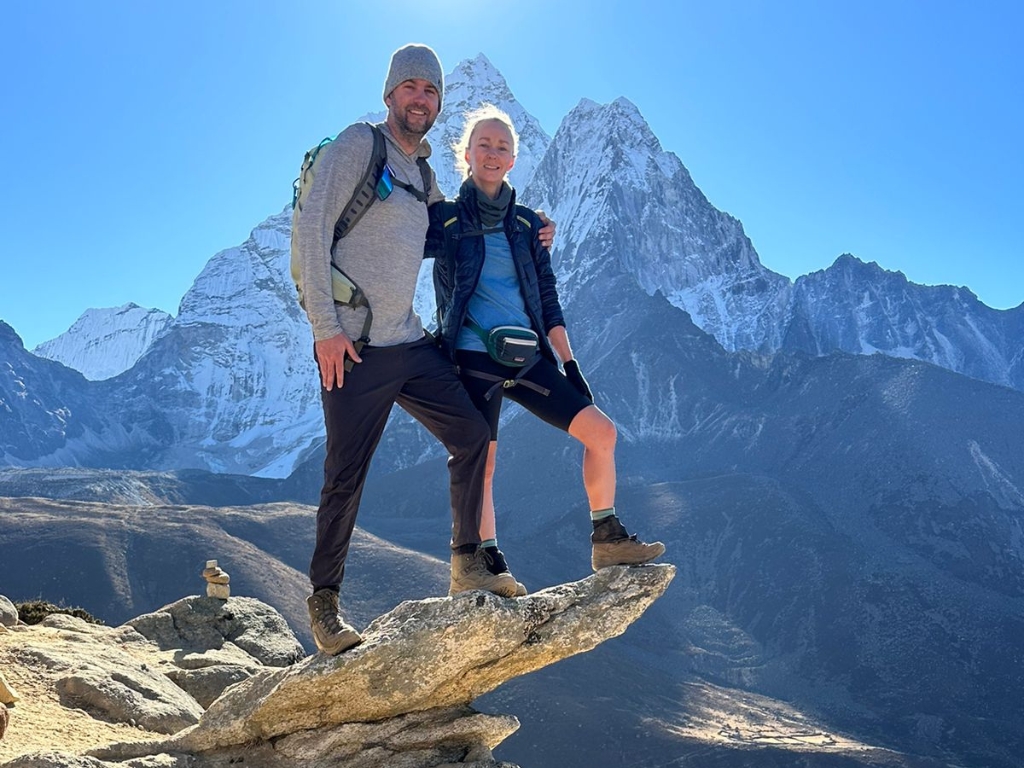 Generally, the weather in the Khumbu Region during November remains dry and slightly cold. There's no rainfall or humidity with the end of the monsoon season. The air is clear and crisp, offering clear views of the snow-blanketed mountains.
In Lukla, the temperatures range from a maximum of 12.2°C to a minimum of 0.9°C. In Namche, the mercury goes as high as 11°C and dips to a low of -2°C. It gets pretty cold in Lobuche, with temperatures ranging from a maximum of 2.8°C to a minimum of -13.8°C. At Gorak Shep, you can expect temperatures to dip as low as -14.9°C.
Lukla Flight
Flights to Lukla in November operate from Manthali Airport in Ramechhap district. It takes around four hours to drive to the airport from Kathmandu. As the Lukla flights are scheduled in the morning hours before the wind picks up, trekkers need to start early from Kathmandu (around 2-3 AM) to catch their flight. One can rent a private taxi or take a shared jeep ride to get to the airport. The road, for the most part, is pitched and winds through small hills and mountains.
If you don't want to wake up at an ungodly hour to catch your flight, you can take a ride to Ramechhap a day before your scheduled departure and stay overnight at a guesthouse.
What to pack?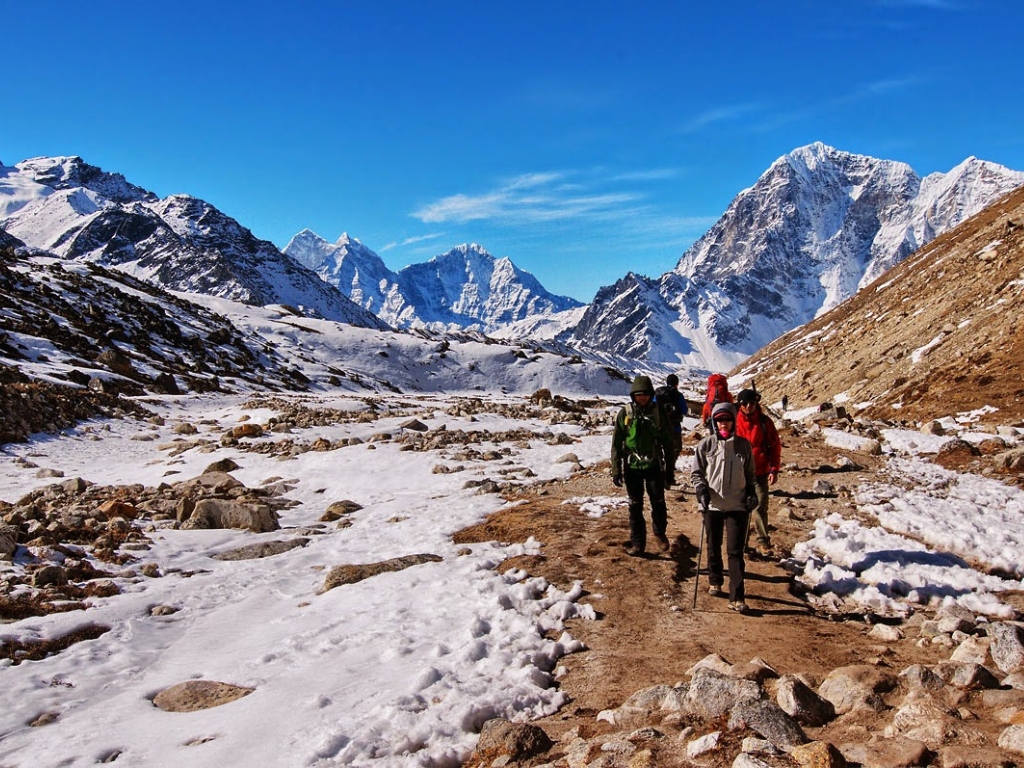 Your packing list should include weather-appropriate clothes and gear. Since it's going to be pretty cold in the higher reaches, do not forget to carry thermal base layers to insulate yourself against the freezing cold.
Here's a tentative list of what you should carry for your trek
A rucksack or duffel bag large enough to accommodate all your stuff
A small daypack to carry essential items that you will need while walking (snacks, sunscreen lotion, cash, water bottle, camera, etc.)
Sturdy hiking shoes
Trekking poles
Sleeping bag
Warm base layers
Trekking pants and shorts
Sweat-absorbing T-shirts or cotton shirts
Down Jacket
Woolen or fur-lined cap
Buff or scarf/muffler
Quick drying towel
Flipflops to wear in the bathroom
Socks and undergarments
Medicines (Diamox, Paracetamol, anti-diarrheal medication, pain relieving balm, etc)
Toiletries (sunscreen cream, toothpaste, soap, shampoo, moisturizer, lip balm, hand sanitizer, toilet roll, wet tissue, etc.)
Gadgets (power bank, headtorch with batteries, etc.)
Important documents (passport, copy of insurance, emergency contact numbers, etc.)
Plastic zip lock bag to carry documents and large plastic bags to store dirty clothes
Enough cash in local currency to last you throughout your trek
Safety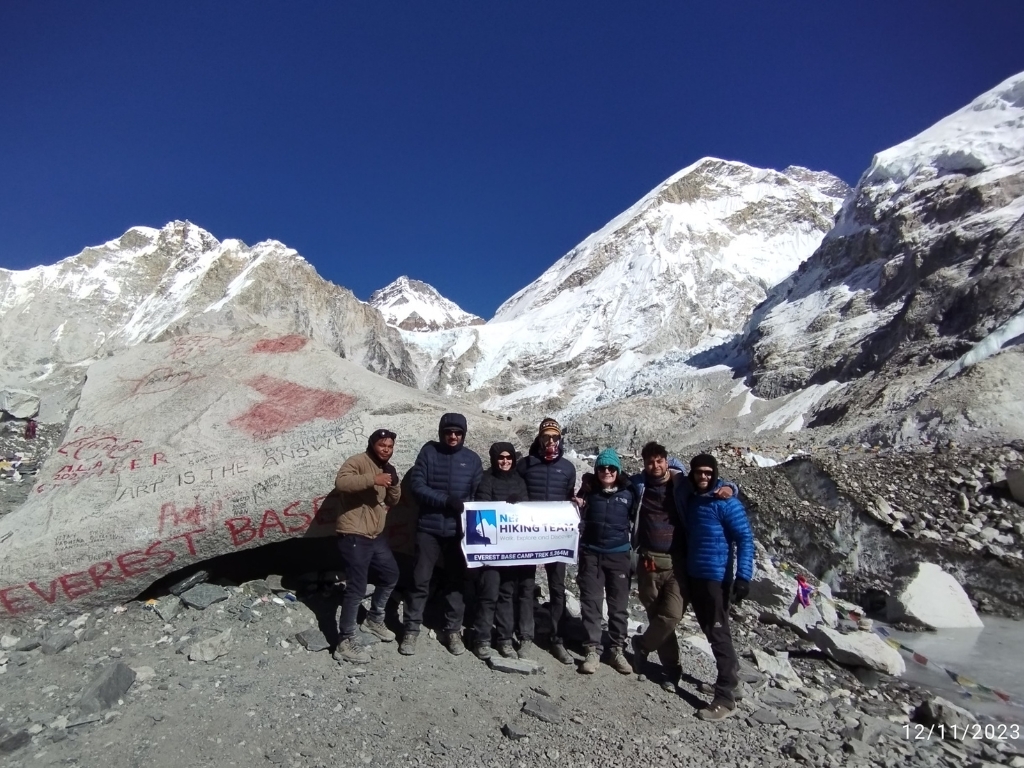 One of the major issues of an EBC Trek is altitude sickness. Each year, many trekkers have to cut short their treks and return to Kathmandu due to altitude sickness. Altitude sickness or AMS (acute mountain sickness) occurs at high elevations where the oxygen content in the atmosphere gets pretty low. Symptoms of AMS include headache, breathlessness, palpitations, nausea, loss of appetite, and sleeplessness. Altitude sickness can turn fatal if the symptoms are ignored.
In order to keep AMS at bay, you need to get your body properly acclimatized. For acclimatization, you can spend an extra day at a lower altitude before venturing to the higher reaches. Most trekkers choose Namche and Dingboche for acclimatization rest days. Staying an extra day at these elevations prepares you for your hike up to Lobuche and Gorak Shep, which lies well above the 5000-meter mark.
Proper hydration is also essential to keep away altitude sickness. Therefore, you should drink plenty of soup, ginger tea, and warm water throughout your trek. You should also stay away from smoking and alcoholic drinks if you want to safely make it to Everest Base Camp and back.
Also, try not to consume meat items at the teahouses. Most of the meat available on the trail is not fresh. Since the Sherpas are Buddhists, their religion forbids them from killing any living being. Therefore, meat available along the trail is mostly sourced from villages at the lower elevations.
In case you fall sick and suffer an injury, an air rescue and evacuation team will be called to airlift you to a medical facility in Kathmandu. For that, you need to have insurance that covers rescue and evacuation at elevations above 5000 meters. You should always have the details of your insurance policy with you as helicopter companies demand that information before carrying out the air rescue.
Recommended Routes
You can try the challenging Three High Passes Trek and cross the Cho La, Renjo La, and Kongma La. Or you can explore the Gokyo Lakes. The trek to Ama Dablam Base Camp will get you closer to the mountain and let you enjoy glorious views of the summit of one of the most beautiful mountains in the world.
[block](,20)
You can also take the Sherpa heritage trail and visit the ancient Sherpa villages of Phortse, Pangboche, Thame, Khumjung, Kunde, Tengboche, etc. If you wish to take an alternate route to Everest Base Camp, you can try getting there via the Amphu Labtsa Pass following the rarely explored Hinku and Honku Valley trails. Using the classic Everest Base Camp trail from Salleri or Jiri will take you on the old route used by the early Everest expedition groups.
[block](,26)
There are EBC helicopter tours available for those who have health issues and limited time to trek to Everest Base Camp. Although expensive, these tours let you enjoy the aerial view of some of the world's highest mountains, including Mount Everest. Within a couple of hours, you can fly from Kathmandu to EBC and return after a brief stopover at Kala Patthar's viewpoint.
[block](,8)
Those who want to save time and effort can book a heli trek. Heli treks give you the option of minimizing your trek duration by flying you directly to Namche from Kathmandu, from where you start your trek. After walking to EBC, you can fly back to Kathmandu from Gorak Shep.
Festivals
Mani Rimdu, the most important festival of Sherpas living in the Khumbu Region, is held in November (sometimes the festival falls in October as per the Tibetan Lunar Calendar). The festival is celebrated at the Tengboche Monastery, where people congregate and watch the lamas or monks perform colorful Chham or masked dances and sacred rituals to ward off evil. The festival is observed to mark the introduction of Buddhism in Tibet by Guru Rimpoche or Padmasambhava. As the festival has its origins in the Rongbuk Monastery of Tibet, the abbot of the Rongbuk Monastery presides over the ceremonies. Although the festival lasts for nineteen days, the public is allowed inside the monastery only on the last three days.
Tihar or Diwali, 'the Festival of Lights' is also celebrated in November. It's one of the most beautiful and important festivals in Nepal. Goddess Lakshmi, the Hindu goddess of wealth and prosperity, is worshipped during this festival. People clean their houses and surroundings and buy new things to welcome the goddess. Houses are lit up with oil lamps or fancy electric lights, and family get-togethers are held. The five-day festival also celebrates the bond of brother and sister. On Bhai Tika, sisters pray for the long lives of their brothers and seek protection from Yamaraj, the god of death.
The Newari community in Kathmandu celebrates Swanti and the 'Mha' puja or the 'Worship of Self' during this time. People in the Terai region also celebrate Chhath Puja, where they congregate at natural water bodies (lakes, ponds, and rivers) and pray to Surya, the Sun God.
Final Note
If you hate walking in the rain and detest frigid temperatures, then November is the best month for you to make it to Everest Base Camp. During November, the monsoon season is gone for good, and the trails remain dry and walkable. The crippling cold of winter also stays away during this month. If you plan to enjoy good weather while trekking in the mountains, then November provides you with the ideal conditions. It's not too humid nor too cold, just clear skies and mind-blowing views of the mountains!