In two weeks in Nepal, there are plenty of things one can do and explore. Venture on an exhilarating trekking adventure that will take you through rugged mountains, lush jungles, and mid-hills around Nepal. Or admire the world's highest peaks through trekking or delve into the country's evocative natural and cultural beauty while visiting ancient villages in the Nepalese Himalayas like a local explorer. If anyone plans to spend two weeks in Nepal, then make sure to check our seven best fourteen-day trek packages. We have listed all the Best Trek Packages in Nepal that will offer the ever-changing scenery of tiny gorges, diverse cultural scenes, peaceful forests, and Nepal's towering mountains.
Everest Base Camp Trek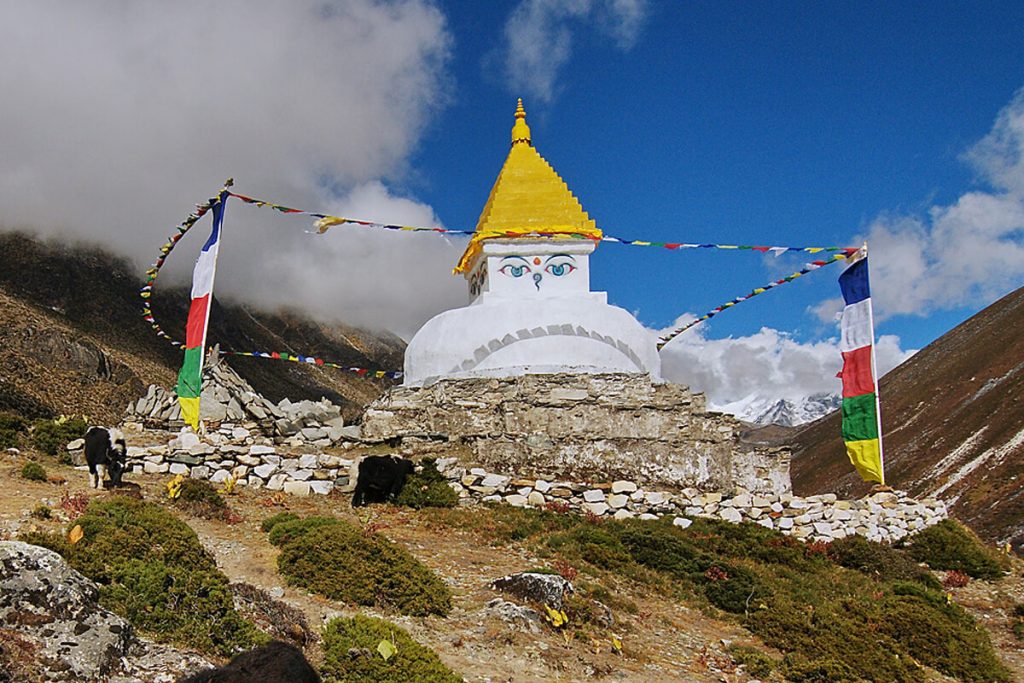 An absolute favorite of avid trekkers, the Everest Base Camp trek is the first choice of travelers with two weeks of vacation in Nepal. The journey takes vacationers to the lap of Mount Everest and allows them to indulge in the most acceptable Sherpa culture. In this journey, travelers traverse through small Sherpa villages bypassing the rugged terrain of the region. Crossing many iron suspension bridges and hiking through the river bank routes is also part of the journey. Furthermore, Buddhist religion is prominent in the Sherpa community, and travelers can experience the heavy influence of Buddhist culture throughout the trek.
Moreover, the journey is full of spectacular views of some of the highest mountain peaks of Nepal. On the trek, you will get to see amazing views of Mt. Everest along with Cho Oyu, Lhotse, Ama Dablam, Makalu, and many more. It is an enjoyable trekking journey that is rewarding at the same time full of adrenaline rush.
Trip grade: Everest Base Camp Trek is a moderate trek, a suitable journey for someone starting in the Himalayas.
Highlights:
An adventurous start with a thrilling flight to Lukla

An opportunity to interact with charming Sherpa people and to learn about their unique culture and traditions

Walk amidst the big mountains in views such as Ama Dablam, Cho Oyu, Lobuche, Pumori, Lhotse, and many more.

An excursion of Tengboche monastery, one of the biggest and highest located monasteries in Nepal.

Hike up to Kala Patthar to view the golden sunrise and sunset view rising above Mount Everest.
Annapurna Base Camp Trek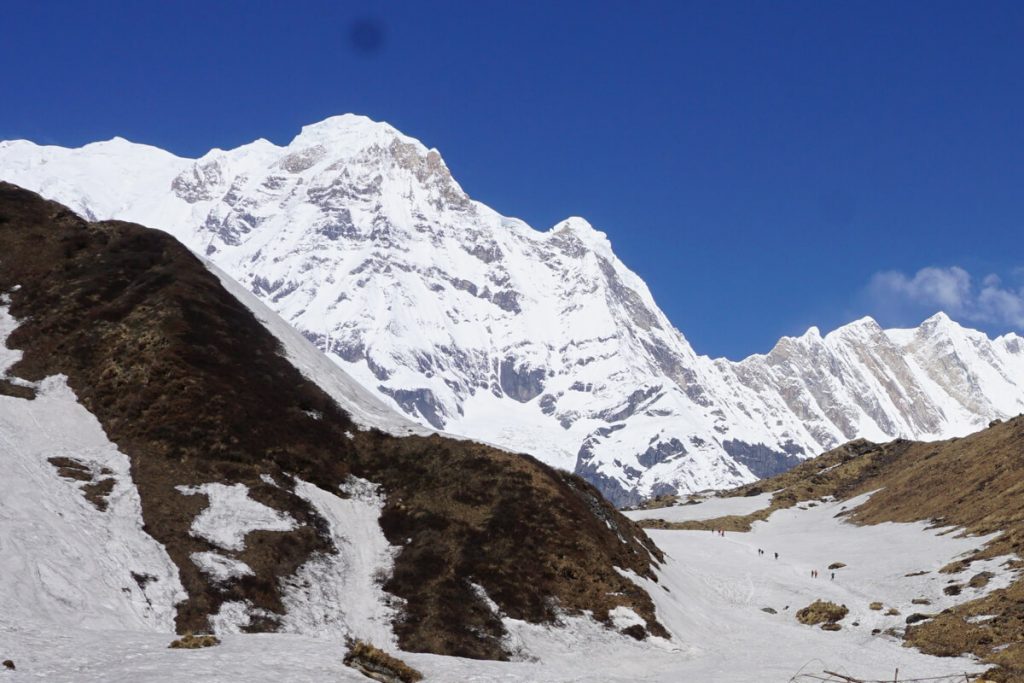 The Annapurna base camp trek brings you close to Mount Annapurna and its neighboring peaks. It is a moderate level of the tour that is suitable for first-time trekkers too! The formidable aura apart, the ABC trek holds several treasures for the mountain lover. The trail traverses through a variety of vegetation. While trekking in this route, you hike through rhododendron, fern, and bamboo forests in the beginning part of the journey. Once you cross Sinuwa to enter the Annapurna sanctuary, the forest becomes dense. Apart from close encounters with mountains and natural vegetation, it is a perfect trekking destination to experience an authentic Nepalese rural lifestyle. Lastly, the journey is an excellent opportunity to glimpse Nepalese culture perfectly mixed in natural abundance in just two weeks in Nepal.
Trip grade: This is a moderate-level trek that progressively starts from low altitude to high elevation.
Highlights:
Strolling around the vibrant lakeside city of Pokhara

Journeying through the charming villages while occasionally interacting with them

Capture the breathtaking views of Annapurna, Dhaulagiri, Himchuli, Macchapuchre, and many more from popular vantage point Annapurna

Crossing Machhapuchre base camp

Meet the shepherds on the way to Annapurna Base Camp with their herd of Sheep

Seeing the Annapurna massif closely from the base camp of Annapurna
Manaslu Circuit Trek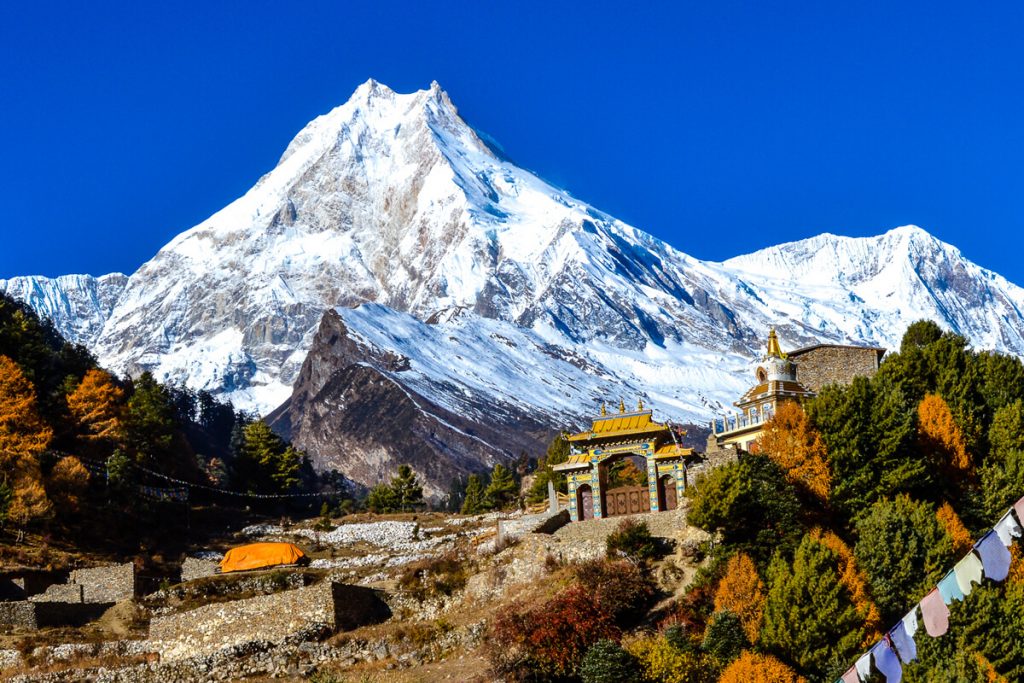 This excellent trekking trail has all the fantastic features that one wishing to do trekking can experience. This trekking region flaunts the cultural, natural, and religious side of Nepal magnificently. The grand monasteries, the gumbas and Mani walls, chortens, and prayer flags are some indications that one will get to see while on this journey. Likewise, it is a beautiful journey to learn about people's lives in Nepal's remote mountains. Henceforth, for your two-week vacation in Nepal, this journey will showcase Nepal's hidden aspects that are blissfully living with its rich cultural values.
Trip grade: Manaslu Circuit Trek is a moderate to challenging trek as it requires crossing one of the highest passes in the country, Larky La pass (5100m).
Highlights:
The tranquil and peaceful nature of the Manaslu region is effortlessly comforting and pleasing.

Crowd-free trekking trail that lets trekkers enjoy the amazing Mother Nature in solitude

Rich social legacy of the locals

The trial entails passing through many chortens and Gompas with varieties of architecture and designs.

Walking through the Manaslu Conservation Area with the possibility of encountering Red fox, Snow leopard, Lynx, Jackal, Brown bear, Musk deer, and many more

Breathtaking views of Mount Manaslu and peaks around it.
Langtang Gosainkunda Trek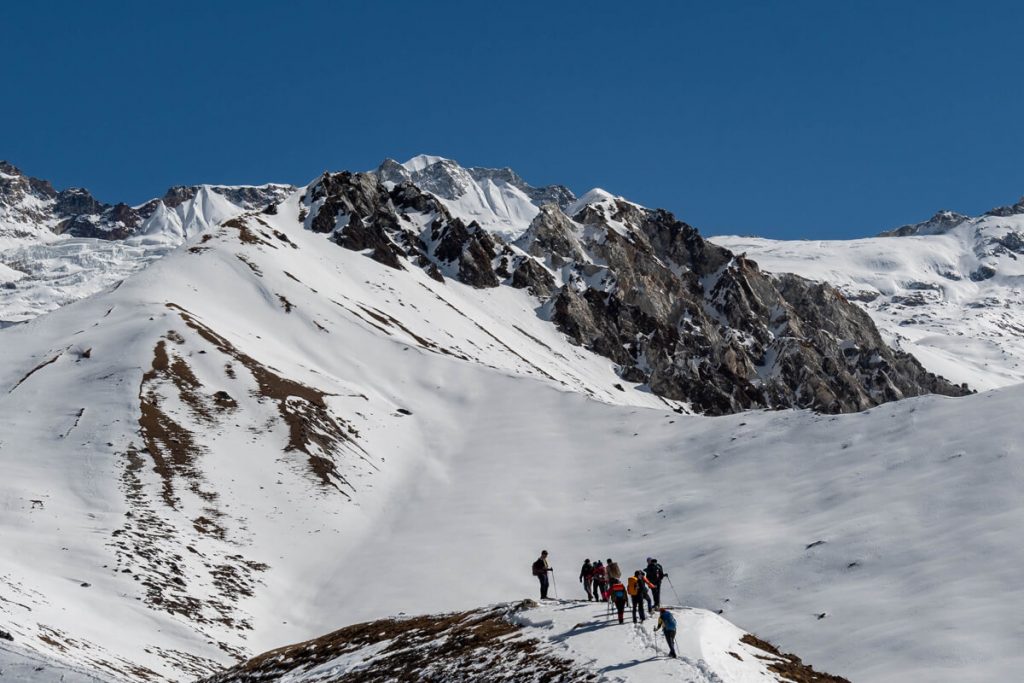 Langtang Gosainkunda Trek offers travelers a scenic picture of cerulean mountain lakes. The journey is flawless and entails passing through peaceful lakes amidst the snow-clad mountains and a perfect destination to spend a two-week vacation in Nepal. Apart from the serene lakes, the journey is also about integrating with the Tamang and Sherpa cultures. These communities are the major ethnic groups residing in the Himalayan terrain of Langtang. And all through the trek route, one will experience their faith and beliefs towards their religion. Travelers go gaga while doing Langtang Gosainkunda Trek because of its stunning scenery and azure lakes.
Trip grade: The trail snakes through the Greater Himalayas within the confines of Langtang National Park. Langtang Gosainkunda Trek is an easy to moderate trek that beginners can attempt if they prepare well.
Highlights:
The journey is full of breathtaking mountains, scenic landscapes, and glacial lakes.

Grand opportunity to experience the warm hospitality of Tamang and Sherpa culture and one would be amazed to see the similarity between the two cultures yet find them uniquely different. Up-close view of Langtang Himal from Langtang Ri

Hike to Kyanjin Ri and explore the awesomeness of Kyanjin valley

Enjoy the scenery of quaint Gosainkunda Lake
Annapurna Circuit Trek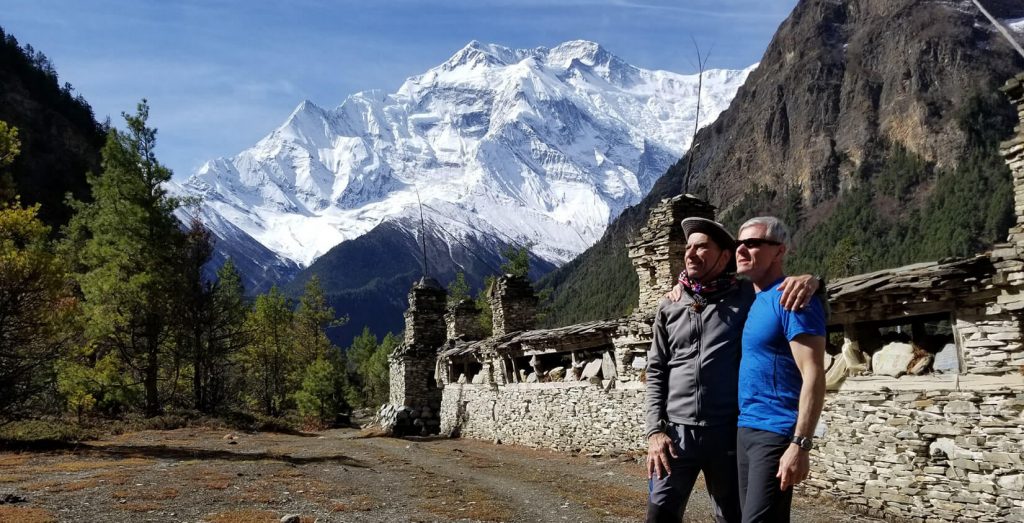 Classic trek of Annapurna region, Annapurna Circuit Trek, is an exciting journey that takes travelers to the arid valleys and green hills of the area at once. And getting to see a geographical transition at once in just about two weeks is genuinely remarkable. In this journey, travelers hike through a lush green forest to barren landscapes towered by sky-dominating mountains. Also, this has long been considered the best trek in Nepal; hence it is called one of the world's classic walks. It follows the Marsyangdi Valley to the north of the main Himalayan range. It crosses a 5416m pass to descend into the dramatic desert-like, Tibetan-style scenery of the upper Kali Gandaki Valley.
Trip grade: It is moderate to the challenging level of the trek that goes beyond 5000 meters.
Highlights:
Explore the mesmerizing high altitude mountain lakes of Ice Lake (4600m) and Tilicho (4920m)

Take the lesser-known trails that avoid the dusty roads

Cross the Thorong La pass and hike across the world's deepest gorge Kali Gandaki Gorge

Trek through the route following Kali Gandaki River

Walk along an ancient trade route that mountain dwellers still use

Engaging mountain culture
Everest Gokyo Lake Trek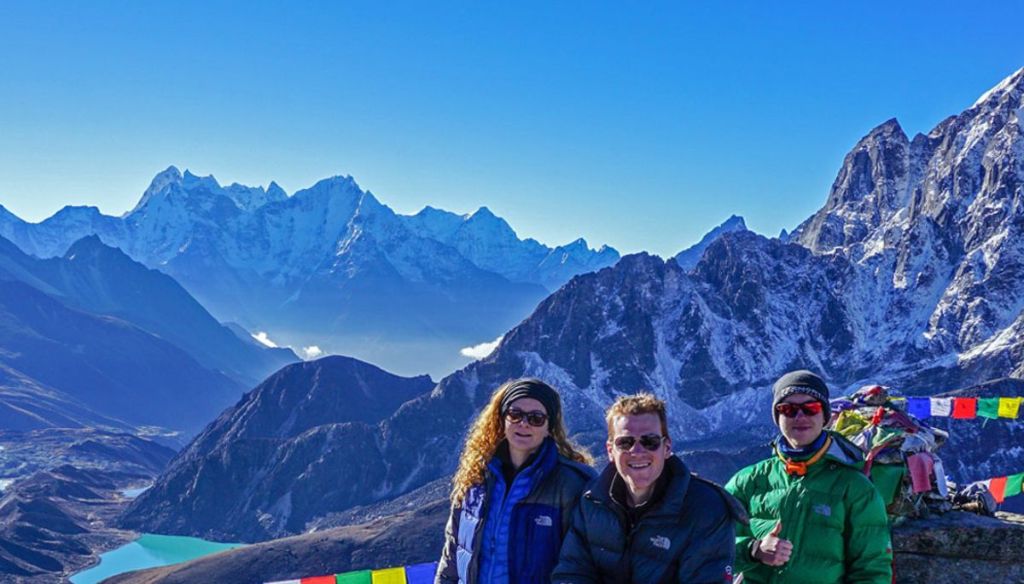 Everest Gokyo Lake Trek is one of Nepal's most delightful excursions to explore if you two-week time in Nepal. The trek offers the magnificence of the Himalayas and a chance to appreciate the sacred pools of Gokyo Lakes. Together with the natural grandeur, you can learn about the infamous Sherpa culture. Additionally, the trek route avoids the regular trekking trail instead takes an alternate way less traveled and less busy than the traditional route to EBC. In this journey, you walk with the stunning mountain views as your companion.
Trip Grade: It is a moderate level of the trek; however, the path is off the beaten and more rugged than the regular EBC trek route.
Highlights:
Enjoy the holy lakes of Gokyo and other high-altitude glacial lakes.

You will visit famous Khumbu villages and settlements like Namche Bazaar, Dole, and Machhermo, among others.

Mani stone walls and small chortens with prayer flags are constantly present along the journey.

Admire the providing a panoramic view of Cho-Oyu, Gyachung Kang, Everest, Lhotse, Makalu, Cholatse, and Tawache & a great-looking Ngozumpa glacier, the largest glacier in Nepal.

Experience the infamous Sherpa culture, tradition, and customs and, most importantly, learn about their lifestyle in Nepal's Himalayan region.
Upper Mustang Trek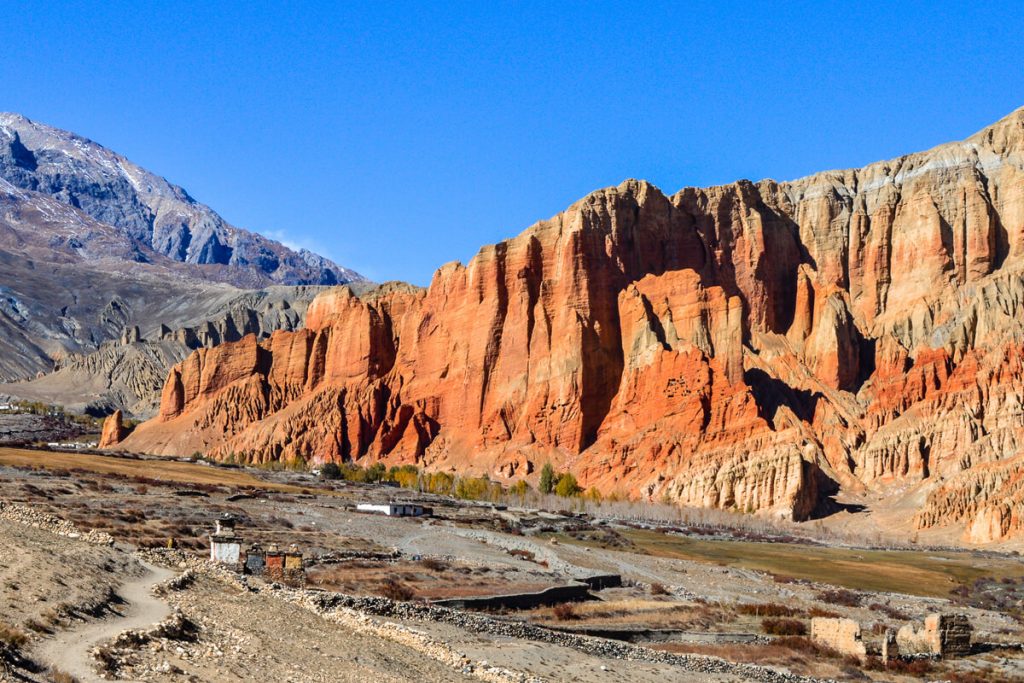 For someone who would like to wisely use their two-week vacation in Nepal by exploring remote yet culturally and scenically profound places, Upper Mustang is the best choice. Trekking to Upper Mustang is unlike any other trekking journey in Nepal. It offers you nostalgic emotions of being amidst the arid valleys and Grand Canyon-like landscape. Upper Mustang is full of majestic landscape views, Trans Himalayas, riverside villages overshadowed by huge naked mountains. Not to forget the sacred villages hidden amidst the barren plateau, which is simply fascinating. Similarly, the rich culture that the region possesses is another beautiful aspect of this fascinating journey.
Trip grade: The journey is a moderate trek level, although it takes place in one of Nepal's remotest parts.
Highlights:
Explore the town of Jomsom- a town notably located at the heart of the district for all the trade and business concerns

The kingdom of Lo, -Lo Manthang

The walled caves and the monasteries, chortens, gumbas

The world's deepest gorge- Kali Gandaki gorge

The village of Ghumsa, Kagbeni, Chele, Yara, and many more
All the treks are either moderate or moderate to the challenging level of expeditions. You do not have to have previous trekking experience to do these treks, which is a plus for first-time trekkers. Although some treks are challenging treks, it is doable. Despite having previous trekking experience, looking to do these treks should have prior preparation for the trek. All the trekking routes require a good amount of cardiovascular endurance. You can begin by jogging every day. Start jogging at a slow pace, then keep increasing your pace day by day. To get prepared for high altitude trek, you should have a combination of distance and speed targets. And by the time of your trip date, you should be able to complete 5 km in 40 minutes. And then you will be ready for the trek.
Conclusion
One can find several things to do while they are vacationing for two weeks in Nepal. From venturing out to do thrilling experiences to solely traveling to Nepalese villages, there are many things to do in Nepal. Nevertheless, trekking is a great way to experience all the magical features of Nepal at once. Through trekking, one gets a chance to get familiar with Nepal's natural abundance while traversing amidst the jungles and charming villages. Trekking allows visitors to be accustomed to the Nepalese arts and culture and grant you an opportunity to see the sights' glorious mountains. And due to that reason, we suggest trekking to anyone with 14 days' vacation time in Nepal. It is rewarding in every way.