Bhutan, the 'Land of the Thunder Dragon', is one destination that is on the bucket list of all nature lovers and Buddhist culture buffs. Located between India and Tibet Autonomous Region of China, this small Himalayan country has been making waves in the tourism circuit because of its natural beauty and vibrant Buddhist culture. Some of the Best Tours in Bhutan offer you a glimpse of this picturesque Himalayan country and let you immerse in its age-old culture.
Why should you visit Bhutan?
Firstly, because it is the only country in the world where more than seventy percent of the nation's total land area is covered by forests. Only a small portion is inhabited by the people.
Second, Bhutanese have preserved their age-old customs and traditions. Though people living in urban areas have adopted some aspects of modern culture, they still follow the rituals and traditions that have been handed down by their ancestors. You will see it in the way they respect their saints and gurus and wear their national attire with pride. Most of the sightseeing sites in Bhutan are ancient Buddhist monasteries and temples. Bhutanese people are more invested in building and preserving spiritual retreats and sites than constructing modern consumerist structures, like shopping malls.
Bhutan remained in isolation for centuries. It's rulers barred outsiders from traveling into the country till the first half of the twenty-first century. It was only in the 1970s that tourism was introduced in the country. The lack of influence from the outside world has led Bhutan to retain much of its vibrant culture and traditions.
Thirdly, the untouched and pristine nature. Bhutanese landscape is filled with humongous greenery which is a balm for your soul and eyes. From the time you land at the international airport in Paro, and throughout your whole trip, you will never be far from the verdant greenery. The verdant hills and tranquil forests will soothe and rejuvenate your senses.
Fourth, because the people are said to be some of the happiest on our planet. The Bhutan government has a system of measuring the country's prosperity through its 'Gross Happiness Index'. For Bhutanese people, who have been following the tenets of Buddhist spiritualism for centuries, their spiritual well-being matters more than their material prosperity.
Lastly, because a huge chunk of your trip cost goes towards funding free education, medical care, and building the country's tourism infrastructure.
If you are convinced that Bhutan is where you should head to for your next vacation, here is a list of the top 5 Best Tours in Bhutan.
Glimpses of Bhutan Tour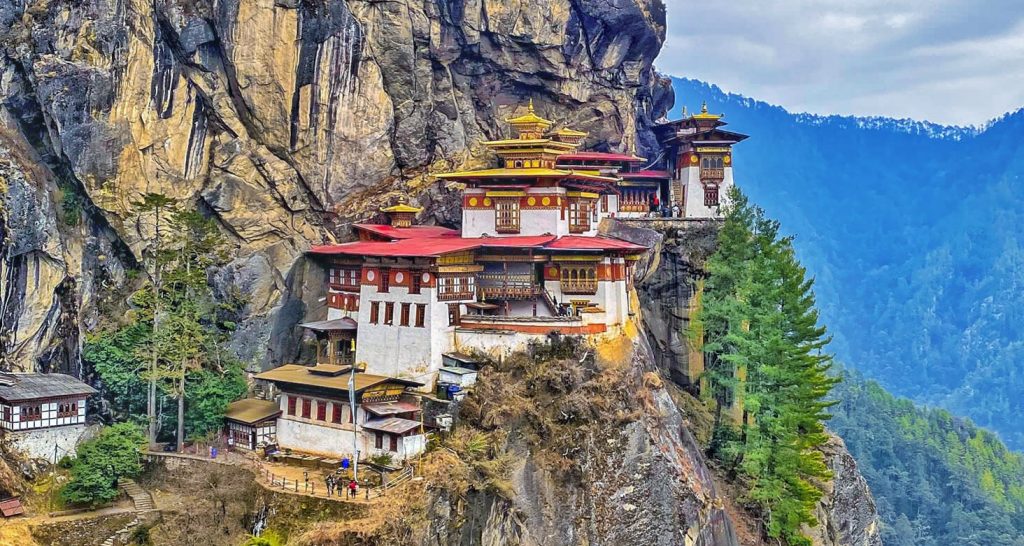 A 5-day tour, the Glimpses of Bhutan Tour will let you experience the cultural highlights of the two prime Bhutanese cities, Thimphu and Paro. These two cities are Bhutan's economic and cultural hubs. Walk around the traditional Bhutanese forts or castles known as dzongs. These forts once inhabited by warriors have now being converted into government offices and monasteries. Excursions to the sacred temples of Kichhu Lakhang, Changkhangkha Monastery, and Wangditsu Monastery will offer you a glimpse of how the Bhutanese worship.
You will be covering all the major tourist highlights of these two cities. But the highlight of the tour is the hike to the cliffside monastery of Tiger's Nest. Hanging on the side of a rocky cliff, this monastery is an architectural wonder as well as one of the important Buddhist pilgrimage sites in Bhutan. Padmasambhava, who is also known as the Second Buddha, is said to have flown to this site on the back of a tigress. His meditation cave lies within the monastery.
4 Days Discover Bhutan Tour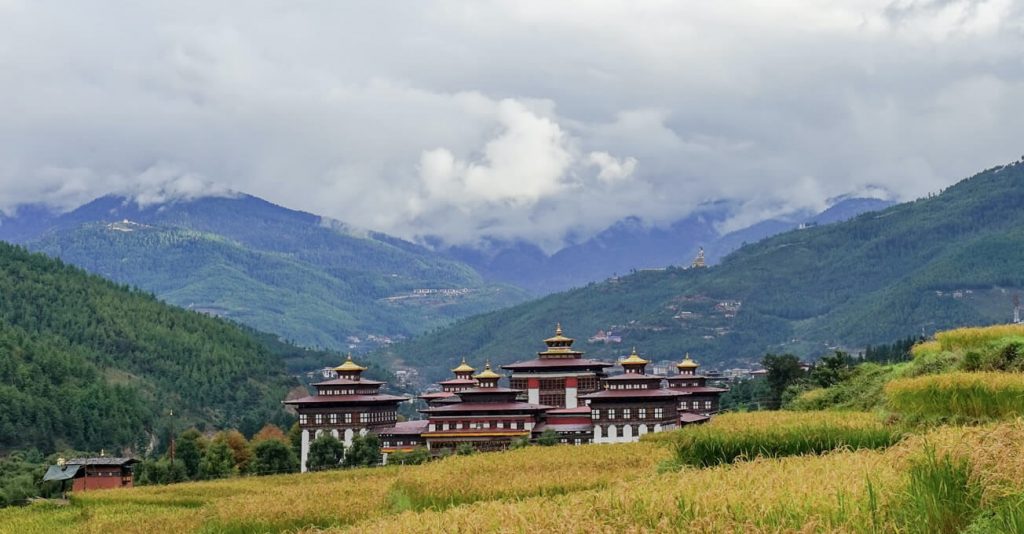 A short and sweet journey, the 4 Days Discover Bhutan Tour is what you should choose if you are running short on time but still want to experience Bhutan. This short tour will let you explore the chief tourist highlights of Paro and Thimphu. In Thimphu, you get to visit Wangditse Monastery, Taschichho Dzong, Folk Heritage Museum, Changkhangka Monastery, Buddha Dordenma statue located on a hilltop overlooking the city and other places.
In Paro, your guide will take you to explore Ta Dzong, National Museum, Kichu Lakhang (the oldest temple in the country), and Tiger's Nest or Taktsang Monastery. The hike to the Tiger's nest is probably going to be the highlight of your trip. The walk up to the monastery that lies precariously suspended on the face of a rocky cliff is one you will never forget. Though a bit hard on your knees (if you are not used to walking) the breathtaking sight of the iconic monastery is worth making the climb. Ponies are available for hire to the halfway point if you are not too keen on walking.
Druk Path Trek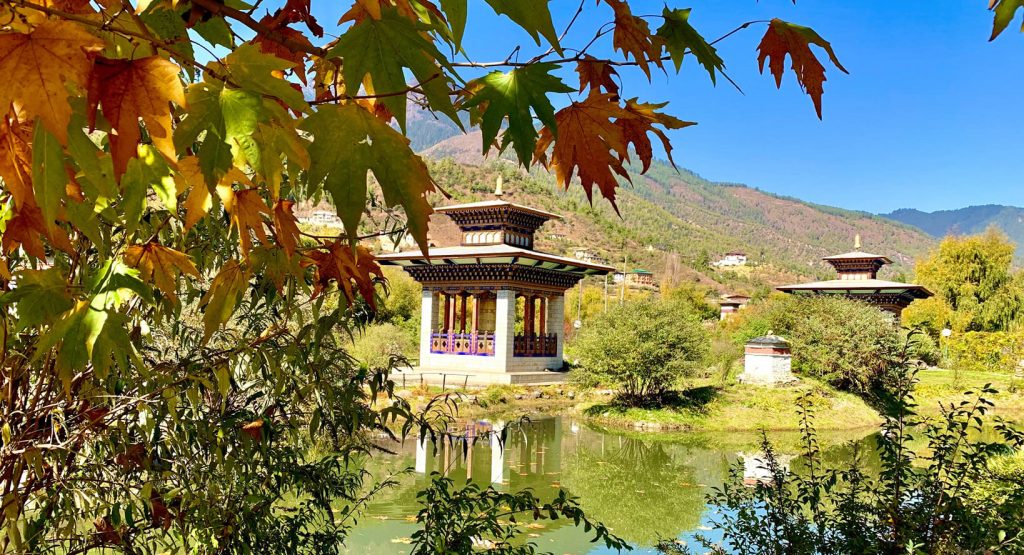 If you want to be at one with nature and experience some classic Himalayan adventure, the Druk Path trek is highly recommended. The route of the Druk Path https://www.nepalhikingteam.com/package/druk-path-trek-with-cultural-tour/Trek traces the ancient foot trail that Bhutanese used to commute from Paro to Thimphu and vice versa in the ancient days before roads were built. You get to experience the old camping style of trekking. There will be a local trekking crew accompanying your group who will be responsible for setting up the tent and preparing food for you. Since there are no lodges or villages along the trail, you will be staying overnight in tents. Pack mules or horses will carry much of the heavy camping gear and kitchen stuff.
It is indeed a pleasure to walk along trails that have so much natural charm and beauty. Along the route, you get to marvel at awe-inspiring sights of Bhutanese peaks like Jomolhari, Jichu Drake, and Gangkar Puensum. You will get to walk past lush green forests of fir and rhododendron, a sacred mountain lake, and solitary monasteries located deep in the woods.
Druk Path Trek which takes only a week is a great way to experience Bhutan's untouched wilderness and soak up the Himalayan sights.
Bhutan Experience Tour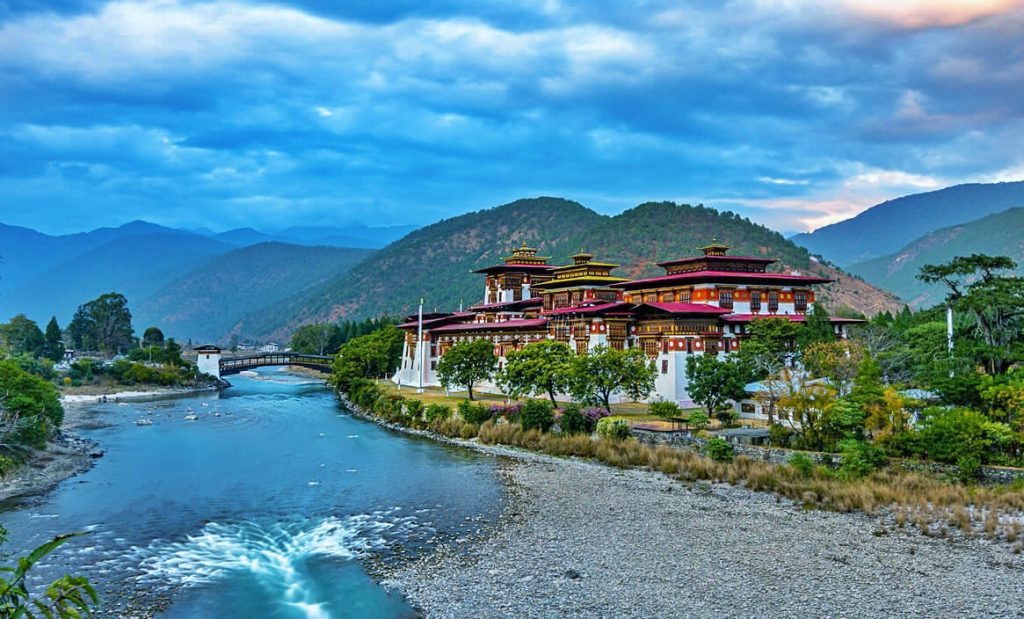 In 10 days find out what makes Bhutan one of the best cultural destinations in South Asia. The 10-day Bhutan Experience Tour is one of the Best Tours in Bhutan and takes you to all the major cultural hubs of Bhutan – Paro, Thimphu, Punakha, and Bumthang. Visit monasteries and interact with the monks. Witness the prayer ceremonies (if you are lucky) and get blessed by the maroon attired lamas. You will get the most from your journey if your visit during one of the Buddhist festivals or Tshechhu. Then you will get to experience colorful and vibrant ceremonies filled with masked dances, skits, and rituals that will remain etched in your memory for a long, long time. Walk along with ancient dzongs or fortresses.
Find out more about Bhutanese history by visiting the museums at Paro and Thimphu. Rub shoulders with the local Bhutanese by visiting local markets and bazaars where you will find locally crafted handicraft items that will be ideal for gifts or souvenirs. Drive to Punakha, a city that was once the capital of Bhutan. Cross the ancient wooden cantilever bridge at Punakha Dzong, an iconic Bhutanese castle lying at the confluence of the Mo Chhu and Po Chhu rivers.
Make your way to the heart of Bhutan and visit Bumthang. Find out more about the typical way of life in rural Bhutan. Cross suspension bridges and walk past lush paddy fields. Stroll around the Bhutanese countryside and visit Bhutanese farms. Interact with friendly locals and make some friends. Experience Bhutanese hospitality and try out Bhutanese cuisine. While traveling through these cities you will get to cross some epic mountain passes. Take time out to stop and take in the breathtaking Himalayan panorama that one can enjoy from these passes.
Explore Western Bhutan
If you are looking for an immersive Bhutanese experience this is the trip for you. The eight-day Explore Western Bhutan Tour is a blend of cultural and natural experiences. It takes you to the major Bhutanese cities like Paro, Thimphu, and Punakha and the ecologically rich and bio-diverse hub of Punakha. After visiting the tourist sites in Paro and Thimphu, you visit the marshland of Phobjika valley. Phobjika is the nesting site of the Black Necked cranes, a bird that holds an important place in Bhutan. For Bhutanese, these birds are sacred and thus protected. During winter when these birds migrate to Bhutan from Tibet, a festival is held at the Gangtey Gompa (Monastery) to welcome these birds. Expect loads of nature walks and short hikes.
You may also try your hand at archery or 'Da' which is the national sport of Bhutan. Archery is one of the major recreational activities of Bhutanese men. They congregate at open fields or stadiums and try their hand at hitting the bull's eye on the target. The games are filled with boisterous singing, dancing, and laughter as rival teams try to outdo each other. When a team misses the target the rival team pokes fun at them by breaking into funny songs and dancing.
Conclusion
These tours which are probably the Best Tours in Bhutan, will let you experience and explore Bhutan according to your time frame. You can choose your package as per your budget. There are standard packages available where you will be accommodated at 3-star hotels and resorts. If you want a luxurious vacation then you can choose a 5-star or luxury package. You can also choose homestays if you want an authentic Bhutanese experience. Just make sure that you can rough it out and can make do without the creature's comforts.