For those seeking transcendence, there are myriad religious sites in Nepal. With the country harmoniously integrating the two world's oldest religions- Hindu and Buddhist, there are many fascinating religious places in Nepal. These sacred destinations of various faiths help maximize Nepal's spiritual experience and promote state tourism. These magnificent sites, spread around the country, are where spirituality and enchantment collide. Some holy places of Nepal are located in an extreme location where reaching is possible but not for faint-hearted people.
Moreover, Nepal has a glorious past relating to the significant figures of Hindu and Buddhist mythology. As per the myths, some deities have visited or had origin in Nepal. And to remunerate their presence in the country, there are some shrines dating thousands of years back, which are now holy places of Nepal. These attractions in the beautiful locations have an intriguing history and offer peace and tranquility to visitors. Similarly, few of the oldest religious sites in Nepal are treasured as the holiest places on the planet to perceive/receive redemption by Hindus and Buddhists followers.
Similarly, Nepal once used to be the only Hindu country in the world. But with time, it changed to a secular nation. Nevertheless, the citizen respects each other culture, religion and observe festivity harmoniously. Given that, here's a compilation of top religious sites in Nepal.
Pashupatinath Temple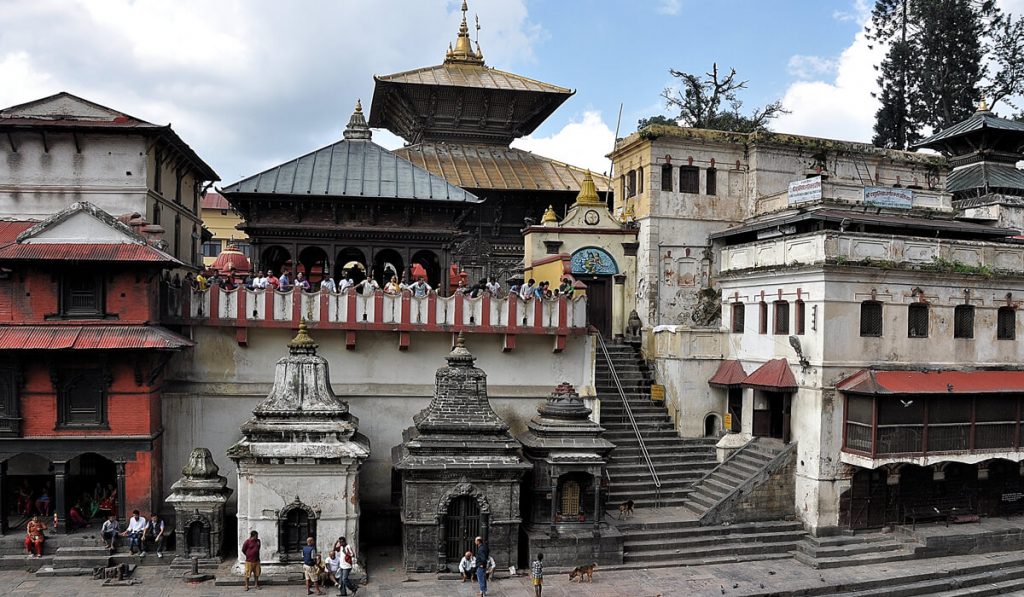 Dedicated to Lord Shiva, the Pashupatinath temple is one of the holiest temples of Nepal for Hindu followers. Although it is a sacred place for Hindu pilgrims, all religious followers can visit the temple except the main temple. Pashupatinath temple is one of the world heritage sites of Nepal under UNESCO. The temple adorns the concentration of the temple; thus, visitors can experience a holistic experience. Moreover, it is one of the important cremation sites. Therefore, visitors can observe the last rites and rituals of Nepalese for the departed ones. Along with that, one can also notice major Shiva devotees- Sandhu's with unique appearance.
Boudhanath Stupa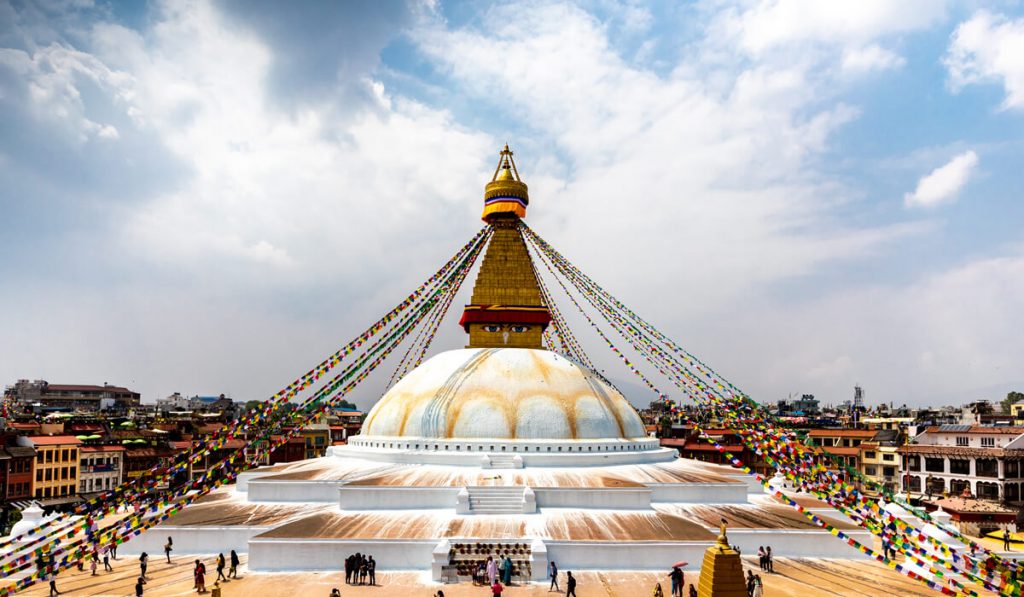 Boudhanath stupa is a holy place for Buddhist pilgrims. This sacred stupa is in mandala structure and is the largest dome shape stupa in the world. The stupa is not far from Pashupatinath and is revered by Buddhists as a holy pilgrimage site. It attracts thousands of Buddhist pilgrims from far and wide. Around it is countless monasteries that draw not just devotees but also students of Buddhism worldwide. This sacred site is always buzzing with visitors and pilgrims, and the air is thick with the smell of burning incense. Also, there is a belief that if you round the dome spinning the brass three times, the mighty lord will fulfill your wish.
Swayambhunath Stupa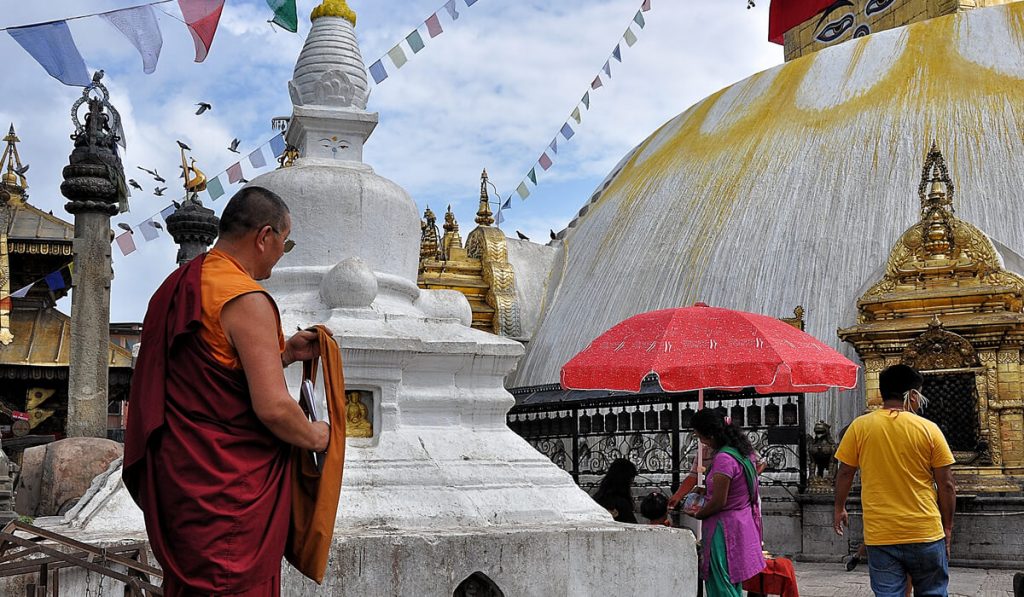 Another UNESCO heritage site and a religious site- Swayambhunath stupa is an important holy place in Nepal for Hindu and Buddhist pilgrims. Perched on the hilltop, Swayambhunath stupa is an ancient Buddhist stupa with numerous temples surrounding the main stupa. Along with temples of different Hindu deities, this famous pilgrimage site has many monasteries in its vicinity. Every day, pilgrims of both religions visit the stupa and worship; thus, visitors can see practices and worshiping styles of two different religions.
Gosainkunda Lake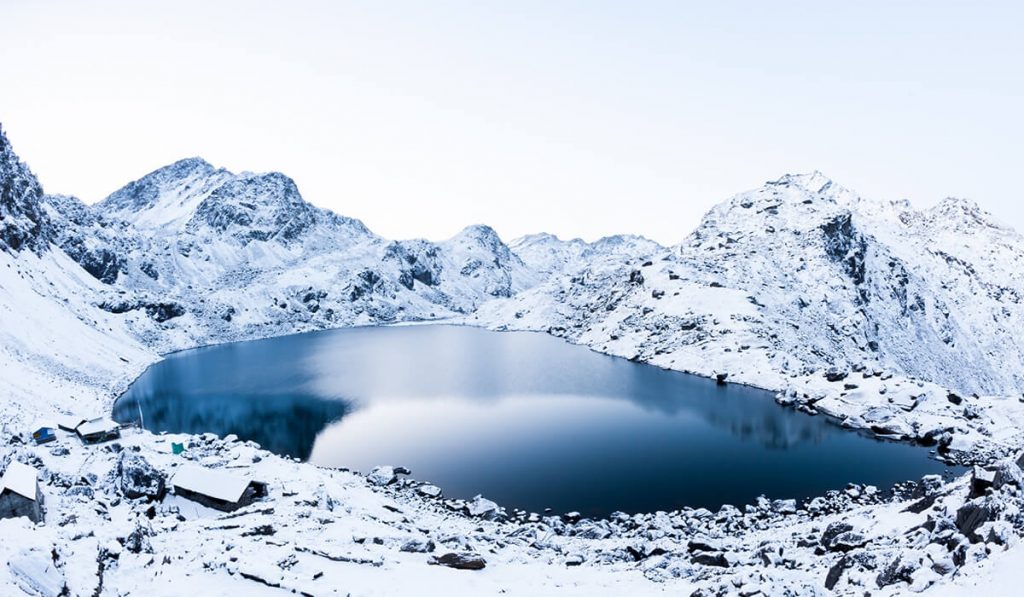 Gosainkunda Lake, located in a stunning Langtang region of Nepal, is a beautiful sacred lake. The Lake overflows with pilgrims during the Janai Purnima and Gangadashahara- some of the grand festivities of Nepal. It lies at the height of 4380 meters; thus, it is also suitable for adventure journeys with being a holy place. With fine views surrounding the Lake, these pilgrimage sites equally welcome trekking enthusiasts as well. As per the Hindu myth, Shiva and Gauri's Hindu idols lived here, making this place sacred and holy. Other than the festive season, this Lake is relatively free of pilgrims. But the scene of this sacred place during the festive season becomes exciting and spiritual.
Badimalika Temple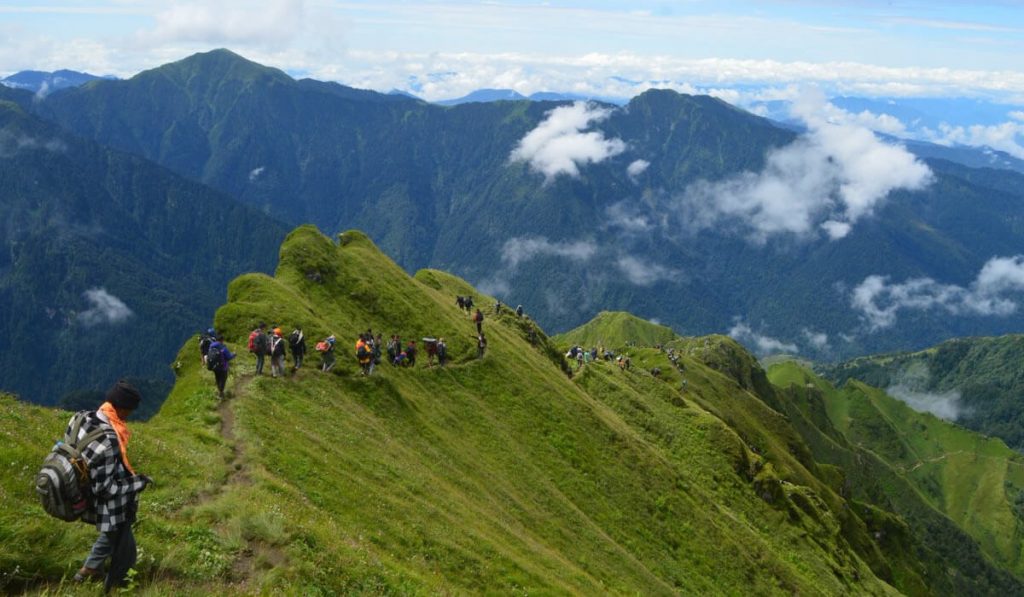 A temple dedicated to Goddess Sati, wife of Lord Shiva, is one of the auspicious temples of Nepal. This holy place is Shakti Peethas, which means a place for worship. When Lord Shiva was carrying his dead wife, who had jumped into the burning fire, few body parts were fallen as per the myth. And this holy place was one of the Shakti Peethas. Badimalika temple lies in Bajura district and is considered a small temple but holds high regard and is situated in a stunning location. Reaching here is another challenging part but totally worthy of views and liberation.
Pathivara Temple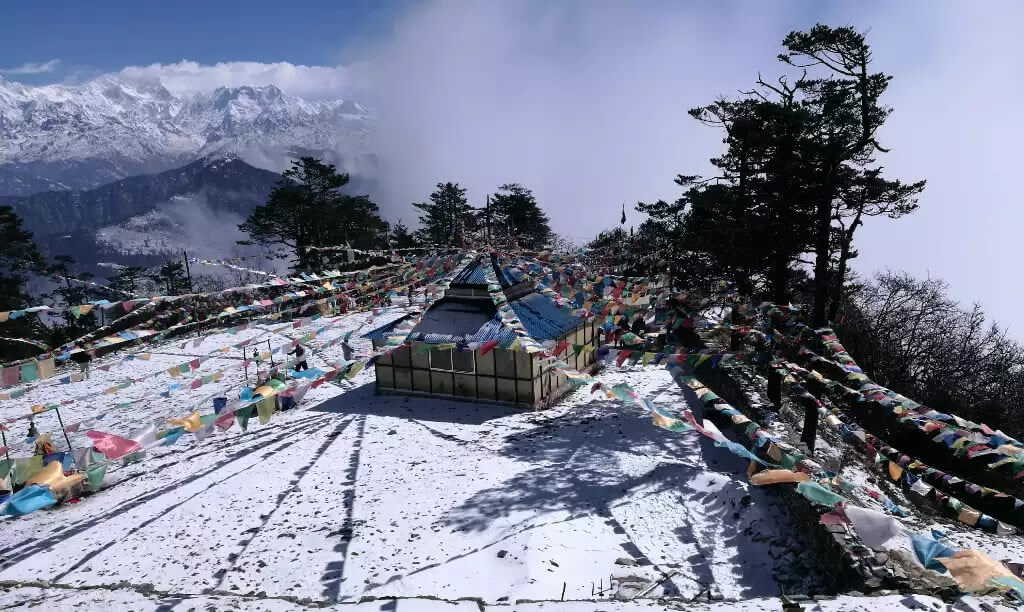 Located in the Taplejung district, Pathivara temple is among the important religious places in Nepal. To reach here is not easy thus tests our devotion and patience. Moreover, during unfavorable weather, the climate becomes another challenging at the same time, thrilling journey to Pathivara. Additionally, it lies in the Kanchenjunga conservation area; journeyers also reconnect with Mother Nature's sheer elements. Diverse flora and fauna frequently greet pilgrims making their way to the temple. Pathivara is also part of Shakti Peethas thus is widely popular. Worshippers come from all across Nepal and India to worship the Pathivara deity, particularly on special occasions. The Goddess is believed to be powerful and fulfill the wishes of those who visit her temple and make offerings.
Halesi Mahadev Temple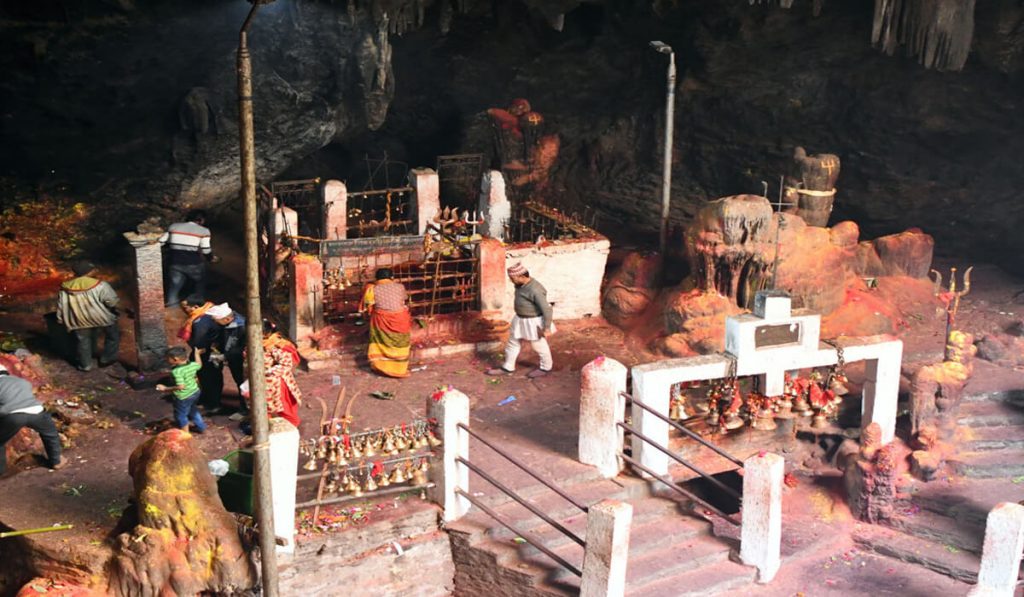 Halesi Mahadev is another incredible religious destination of Nepal. Regarded as the Pashupatinath temple of west Nepal, the journey to Halesi is consider soul-touching. The temple is inside a cave in the remote Khotang district of Nepal. There are two big caves in Halesi, which is also famous as Matrica Cave. According to the myth, Halesi Cave has been used as a dwelling for six thousand years. Lord Shiva used the cave as a hiding spot from demon Bhasmasur. This temple is crucial not only to Hindu followers but also to Buddhist pilgrims and Kirantis. Kirantis are the people from the Rai community of Nepal. For Buddhists, this place is associated with Padmasambhava. Likewise, Kirantis worship their ancestral deity Khokchilipa also known as Raichhakule.
Lumbini- the birthplace of Lord Buddha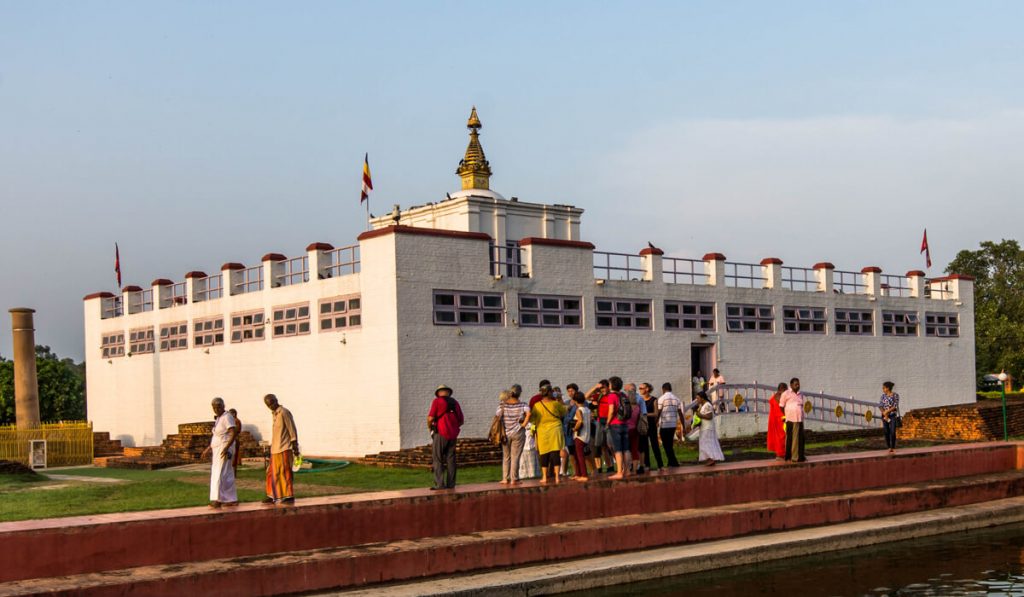 Famous for being the birthplace of the Lord Gautam Buddha, Lumbini is held in sanctity by Buddhists and Hindus alike. The colossal temples and monasteries that fill up the pilgrimage sites foster a complacent feeling of devotion. With historical landmarks such as the Ashoka pillar and Maya Devi temple, the pilgrimage site is full of temples and monasteries built by Buddhist nations. People mostly visit Lumbini in a quest to meditate and study.
Tengboche Monastery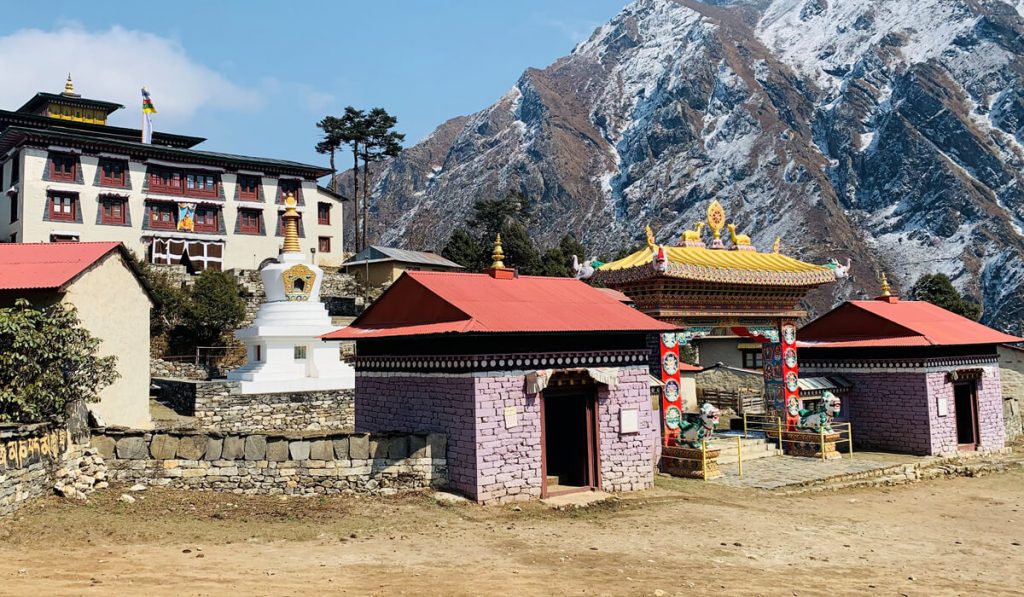 Under the shadow of Mt. Everest, the iconic monastery lies on a hilltop at the confluence of the Dudh Koshi and Imja Khola. Tengboche monastery is a prominent Buddhist holy place in Nepal, particularly for the Sherpa population. The Rinpoche of Tengboche monastery in Khumbu valley commemorates every significant occasion. Besides being one of the influential holy places in Nepal, the monastery is also one of the famous destinations for trekking. Mani stones, prayers, flags, and elaborate designs decorate the building of Tengboche, offering a glimpse at the artistic influence of Tibetan culture. Moreover, here visitors can taste patience and mindfulness, which are the central tenets of Tibetan Buddhism.
Manakamana Temple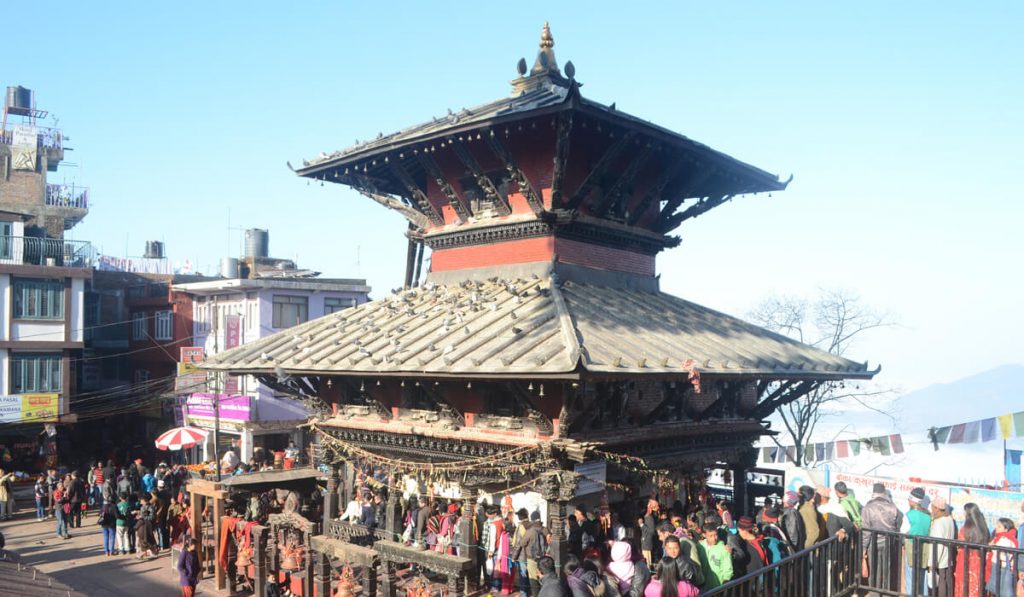 One of the famous Hindu temples, Manakamana, is popular for its intriguing history and belief surrounding the temple. The temple lies in historical Gorkha and is one of the spectacular locations. The name Manakamana is a configuration of two Nepali words. Mana means heart, and Kamana means wishes. Thus there is a strong belief that any devotees that visit this sacred temple get their wish fulfilled. The temple is dedicated to Goddess Bhagwati, an incarnation of Goddess Parvati. Being an incarnation of Parvati, this temple is flocked chiefly by pilgrims during the festival of Dashain. From the top of the temple, breathtaking views of mountains like Manaslu and Annapurna and rivers like Trishuli and Marshyangdi are visible.
Muktinath Temple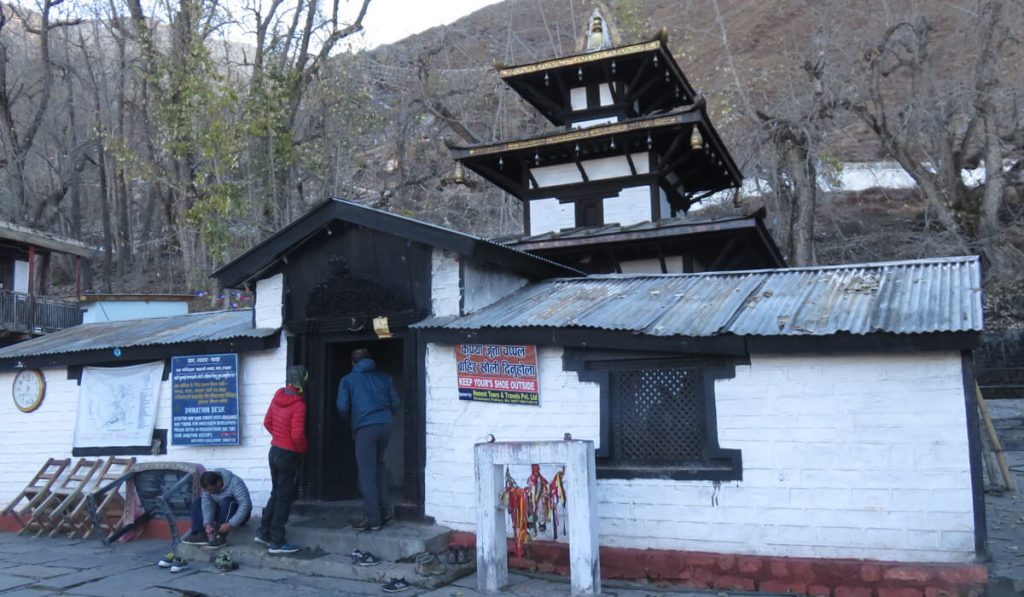 Muktinath, at 3,710 meters, is a sacred place to both Hindus and Buddhists. There is a strong belief that one might find emancipation from the cycle of birth and reincarnation. Moreover, the name Muktinath literally means a place for liberation. Muktinath temple lies at the Thorung La (Pass) foot, which one can pass during their Annapurna circuit trek. The vistas of the snowy Himalayas and the arid, rocky landscape of the Mustang are breathtaking on a clear day. Moreover, this temple is a sacred religious site for Hindu, Buddhists, and Jain alike.
Budhanilkantha Temple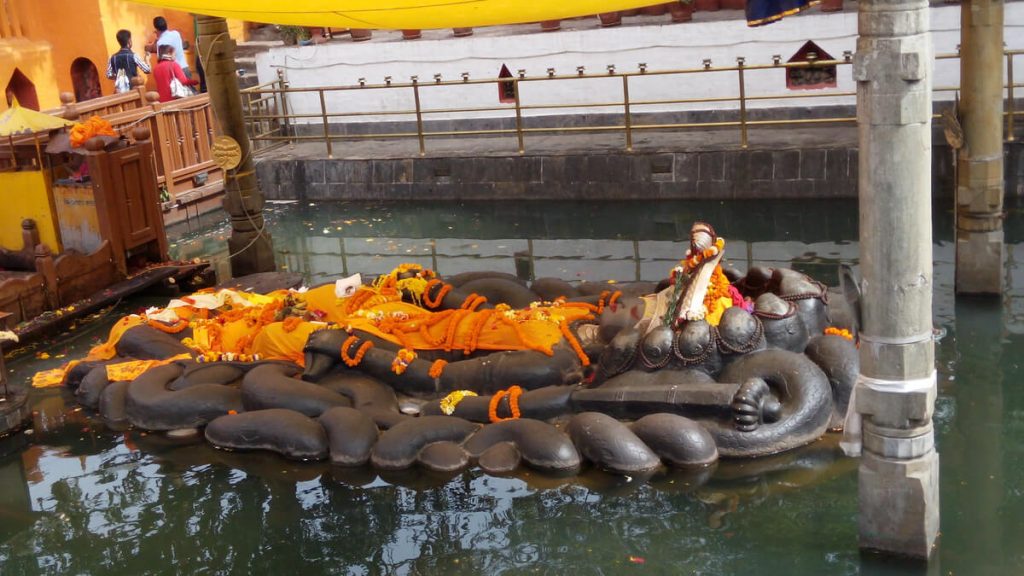 Budhanilkantha is a Lord Vishnu temple located at the base of the Shivapuri hills. The statue of Lord Vishnu may be seen floating on the sacred pond, resting in the bed of a serpent known in Hinduism as Sheshnag. This temple has the biggest stone sculpture in Nepal and a substantial reclining figure of Lord Vishnu. The exquisite patterns on this stone statue are a piece of artistic beauty. Devotees from all over the world, particularly Hindus, come to pay their respects to the God Vishnu. Numerous legends are surrounding the origins of this lovely shrine.
Dakshinkali Temple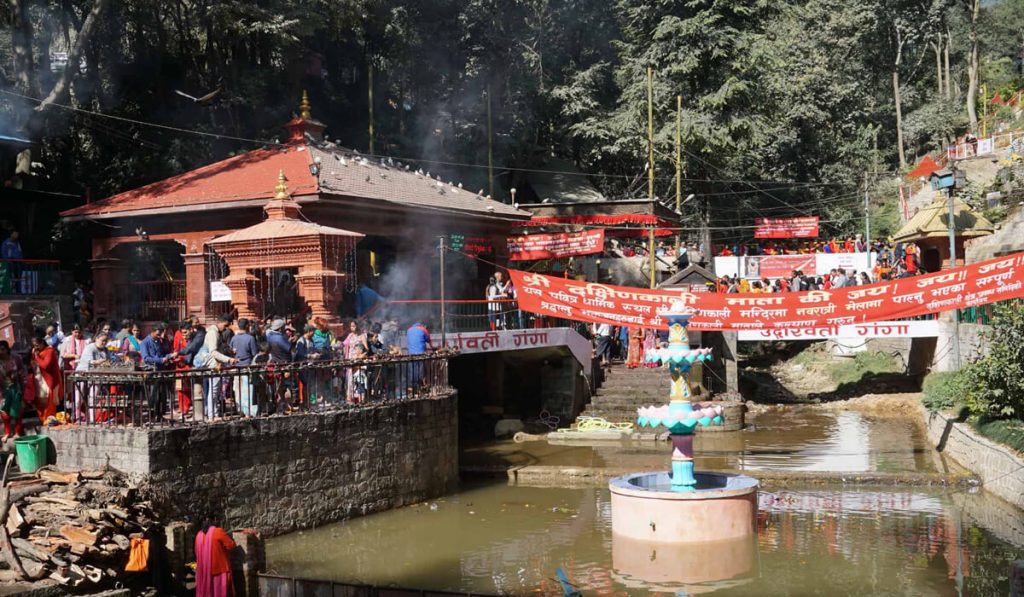 Dakshinkali is Nepal's most prestigious temple, located near Pharping, 20 kilometers south of Kathmandu. Deity Kali, who is deemed as a powerful goddess, is venerated in the temple. According to locals, Goddess appeared in Malla King's dream and told him to build the temple at that location. Goddess Kali is a different manifestation of Goddess Parvati. Goddess Kali is a fearful and destructive manifestation of Goddess Parvati. The temple is primarily visited during the Dashain festival for religious purposes.
Dolakha Bhimsen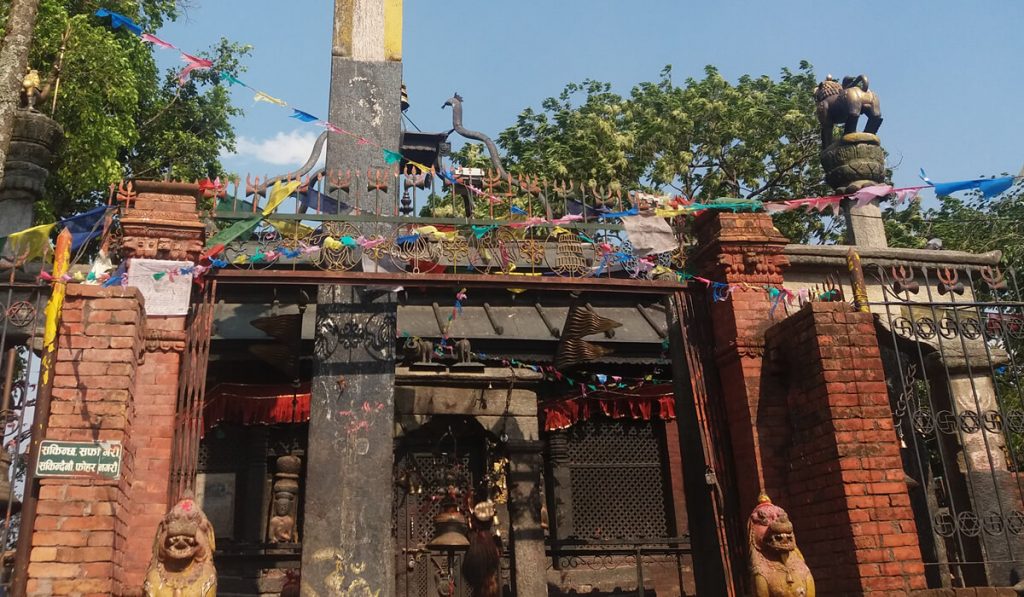 Under the shadows of Mt. Gaurishanker in Dolakha district lies one of the pertinent religious sites of Nepal. Dolakha Bhimsen is traversed primarily by Hindu pilgrims for a prosperous life and family and wishes no harm befall them. The temple has an electrifying aura and offers a tremendous spiritual feeling to visitors. The temple is dedicated to Lord Bhim Sen, who has three reincarnations as Bhim Sen himself, Goddess Bhagwati, and God Shiva. There is a significant myth surrounding the temple. If the idol of the Bhimsen sheds sweats, it means something disastrous will happen to the country.
Janakpur Temple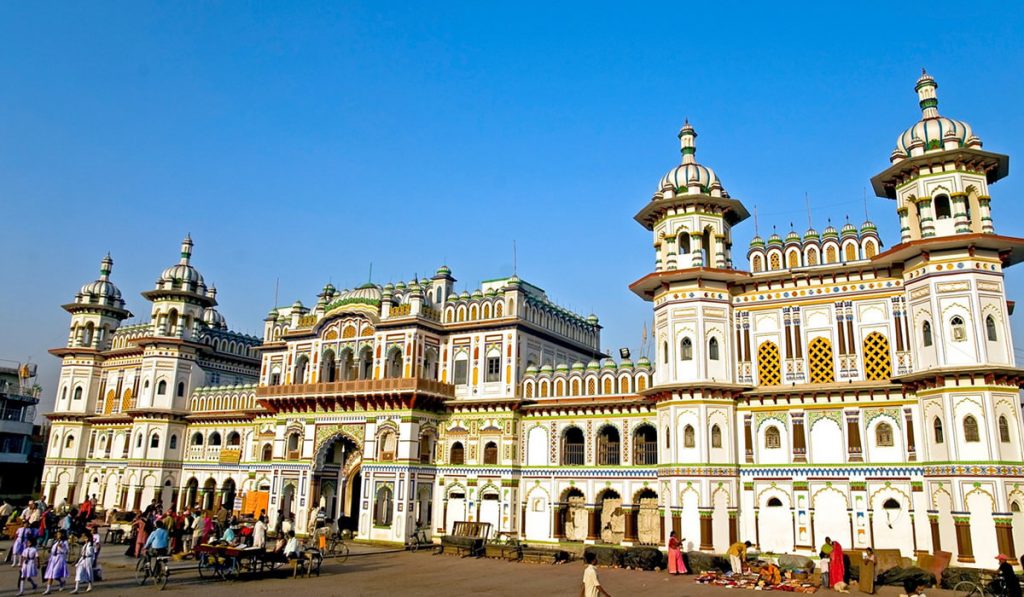 Flaunting Koiri architecture, the Janaki temple of Janakpur is one of the important Hindu temples of Nepal. The temple is dedicated to Goddess Sita, wife of Lord Ram, who was born in Janakpur. This holy temple is religiously affluent and thus has Hindu pilgrims visiting from all parts of Nepal and India. Together with being the sacred Hindu site, Janaki Mandir is also the famous touristic destination of Nepal. The large temple with engravings, Mithila paintings, and beautiful lattice windows and turrets, this temple is one of the picturesque temples of Nepal.
Final Words
In Nepal, spirituality and religion are part of everyday life. Personal devotional beliefs, rituals, and temple worship have created the most fantastic architecture. Moreover, Nepal is known for its rich past and cultural heritage. Every corner of Nepal depicts the different styles of Nepal and offers the beholding beauty and richness of these places. Therefore, anyone particularly interested in learning about the intriguing holy places of Nepal chooses anyone from them. Spectacular location and craftsmanship, as well as the architectural wonder, will leave you speechless.