In Nepal, trekking is a bold adventure that is epic in proportion. From the Himalayan wonderland to the arid desert-like environment, Nepal is most definitely a destination of many features and virtues. Biodiversity and multiculturalism are just only some of the country's many offered aspects for a beautiful trek. And in this article, we shall be discussing about trekking in Mustang- perhaps Nepal's most enigmatic and mysteries trekking destination.
Mustang is one of the less known trekking destinations of Nepal. It is a mystical and culturally rich region that is excellent for summer trekking. As a matter of fact- speaking about religion and culture, Mustang is considered one of the last places on the planet where one can find unsullied Tibetan Buddhism culture still being practiced as it was centuries ago. Moreover, Mustang also has a very rich history; it was once a hidden kingdom that flourished and prospered off the trading route that it controlled.
Trekking in Mustang began fairly recently on the year 1991. Before this, it was sealed off to foreigners. This made it possible for the culture in Mustang to thrive without any outside interference. Furthermore, this also made trekking in Mustang a matter of exploring a less-trodden trekking path for people who prefer a quaint and unique trekking experience. The region itself is situated on the borders of Tibet, and presents a unique rain-shadow terrain guarded by the mighty Annapurna and Dhaulagiri Himalayas. It is because of this feature of Mustang that makes trekking in the region during the summer an appealing prospect, as other trekking destinations in the country become wet and soggy with summer showers, but not Mustang! Similarly, this is also a direct cause of the arid environment of Mustang; to say that Mustang is different would be an understatement.
Perhaps on one of the best features of trekking in Mustang is its cultural opulence. The region is filled with many historically significant sites. The hills are eroded, and the rock formations of the region are a beauty to behold in themselves. One of the last remaining Forbidden Kingdoms- Mustang is a vestige of natural and religious marvels. Here are top 7 reasons to trek in Mustang-
1. Trekking in Mustang- "the Forbidden Kingdom of Lo"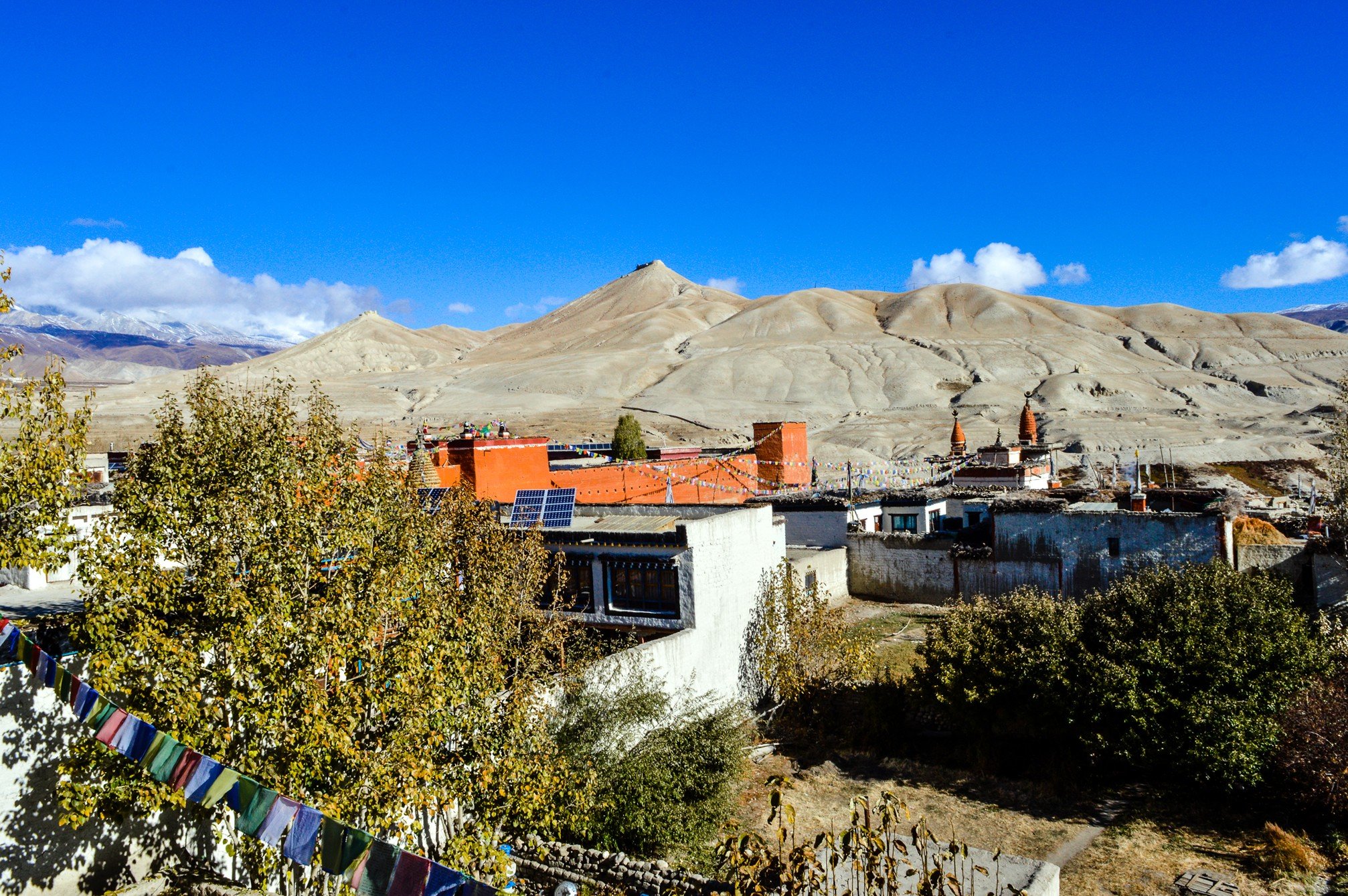 Trekking in Mustang is like going back in time. The region has managed to play itself as a time-capsule that has captured the historic Tibetan Buddhist culture as it was practiced thousands of years ago. The region is also home to many caves that affirm the settlement of prehistoric colonizers.
Many chronicles and legends in Tibet have also mentioned Lo Manthang in Upper Mustang since the prevalence of the seventh century. According to the region's history, the walled-capital of Lo Manthang was constructed by a warrior from western Tibet after defeating the local warlords that ruled the land.
Correspondingly, in the historical aspect- the kingdom of Lo Manthang also occupied a strategic position with regards to the trade route between Tibet and India- making the kingdom one of the most powerful kingdoms in historical Nepal.
2. Summer Trekking in Mustang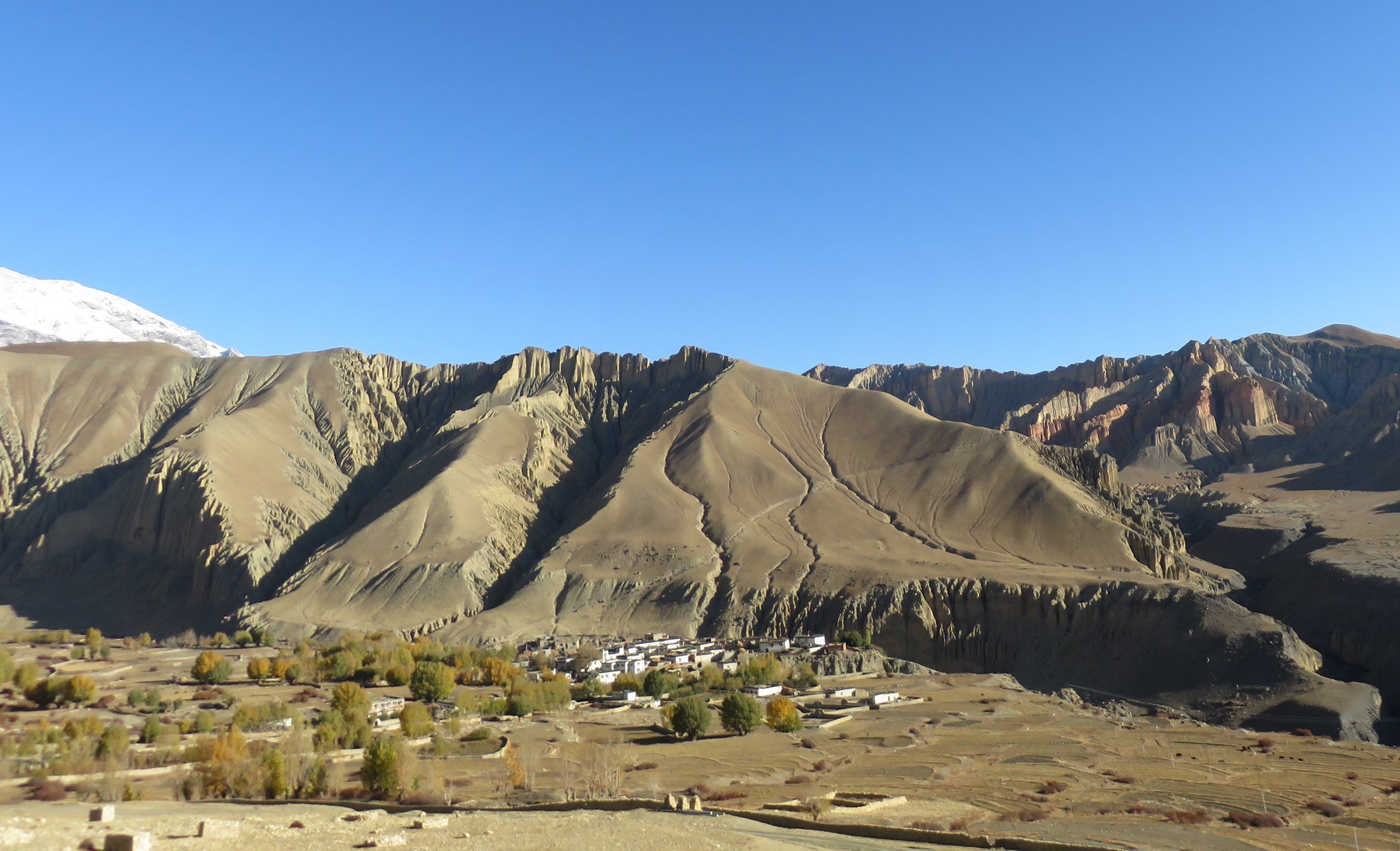 Most of the destinations for Nepal Treks present a verdant environment with Himalayas shadowing green river valleys and terrace-farms littering the topography. But not Mustang! The region is located on the peripheries of the Kali Gandaki Gorge- one of the deepest gorges on the planet. With much of the region's land being high steppes, the terrain of Mustang presents a picture of sparse vegetation and snow with strong winds and even stronger rock erosions.
As Mustang lies on the rain-shadow zone of two prominent Himalayan peaks, the region experiences very little rain. As such, May to September is ideal time for trekking in Mustang!
3. Religion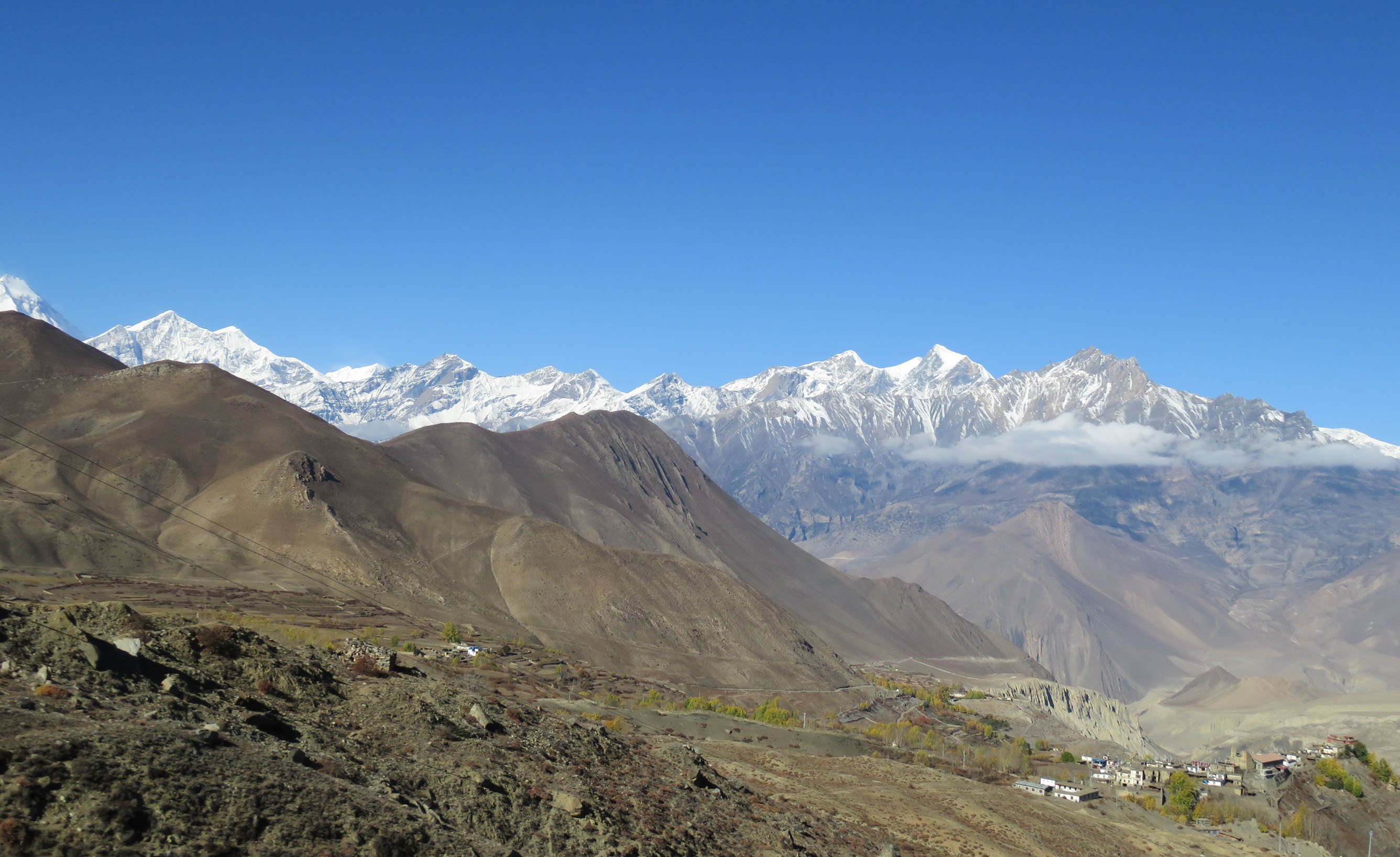 Almost exclusively populated by the Tibetan Buddhist population, Mustang is a destination closely bonded with Tibet. Trekking in Mustang offers a beautiful experience to have a look at the culture that remains unsullied since it was first introduced centuries ago. Achieving such a grand feat, Mustang remains a safe haven for an incredibly rare religious ethnic group not found anywhere else on Earth.
Moreover, Mustang is also a cornucopia of many Tibetan Buddhist art and artifacts from history. Wall paintings, Tibetan idols, statues and Thanka paintings adorn many monasteries of the region. The religion's nurturing and flourishment makes for a very spiritual trekking experience.
4. Mysterious Caves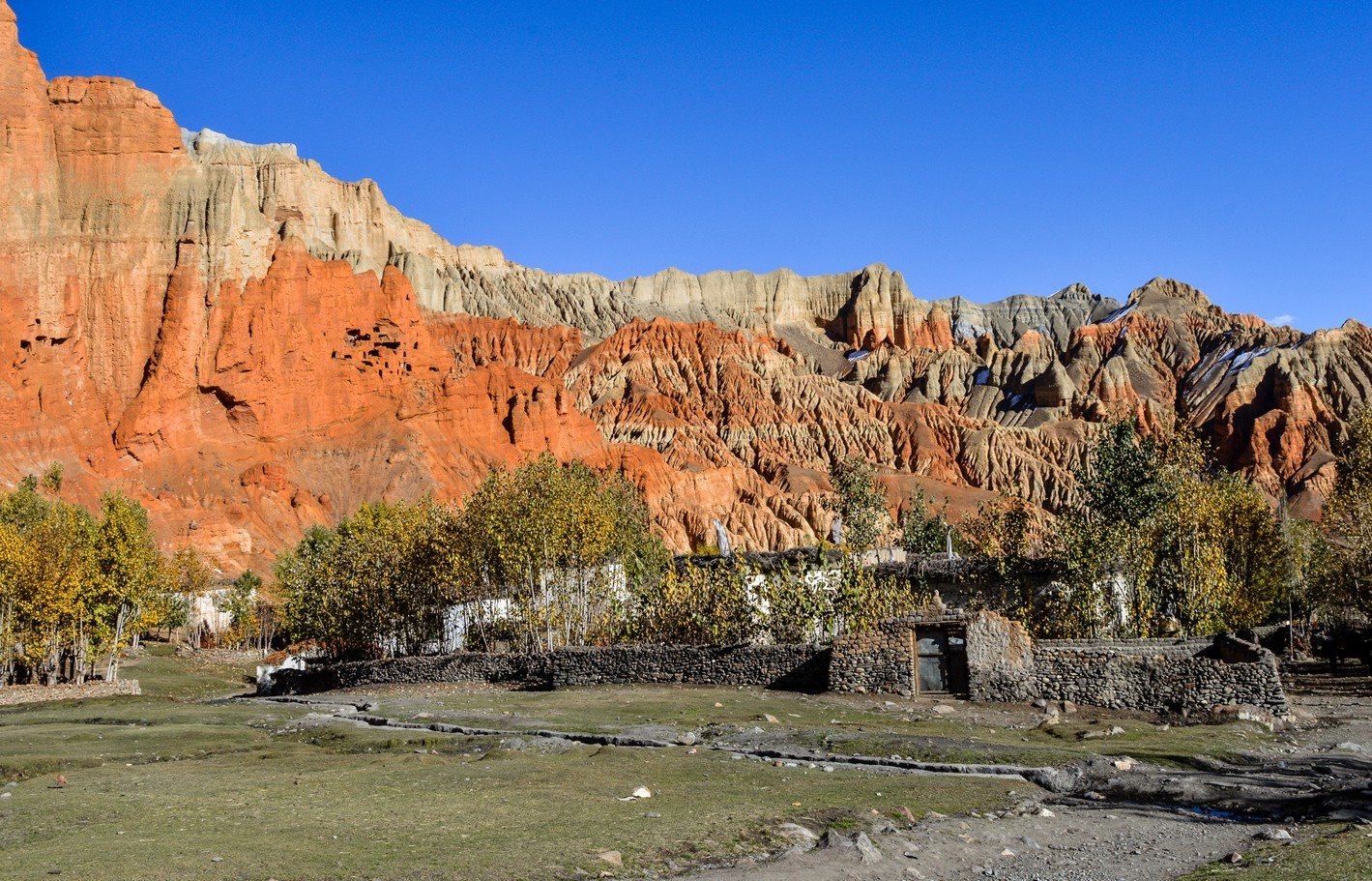 Trekking in Mustang is as much a treasure-hunt as it is an actual trekking adventure. Littered with both man-made and naturally occurring caves, the region is home to over ten thousand hollowed spaces on rocks and grounds. Although research on the mysteries caves of Mustang has only been going on since 2007, researchers have found wonders of caves dug into cliff sides and tunneled in from above. Considered archeological mysteries, the caves are fascinating to explore while trekking.
5. Tiji Festival
One of the most well-known and religiously revered festivals celebrated in Mustang- the Tji festival is an event of religious ceremonies, colorful attires and depiction of myths and legends in the form of folk dance and songs. While trekking in Mustang in the summer, one can experience this wonderful and unique phenomenon. The people of Lo celebrate the festival to ward off suffering from the region. It is a hallmark of hope and peace in the region, and it is celebrated with the vigor of traditional colorful dresses, steady beating of the drums and the air filling up with the sweet smell of camphor.
6. Gompas and Monasteries
As one find themselves trekking in Mustang, they will likely encounter many Gompas and Buddhist monasteries along the journey. As mentioned before, Mustang trekking is as much a spiritual journey as it is an adventurous one.
Likewise, Mustang is a treasure-house of a best preserved glory of the past. Ancient religious manuscripts, images and arts preserved in the many monasteries of the region reflect its history and culture quite spectacularly. The Lo-Gekar Monastery, Tsarang Monastery, Namgyal Monastery, Ghami Monastery, Nyiphuk Monastery, Ghiling Monastery, Gonpa-Kang, Choser Cave, Luri Cave and the unique Chorten (stupa) of Tangya and the Ghar Gompa are some of the monasteries among many more that Mustang region is adorned with.
7. Amazing Rock Formations
Mustang's terrain is most definitely one of its most majestic aspects. Trekking in Mustang presents a beautiful contrast of the cerulean Annapurna and Dhaulagiri Himalayas against the brown and arid landscape. As the region receives less rainfall, the erosion of the rocks has led to some of the most astonishing formations of naturally occurring adroitness not found anywhere else!
There are many more features that the Hidden Kingdom possesses. It is a beautiful destination for treks. It is a spiritually rich and tranquil adventure that is adorned with many religious, cultural and natural virtues. A historically significant region, Mustang Trekking is a great option for summer treks in Nepal.