Khopra Danda Trek is one of the less popular treks in the Annapurna Region; however, it offers incredible views and an opportunity to get off the beaten path in what has become a very popular tourist destination. While it is connected to the highly trafficked Poon Hill trek, this newly opened route allows similar views with fewer crowds. On this extraordinary trek, you will experience breathtaking views of Mount Dhaulagiri, Annapurna, Nilgiri, Tukuche Peak, and Dhampus Peak. Additionally, the valleys of the Kali Gandaki River are beautiful. However, there is much more in the following ten reasons why you should choose the Khopra Danda Trek.
Suitable for Trekkers of all Levels
This trek can be adjusted and take between five to seven days, with trekkers walking between 5 to 6 hours each day. The length and distances between villages where there are accommodations make the Khopra Danda trek suitable for advanced and beginner trekkers. Altitude sickness is rare on this trail as the highest elevation is 3680 meters at Kopra Danda, or 4660 meters if you walk to Khayer Lake. Precautions such as walking slowly, staying hydrated, and eating well are still highly recommended to keep travelers healthy.
Experience the Annapurna Region without the crowds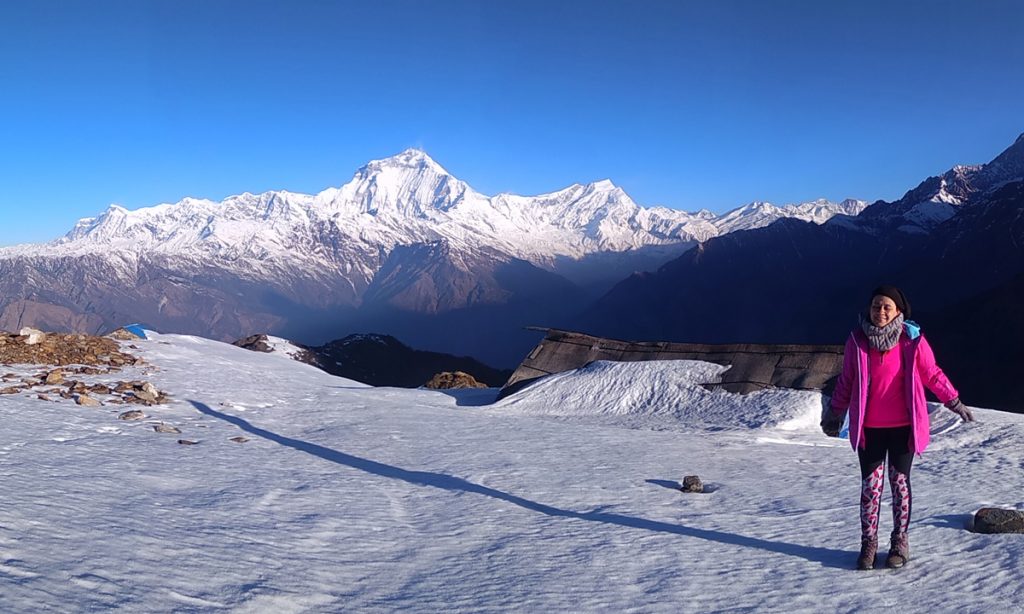 When compared with other treks in the Annapurna Region, the Khopra Danda Trek sees significantly less traffic than trails such as the Annapurna Circuit or Poon Hill. During peak season, there are often more travelers, but far fewer than the more popular routes. This is a highlight for many travelers, as some people are looking for an adventure that takes them to less popular and crowded destinations. The popularity of the route also allows trekkers to get up close and personal with the true culture of the Himalayan villages they pass through.
Walk through a Variety of Landscapes
After leaving Pokhara, trekkers will walk through terraced rice and maize fields, through the popular village of Ghandruk, and into thick forests of pines, oaks, rhododendrons, bamboo, and more. From there, one will experience the magnificent views of the Himalayas and nearby glaciers. This diversity is just part of what makes the Khopra Danda Trek so incredible and fascinating.
Experience Nepali culture in rural and remote areas
Due to the fewer numbers of foreigners on this route, those who choose to travel here will experience the vibrant culture of Gurung and Magar ethnic groups. Most of the accommodations along the route are homestays or community lodges. While this does limit the diversity of food to be offered, it also means that travelers will see how people live in such villages and begin to understand this rural lifestyle.
Beautiful Mountain Views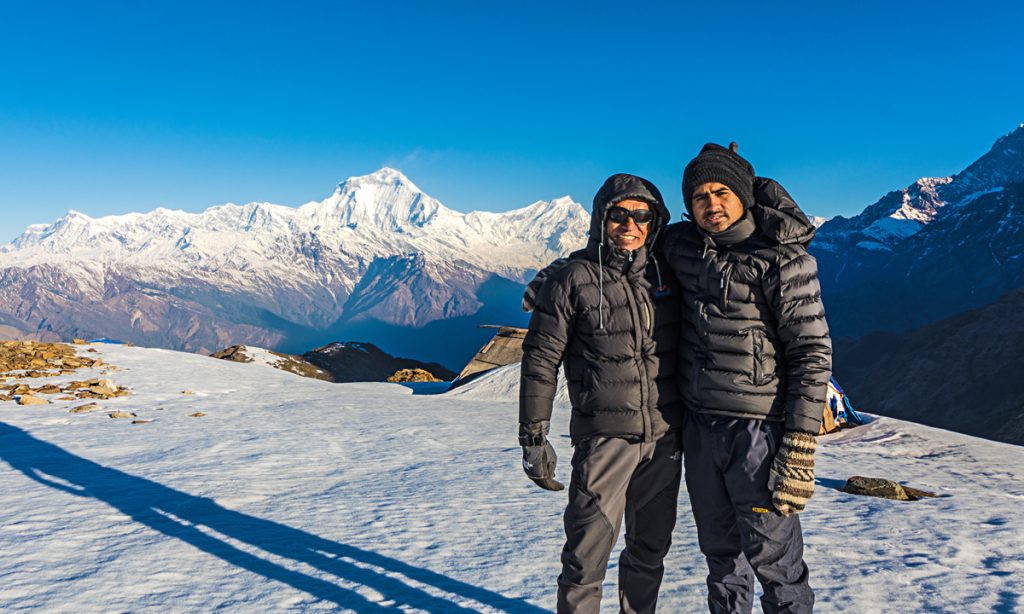 The Khopra Danda Trek passes through Poon Hill, which is one of the most popular places in Nepal, to catch a glimpse of the incredible Himalayas but goes further into the range with magnificent views of Mount Dhaulagiri and Annapurna South. Travelers can also expect to enjoy picturesque views of Nilgiri, Annapurna I, Machhapuchhre, Boudha Himal, Ganesh, and more. Making the trip to Khayer Lake is also highly recommended for the incredible landscape.
Relatively Short Trek
Khopra Danda is great for those with limited time who want to experience the Annapurna Region but do not have significant time for extended treks. With a time frame of five to seven days, depending on trekkers' fitness levels, this is often doable even for short trips to Nepal. Most short treks are at least three to five days long, making the Khopra Danda Trek perfect for anyone short on time but wanting to experience something out of the ordinary.
Nearing the end of the trek, the trail passes through the village of Tatopani, literally translating to hot water. This name is appropriate as trekkers will find natural hot springs where they can relax and soak sore muscles after the trek. This is a highlight for many travelers and a real treat after several days of walking in the mountains.
Enchanting forests and Incredible Wildlife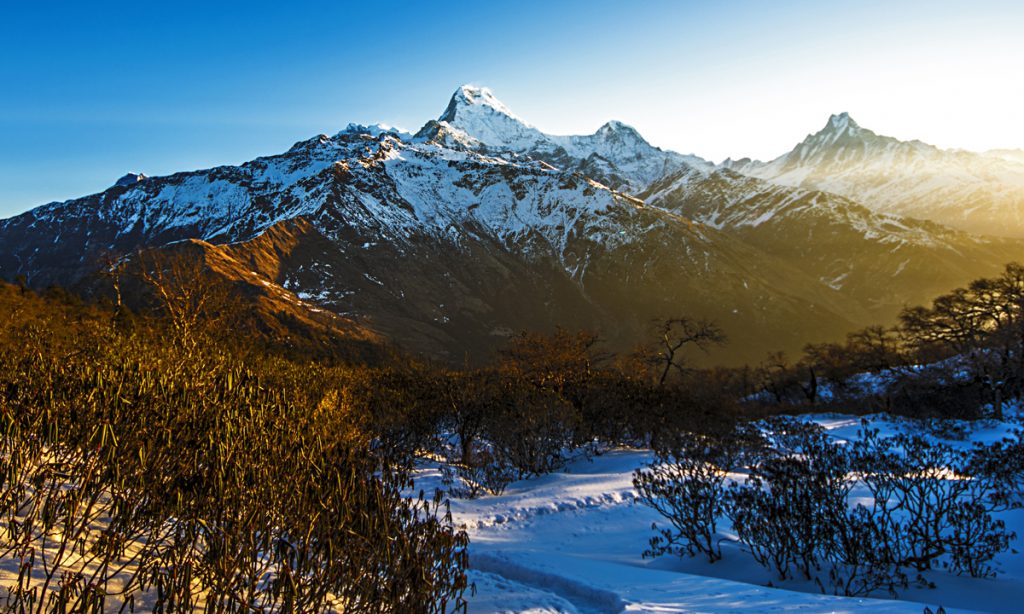 Throughout the trek, travelers will be exposed to all kinds of landscapes, from farmer's fields, villages, mountain ranges, and beautiful forests. These forests are filled with a variety of flora and fauna in addition to rare wildlife. Trekkers should keep their eyes open for deer, birds, and other animals throughout the trek. There is also a chance of seeing yaks at higher altitudes.
Khayer Lake
While it is not mandatory, there is an opportunity for a day trip to Khayer Lake, which is one of the many sacred lakes that sit behind Annapurna II. It is a scenic blue lake at 4500 meters above sea level, reflecting the surrounding mountain peaks and glaciers. The hike from Khopra Danda takes about seven hours round-trip, so hikers should bring a packed lunch and plenty of water.
Additionally, there is a small temple here that many people from Hindu communities make a pilgrimage to visit.
Learn about Hindu and Buddhist traditions
Due to the lack of traffic along this trail, trekkers are treated to genuine culture and traditions that one may not experience on more crowded trails in the region. The homestays allow for real connections with hosts and an opportunity to see how people live, in addition to gaining an understanding of religious practices in the area.
Trek Route Details
Khopra Danda is located in the Annapurna Range, situated north of the city of Pokhara. While it takes trekkers off the beaten path of Poon Hill and Annapurna Base Camp, the trail still goes through the Annapurna Conservation Area, which means travelers will still be able to enjoy the diverse flora and fauna that the region offers.
Each traveler will be required to obtain an Annapurna conservation area park (ACAP) permit and a Trekkers Information Management System (TIMS) permit for this trek. Additionally, trekkers should not expect luxurious hotels on the trail due to the newly opened route. Simple teahouses will be the accommodations, like most treks in Nepal. Meals will also mostly consist of dal bhat (the typical rice and lentil meal most Nepali people consume twice daily).
There will also be warm dining rooms with stoves heating them on cold mountain nights to keep you comfortable.
As the trek is located close to Pokhara, trekkers will need to travel from Kathmandu. There are two ways to get to Pokhara, by plane or by road. There are many tourist bus services, or large groups may choose to hire a jeep or car to take them.
By road, the trip takes between six and eight hours, depending on traffic and road conditions.
However, for those tight on time, there are several domestic airlines that have many flights to Pokhara each day, taking only 25 minutes.
If you are looking for a short trek off the beaten path in the Annapurna Region, we highly recommend Khopra Danda, as it is a truly unique experience with breathtaking views of one of the most famous mountain ranges.
The team at Nepal Hiking Team is here to help you plan your trek and ensure you have the most enjoyable experience possible while traveling through Nepal.