Nepal's Annapurna region is so gorgeous that it has long been the perfect trekking destination for hikers. The Mohare Danda (3300 m above sea level) is located in a gorge between the Annapurna and the Dhaulagiri mountains, near the Ghorepani Poon hill.
The Mohare Danda Trek is the least popular short trek from Pokhara. It is a great way to see the Nepalese countryside and get away from city life. It also provides an opportunity to learn about the culture and remote lifestyle of Nepalese people.
The trek starts at the outskirts of Pokhara, which is one of Nepal's most popular tourist destinations. It takes approximately four to five hours drive to get to the trailhead from Pokhara. The trail takes you through villages, remote farmland, a paper-making plant, a local cheese factory, forests, orchards, and mountains before reaching the village of Mohare Danda.
The entire trek can be completed within three to four days, depending on how much time you want to spend at each location and how fast you walk.
The Popularity of this route is relatively less than other destinations, so if you enjoy hiking but want to avoid the flood of other masses, here's an idea for you. The Mohare Danda Trek offers a beautiful scenic route that avoids crowds of local and foreign tourists. This trek is located in the Annapurna Conservation Area. But a permit is not required for trekking.
Those looking for a real adventure will find this trek to be perfect! You experience rural mountain life while getting to see beautiful scenery in Nepal. It is generally more accessible but can include some strenuous days - so be prepared.
Brief History of Mohare Danda Trek Route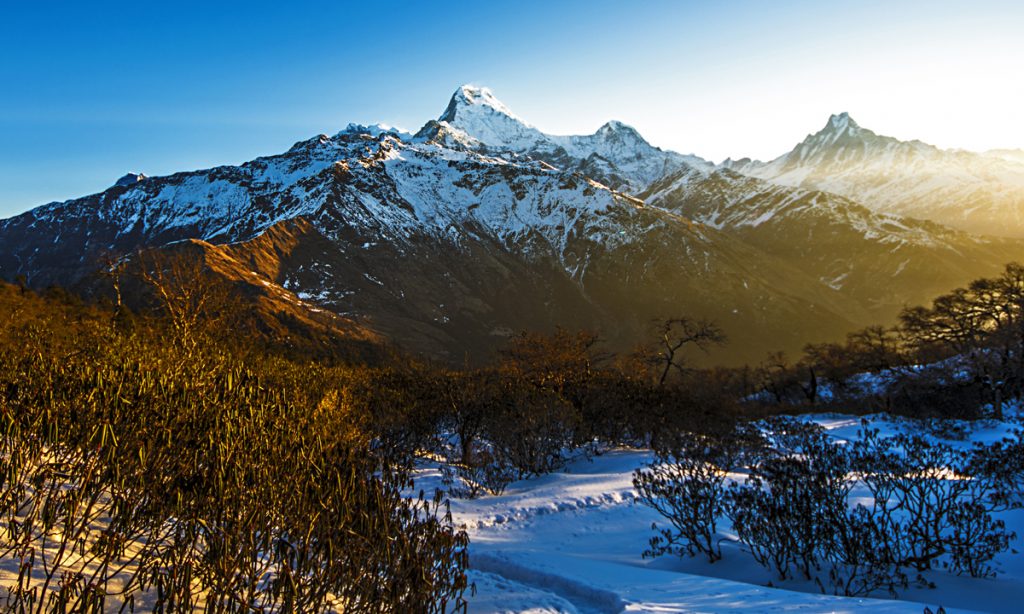 Mohare Danda Trekking is a new destination for travelers and hikers; nowadays, it is also commonly referred to as Annapurna Dhaulagiri Community Trail and or Community eco-lodge trek.
The Mohare Danda trek concept was first introduced by Mahabir Pun, a pioneer who implemented wireless technology in Nepal's Annapurna region. Furthermore, it is the first community-based trekking in Nepal.
Where you get the opportunity to enjoy the unspoiled and pristine environments and stay in rural inns (local lodges, homestay), you are likely to end up staying with local families that share their vibrant surroundings, way of life, culture, traditions, and daily activities.
Mahabir Pun named the trail "Communities Eco-Lodge Trek" and prompted the homestay community Lodges system to be run by local people of the Mohare Danda territory of Nepal to assist residents in evading becoming victims of economic tragedy.
The view on the Mohare Danda trek is often compared to that of the Poon Hill sunrise trek but with fewer crowds. Formerly, it was a popular spot for backpackers & couples looking to save money and stay outside the permit zone.
While being in this cheaper alternative route, they used to stay in the homes of locals, being attached to the local community of the area by experiencing the deliciousness of real Nepal.
So, we can say that this route was first popularized by adventure-hungry backpackers and trekkers looking for a cheaper alternative to the Ghorepani Poon Hill trek.
This article will tell you everything you need to know about the Mohare Danda trek, including the details about the trail regarding difficulty level, attractions, and how to go about packing for it. There's also a section on what you can expect from the accommodation situated along the trail and more.
Mohare Danda Trekking with Detailed Itinerary
Before embarking on a long journey, it's wise to have an idea of what to expect. What time of the day will we be trekking, and what elevation and condition of accommodation?
Be sure to plan your hike correctly; when planning your trek to the Mohare Danda, there are a few ways to reach the destination, such as via Poon hill, Khopra Danda, etc. If you don't have enough time to appreciate and enjoy the beauty of Nepal, then follow our mentioned path. The recommended route on this sheet goes from Pokhara to Beni and then up to the summit of Mohare. No left and right.
The following is a comprehensive day-by-day itinerary for the five days of the Mohare Danda Trek.
Day 1: Drive from Pokhara to Beni and Beni to Banskharka (starting point of the trail).
After breakfast in Pokhara, we proceed to the starting point of our trek Galeshwor. Due to the lengthy day, getting an early start is advisable. The Pokhara to Beni bumpy drive takes around 3.5 hours. Actually, this Mohare Danda community eco lodge-trek starts from the location of the sacred religious site called Galeshwor Dham. So, it's best to get to Galeshwor fast from the riverfront town Beni. And don't forget to check out the historically and culturally important Lord Shiva temple of Galeshwor while you're there.
The hike begins after passing over the suspension bridge crossing the Kaligandaki River. As you ascend into the hillside jungle, stone steps begin almost immediately. The moment you obtain near the top of the step, the cool shade of the forest stays with you. The shade provided by the trees is a welcome relief from the sweltering heat of the sun during the trek.
En route to Banskharka, you will ascend through the jungle while passing a few dispersed farmhouses of orange, corn, lemon, etc. along the way. Furthermore, it will be a good idea to travel slowly and steadily, frequently pausing along the way, since you may get the opportunity to soak in the beauty of nature with your first breathtaking views of the snow-capped Mt Dhaulagiri (8,167 meters), and Nilgiri and other peaks.
Eventually, between two and three hours of hiking, you will come to a gorgeous village called Banskharka. Also known for the village of orange trees (Suntala Kharka), it is possibly one of the most pleasant stops on the walk. Utilize the rest of the time by strolling around, visiting the orange farm, local school, and orchard, learn about the local ethnic Magar culture and way of life.
Many individuals on a 5-day hike will spend the night here. Sleeping overnight at the community lodge.
Difficulty: Medium
Accommodation: Community-Based Basic Standard Lodge.
Hiking Hour: 3 hours approx.
Elevation: 1550 meters
Day 2: Trek from Banskharka to Nangi Village.
After having breakfast, you will walk through the rice and corn terrace farm and ascend through the pine forest. After a three-hour challenging hike, you will arrive at the little settlement of Danda Kateri. Here, you will enjoy lunch by viewing the beautiful, stunning Dhaulagiri mountains & tip of south Annapurna.
After lunch, you will take a leisurely stroll to Nangi Village, where you will stay overnight in the community lodge.
The fact of Nangi Village: Nangi is one of the very few areas where you can watch wireless Internet pioneer and social worker Mahabir Pun's work, as well as participate in local community activities. Nangi village is the birthplace of the communication technology pioneer Mahabir Poon, the founder of this trek route.
This community eco-lodge trek embraces the perfect example of groups of a community joining together for a common goal. This is the kind of example that inspires hikers on how civilians can collaborate and interact when they utilize local resources and strengths simultaneously for sustainable development.
One of the examples is the community-based Himanchal High School, which serves as a model for other rural educational institutions and is well worth a visit. Plus, in Nangi you'll be able to see the small local paper factory and how the locals make handmade Nepali paper utilizing the locally grown plants.
In addition, you can pay a visit to Nangi Barahi temple, advanced computer lab, medicinal plant nursery, library, woman craft shop, and participate in various other revenue-generating projects in the area.
No doubt, oriental individuals have today stepped up the quality of cultural tourism in Nepal as a number of brand-new destinations have surfaced. Nangi is a thing of beauty in South Asia. Snoozing overnight at the community lodge.
Difficulty: Initially Hard, Later Easy
Accommodation: Basic Standard Community Lodge.
Hiking Hour: 5 hours approx.
Elevation: 2300 meters.
Day 3: Trek from Nangi Village to Mohare Danda.
After a delicious breakfast at the community lodge, we have to arrange or pack some drinks and foodstuff for trekking. Because there are no villages along the way. We are going to spend the day hiking following the stimulating trail, which ascends through a gorgeous, untouched forest, providing a great view of the snow-capped mountains including Mount Dhaulagiri (8,167 meters).
This is a strenuous hike of six to seven hours to reach Mohare Danda (3300 meters). But you'll be rewarded with some amazing things throughout your journey to Mohare Danda, like the emerald peaks and dense forests of rhododendron, oak, clumps of bamboo groves, etc. Your efforts will likely be narrowed by the great nature of the surroundings you'll encounter along the way.
Likewise, you will have the opportunity to witness a wide variety of birds, and you might even come across some wild animals. You may encounter Yaks grazing in the pasture land (Kharka in the local language) near the hiking trail.
During the trekking along the way, you may encounter a hut-like structure. Often, this is used by travelers as a lunch spot. You can use it for your lunch and continue your journey until you reach the highest point of this trek, i.e., at Mohare Danda Lodge/ Mohare Hill (3300 m).
From the top of the Mohare's Vantage point, you can enjoy the panoramic views of the Himalayas stretching to all appearances, including close-ups of Dhaulagiri (8,172m), Nilgiri (7,061m), Annapurna South (7,219m), Annapurna I (8,091m), and climbing prohibited Mount Machhapuchre (6,997m).
The community lodge is in the midst of wildness and tranquility. From the lodge, you can appreciate the views of sunrise and sunset over beautiful mountains from the windows; similarly, enjoy the night-time view of the star & mountains from your room.
There are no other homes belonging to local residents in this area. Regardless, this is the highest wireless internet relay station in Nepal, and it serves as a channel for internet connectivity to Nepal's most remote communities, where it is used in schools and health clinics. Napping overnight at the community-based lodge.
Difficulty Level: Moderate
Accommodation: Basic Standard Community Lodge.
Hours Hiked: 6 hours
Elevation: 3300 meters.
Day 4: Trek from Mohare Danda to Tikot Village.
This is a day that will remain in your brain as one of the unforgettable moments of your entire trip. Your day begins with a glorious morning mountain view before heading to the trail to the Tikot. Since you will be greeted with an overwhelming sunrise view from the Panoramic views of the Mountains. Such as Gurja Peak, Dhaulagiri, Annapurna range, Hiunchuli, Machhapuchre, Lamjung etc.
You'll spend much of your time today staring at the frame of a majestic mountain that towers above the deepest gorge in the world. Furthermore, you will be able to witness a close view of more than 20 snow-crowned mountains, as well as bigger landscape vistas with a variety of features.
On your way up the ridge after breakfast, you'll enjoy breathtaking views in all directions. The trail continues to descend through a dense rhododendron jungle for the remainder of the journey, as well you will pass sheep and yak grazing territory. From March through May, the entire path is covered with a vibrant array of nature that blossoms various colors of rhododendron of diverse species.
You'll also get a glimpse of the Himalayas along this route. Next, you will halt for lunch after a two- to three-hour stroll down the Danda Kharka.
The trail continues to descend by passing through various landscapes before arriving at the Tikot. Take your time to look around the village to familiarize yourself with the customs and culture of the area. In this way, you get a wonderful opportunity to experience the way of living lifestyle of Nepal's rural areas.
After a six-to-seven-hour hike, you will arrive in Tikot, which is located at an elevation of 2,250 meters and is home to people of Magar ethnicity. Here, you will spend the night in a community homestay.
After spending time on the trail, the hike terminates at the base of a steep mountain range, which will likewise expose you to the gorgeous vistas of the Himalayan landscape.
Difficulty Level: Medium
Accommodation: Basic Standard.
Hours Hiked: 6 hours avg.
Elevation: 2200 meters.
Day 5: Tikot Village to Tipling to Beni to Pokhara.
After your morning meal, the final day of the Mohare Danda trekking trail goes down all the way to Tippling hamlet. The path is delightful, with pristine views of the Kali Gandaki River below. Feeling tired? take a break somewhere to drink some water and eat some snacks and keep strolling. To get to Tippling village, you have to walk for 3 hours steeply downhill through a green forest. Afterward, you will be followed by a four-hour drive to Pokhara via Beni. From Tippling, it takes around 4 hours drive to approach Pokhara. Overnight at Pokhara.
Difficulty Level: Moderate
Accommodation: Basic Standard to Deluxe (Options are available as per your desire and capacity).
Hours Hiked and Drive: 3 hours hiked 4 hours' drive.
Elevation: 900 meters.
Activities That You Shouldn't Miss
Before beginning the Mohare Danda Trek, make it a point to visit the longest and highest suspension bridge in the world and feel the vibe of nature by appreciating the view around.
Don't forget to visit Galeshwor Temple at Galeshwor, it has its own religious and historical importance.
Visit the organic orange farm and garden of Banskharka.
Visit Nangi Barahi temple, craft shop, medicinal plant nursery, advanced computer lab, and play volleyball at Nangi.
Pay a brief visit to one of the local schools and watch out for the activities of local students.
Sunrise and Sunset View from Mohare Danda.
It is highly recommended that you spend at least one campfire night on the Mohare Danda Trek.
Don't miss the chance to enjoy the cultural show of the local Magar ethnic at Nangi.
Enjoy the basketball at Tikot community ground.
When is the Best Time to Visit Mohare Danda?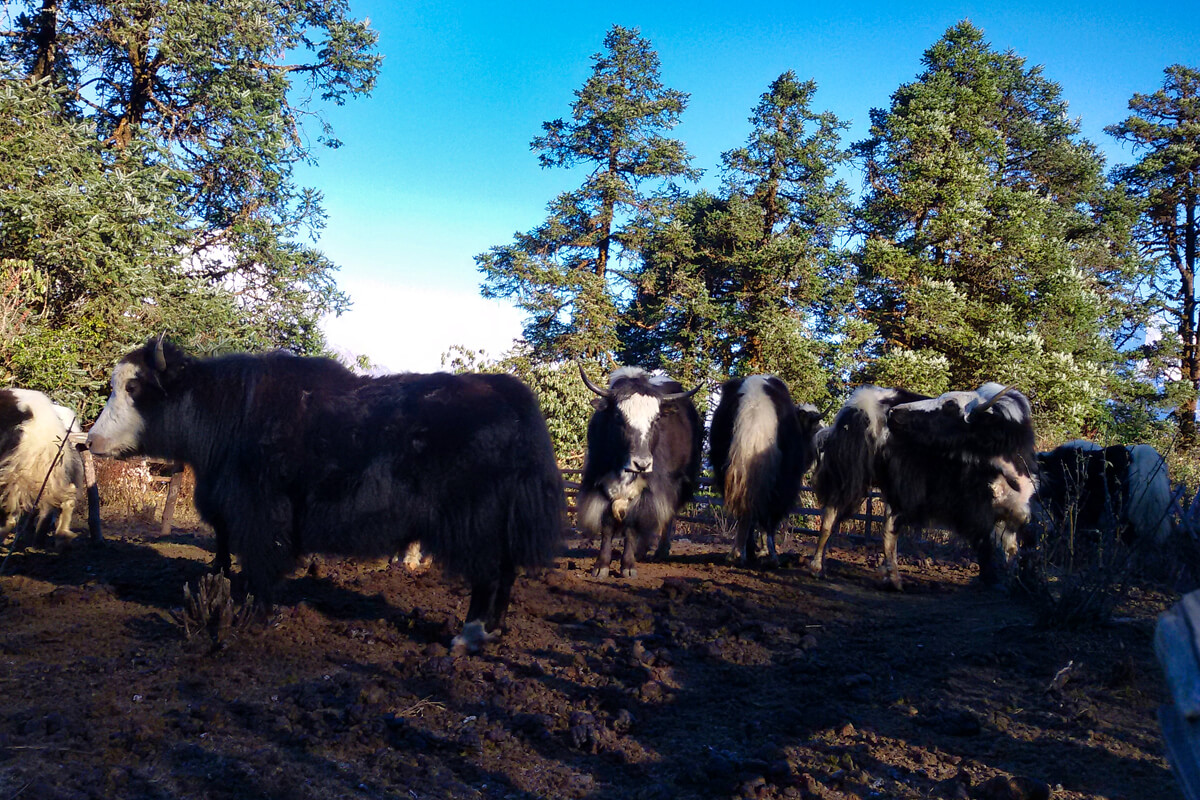 Nepal is a hilly and mountainous country, trekking in Nepal can be done at any time of year, but the best time to go will depend on the particular trek you choose. Overall, the best times of year for trekking areas are in the spring and autumn. The temperatures are comfortable during these times of the year, and the skies are usually clear. In addition, there is less chance of rain during the spring and autumn. Actually, the rainy season lasts from June to early September.
The best time of year to set off for Mohare Danda Trek is from March to April in spring and from October to November in Autumn. During these times of the year, the weather is typically pleasant, with minimal chances of precipitation, clear skies, and moderate temperatures.
You will find the trail decorated with various flowers in the spring and can experience a festive vibe in the Autumn.
Extreme winter (Mid Dec to Feb) and summer (Rainy season- June to Sept) are considered the off-season for the tourism industry in Nepal. If you plan to go hiking Mohare Danda in the winter, be sure to bring a few extra warm clothes to keep you warm.
In the winter, heavy snowfall increases the chances of blocking the track, and dense layers of fog may limit visibility. Be sure to bring waterproof clothing if you're going on a trek in the summer (rainy season). And in the monsoon or rainy season, the trail may vulnerable to erosion and may cause slippery. Likewise, in a hilly area, it is common things to face leeches on the trail during the rainy season, so be prepared.
However, it should be noted that some areas of Nepal are extremely colder than others, such as Everest or higher altitude regions. so, it is important to do some research and have weather-forecast information before planning a trekking trip to Nepal.
What to pack while on the trek?
Trekking is a great way to see the country and its many attractions. However, it's important to pack correctly for the weather and terrain you'll be traversing. Here are some tips on what to carry while trekking:
A good backpack is essential for trekking. Make sure it is well-made and has plenty of storage space for food, water, sunscreen, sunglasses, and other necessary items.
Always bring a tent if you're planning on camping during your trip. Make sure you pack it properly so that it is easy to erect.
If you're on a trek for several days, make sure you have enough dry food to last the whole time because there will not be a fixed time to have lunch.
Bugs, insects, and ticks are very common in Nepal's low land plain area. But because of climate change, sometime you may face them in the hilly region too. Leeches are common while trekking in the rainy season. Make sure you have plenty of insect and leech repellent before your trip to Nepal.
Check the weather forecast for the region you're trekking in. If it's going to rain or be too hot, pack accordingly.
It will be the best idea to carry the SteriPen for the tap water to filter for drinkable purposes. Sometimes you may not able to buy sealed mineral water during trekking.
Always dress appropriately for the weather and region you are trekking in.
Carry at least one basic first aid kit with you.
If you're trekking with others, make sure they have your position and that they know how to use a compass and map. Trekking alone? make sure someone knows where you are and what your approximate location is.
Always carry a flashlight with spare batteries and or headlamp.
Carry a light snack that's easy to eat without a lot of preparation. Avoid heavy foods, such as dried fruits or nuts.
Know how to use your map and compass before you set off on your trip. A good way to learn is by doing some practice hikes at the park.
Carry a small poncho or tarp in case of rain.
Trekking Shoes.
Water bottle. (2 ltr capacity).
Chocolate bar and other dry foodstuffs.
Cash (Nepali rupees), during the trek, you may need money for a shower or to buy some food, beverages, or water, and you'll need cash to pay for these things.
Clothing Related Items
Lightweight hiking shoes, 3 sets of underwear, Fleece jacket for the cold weather, Socks for hiking (at least three pairs), Sunglasses with UV400 protection, Thermo socks that keep you toasty, T-shirt with shorts, Top and bottom thermal underwear, Windcheater outfit, Lightweight cap, Gloves to keep the wearer's hands warm, and windproof mask. Here is the checklist for a longer hike.
Permits for Mohare Danda Trek
As I already mentioned, technically, Mohare Danda has not registered in Annapurna Conservation Area. So, no permits are required for this specific trek, but if you decide to go left and right, i.e., if you made a plan to visit nearby popular destinations such as Poon Hill and Khopra Danda via the Mohare Danda trek route, then obviously TIMS and ACAP permits are required. Since both poon hill and Khopra Danda lies within the Annapurna Conservation Area.
TIMS stands for: Trekkers' Information Management Systems.
ACAP stands for: Annapurna Conservation Area Project permit.
Remember: If you are planning your trip through a local trekking organization, they will take care of securing all of the necessary permissions for you.
How difficult is the Mohare Danda Trek?
Each person providing an answer to this question will have a different. But it is actually based on their level of fitness and experience. If you already have experience with Everest Base Camp Trek, Annapurna Base Camp Trek, Annapurna Circuit Trek, etc. then this trek seems easy for you. But if this is your first trek then definitely you will feel challenging.
The detailed itinerary of the Mohare Danda trek above comprises all the nitty-gritty details. In general, the trail is relatively moderate for a reasonable level of physical fitness and the weather. If we do compare it with another famous trail, it is not built in the same manner that other hiking trails are. However, you will be able to obtain the majority of the necessary services along the journey.
This trek has less risk of altitude sickness since 3,300 meters is the highest point you'll reach. Basic symptoms of altitude sickness may appear to someone, but it's nothing compared to what you'll encounter on the more challenging hikes in Nepal.
To complete the trail, you have to walk up and down 5 to 6 hours per day, being friendly with steep stairs and shade of forests. Let's distinguish the level of difficulty based on per day trek.
The first day: Steep uphill stairs, so some may feel tough.
On the second day: Up and down and flat somewhere, you may feel average since you passed the first-day trail.
Third day: Steep uphill but steadily; you may feel moderate.
Fourth Day: Steep downhill; you may feel tough if you have a knee problem.
Fifth Day: Downhill, you may feel average challenging if you have a knee problem.
Note: Sometimes, bad weather conditions may make the trail more challenging.
Consequently, we can say that trekking on the Mohare Danda Trail is a great way to get a taste of both simple and strenuous terrain. So, no previous trekking experience is required to participate in the Mohare Danda Trek. Those who are physically strong and in good health can do the trek.
Accommodations in Mohare Danda Trek
As you already know, Mohare Danda is a new trekking destination stationed within a short distance of the Annapurna Conservation Area. So, it will be a bad idea if you do expect a deluxe lifestyle over there. As an eco-tourism route, the Mohare Danda trail passes through traditional Magar settlements and unspoiled forests with a diverse range of vegetation up to an elevation of 3300 meters.
The majority of the community eco-lodge hike area lacks modern transportation options. However, hats off to the hard-working residents of the mountain people, who have found a way to put together all of the components to construct simple lodges for tourists to stay in.
In Mohare Danda Trek you will have to spend the night in a simple local house (community lodges) with more than 2 single bedrooms. Most lodges have squat toilets outside the room also be prepared so that there is less chance of having toilet paper rolls. When we consider the remoteness of the location, the room doesn't seem so bad; it's clean, comfortable, and feels like we've got everything we need.
There are cold showers available in every lodge. However, to take a hot shower, you will need to pay approximately 100-200 Rs (Nepalese rupees) for a bucket of hot water.
Food on the Mohare Danda Trek
On the trek, meals are simple and nutritious. You will get mostly regional cuisines and only a few more contemporary dishes. There will be a limited selection of foods available to you, including rice, steamed dumplings (Momo), pasta, lentils, potatoes, pickle, curry, and rice.
In addition to this, depending on the location, you also have the option of ordering French fries, Tibetan bread, momo, chowmein, eggs or omelets, fried rice, pasta, pancakes, thukpa, and a variety of other dishes.
Liquid items such as hot lemon, ginger tea, soda, coffee, milk tea, beer, whisky, etc. are some of the other beverages that can be found easily throughout the region.
Dal Bhat, a traditional Nepalese dish, is the most popular food on the Mohare Danda Trekking. If you are not familiar with rice and curry items before, you may feel something, like heavy food. It is rich in carbohydrates, which is an excellent source of energy for hiking.
Dal Bhat is accompanied by rice, seasonal vegetables, lentils, and pickles. So, you will get multiple sources of vitamins and source of energy at least for your flawless journey. Keep in mind that as the altitude increases, the menu prices will also increase. The location's remoteness is the primary factor contributing to the price increase, which has been passed on to the customer.
Advice: Often in many trekking hubs in Nepal, you must dine at the restaurant of the tea house or community lodge you are staying at. Otherwise, your accommodation bills may rise.
General FAQ for Mohare Danda Trek
How about the condition of mosquitos In Mohare Danda Trek?
The mosquitos in the Mohare Danda Trekking Region are rarely a problem. The trekking route goes through a high-mountainous region, which is not as welcoming to mosquitos as the lower region of Nepal. However, insect repellent is always a good idea, just in case. The trekkers should take necessary precautions to protect themselves from bugs, and mosquito bites.
How long does it take to complete the Mohare Danda Trek?
The trek usually takes five to six days to complete. Though some hikers may choose to extend their journey and explore the surrounding area.
How about the Facility of WIFI In the Mohare Danda Trek?
For those who want to stay connected with friends and family back home or post photos of their amazing journey online, having WIFI available can be a real lifesaver. However, WIFI is another amenity that is not continuously available on the Mohare Danda route. This region doesn't come under the WIFI Nil area but we have to face the fluctuation of the signal which is common in this area.
Is It Required to Have a Guide and a Porter for the Mohare Danda Trek?
If you're thinking about doing the Mohare Danda Trek in Nepal, it's important to be aware of where are you going. While this trek is considered a "moderate" hike, there are still some things you should know before setting out. For example, while a guide isn't mandatory, it's highly recommended - not only because it can show you the best routes and help with navigation, but also because it can be a valuable source of information in case of an emergency.
If you're not comfortable carrying your gear, hiring a porter may be a better option for you; just make sure to budget for this expense. And finally, remember to always pack enough food and water, and to dress appropriately for the weather conditions. With these tips in mind, you'll be well on your way to having an enjoyable and safe trekking experience in Nepal.
Is there access to a Hot Shower while we are on the trek?
Many people who are trekking in Nepal want to know if they can take a hot shower along the way. The answer is yes, but there may be a few catches. If you are trekking in a remote area like Mohare Danda, you may have to pay extra few bucks (100-200 Nepalese Rupee) to a local lodge's owner for a bucket of hot shower facilities. So be prepared for all possibilities and bring along some wipes for a wet-wipe shower just in case!
Conclusion
In conclusion, the Mohare Danda Trek is a great option for those looking for a less-populated trekking destination. It offers beautiful scenery and plenty of opportunities to see flora and fauna. The trek can be completed in five to six days, making it a perfect option for those who don't have a lot of time. So, if you're looking for an adventure off the beaten path, be sure to include the Mohare Danda Trek on your list!