Every country has its own unique features that represent the nation on a global platform, but it's the food that makes them known and appreciated. Nepal has so much to offer to its visitors from the tallest peaks to the amazing culture, from the amazing trekking trails to the warm hospitality of the Nepalese people. But something that's underappreciated is the Nepalese cuisine. Nepali food might not be as intricate as food around the globe, but it always tends to grab the attention of everyone who visits Nepal. A typical Nepali Thali might consist of rice, lentils, seasonal veggies, different kinds of pickles, spinach, meat items (non-vegetarian option), and curd. Encompassing different dishes to form a balanced diet, one can never get enough of the 'dal-bhat' experience. Here are a few authentic Nepali restaurants in Kathmandu that you can visit to enrich your taste buds with.
Krishnarpan
Location: Dwarika's Hotel, Battisputali
What to try: Try the multi-course meal for an overall experience
One of the various restaurants offered by the Dwarika's Hotel, Krishnarpan is a complete Nepali specialty restaurant, offering six to twenty-two courses meals, using fresh organic produce from their own farm. It is a slow-dining experience akin to the bhoj that the Newari community of the Kathmandu valley enjoys.
Krishnarpan takes you to a different era as all the staff are dressed in various ethnic tribes and even the food is served on old-fashioned brass and earthenware. This is one of the only places in Kathmandu that serves up to 22-course meals using the finest of the Nepali spices to give you the best taste of the Nepali cuisine!
Bhojan Griha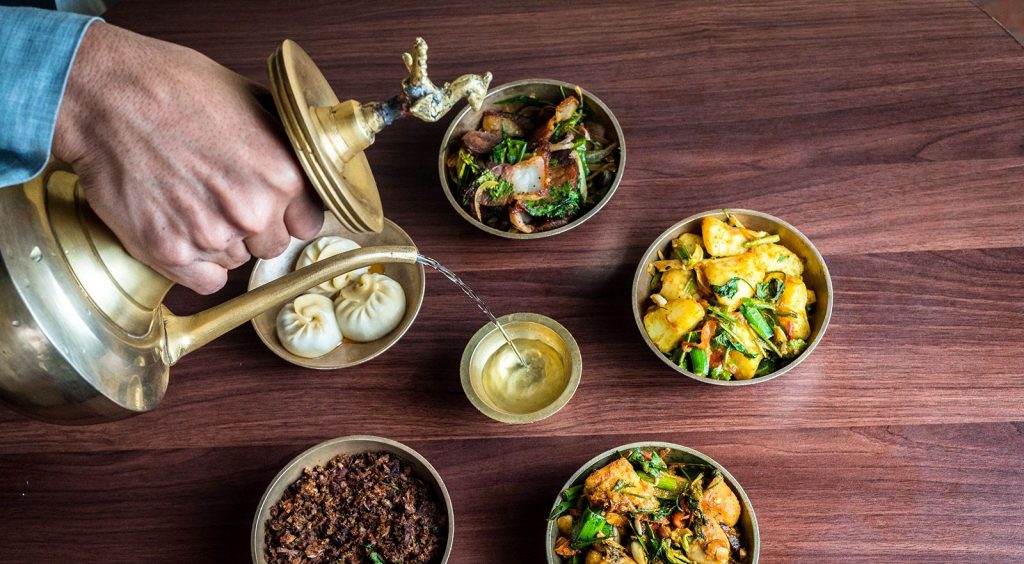 Location: Dillibazar
What to try:
For vegetarians: Try the Paneer Pakauda and Gundruk ra Bhatmas ko Jhol with your Thali
For non-vegetarians: Go for Mutton Sandheko and Kukhura Ko Ledo with your Thali
Housed in a 150-year old building, Bhojan Griha takes you back in time to the amazing history of Kathmandu. What was once a palace in the past now brings you one of the most cultural food experiences in the capital. When you step in to Bhojan Griha, along with the organic food grown in their own farm, you also immerse yourself in the traditional folk music and dance.
At Bhojan Griha, you feast like the kings used to in the medieval times in Nepal, but Bhojan Griha doesn't just limit to its fine reservoir of Nepali cuisine, the in-house shops lets you take home those organic produce and local hand-made products. Bhojan Griha is in short, a getaway to the ancient Nepali lifestyle where you indulge not just your taste, but all the other sense too.
Wunjala Restaurant
Location: Naxal
What to try: Order the Newari dishes, the specialty of Kathmandu's local community.
Even though it's located in the center of the city, once you enter Wunjala Restaurant,
you feel like you're in a tropical setting with lush green trees, small streams and the peace akin to a rainforest.
Wunjala Restaurant brings you the traditional Newari cuisine of the Kathmandu valley and the unique food of Russia. This strange blend of food makes it one of the few places offering a fusion of such different cuisines. This restaurant boasts in its use of the true flavors and spices of both the cuisines and hosts different kinds of folk dances like the Manjushree dance and other which change along with the festivities in the valley. Enjoy the spectacular delicacies while enjoying the cultural dances and the amazing environment you're surrounded with!
Nepali Chulo Restaurant
Location: Lazimpat
What to try: Try the Nepali delicacies, but also add the Newari food alongside
Be it for your regular Nepali lunches or your farewell Nepali dinner, Nepali Chulo does it all in the most Nepali way possible. Serving authentic Nepali cuisine in the traditional brass plates, Nepali Chulo gives you a glimpse of what dining in a typical rural scenario feels like while incorporating various luxury factors. Suitable for both vegetarians and non-vegetarians, Nepali Chulo accustoms dining with the traditional folk dance and music to make your Nepali food experience second-to-none.
Gokarna House Restaurant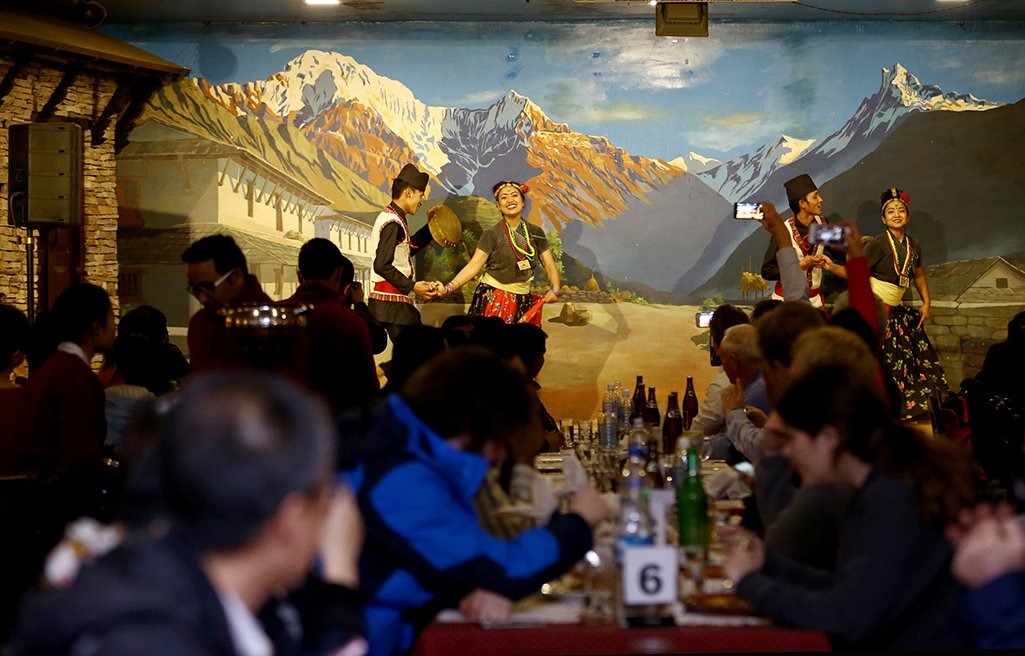 Location: Paknajol Marg, Thamel, Kathmandu
What to try: Go for the Special Nepali Thali Set Meal, veg or non-veg
Situated in the midst of the bustling city of Kathmandu, Gokarna House Restaurant gives you a surreal Nepali dining experience unlike any other. Incorporating multicuisine, warm hospitality and flavorful food, this restaurant is designed to give a unique Nepali feel to anyone who visits. Apart from food, this restaurant also provides folk dances from different regions of Nepal, along with folk instruments to ensure you have a meal of a lifetime
Utsav Restaurant
Location: Durbar Marg
What to try: Try the Nepali, Newari or Indian dishes, everything tastes good
Utsav Restaurant (Link) has been delighting people with their amazing food delicacies and their famed hospitality for years now. Located at Durbarmarg, this restaurant serves Nepali, Newari, Indian and continental dishes of the finest caliber and doesn't compromise on quality and customer service. While dining also encompasses cultural and musical performances of the local traditions, this restaurant also has the perfect requisites to host various events like seminars, meetings and for other purposes.
Atithi Satkar Restaurant
Location: Jyatha, Thamel
What to try: Go for the Set Nepali Dinner that's suitable to both vegetarians and non-vegetarians
Opened in 2014, Atithi Satkar Restaurant is a family-run restaurant that brings you the typical Nepali feel whilst remaining in the city. Located in the heart of Kathmandu, Thamel, this restaurant not only proffers food of Nepali cuisine but also Indian and Continental dishes are available here. The restaurant boasts about their experienced staff and also entertains you with the cultural dance. Believing in bringing satisfaction to the customers, they ask for your suggestions and take in consideration any reviews.
With a wide array of restaurants to choose from, traveling in Nepal is definitely enriched by the rich, traditional food in Nepal. While there might not be much variety of food in the Nepali cuisine, it definitely offers flavors that's definitely not enough just once. We welcome you to come to Nepal and relish on the distinct Nepali aromas of Nepalese cuisine and we urge you to try all these restaurants to receive a diverse taste of the cohesive Nepali food.