Food is an essential part of high-altitude trekking. What you eat along the trail affects your day-to-day performance and local experiences. As the world's most famous trek, the Everest Base Camp Trek does not compromise on food varieties. From typical Dal Bhat and Mo:Mo to continental dishes like spaghetti and steak, you'll find it all in this part of the world.
But, high up in the Himalayas, the Sherpa cuisine defines a different culture offering a more authentic taste. Sherpas are the indigenous mountain people that settled in Solukhumbu in the mid 16th century, migrating from Eastern Tibet. As a community, they brought the Tibetan culture, lifestyle, and food cuisines along with them.
Sherpa dishes are usually plain and simple as very little grows in the mountain soils. Often the ingredients are a mix of home-grown crops, vegetables, and local dairy products.
You can savor these local dishes in the teahouses and small eateries around the Everest region. Keep in mind that the price of foods tends to go higher with the increasing elevation. It is because everything has to be transported via mules, yaks, porters, or helicopters from Lukla.
Now, let's take a look at the 10 best Sherpa dishes you must try during your Everest Base Camp Trek.
Sherpa Momo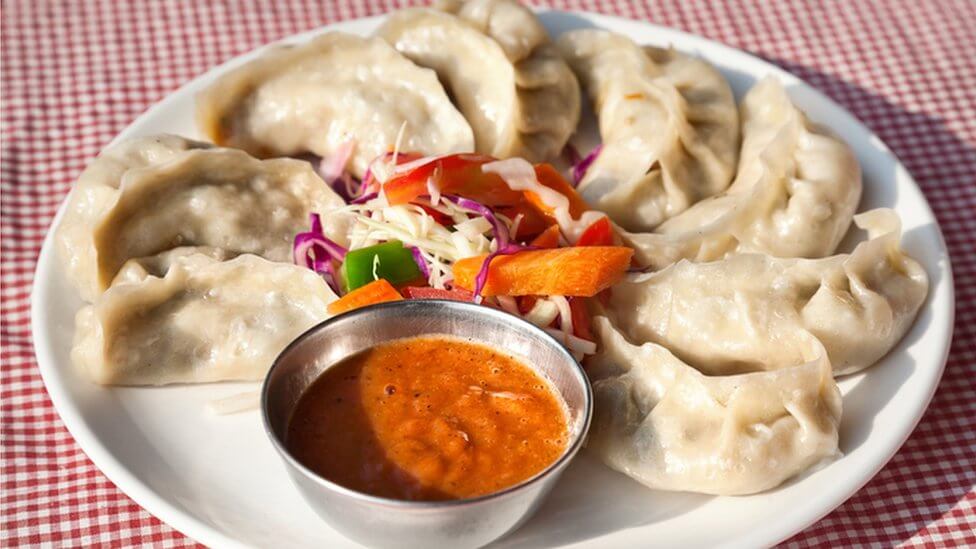 If there's one food you should not miss out on during the Everest Base Camp Trek, it certainly has to be momo. Momo, without a shadow of a doubt, is Nepal's favorite food — a local delicacy.
Momo is a bite-size steamed dumpling made out of all-purpose flour with a spoonful of fillings. Traditionally, the fillings in momo were only limited to the ground or minced meat. But, in recent decades, people have started using all kinds of combinations, including ground meat, vegetables, cheese, paneer, and even tofu. Although momos are usually steamed, they can also be pan-fried or deep-fried.
The Sherpa momos served in the Everest region have a slightly different taste than regular momos of Kathmandu. It is primarily because of the local spices used while cooking this delicacy. We recommend you try the local soup momo to beat the cold weather of the Himalayas.
Shyakpa (Sherpa Stew)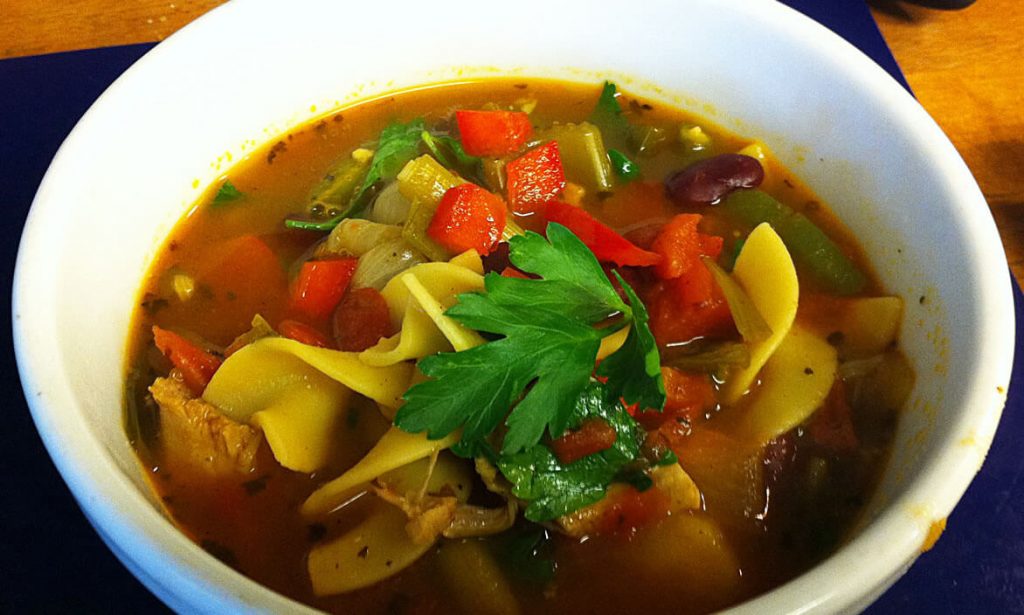 Shyakpa, commonly known as Sherpa Stew, is another popular dish among the people living in the Himalayas of Nepal. It is a flavorful soupy cuisine with soft hand-pulled dough strips, leafy veggies, and fresh/dried meats.
In the Everest region, they use locally grown vegetables like potatoes, spinach, carrot, and spring onion while cooking Shyakpa. Likewise, they commonly use fresh/dried yak or sheep meats for a more authentic taste. To bring more flavor to your meal, you can further add a pinch of salt and spices as per your preference.
Almost every teahouse and local eatery in Everest offer Shyakpa on their menu. It is an ideal meal to try in the chilly weather of the Himalayas as it keeps your body warm.
Thukpa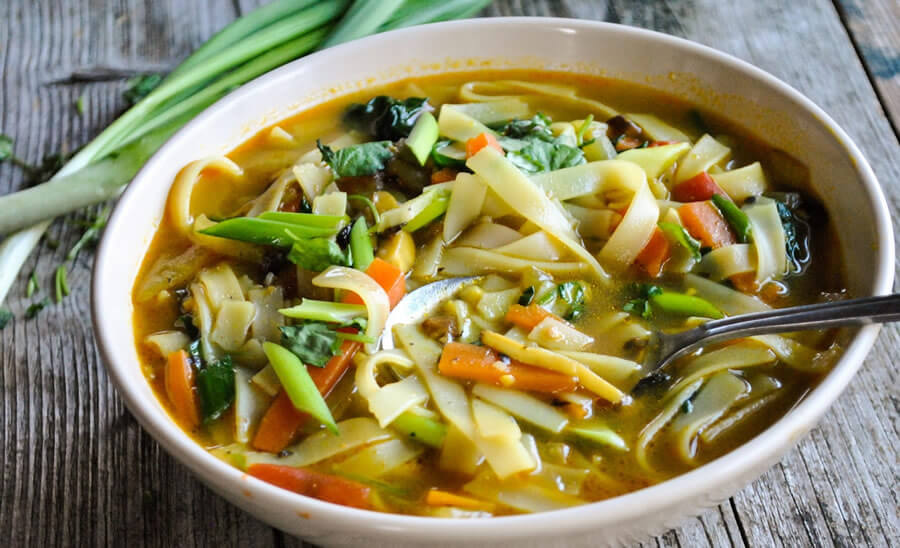 Like Shyakpa, Thukpa is a traditional noodle soup popular in the Himalayas of Nepal. While the noodles in Shyakpa are flat and hand-pulled, Thukpa has long, thin noodles as their primary ingredient. It is then mixed with local veggies and fresh/dried meats to add more flavor.
In general, the Sherpa version of Thukpa includes more vegetables and is a bit spicier. To add more flavor, you can further sprinkle a pinch of salt and all kinds of spices.
In the Everest region, you're likely to find Thukpa in almost all teahouses' menus. This flavorsome and hearty meal makes a great lunch or dinner during the trek.
Tsampa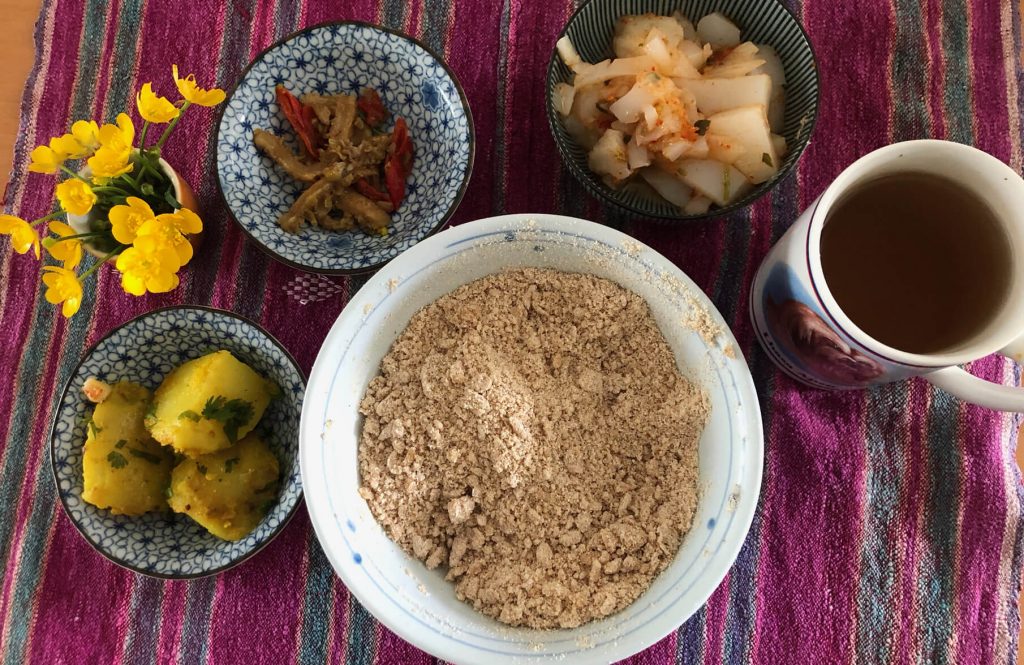 Tsampa is a staple Sherpa dish, particularly prominent in the Himalayan region of Nepal. It is a hearty, glutinous meal made from roasted barley flour. The most common way to eat this traditional dish is by mixing it with butter tea and yak cheese to form a calorie-dense dough.
You can also make Tsampa porridge or eat the powdered Tsampa dry. Due to its exceptional nutritional qualities and filling nature, this traditional dish makes a great breakfast option for long mountain treks.
You can find Tsampa in most teahouses and lodges along the trail of Everest Base Camp.
Rildok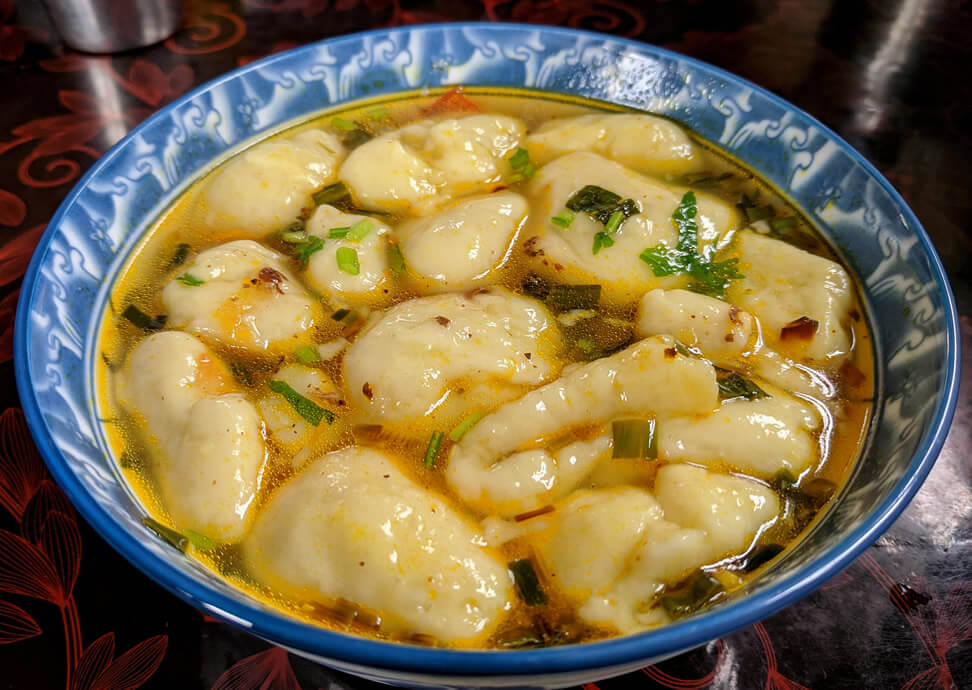 Rildok is a traditional Sherpa soup filled with dumplings of mashed potatoes. It is prepared by pounding the boiled potatoes with a heavy pestle in a wooden mortar until they turn out to become a soft and sticky mass. Then, the sticky mass is squeezed into small dumplings and cooked in a boiling soup. The mashed potatoes in Rildok are so light that they often float in the soup.
You can sprinkle some Sichuan pepper and other spices to add more flavor to the dish. If you want to eat a lighter meal during the trek, Rildok makes an excellent choice.
However, most teahouses do not serve this meal. You should rather stroll around the local eateries to try this traditional delicacy.
Sha Phaley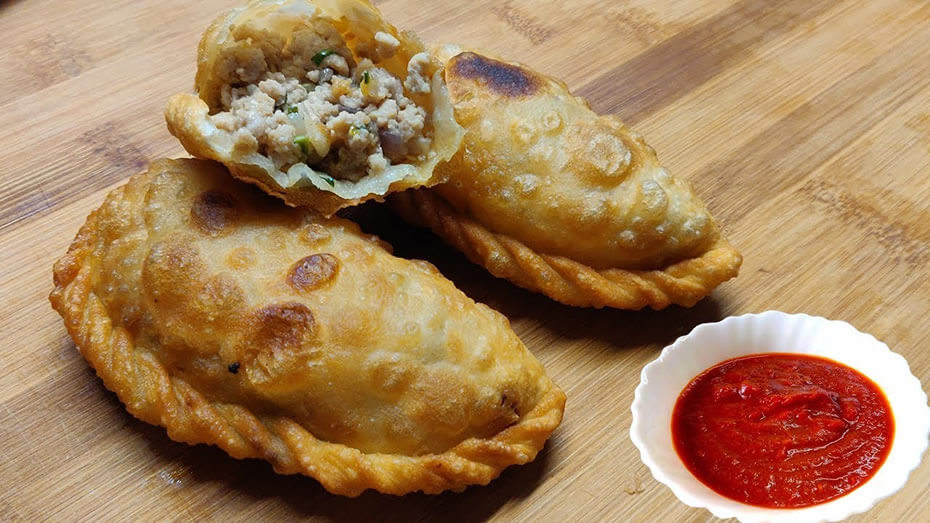 Sha Phaley is another Tibetan cuisine widely loved in the Sherpa community. In simple terms, it is bread or a dough stuffed with a mixture of minced meat, cabbages, and spices.
Commonly, Sha Phaley is deep-fried and fashioned into a semi-circular shape. In Nepal, these juicy meat pies are served with spicy tomato dipping.
Although some people do eat Sha Phaley for breakfast, they are more favorable for lunch or dinner. Most teahouses and lodges in Everest do not serve this meal. If you want to try Sha Phaley while trekking to Everest Base Camp, you should stroll around the small eateries in Lukla or Namche Bazaar.
Rikikur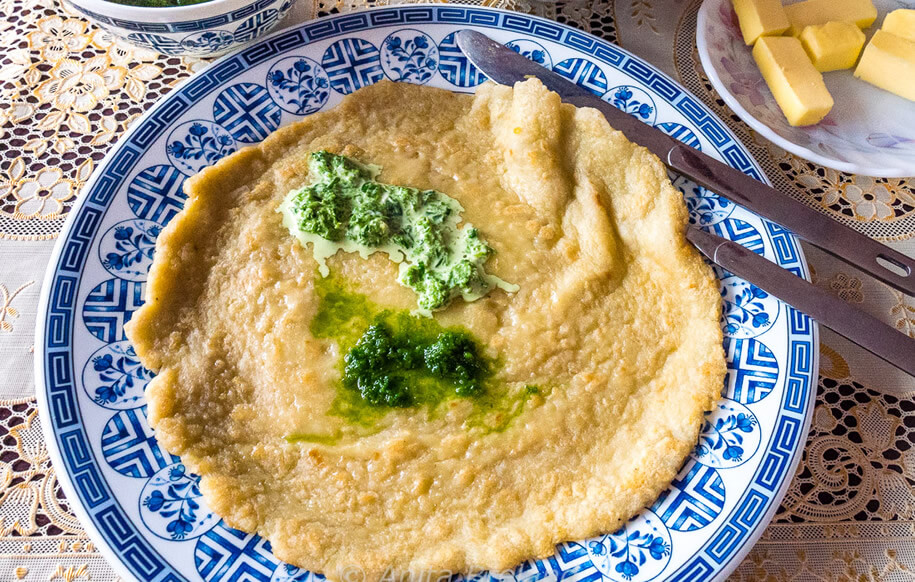 Rikikur is a typical breakfast dish for Sherpas. Often regarded as the Sherpa pancake, it is made by mixing grated potatoes and flour. In the Sherpa language, 'Riki' translates to potatoes, and 'kur' means roti or bread.
Usually, Rikikur is served with a small chunk of yak cheese or butter. But sometimes, this dish is also served with a spicy dipping sauce. Although this dish is commonly served as breakfast, you can eat it at any time of the day. If you do not prefer heavy lunch or dinner, you can try it as an alternative.
A handful of teahouses and lodges in the lower section of Everest Base Camp Trek offer Rikikur on their menus.
Tingmo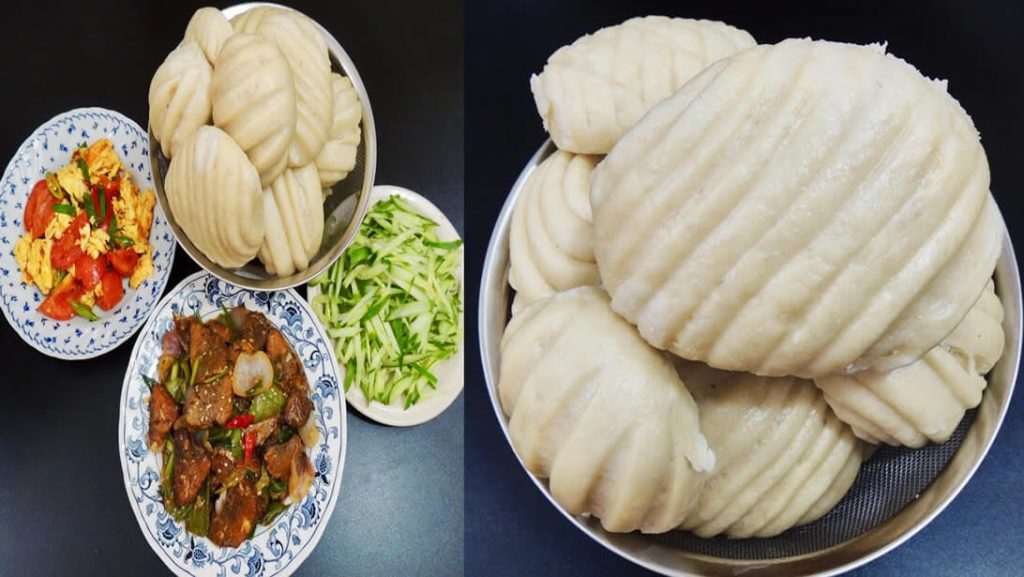 Tingmo is one of those local dishes you must try while trekking to Everest Base Camp. It is a fluffy steamed bread made out of wheat flour dough. Unlike regular momo, Tingmo does not contain any filling. Thus, it is often regarded as a Tibetan steamed bun by people outside the Sherpa community.
Tingmo, on its own, has a bland taste. Hence, it is commonly served with some sort of curry, dipping sauce, or hot drinks. Only a few teahouses along the Everest trail offer Tingmo on their menus. You'll have a relatively better chance of finding this dish in small eateries around the region.
Kur (Tibetan Bread)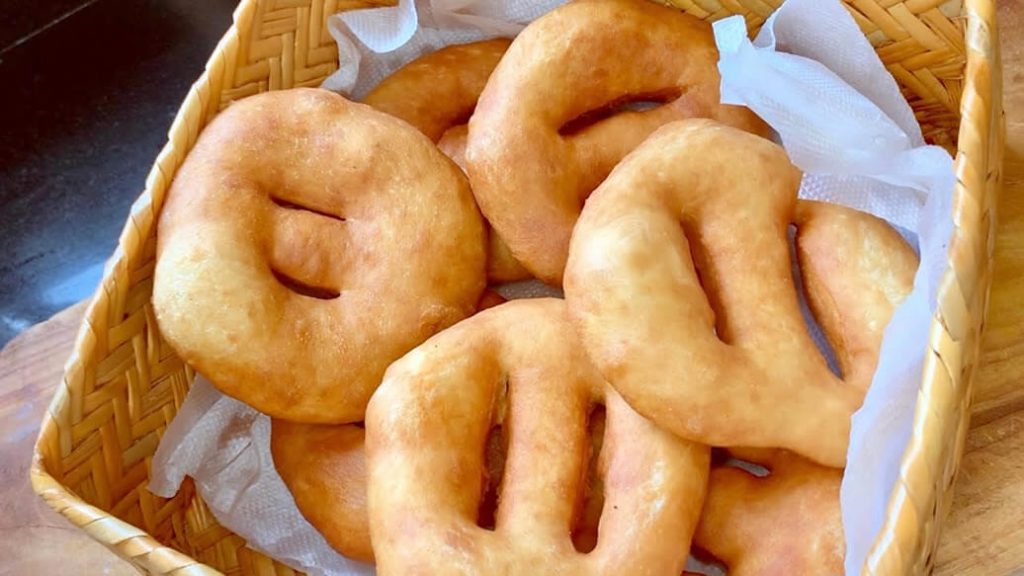 Kur or Tibetan Bread is a staple meal in Sherpa households in the Himalayas. It is a flat, round bread cooked in a frying pan. The primary ingredients to make this flatbread are flour dough and baking powder.
Traditionally, Sherpas eat Kur at breakfast. But it goes well at the time of the day. They often serve this dish with butter, jam, vegetable curry, or chili dipping sauce.
Almost all teahouses, lodges, restaurants, and local eateries in the Everest region include Kur in their breakfast menus. Compared to other foods, this flatbread is relatively cheap and filling, making it an ideal choice for long mountain treks.
Su-Chya (Butter Tea)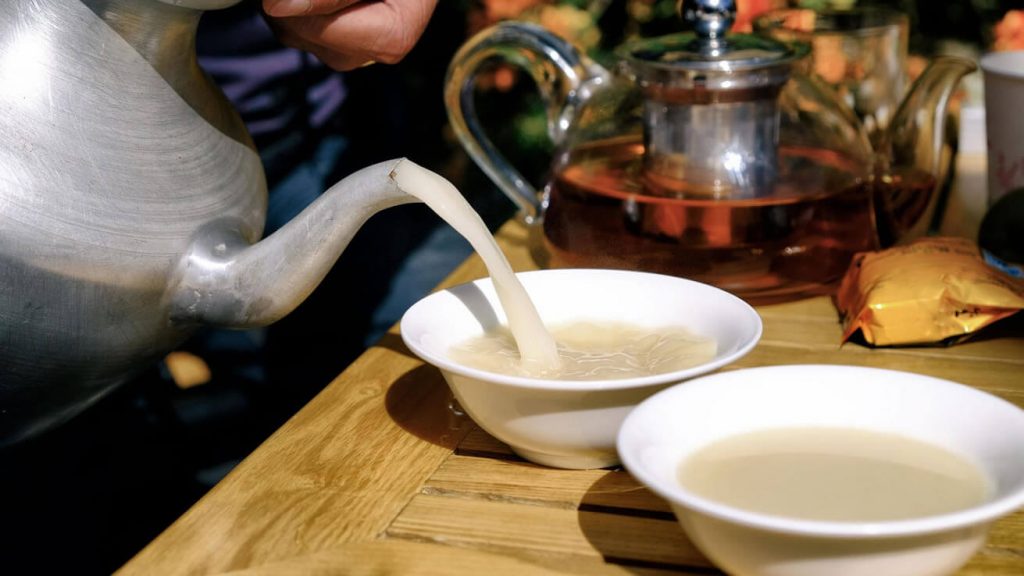 Butter Tea, locally known as Su-Chya, is a popular beverage among the people living in the Himalayas. Drinking Su-Chya is a regular part of Sherpa's lifestyle. The primary ingredients to prepare butter tea includes tea leaves, yak butter, a pinch of salt, and water.
You can enjoy a bowlful of this beverage at almost every teahouse and restaurant along the trails. Since butter is one of the primary ingredients of Su-Chya, it provides plenty of caloric energy suitable for high altitudes. It may also help to naturally prevent chapped lips which is quite common in high-altitude treks.