Nepal's mountains and its foothills offer innumerable outdoor opportunities for tourists. The most popular activity among tourists visiting this Himalayan country is trekking. Home to eight of the 14 highest mountains in the world, Nepal has some of the best trekking trails in the world. More than fifty percent of the tourists visiting Nepal annually choose to trek along its high mountain trails.
However, not all make it to their destination. A considerable number of trekkers are compelled to give up their trek due to fitness issues or injuries. One has to remember that fitness is the key to a successful Himalayan trek. The better shape you are in, the more enjoyment you are going to have. Therefore, if you are planning a trek to Nepal, you have to be in top physical condition before embarking on your adventure. But how do you get fit for trekking in Nepal?
First of all, you need to have a training schedule and stick to it. Start your training at least four months before your scheduled departure. If you can, you can start training six months prior to your trek. The fitter you are, the easier it will be for you on the trail. Once you draw up your fitness routine, make sure to follow it religiously. Here we share some tips on 'How to get fit for trekking in Nepal – Best Training for Mountain Trekking'.
So get ready, steady, and go!
How to get fit for trekking in Nepal – Best Training for Mountain Trekking
Book Your Trek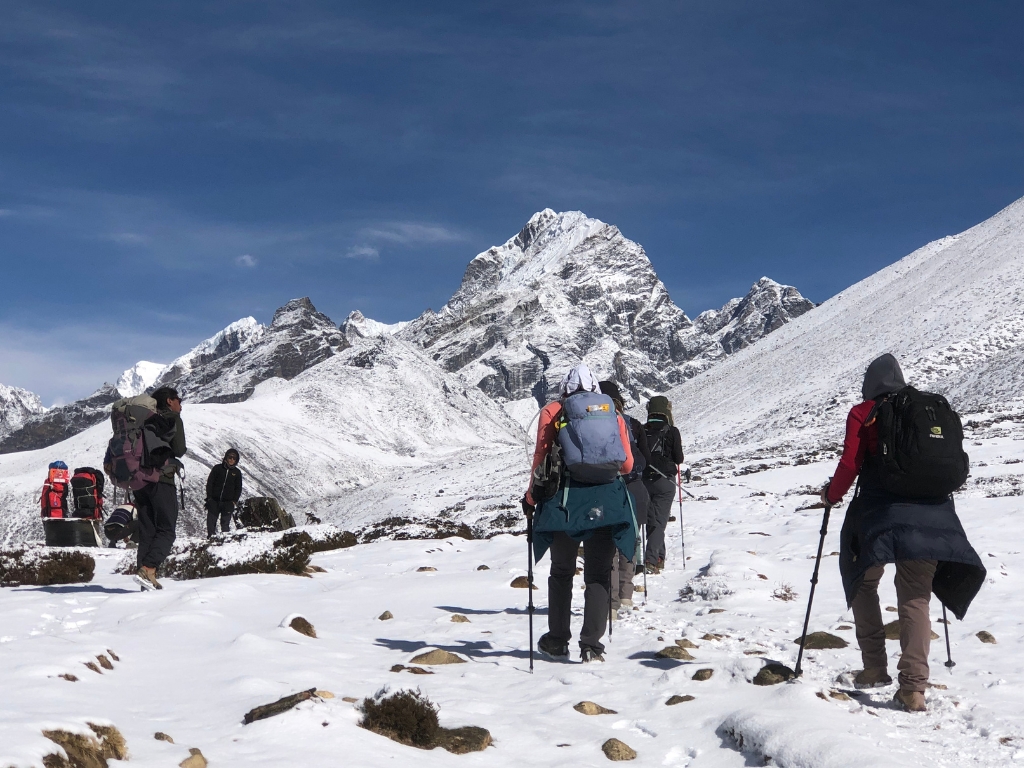 First and foremost, make sure that you have a trip ready. If you have a habit of putting things off until the last minute, booking your flight tickets and trek in advance will be motivation enough to kick-start your training. Having a fixed date and plan ready for your adventure will encourage you to set a fitness goal and work towards it dedicatedly. Moreover, when you have paid for a trip, you will be compelled enough not to make excuses and start training for your trek.
Build up Your Endurance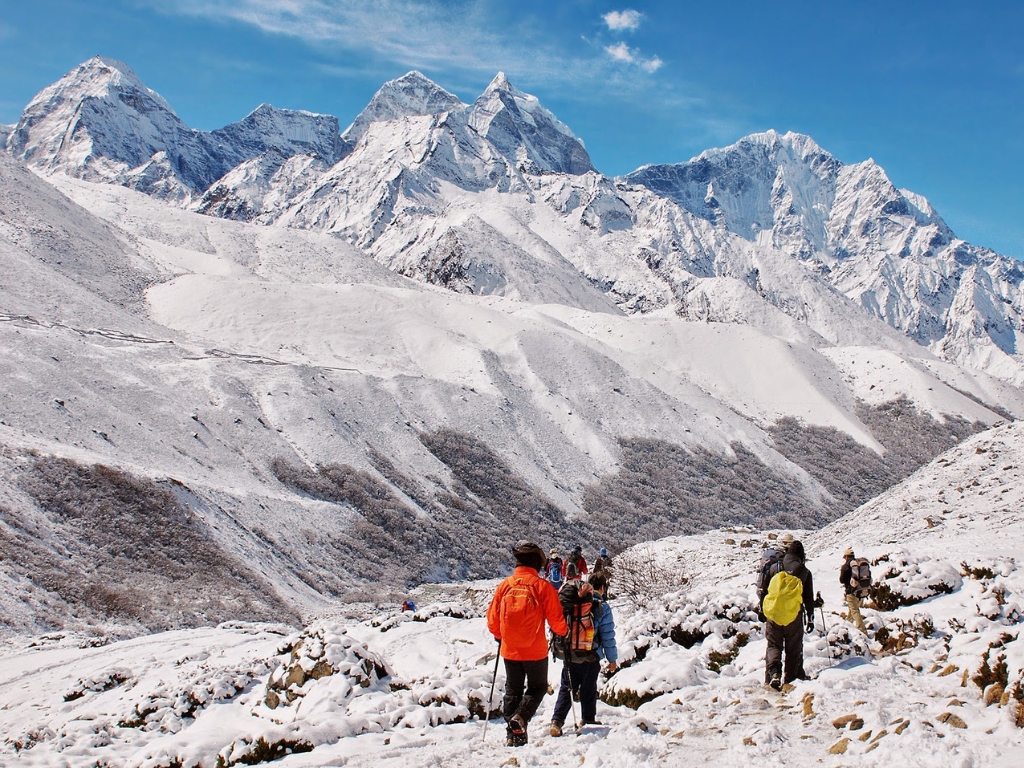 Most treks in Nepal are high-altitude treks that take you to an elevation of 4000 meters and more. The very popular Everest Base Camp Trek reaches a height of 5545 meters above sea level at Kala Patthar. The air gets very thin, and breathing becomes difficult at high altitudes. Having a strong heart and lungs is important to survive in such conditions. Cardiovascular training is a must if you want to trek along the foothills of the high mountains.
Include some intense cardio exercises in your training regimen. You can take up jogging, cycling, swimming, and rowing. Doing some high-powered aerobic exercises will build up your heart and lung capacity. The stronger cardiovascular training you have, the better you are going to feel when the air gets thin and your breathing becomes heavy at high altitudes.
Strength Training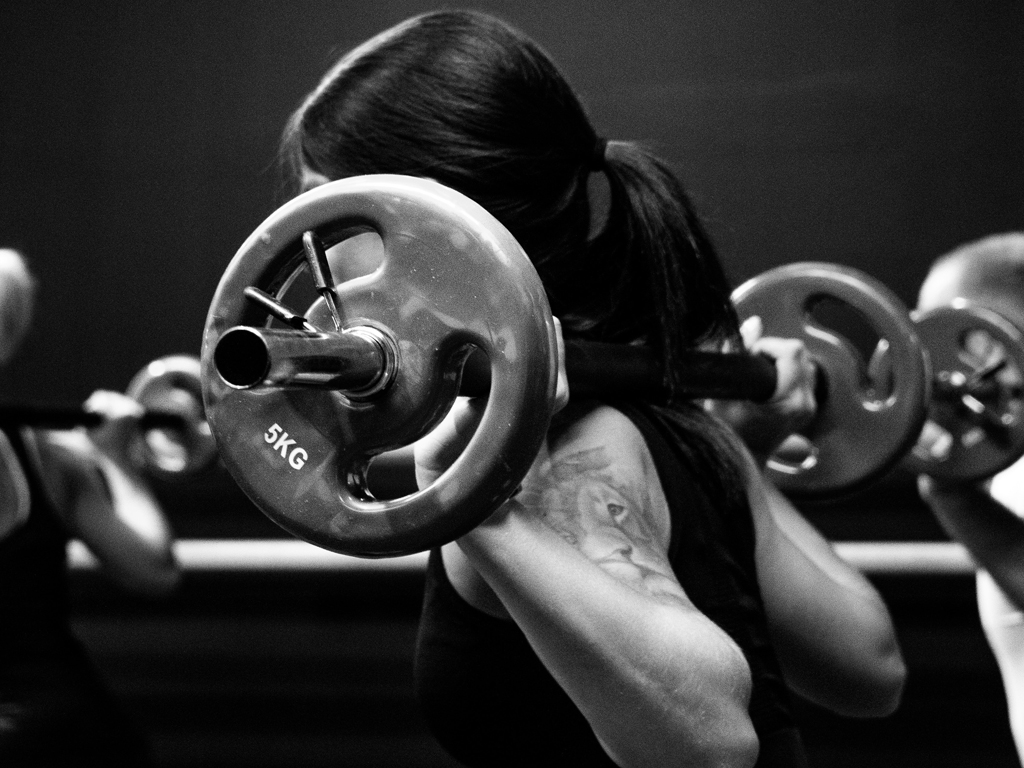 Trekking involves long days of walking on mountainous terrain (up and down) for multiple days. On average, you will have to walk 5–6 hours each day. The steep ascents and descents can be very hard on your leg muscles. Strength training will build up your muscles, especially of the legs, core, and lower back. Strength training will also minimize muscle soreness and help you feel good even after multiple days of walking.
To improve your leg strength, you need to work on your thigh muscles, quadriceps, and hamstrings. Also, you need to work on the muscles around your hips and glutes. All these muscles will support you as you go up and down the trail. Including multiple sets of squats, lunges, deadlifts, glute exercises, step-ups, step-downs, etc., will go a long way in building up your leg and lower back muscles.
Go Hiking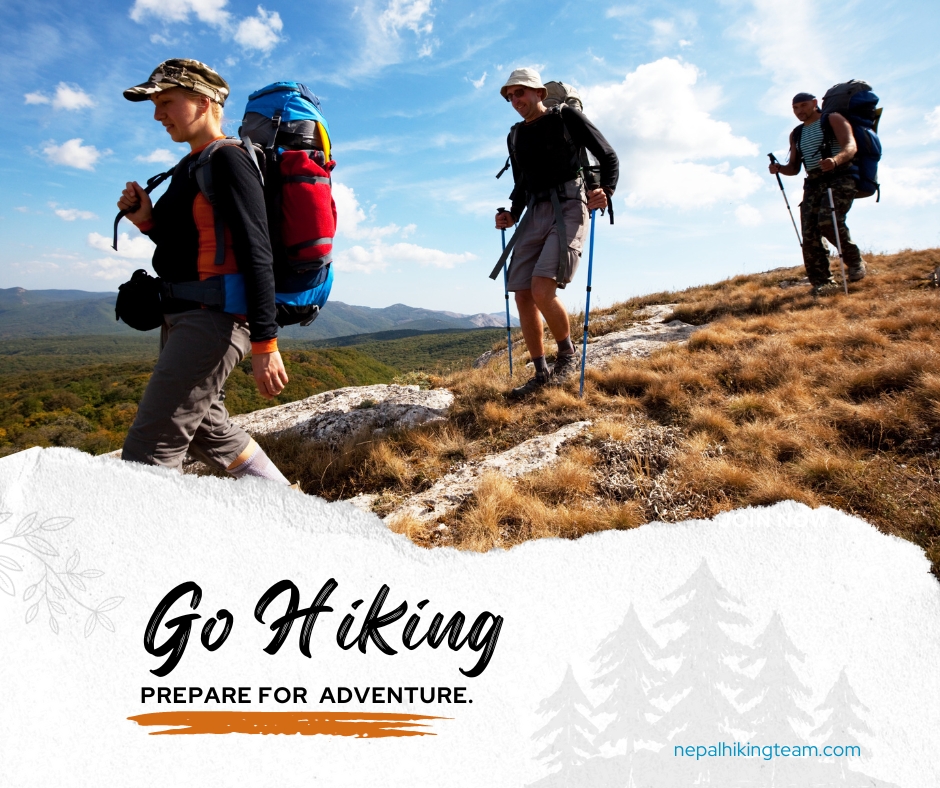 Hiking regularly before the start of your trip will build up your muscular strength as well as make you more experienced. Going on hikes will teach you how to use your body and hiking equipment efficiently. By taking to the trails, you will learn how to balance yourself and react to the unstable terrain. The hiking experience will help you prevent falls and injuries while you are walking over loose rocks, slippery ice, and snow.
Go on your hikes carrying a backpack with the weight you will carry during your Nepal trek. Choose trails that are hilly and have plenty of ascents and descents. Practicing walking over hilly terrain will be good enough preparation for your Himalayan trek.
Breathing Exercises
Try to learn breathing techniques that will help improve your lung capacity. At high altitudes, the air is thinner and the oxygen is lower than at sea level. While trekking at high altitudes, you will usually suffer from shortness of breath and tiredness. But if you have mastered the art of correct and conscious breathing techniques, chances are you may not have to huff and puff on the mountainous trails.
Learning 'pranayama,' a breathing technique followed in yoga, can be really helpful for your high-altitude trek. Practicing the different breathing exercises under 'paranayama' can improve your blood circulation and regulate your body temperature.
Eat healthy and boost your immune system- Having a healthy immune system will go a long way in ensuring that you do not fall sick during your trek. If your immune system is strong, you can fight off minor infections and disease-causing germs. The trekking trails are a gathering place for trekkers from all over the globe. There will be people who will be bringing with them germs from their own country. The freezing cold, dust (at some of the trails), and unsanitary conditions of shared toilets (at some places) could also add to your woes.
You can protect yourself if you have a robust immune system. To boost your immunity, first and foremost, you need to eat healthy. Include lots of fresh vegetables and fruits, poultry, and dairy products in your diet. Try to minimize your intake of fast food and processed products. Having a rich protein-based diet (meat, dairy, beans, etc.) will help you build your muscle mass. Load up on Vitamin C and D, magnesium, and zinc to help you fight off common cold and respiratory infections.
Break in your hiking boots and try out your gear – If you have a new pair of trekking boots, you can try to break them in and mould them to the shape of your feet before the start of your trip. Nothing is more uncomfortable than putting on a pair of shoes that pinch.
During a long trekking adventure, having a comfortable and light pair of footwear is really important. Hobbling around uncomfortably for hours on end while wearing a brand-new pair of hiking boots should not be an option. Therefore, break in your new pair of hiking boots before the start of your journey. Go hiking wearing the hiking boots you will wear during the trek.
It's important that you break in your new boots to make them comfortable enough for trekking. You will also get used to the weight of the boots. You can wear them on your hikes and walk and jog around wearing them. You can also try out the clothes you will wear during your trek to find out how comfortable they are.
Bonus Tips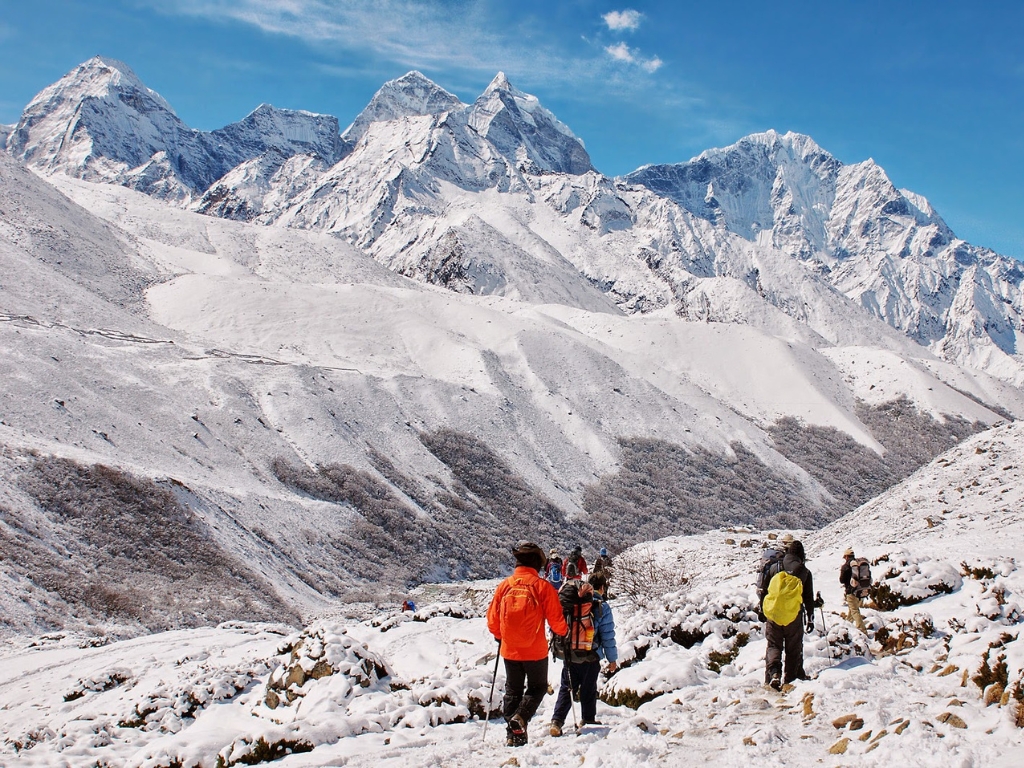 Additionally, there are things you can do during the trek to help you avoid altitude sickness, like proper acclimatization, keeping yourself hydrated at all times by drinking lots of fluids, keeping your pace slow and steady, and having a good rest. Stretching your body before and after the day's trek will minimize the risk of injuries and muscle spasms.
If you are on a trek in Nepal, acclimatization is really important. Add some rest days to your itinerary so that your body can acclimatize properly. Your body should gradually get used to the rarefied air in the high mountains. Going up too fast and too soon is one of the major causes of AMS (altitude mountain sickness).
You should not treat your trek as a race and should walk at your own comfortable pace. If you go too fast, you will put too much stress on your heart and lungs, and they may collapse due to overexertion. Remember, there's very little oxygen at higher elevations, and your heart and lungs must do more work to pump oxygenated blood into your system. Taking it slow and steady will keep your heart and your lungs working normally and will help you reach your goal without any physical discomfort.
Having a positive attitude and mindset also helps. Especially during intense high-altitude treks like the Three High Passes Trek and Manaslu Circuit, mental and physical strength are required in equal measure to complete the trek. If you are in good shape, physically as well as mentally, you will enjoy your trek, and you won't suffer much on the trail.
How to get fit for trekking in Nepal? FAQS
Here are some of the common queries that the Nepal Hiking Team receives about How to get fit for trekking in Nepal - Best Training for Mountain Trekking.
Q1. How to train for the Everest Base Camp Trek?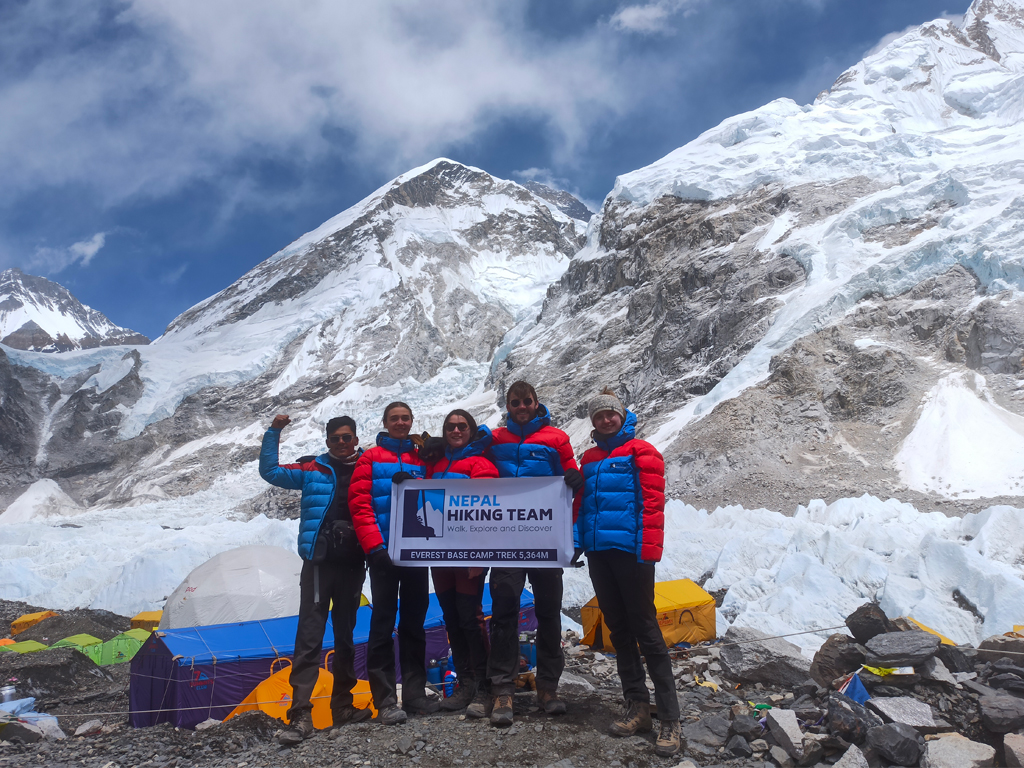 Ans: The Everest Base Camp Trail is the most popular trekking trail in the Nepal Himalayas. If you are a passionate hiker and are visiting Nepal for the first time, chances are you may choose the Everest Base Camp Trek as your first destination in this Himalayan country. The EBC Trek takes you to the base camp of the mother of all peaks, Mount Everest. The highest point you will reach is Kala Patthar, which lies at an elevation of 5545 meters above sea level.
[block](,2)
To do this trek, you should have some general hiking and camping experience. If you have outdoor experience hiking up mountainous trails, you can comfortably do this trek. You should also be healthy and in reasonably good shape.
Depending on your experience level, you may find this trek moderately difficult or highly strenuous. The terrain is non-technical and walkable. However, the high altitude and lack of oxygen make the trek difficult. En route, there are some steep inclines, but many are gradual.
This is a slow-paced trek, but you will be trekking for multiple days at high altitudes. On most days, you will be walking for 6 to 7 hours. Thus, to prepare your body for that high altitude pressure, we recommend you start training for your trek at least four or five months before your trip. You can include running, swimming, and hiking in your daily routine to prevent cardiovascular issues while trekking. You can work on your leg muscles and build up your core strength.
You can also learn proper breathing techniques before you head out on your trek. Learning to breathe properly will increase your lung capacity, and you can have a better trekking experience.
Q2. How to train for the Manaslu Circuit Trek?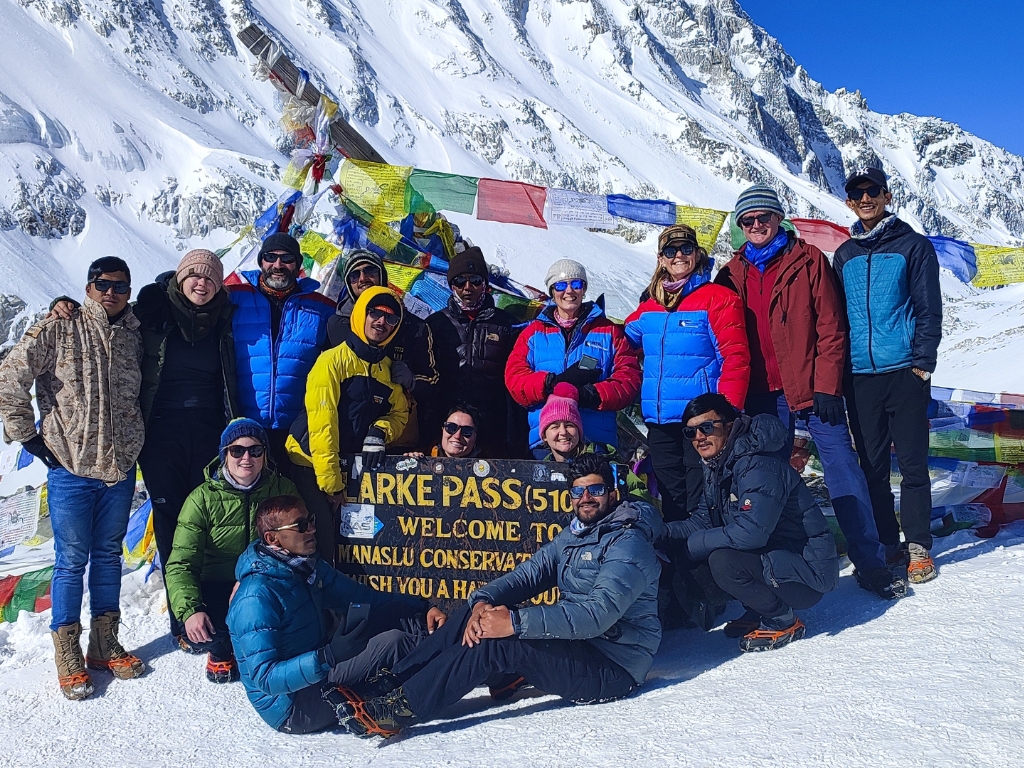 Ans: The Manaslu Circuit Trek takes you to the foothills of the world's eighth-highest mountain, Manaslu. It takes around two weeks to complete this trek. The Manaslu Circuit Trek is an intense high-altitude trek where you walk from an elevation of 730 meters to 5,135 meters above sea level.
The most difficult section of this trek is the crossing of the Larkya La Pass, a high mountain pass located at an altitude of 5135 meters. Each day, you must put in 5 to 6 hours of trekking. The terrain of the Manaslu Circuit is diverse and moderately difficult for trekking. You will cross rivers, deep gorges, paths carved on rocky cliffs, and lush forests. There will be snow and ice at the higher reaches, for which you should be prepared.
[block](,60)
Build up your endurance by going hiking and carrying a daypack with some weight on it. It will help you to know what it feels like to carry that weight. Include cardiovascular training, as it improves the health of your heart and lungs. In the high mountains, there's less oxygen in the atmosphere. The heart has to work a lot harder to get that oxygen around your body. Including cardio workouts in your training regimen will improve the health of your heart and lungs.
Before the start of your trek, you need to boost your immune system by exercising daily and having a balanced diet. It's no secret that being in the mountains at high altitude can be very demanding physically. You can build up your physical strength by taking up fitness training at least three months before your trek.
Work on your leg muscles and build up their strength. You can lift weights and do lunges, leg presses, and leg extensions. You can climb stairs and do some high-powered cardio exercises daily. Do not forget to eat healthy, too. Your muscles will be working overtime during your trek. Therefore, include lots of protein in your diet to build up your muscle mass.
Q3. How to train for the Annapurna Circuit Trek?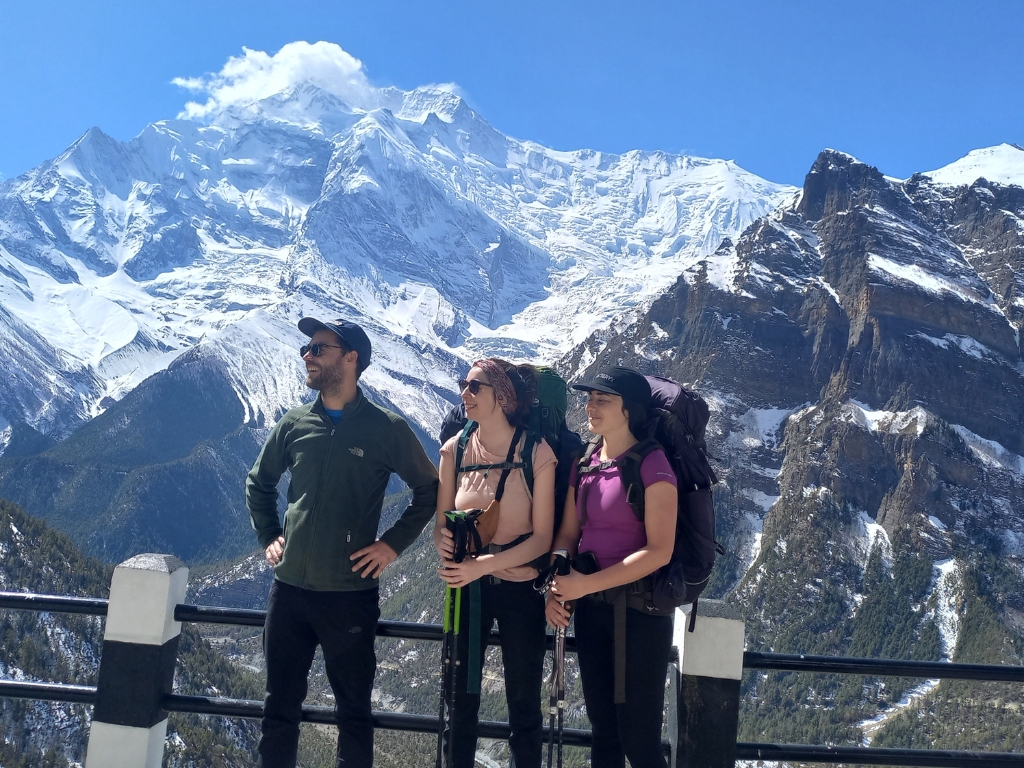 Ans: The Annapurna Circuit Trail is Nepal's oldest commercial trekking trail. It has been more than fifty years since the trail was first opened to tourists. Since then it has managed to become one of the oldest and the most popular trekking trails in the world for tourists.
However, the old route has seen some changes in the last couple of years with the construction of a road connecting the mountain villages with Pokhara, the largest city in the Annapurna Region. Earlier, it used to take almost a month to complete the whole circuit. But now, with the construction of the road, there's an option to take a drive to Chame or Manang, thus shortening the total number of trekking days.
[block](,42)
If you wish, you can follow the old route and start your hike from Besisahar, but this involves sharing the trail with noisy dust and smoke spewing vehicles. But keeping aside the traffic nuisance, the route still has its charm. The windswept valleys, the picturesque apple orchards, the diverse culture and the warmth and hospitality of local villagers will bowl you over while you walk on the Annapurna Circuit. The highest point of the Annapurna Circuit is Thorung La Pass, which stands at an altitude of 5,416 meters above sea level.
In order to be physically fit for the Annapurna Circuit, you need to take up cardiovascular training and build up your stamina. You should also work on making your legs and core muscles stronger. Hiking in similar terrain is the best way to train for your trek.
Going on long hikes and carrying a backpack at least twice a week can be helpful. The Thorung La pass crossing will be on snow and ice. If it snows where you live, try to practice walking on ice and deep snow. Experiencing similar conditions will help you on your trek. And yes, start training for your trek at least three months before your trek begins. The fitter you are, the more chances you have of enjoying your trek.
Q4. How do I train for the Upper Mustang Trek?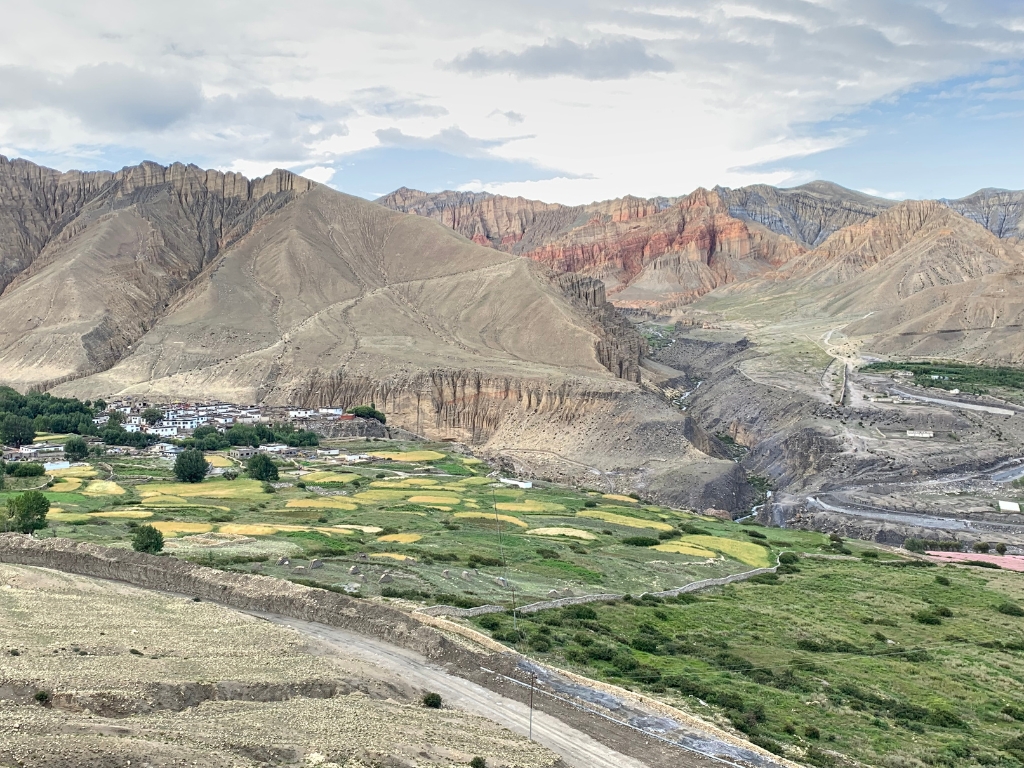 Ans: The Upper Mustang Trek takes you to one of the most remote Trans-Himalayan high-altitude desert regions in the world. You will be walking in an arid and barren terrain filled with loose stones, dirt, and sand. The trail goes through vast ravines and secluded high valleys. This is a multi-day trek of moderate difficulty, involving 5 to 7 hours of trekking each day.
[block](,66)
To prepare for your trek, you can do some intense cardiovascular training like jogging and aerobic exercises. Regular cardiovascular training will improve the health of your heart and lungs. Also, be mindful of your diet and try to boost your immunity by eating a balanced diet. You don't want to fall sick on the trail because of a weak immune system, do you? Make it a point to detox your body by eating healthy food (lots of greens, fresh fruits, and homemade food).
The steep ascents and descents will be hard on your legs. Therefore, do some strength training exercises, especially for your legs. Go hiking at least twice a week and choose a trail with lots of uphills and downhills. If there are no hiking trails close by, you can try climbing up the staircases of tall buildings. Spending some serious time on a treadmill will also help you build up your leg muscles and stamina.
Q5. How to train for the Annapurna Base Camp Trek?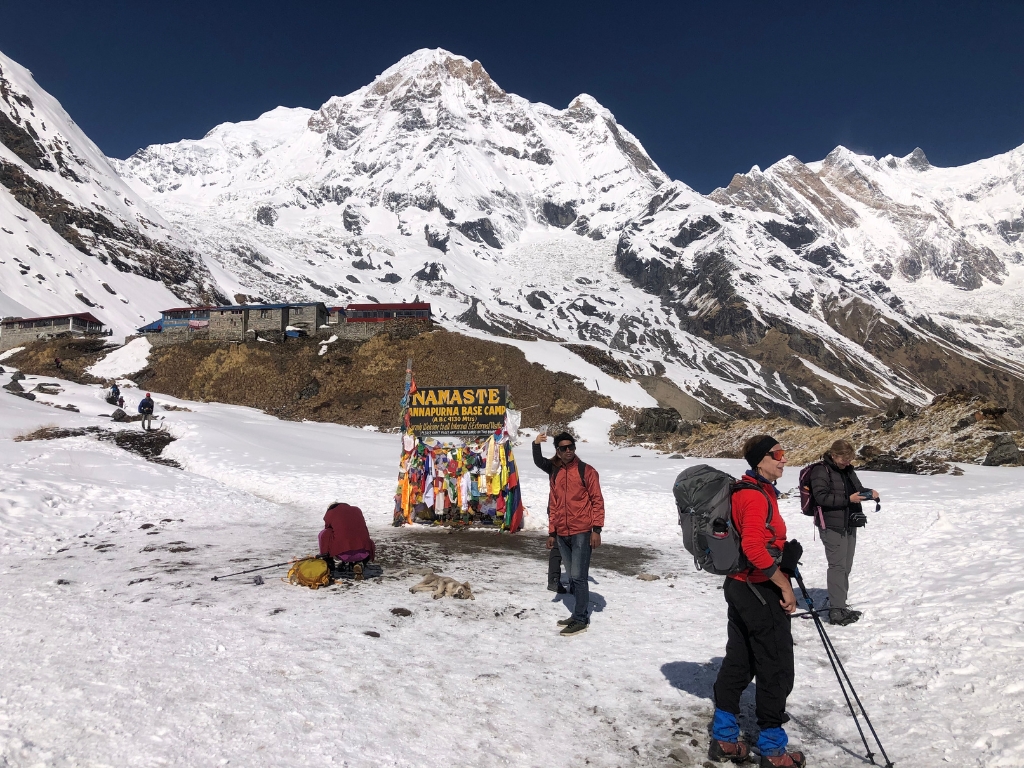 Ans: One of the most popular treks in Nepal, the Annapurna Base Camp Trek, takes you to the foothills of the Annapurna Massif. The trail is well marked and well maintained, and no technical skill is required. High altitude is not an issue on this trek, as the maximum altitude reached is 4131 meters. What makes this trek difficult is the long and steep stone staircases that you will have to climb en route.
[block](,39)
Unlike other high-altitude Himalayan treks, this trek is also recommended for novice trekkers. If you are a beginner, bear in mind that it's essential to have some general outdoor experience before embarking on your trek. You should know how to handle yourself in the mountains and the varied weather conditions. There could be snowstorms out there, and you should be prepared to walk in adverse conditions.
Core strength, balance, and stability are needed to walk on those steep flights of stairs. Try to work your body muscles and legs by including squats, deadlifts, and lunges. Also, work on your flexibility by adding some stretching exercises like pilates. You need to keep your muscles loose so that they don't get stiff during the trek. Eat healthy and boost your immunity before you leave for Nepal. Remember, you will be exposed to all sorts of germs and maybe unsanitary conditions during your trip. If you have a strong immune system, you will be able to fight off pesky bugs that cause some common illnesses. Also, build up your endurance by running and going on long hikes.
Conclusion
Physical as well as mental fitness is an important requirement for trekking in Nepal. You should have a good physical training strategy in place before your trek. It's important that you start training for your trek in earnest at least three or four months before your scheduled departure. You can start earlier too if you feel motivated enough. The more effort you put in, the greater the chances you have of completing and enjoying your trek.
When you are fit and have the required strength to make it through the high-altitude zone, you will be able to enjoy your trek without any stress or pain. The Nepal Hiking Team is always ready to address your concerns and help you prepare for a safe and successful trek. If you have any queries related to trekking in Nepal you can reach out to us on our social media pages or via email.