If you are interested in trekking but lack comprehensive knowledge about it, do not fret! Our article discusses the 7 Best Easy Treks in Nepal, providing an introduction to these hiking trails suitable for travelers of all ages. We will explore how novice trekkers can embark on these trails.
Before delving into other aspects of this article, let us first understand why Nepal is an ideal destination for rookie trekkers. It is no secret that Nepal is renowned for its lofty Himalayas, making it a popular choice for trekking and hiking activities. Furthermore, Nepal's hiking trails have played a significant role in preserving its unique culture and showcasing the grandeur of the Himalayas to the world.
Consequently, Nepal offers a range of trekking routes for those seeking proximity to the mountains. Some trails are relatively easy, catering to beginners with no prior trekking experience, while others present more challenging routes, promising an immensely exhilarating experience.
Moreover, Nepal not only offers a multitude of marvelous trekking trails for individuals but also ensures that each route provides a remarkable experience for trekkers. Furthermore, all of Nepal's trekking routes embrace rich cultural heritage and natural beauty. Additionally, these programs are meticulously executed, taking into account all aspects of trekking. Consequently, the following programs are our highly sought-after easy treks in Nepal.
Without further ado, let us now explore the seven easy treks in Nepal and their appealing features.
Everest View Trek – The best short trek in the Everest region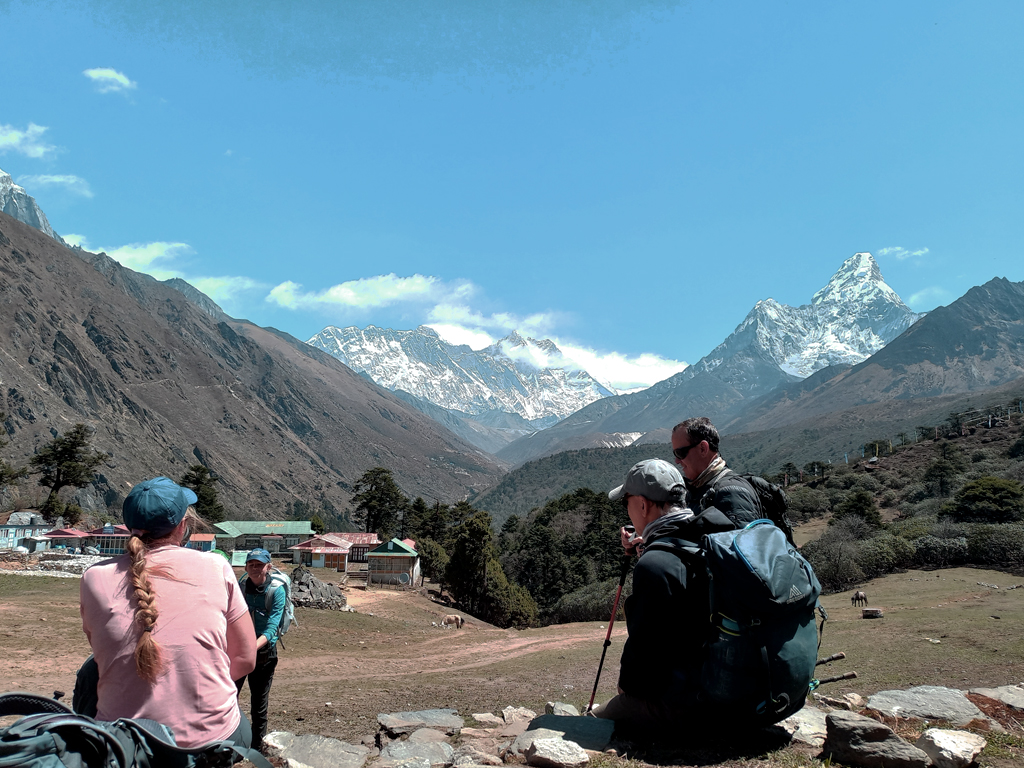 Maximum Elevation: 3860 meters, Tengboche Monastery
Highlights of Everest View Trek
An exhilarating flight experience to Lukla
Immaculate up-close scenes of the massive mountains of Everest massif
Experience the unique Sherpa culture and explore the vibrant town of Namche
Enjoy the enthralling natural scenes of Khumbu Valley
Visit the grand Tengboche monastery
The thrill of finding yourself on the Everest View trek, surrounded by dense forests, is unparalleled. As soon as you take off from Lukla Airport, you are met with towering mountains that form a breathtaking backdrop to the bustling town of Lukla. Ama Dablam, Nuptse, Thamserku, Mt Lhotse, the mighty Everest, and other majestic peaks stand tall against the backdrop of the blue skies. The locals warmly welcome you with shy smiles as you continue your journey.
The trek to Namche from here is truly exhilarating! The path leads you through lush alpine forests and narrow trails carved on the edge of hills. Along the way, you'll encounter several thrilling suspension bridges adorned with prayer flags. Additionally, the trek takes you through small Sherpa villages, allowing you to experience the local culture. Don't forget to visit the Everest View Hotel, where you can capture the awe-inspiring sight of the surrounding peaks.
Continuing on, the trek guides you to the Tengboche Monastery from Namche Bazaar. Tengboche is a sacred religious site and the most significant shrine in the entire Khumbu valley. Overall, this journey is relatively easy and suitable for travelers of all ages. The trek progresses at a leisurely pace, without any sudden gain in altitude. As a result, anyone with a budding interest in hiking will undoubtedly find joy in this accessible trekking route in the Everest region.
Langtang Valley Trek – A less busy trail near Kathmandu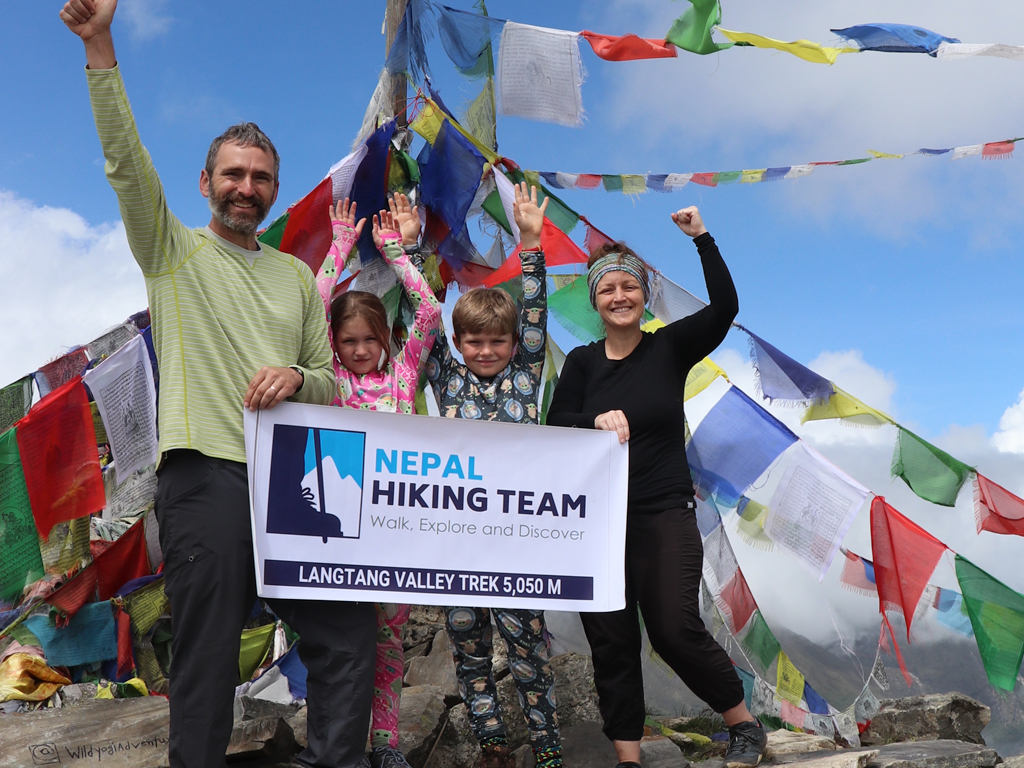 Maximum Elevation: 3798 meters, Kyanjing Gompa
Highlights of Langtang Valley Trek
A rewarding trek through a less busy Himalayan trail
An ideal region for a quick escape to enjoy the glorious Himalayas of the Langtang region
Wonderful Tamang and Sherpa culture
Stunning rock landscape and vast pasturelands
Plenty of opportunities to catch sight of various species of birds
A short hike to Kyanjin Ri brings you a close view of the jagged mountain peaks of the Langtang range
The Langtang Valley Trek is an incredible destination for individuals who enjoy exploring less crowded trails amidst high alpine pastures and breathtaking mountain views. Navigating these trails provides the opportunity to experience the Tamang and Sherpa cultures, making this short trek in Nepal a guarantee for cultural interactions with ethnic communities.
Spanning eight days, the journey takes you through a naturally diverse trekking route characterized by a steep and narrow valley while passing by several villages such as Syabru Bensi, Mundu, Lama Hotel, and various other small settlements. Eventually, the trail leads to Kyanjin Gompa, one of the prominent attractions along this short trekking route. Surrounded by towering mountains like Langtang Living, Langtang II, Mt Gangchempo, and other majestic peaks, Kyanjin Gompa offers a breathtaking setting. Additionally, the trek provides opportunities to encounter the wild vegetation that is characteristic of this trail.
Furthermore, it falls under the category of easy treks in Nepal due to its gradual increase in elevation. Unlike many other trekking routes in Nepal that feature steep ascents and descents, the Langtang Valley Trek gradually ascends towards the high Himalayas. In conclusion, those seeking an enriching adventure with fewer tourists will undoubtedly appreciate exploring the magnificent Langtang Valley Trek.
Helambu Trek – A journey to the remote social circle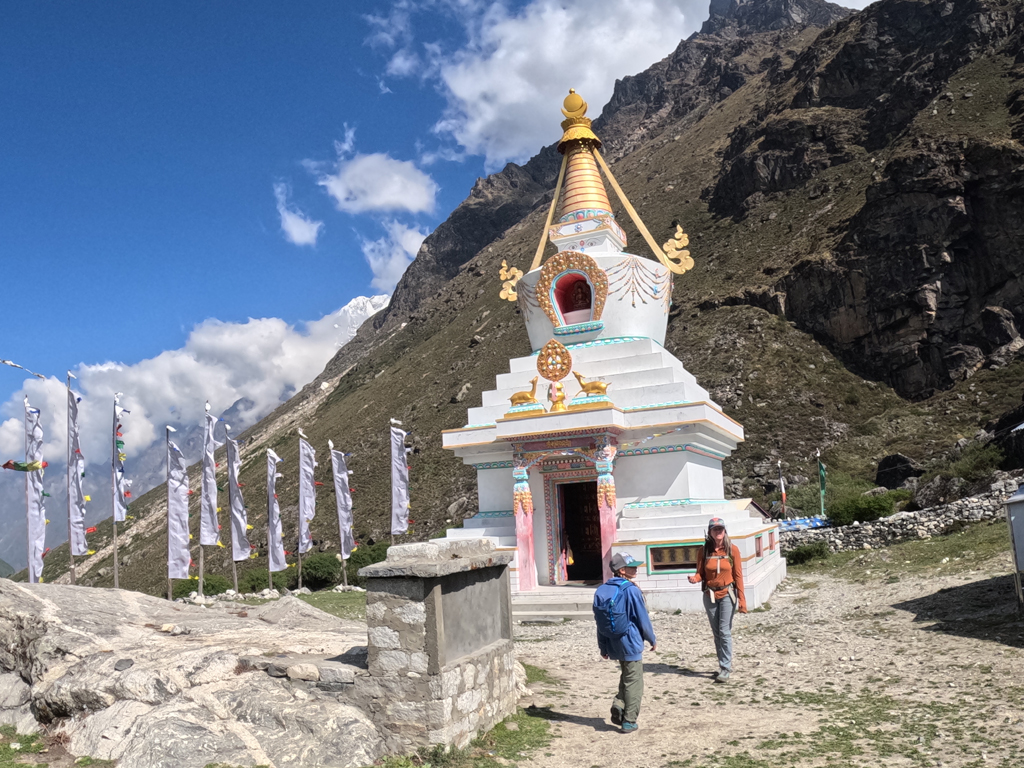 Maximum Elevation: 3650 meters, Tharipati
Trip Highlights of Helambu Trek
Traipse through ethnic villages to meet locals and learn about their culture and traditions.
Views of the Langtang Ri, Ganesh Himal, Langshisha, and many other stunning mountain peaks are breathtaking.
The route goes through a beautiful pine forest in the lower areas, swiftly flowing rivers and abundant greenery.
Discover the natural beauty and well-preserved culture.
The Helambu Trek is a 9-day journey located on the northern outskirts of the capital city, Kathmandu. It offers a unique cultural experience as it involves exploring the remote lifestyles of various ethnic groups in Nepal. This trek takes you on a leisurely walk through terraced fields, dense forests, beautiful meadows filled with flowers, and small villages, all while providing stunning views of the majestic mountains that loom overhead.
The Helambu Trek is a short yet extraordinary adventure in the Langtang region, where one can immerse themselves in the rich cultural heritage and breathtaking natural beauty. It is fascinating to witness the daily lives of the people living in this region, as their way of life differs from ours. This trek provides travelers with a fresh and novel perspective on life, allowing them to explore and appreciate the harmonious interplay between social and natural elements.
Furthermore, this trek is easily accessible on foot and does not involve steep ascents or descents, making it a popular choice for trekkers without prior experience. Many individuals who enjoy leisurely walks and want to avoid challenging terrain thoroughly enjoy traversing this remote route.
Ghorepani Poon Hill Trek –The amphitheater of Annapurna Massif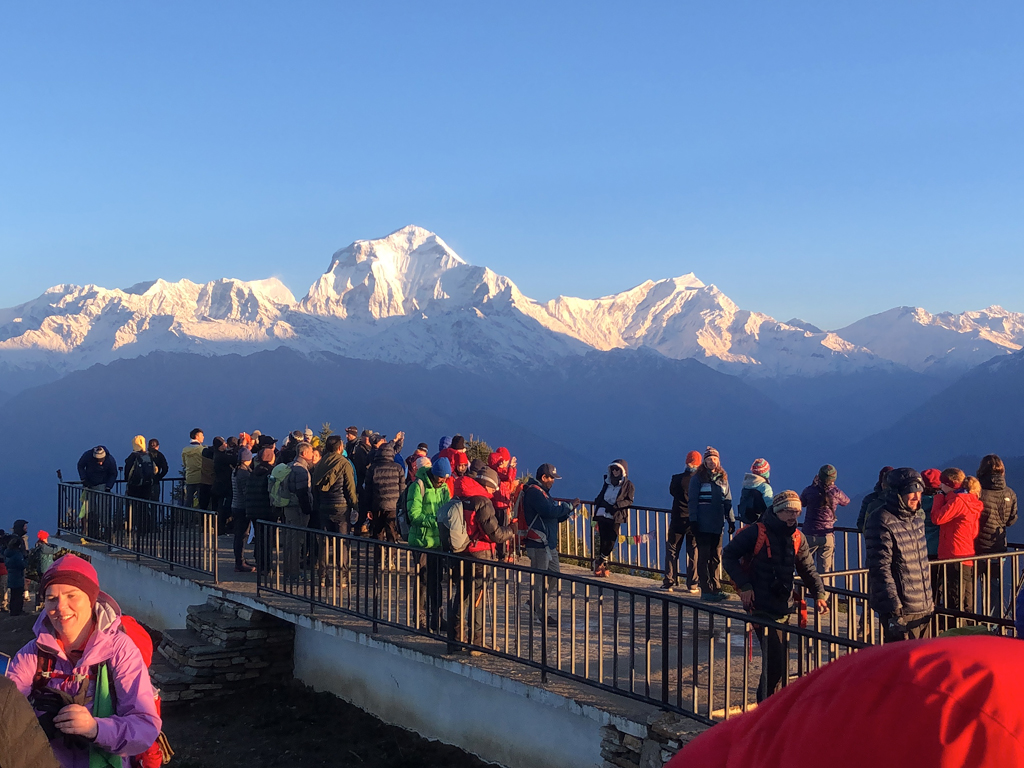 Maximum Elevation: 3210 meters, Poon Hill
Highlights of Ghorepani Poon Hill Trek
Trekking around the Annapurna massif, savoring the perfect views and stunning landscapes
Wake up early in the morning to capture the sunrise view over the massive Annapurna range.
Capture the serene view of smoky clouds covering the Pokhara Valley and high cliffs first thing in the morning.
Enjoy the tranquil essence of Phewa Lake in Pokhara city
Enjoy a relaxing time amidst the quaint nature and rural villages
Blending heart-stirring mountain vistas, enchanting villages, and beautiful forests adorned with a profusion of blooming rhododendrons, the Ghorepani Poon Hill Trek is a beloved choice among trekkers. Suitable for individuals of all age groups, this trek presents a perfect opportunity to explore Nepal's Himalayan region and its exquisite natural scenery. Ghorepani has long been revered as a destination that caters to various types of travel activities.
Traversing the densely forested paths allows everyone to reconnect with Mother Nature, while the people encountered along the way add an extra layer of fascination to the journey. Although the trek does involve hiking steep inclines and descents, it is not overly challenging. It is indeed an achievable trek that showcases breathtaking mountain vistas, captivating landscapes, and diverse ethnic cultures. While certain aspects of the journey may pose a challenge for novice trekkers, our experts have crafted the itinerary with appropriate resting periods, making it entirely feasible. As a result, it is considered a favorable choice for trekkers who are new to this experience.
Mardi Himal Trek – Admirable up-close mountain Scenery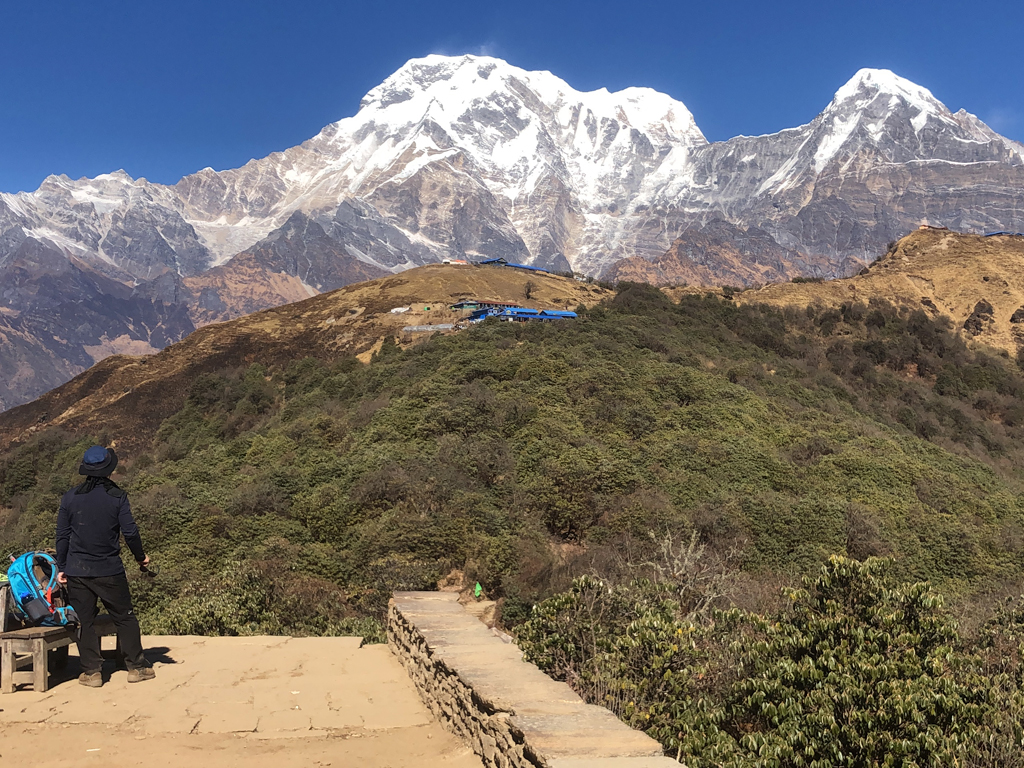 Maximum Elevation: 4200 meters, Upper Viewpoint
Highlights of Mardi Himal Trek
Experience the way of life of the Gurung and Magar ethnic gatherings
Magnificent views of Machhapuchhre Himal, Mt. Himchuli, and the Annapurna South
Mardi Himal Base Camp and Mardi Himal High Camp
An empty trail to enjoy
Navigating through a path wealthy in natural resources
The Mardi Himal Trek is a lesser-known and relatively new trekking route in the Annapurna region. It offers a tranquil journey to breathtaking viewpoints on the slopes of Mt. Machhapurchhre. The trail meanders through sparsely populated villages and impressive lush sub-tropical forests. This easy trek provides picturesque natural beauty, with deep valleys and majestic mountains as a backdrop.
The path showcases awe-inspiring mountain vistas and magnificent scenes. It passes through Pothana and Deurali before reaching Forest Camp. From there, it leads to the stunning towns of Ghandruk and Chhomrong. Overall, it is an incredibly adventurous journey that takes you through a remote area known for its spectacular natural scenery.
Additionally, the Mardi Himal Trek is a great preparation for high-altitude treks. Among other treks on the list, it reaches the highest elevation. However, the itinerary is designed to suit the strengths of beginners. Therefore, if anyone is looking for a challenging trekking destination, they can start with this journey.
Royal Trek- The classic trek in the foothills of Annapurna Massif

Maximum Elevation: 1730 meters, Syaklung
Highlights of Royal Trek
Hiking through incredible rural villages that showcase great cultural values
Walking with the views of the impressive Annapurna massif in the background
Essentially an easy trek; thus, no need to worry about mountain sickness or difficulty moving forward
An enjoyable natural scenery all throughout the trekking journey.
The trek route is named the Royal Trek because it was once navigated by Prince Charles. It is considered one of Nepal's easier treks, without any altitude-related problems. Although it was a popular trail in the '90s, it is now less traveled. As a result, it is currently free from trekkers who prefer new routes, making it a good choice for those who wish to avoid large crowds.
The trek route takes you through a densely populated rural village, offering opportunities for interactions with the locals. Additionally, you will hike through terraced rice fields and lush forests, with breathtaking views of the Annapurna Mountain Range constantly greeting you.
While social interaction is an important aspect of this journey, you will also be treated to stunning mountain vistas. The trail is well-maintained, and the elevation remains relatively low throughout the trek. Therefore, even beginners can confidently choose the Royal Trek without any hesitation.
Annapurna Luxury Trek: Enjoy the greenery and Himalayas extravagantly.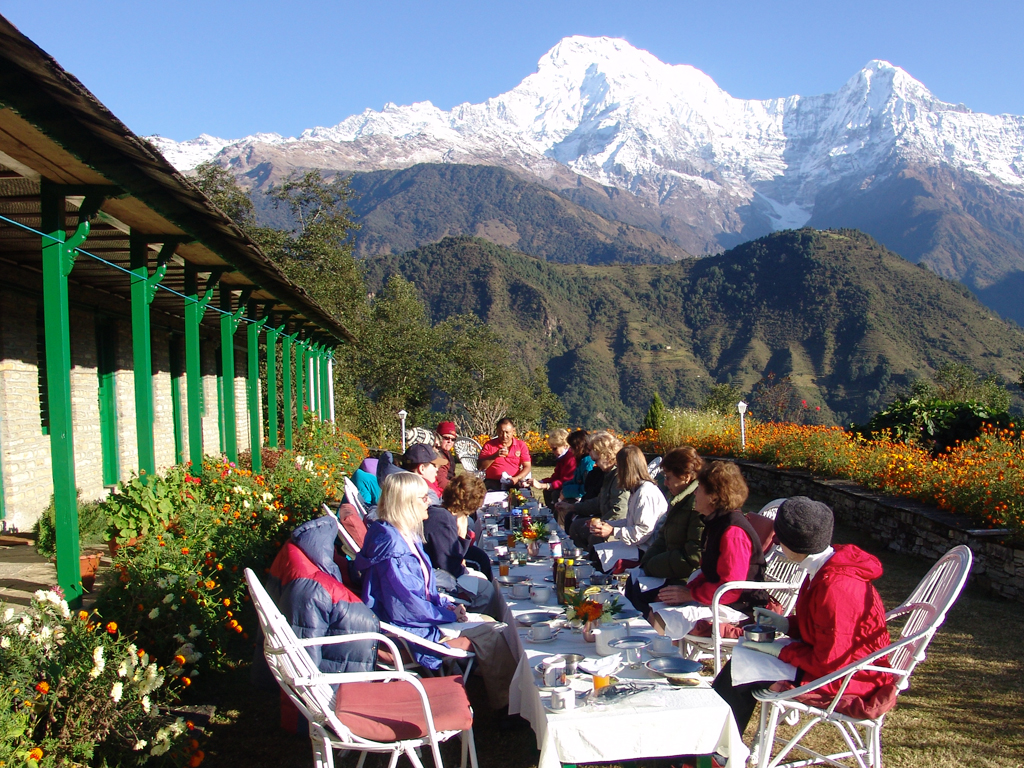 Maximum Elevation: 2012 meters, Ghandruk
Highlights of Annapurna Luxury Trek
Bypass the culturally vibrant and affluent villages like Birethanti, Ghandruk, Landruk, and many more.
Stay at the luxury teahouses along the trek route
Admire the grand Annapurna massif
Hike through lush jungles and beautiful terraced farmlands
The Annapurna Luxury Trek is an easy and accessible trekking option in Nepal. It does not require any previous trekking experience, making it suitable for novice travelers. This journey offers a chance to admire the majestic Annapurna range in its most opulent and generous form. Travelers are treated to breathtaking views of the cerulean Annapurna Himalayas as they traverse through lush rhododendron-covered forests and meadows.
Moreover, the Annapurna Luxury Trek is a nine-day adventure through the mid-slopes of the Annapurna region. It is perfect for individuals seeking to spend their valuable time exploring remote and culturally vibrant villages in a luxurious and indulgent manner. Throughout the journey, travelers are accommodated in upscale teahouses that cater to their every need.
Final Words
These are some of the easy treks in Nepal that most travelers have found enjoyable. There are also several other relaxed treks similar to the ones mentioned above. If you want more options, you can refer to our list of the 15 best short hikes in Nepal.
Similarly, if you are looking to push your limits, check out our 15 best treks in Nepal and discover the options.
Above all, any journey to Nepal is splendid, whether it is an easy or challenging trek. Almost all trekking adventures in Nepal are remarkable in their own way. Therefore, travelers are guaranteed to have a fantastic time exploring them.